]   
Sozo World is one of the best cinema in Lahore having the biggest silver screen (22×48 feet) in the Town. They have Digital Sound System, JBL speakers and Crown Big Silver Screen. Mr. Shaan Lashari is the owner of Sozo world. He has done MSc in Engineering Business Management from the University of Warwick (UK). He is also the Director of Zodash Pvt Ltd.
| Title | Description |
| --- | --- |
| Information | |
| Location: | Fortress Stadium، Lahore |
| Nickname: | Sozo World |
| In Urdu: | سوزو ورلڈ |
| Type: | Recreational spot |
| Enjoyment spots: | Sozo 3D cinema, Sozo Water world |
| Local Language Name: | Sozo world |
| Parking: | Street, parking lot and valet parking, |
| Sozo water Park address : | Sozo Water Park is located on Canal Bank near Jallo Park, Lahore, Pakistan. |
| Mob #: | 0321-7777090 |
| Contact: | 042-36526052-3 |
| Coordinates : | 31.5333° N, 74.3627° E |
| Website: | sozoworldcinema111@gmail.com |
| Official website: | http://sozoworld.pk |
| Contact No.: | 0321 3000633 |
| Facebook: | https://www.facebook.com/pg/sozopk/about/?ref=page_internal |
About Sozo World

Sozo World offers Sozo world and Sozo gold cinemas. The difference between the two is the former offers more luxuries than the latter one.[1] gold 
Sozo World

The Cinema is located in the heart of the city fortress stadium, Sozo World is ranked in the top 2 cinemas of Lahore in terms of football. Annual footfall of the cinema is over 200,000. Sozo World is one of the best cinemas in Lahore having the biggest silver screen (22×48 feet) in the city. Sozo World is equipped with Digital Sound System, JBL speakers and Crown Big Silver Screen.
Recently imported VIP luxury seats have been installed for the better comfort for our guest. The leg space has been increased significantly to provide a more relaxed environment for our customers.
Sozo World 3D also provides a truly unique attraction in its musical fountain show experience which it has imported from the U.S. Sozo World Cinema has installed a high end Technicolor 3D System to enhance the experience of their customers.
Sozo Gold

Sozo Gold offers your favorite movies in EXTRA ordinary luxury. The only true luxury mini theatre with 100 extra ordinary comfortable seats. All set in a spacious and specially designed air conditioned hall. You would love our extra ordinary chairs. Sozo Gold has a state of art DTS sound system and SILVER SCREEN (8 x 18 feet). You would have never visited such a gorgeous cinema in your life time. 
Tickets
2D movie ticket is of Rs.499 (12pm show is of Rs.400)
3D movie ticket is of Rs. 499+150(Glasses included) 
Cinema Policy
Tickets are not refundable – Nor Exchangeable – Non Transferable
Kindly check the date, time and name of the film on the ticket.
Management will not be responsible if you do not attend the show which is mentioned on the ticket.
Strictly no Smocking inside the facility.
Recording with mobile camera or any other Camera is strictly prohibited.
use of mobile phones are not allowed in auditorium.
Children under 5 year are not allowed in the auditorium.
No outsider eatables or drinks are allowed in the facility.
Ticket has to be in your possession for the entire duration of your visit.
The management reserves the right to deny entry if you are unable to produce the ticket at any time within the show time.
if for any reason the film is no exhibited on the date & time mentioned then your are entitled to obtain 100% refund.
Kindly look after your valuables. Management does not take any responsibility if you lose anything within the premises of the cinema facility.
Rights of Admission are reserved (management reserves the right to deny entry or ask anyone to leave the premises anytime without assigning any reason whatsoever).
Sozo Water Park

Sozo Water Park is located on Canal Bank near Jallo Park, Lahore, Pakistan. Sozo is prepared with all contemporary services and facilities for thousands of people come yearly. There're a lot of beautiful parks & amusement places in Lahore or even in Pakistan but Sozo Water Park added a lot of the beauty in Lahore. It is a great amusement park for visitors around the country and for locals living in Lahore. The park is created on area of approximately 25 acres having outdoor swimming pools, water slides and rides. [2] water   
Sozo Evento

Sozo Evento provide complete projection solutions for outdoor/indoor corporate events including Sound, Lighting, Audio visual, Screen, Microphone, Plasma, Speaker, Loudspeaker plus first time in Pakistan a complete execution of 3D projection mapping of buildings. [3] evento  
Theater production and performing arts
Sozo Evento has produced following shows yet:
Boeing with Rose Petal (2009)
Birdcage with Rose Petal (2010)
Outdoor and Indoor Displays
Complete corporate Events 
Large format projectors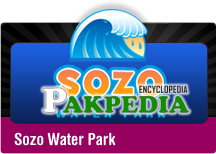 Normal projectors usually range to 15000 Lumens. Projection Power of this state of the art projector is 82000 Lumens. Sozo Evento is the only company that has this projector in Pakistan. Size of Projection 10 x 10 feet to 150 x 150 feet depending on the location. Projection can be done any medium (building, walls, screens & water etc). Projection time will be from sunset till late at night depending on requirements. 
3D projection mapping

Sozo Evento can execute 3D Projection Mapping of buildings for events and launches. 
Brands that use large projectors
Following are the brands that use large projectors in their events at Sozo world: 
Coca-Cola
Porsche
Tetra Pak
Rafi Peer Group
Rotary International
Telenor