The Saraiki people (Perso-Arabic: سرائیکی قوم, Gurmukhi: ) or Multani people ( Devanagari:, Gurmukhi are an ethnic group from the south-eastern areas of Pakistan, especially in the area of the former princely state of Bahawalpur and the districts of Sukkur , Larkana, Dadu, Sehwan, Sanghar, Nawabshah, Hyderabad, Sindh, Mirpurkhas, Multan,Rajanpur, Dera Ghazi Khan, Muzafar Garh, Layyah, Bhakkar, Mianwali, Dera Ismail Khan, Karachi. A significant number of Saraikis also reside in India, with most concentrated in the state of Punjab,Maharashtra and Gujarat. The Saraikis maintain that they have a separate language and culture, but their language is often viewed as a dialect of Sindhi or Punjabi. While the majority of Saraikis follow Islam, a few also follow Hinduism and Sikhism. [1] Saraiki Culture of Pakistan
| Title | Description |
| --- | --- |
| Details | |
| Languages: | Saraiki |
| Province: | Punjab,Sindh |
| Festivals: | Sangh Mela, Pir Adil Mela |
| Poetry: | Shakir Shujabadi (Kalam-e-Shakir, Khuda Janey, Shakir Diyan Ghazlan, Peelay Patr, Munafqan Tu Khuda Bachaway, Shakir De Dohray are his famous books), Jaanbaz Jatoi, Kausar Jatoi, Shedu |
| Folklore: | Kaousar Japani |
| Dance: | Jhummar |
| Dress: | Shalwar Qameez Shaal on Shoulder |
| Sports: | Gilli Danda, Cricket, Volley Ball, Baandar Killa, Pittu Garam , Stapu, Kabaddi |
| Singers: | Attaullah Khan Esakhelvi, Abida Parveen, Nadeem Abbas, Pathanay Khan, Shazia Khushk, Talib Hussain, Dard Nadeem Abbas, Shazia Khushk, Talib Hussain Dard, Ahmed nawaz Cheena |
| Food: | Phikka Khuwa, Maal Pooray, Chilra (Dosa), Satto, Kupri, Bhatt, Dodha, Lassi, Kakko, Dillay aali Siwiyan, Billay aali Siwiyan, sohbat |
| Tribes: | Khosa, Laghari, Ansari, Arain, Lashari, Mastoi, Babar, Hadair, Dawarny Ahmdani, Bhatti, Malik, Chisti, Cheenna , Chhina Chandia, Chutani, changwani, Chughtai, Charhoa, Baloch, Batwani, Bozdar, Bugti, Buledi, Borana, Badani, Bhutta, |
| Famous Sweet: | Sohan Halwa |
| Famous Crops: | Corn Crops, Sugar Cane, Cotton, Rice |
| Sufi Saints: | Shah Gardez, Sakhi Sarwar, Khwaja Ghulam Farid, Muhammad Suleman Taunsvi |
| In Urdu: | سرائیکی ثقافت |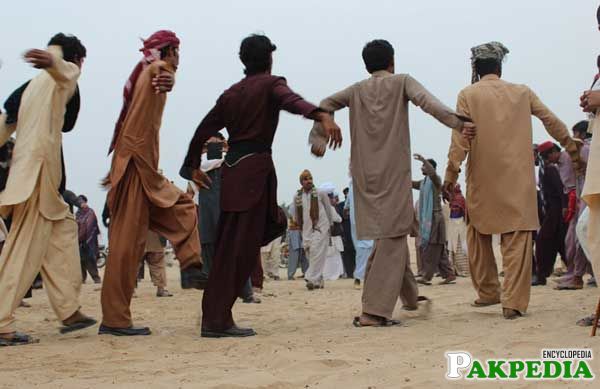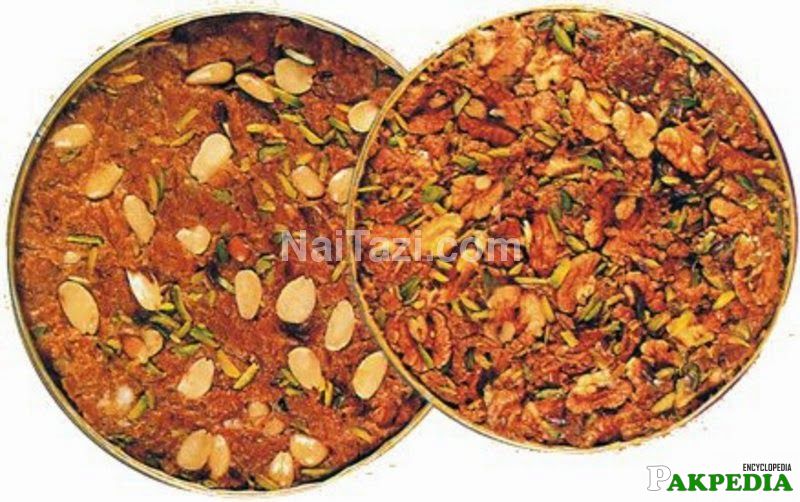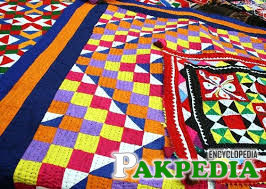 History
The Saraiki region formed part of the Indus Valley civilization more than 40,000 years ago. This region has been conquered a number of times by people from West including the Aryans and the Greeks. Persian influence remained strong for many centuries with the Saraikis as well as Persian art, poetry and architecture still form a part of their culture. When Muslims conquered the region, Islam spread and this region became an important Islamic center. At the time of independence of Pakistan in 1947, Muslims constituted between 90 to 75% of the population of Saraiki speaking region of West Pakistan and the Muslims of East Punjab were also around 45% and nearly all migrated to Pakistan and other areas. Saraiki is one of the three dialects spoken in Sindh. In past all Saraiki areas were part of one single administrative entity called Multan but now it exists as a district that is why it is also known as mother of all Saraiki areas. Among the different ethnic groups in Pakistan 8.38% are Saraiki. [2] History of Saraiki Culture
Religion
Nearly 99% population in these regions are Muslims and majority are Sunnis whereas Shia sect is also there but in considerable size. This region is mainly home to Sufism and has the shrines of Hazrat Baha ud Din Zakariya and Hazrat Shah Rukn e Alam. Other Sufi saints such as Ghulam Farid and Muhammad Suleman Taunsvi are also very popular and especially the tomb of Sakhi Sarwar. There are more than twenty translations of Quran in Saraiki as well. A large majority of Saraikis are Muslims with smaller Hindu, Sikh and Christian Communities.
Literature
Saraiki Language has emerged from a number of dialects since the creation of Pakistan. Saraiki (Perso-Arabic script) is a standardized language of Pakistan belonging to Indo-Aryan languages. It is spoken by the people in Saraiki speaking regions combined known as Saraikistan. No proper documentation related to it being a unified identity is available but it is based on a group of vernacular and historically written dialects spoken by over 18 million people. Mainly the Saraiki speaking people form part of Southern most half and Northwest of Punjab, southern districts of Dera Ismail Khan and also in areas of Khyber Pakhtunkhua, the adjacent border region of Sindh and Baluchistan provinces and also spoken in Afghanistan.
There is a long list of famous poets belonging to this region and their work is commendable. Some of the famous poets are Sachal Sar Mast, Shah Abdul Latif Bhitai and Ghulam Farid. Still there is a small volume of literature available in Saraiki language. People of Bahawalpur, DG Khan, Multan, Sargodha and Dera Ismail Khan speak it as their first language. Whereas it is also understood and spoken widely as a second language in areas of Northern and Western Sindh, Karachi and also some parts of Baluchistan.
Cuisine
The cuisine is not much different from the traditional dishes all over Pakistan but Sohanjhna is the famous vegetable of the region as well as Sohan Halwa is also a traditional sweet of Multan.
Festivals
Most of the festivals are based on Islamic calendar and the events held for the remembrance of Sufi Saints and to commemorate the Muslim traditions in the region. Some of the festivals include:
• Sangh Mela is a Vaisakhi fair celebrated during March and April in Sakhi Sarwar by people coming from Jhang and Faisalabad. It is celebrated especially at the time of wheat harvesting and it is also known as Basant in some areas.
• Pir Adil Mela is celebrated at the shrine of Hazrat Pir Adil and national horse and cattle show is also sometimes merged with this mela. It is usually celebrated in February every year for ten days.
Tribes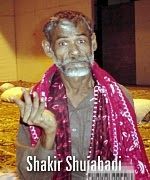 Most of the people belong to either the caste of Jat or Rajput and others are Baloch by origin e.g. Arain, Ansari, Dhareja, Khosa, Leghari, etc. Other Jat and Rajput clans are Bhatti, Malik, Chisti, etc.
Poetry
Shakir Shujabadi (Kalam-e-Shakir, Khuda Janey, Shakir Diyan Ghazlan,
Peelay Patr, Munafqan Tu Khuda Bachaway, Shakir De Dohray are his famous books) is very well recognized modern poet.
Clothing
People usually wear Shalwar kameez, which is the national dress of Pakistan. The traditional male dress is Lungi with Chola (kameez).The tradition male dresses suthaNrshalwar, Ghayiroli Saraiki Shalwar SuthaNrShalwar,The tradition put Rumal or Pashmina or Shaal on shoulder .Shalwar with Kamez. Chadar is also an important part of male and female dress. Women wear bochanrr and men wear Patka on the head. Women also used to wear ghagra but it is not used only for wedding and parties. [3] Clothing of Saraiki Culture
Dishes
Mango is a seasonal fruit of the region during summers.
Sohan halwa is a traditional speciality of southern Punjab, particularly Multan. It is a halwa dessert that is prepared by boiling a mixture of water, sugar, milk and cornflour until solidified. Saffron is used for flavoring while ghee is used to prevent it from sticking to the pan. Almonds, pistachios and cardamom seeds are added as additives.The southern Punjab cities of Dera Ghazi Khan, Bahawalpur, Uch Sharif, Rajan Pur and Mailsi are also known for their sohan halwa products.
Traditional Sports
Geeti Danna is one of the famous traditional sports especially for boys in rural areas along with other sports like Baandar Killa , Pittu Gara,Stapu and Kabaddi.
Art and Music
Culture