Ayatollah al-Uzma Sheikh Bashir Hussain Najafi is from a Religious Family background. Allah (swt) Almighty blessed him with the capability to become the Marjah of the Shia world, and since then the routine of Dars e Kharij is continuing. He is one of the five Grand Ayatollahs in Iraq. Bashir Hussain is his compound name or 'Sheikh Bashir' for short. He is also called as Hafiz Bashir,(Hafiz is a name given to those who have memorized the holy Quran, and have the ability to recite it all relying on their memory alone.)
| Title | Description |
| --- | --- |
| Personal | |
| Name: | Sheikh Basheer Hussain Najafi |
| In Urdu: | شیخ بشیر حسین نجفی |
| Famous As: | Grand Mujtahid from Pakistan |
| Notable as: | One of the 5 Grand Ayatullah of Iraq |
| Nationality: | Pakistani |
| Residence: | Najaf, Iraq |
| Education: | Studied Fiqh, Usul and Blagha fron Howza Ilmia Najaf, Iraq |
| Religion: | Islam |
| Profession: | Teaching at Najaf, |
| Website: | http://www.alnajafy.com/ |
| Facebook: | https://www.facebook.com/ayatullahnajafi/ |
| Awards : | Grand Ayatullah |
| Books: | Tozeeh-ul Msayl |
| Notable work: | Translation of Al-Kafi, Al-Faqih, Al-Tahtheeb, Al-Astabsar, as well as all the publications of Sheikh Sadooq, Sheikh Tusi, and Allamah' Al-Hilli. |
| Owner of: | Al-Anwar Foundation |
| Born | |
| Date: | 1942 |
| Place: | Jalandhar, British India |
| Family | |
| Ethnicity: | Punjabi |
| Children: | Naser Al-Deen,Muhammad, Ali, Haidar |
| Siblings : | Sheikh Mandhoor Hussain,Natheer Hussein,Sharif Hussain, Bashir Hussain(late) |
| Relatives: | Rahmat Ali poet of Ahlul-Bayt (as), Aashiq Ali (poet), Khadim Al-Hussain |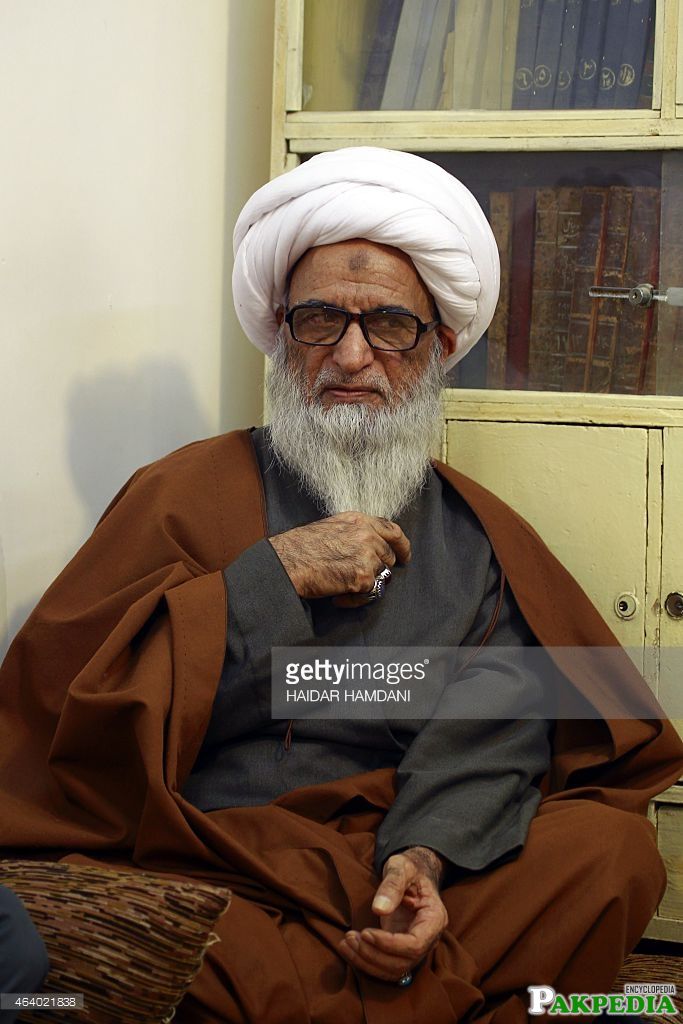 Biography
Birth and Upbringing
He was born in the year 1942 in the city of Jalandhar, India and was raised in a spiritual environment. He was raised with the highest morals and the most noble of virtues and both his mother and father strived to raise him according to Islamic teachings and principles. They directed him to the path of righteousness and helped him reach the highest peaks of knowledge and divine beliefs.
Predecessors
His name is Sheikh Bashir Hussain Ibn Sadiq Ali Ibn Muhammad Ibrahim Ibn Abdullah Al-Lahori, the Sheikh of Islam, and Sheikh Hafiz.His noble family is from one of the most prodigious and well-known families of Lahore, and they are held in the highest esteem for their social, political, and scientific status in their country.
Shiekhs Father
Sheikh Sadiq Ali (may Allah bless his soul) followed in his noble father's footsteps. He was a prominent social figure and also owned a room, in which people from different Islamic sects would come from places near and far to debate about religious issues.  After leading a life full of good deeds and services to the religion of Islam, he died in the year 1984 and was buried next to his father. [1] father
Shiekhs Mother
As for his mother, she was from a well-known, noble, and generous family- an honorable and respectable lady; she was the daughter of Mahradeen which is Urdu for 'the crescent of religion'. Her father (Mahradeen) was a wealthy man who possessed many lands, as well as the head of his family tribe.
Shiekhs Relatives

His uncle, Rahmat Ali was one of the poets of Ahlul-Bayt (as), his poems and literary works were dedicated to the praise and love of the prophet's progeny.
Aashiq Ali was also a great poet and writer, and his works were equal to the great Pakistani mystic, Doctor Mohammad Iqbal in meaning. His poems presented philosophical arguments that expressed the right of the Ahlul-Bayt (as) in Imamate and disproved opinions that state otherwise. He died in the year 1992, and was buried in the family's graveyard. 
Hafiz Bashirs Brothers
His eldest brother, Sheikh Mandhoor Hussain, was a known speaker and a teacher in one of the religious schools of Pakistan. He received most of his knowledge from his uncle then migrated to the sacred city of Qum, Iran, where he studied under the best of scholars and gained a vast amount of knowledge.
Sheikh Bashir's older brother, Natheer Hussein, and his younger brother, Sharif Hussain, have mainly devoted themselves to commerce.
Sheikh Bashir also had an older brother that was younger than Manthoor Hussain, named Bashir Hussain. When he was born, his family foresaw that his future would be a life of righteousness and piety, unfortunately he passed away at a very young age and when Sheikh Bashir (may Allah protect him) was born, they named him after his brother, in remembrance of him and his character.  Sheikh Bashir achieved all that they had hoped for in the previous child (may Allah bless his soul) and even more so. [2] Bro's
Education
primary studies
He first took lessons in the basics such as Grammar, Jurisprudence, Usool (Fundamentals of Jurisprudence), and eloquence (Balagha) in the city of Lahore. The lessons were conducted by his grandfather (from his father's side) Sheikh Muhammad Ibrahim and his uncle Sheikh Khadim Hussain, in addition to the founder of Al-Muntadhar School, the Pakistani Sheikh Akhtar Abbas. Al-Muntadhar School is one of the most active religious schools in Pakistan at the present time, from its credible teachers and its ambitious students. His other teachers included Allama' Sayed Riyadh Al-Naqawi, and the late Allama' Safdar Hussain Al-Najafi.
Migration to Najaf AshrafIraq
Sheikh Bashir Hussain (may Allah prolong his life) migrated to the holy city of Najaf, Iraq in the year 1965 to enrich his soul and mind with the divine sciences this city had to offer and to be blessed with the bounties of Imam Ali (as). He learned his studies from many of the eminent and religious scholars there such as:
Sheikh Muhammad Khadim Tabrizi (may Allah bless him) who taught him Al-Kifaya and parts of Al-Kharij in Al-Shirbiyani School. Sheikh Bashir also studied the level of Sutooh under him and other elite teachers from the holy city of Najaf.
The late Sayed Muhammad Al-Ruhani (may Allah bless him), Sheikh Bashir studied Fiqh (Jurisprudence) and Usool (Fundamentals of Jurisprudence), for more than seven years from him.
Sheikh Bashir As Teacher

His Eminence Sheikh Bashir has been teaching for 35 years since the year 1974 in the following places:
Dar Al-Hikma School , a Foundation founded by Grand Ayatullah Al-Uzema Sayed Muhsin Al-Tabatabai Al-Hakim (may Allah bless him).
Dar Al-Ilm School, founded by Grand Ayatullah Al-Uzema Sayed Al-Khoe'i (may Allah bless him).
The Shibriya School.
Al-Qawam School, which lies near Sheikh Al-Tusi Mosque.
Kashif Al-Ghataa' Mosque
Al-Hindi Mosque.  
Shiekh Bashirs Contributions

Looking at the many works of Sheikh Bashir (may Allah prolong his life) in Jurisprudence, Usool, and the rest of the Islamic Sciences we find ourselves looking at an immense, extremely valuable treasure.
The content of his books and writings are mainly made up of his investigations along with substantial proofs and evidence as well as opinions- portrayed, classified, and proven according to scientific procedure.
He has written in many subjects, from Fiqh to Usool, in addition to Philosophy, Interpretation, Hadith, and modern issues.  Below are some of Ayatullah Al-Najafi's works:
Al-Deen Al-Qayim: Rules and Verdicts for worships and interactions; a total of three volumes, it has been translated to English, Urdo, and the Kijrati language.
Following Late Clerics (multiple issues were published)
Improving your level in Usool (Murqat al-Usool) (multiple issues were published
Laws of Hajj (published)
Rules of Modesty (a number of issues were printed)
100 Questions Regarding Khums (published)
Guidance for the Youth (published)
The Laws and Rituals of the Holy Month of Ramadan (multiple issues were published)
Najaf: the Pioneer for Hawzas around the World (multiple issues were published).
The Laws of Taqleed (multiple issues were published
Mustafi Al-Deen al-Qaim (multiple issues were published)
A Friendly Guide to the Holy Kaa'ba (published)
A Fresh Guide for Muslims in the West (published)
Research in Modern Jurisprudence (published)
Explaining the features of Usool (Handwritten)
The Rules Surrounding Qiblah (Handwritten)
Rules and Laws of I'tikaf (Handwritten)
Justice (Handwritten)
Laws of Backbiting (Handwritten)
Explaining Kifayat Al-Usool (Handwritten)
Classifying Narrators (Handwritten, unfinished)
An Intensive Paper Regarding the Science of Intellect (Handwritten)
Explaining Manthoomat Al-Sibzawari (Handwritten)
Reviewing the theme of "Qawaneen (laws) of Usool" (he has reached Mabhath Al-Awamer, handwritten)
The Indian Circle used for Defining Qiblah (Handwritten)
Commentary on Sharh Al-Tajreed (Handwritten)
Explaining Inheritance in "Luma'ah" (Handwritten)
Rules of Radio, Television, and Acting (Handwritten)
Khums (Handwritten)
The Rules of Friday Prayers (Handwritten)
Upholding Traditions for Imam Hussain (as) and the Mourning Ceremony
Those Who Repent are the Beloved of Allah (multiple issues were published)
Nasabi- a reply to misconceptions brought up by one of the Nasabis (handwritten)
The Birth of Imam Mehdi (ajf) (multiple issues were published, translated to Urdu)
A Summarized Edition of Rules & Verdicts, translated into Urdu. (Published)
For the Youth (advice and instructions from Ayatollah Al-Najafi (may Allah prolong his life) to the youth. (multiple issues were published)
Narrations
Ayatollah Al-Najafi (may Allah prolong his life) narrates the following four books: Al-Kafi, Al-Faqih, Al-Tahtheeb, Al-Astabsar, as well as all the publications of Sheikh Sadooq, Sheikh Tusi, and Allamah' Al-Hilli.
Projects Lead by Sheikh Bashir Hussain Najafi

Ayatollah Sheikh Bashir Hussain Al-Najafi (may Allah prolong his life) is one of those rare men who have proved themselves dedicated to serving the Islamic Ummah and the religion of Islam, and that is most clearly manifested by his various projects and his reform movement in the scientific Hawza of Najaf.
Re-printing the major textbooks used in the seminary's curriculum, these books ranged from subjects such as Grammar, Eloquence, and Logic to Jurisprudence and Usool.
Reforming the system of study and supervising the preparation of books, the assignment of teachers, and the placing of monthly salaries. Passing levels or courses, as well as avoiding taking monthly exams was also forbidden.
Distributing gifts, both of materialistic and sentimental value, to the students of the seminary on various religious holidays, to encourage them to continue their hard work and dedication.
Paying a great deal of interest to the affairs of the poor and the needy by assigning monthly salaries and providing healthcare as well as summer/winter clothes, medication, and wheat. He also gave out various items given to him by his followers, as well as personal gifts to the poor and needy.
Sending representatives to many regions, especially throughout the holy months of Ramadan and Muharram, to serve and guide people to the path of truth and righteousness.
Helping in the renovation and furnishing of mosques, Imam-Bargah'as, shelters, and other places of worship in addition to contributing to filling the shelves of Islamic libraries, and preparing dorms for the students of the seminary such as Dar Al-Abrar and Dar-Al-Mutaqeen.
Setting up electric generators as well as distributing power lines to families, public and religious schools, mosques, imam bargah's, and to approximately 3 thousand homes.
Opening Dar-Al Zahra-a private school for the orphaned, the school offered modern caretaking, the most updated methods in teaching, and monthly and periodic financial help to the children.
Bringing Students from various countries, such as Yemen, Afghanistan, Pakistan, Emirates, and India to study in the holy city of Najaf.  
Foundation

Ayatullah Al-Najafi (may Allah prolong his life) has supervised and supported the founding of many foundations, the most prominent of which is Al-Anwar Foundation, this foundation has served many different social classes such as the families of the orphaned and the poor.
The foundation has also provided financial aid to more than 2,700 Hussaini tents and camp. It also works on many other projects, as well as future plans, one of which is building a campus for the students studying in Najaf and a medical facility to serve the students and the poor; a modern up-to-date multi-floored garage is also one of the planned projects. [3] foundation 
ALLAH SWTS Blesings on him

He has gone through a number of attempted assassinations, one of which occurred on a Thursday night and which just so happened to be one of the Nights of Qadr, in the year 1419 Hijri. While he was sitting in his office carrying out his religious duties as a Marja', he was attacked with multiple grenades, and was only miraculously saved by the blessings and protection of Allah and Masoomeen a.s.