SereneAir is Pakistan's premium airline on a mission to rejuvenate domestic flying experience. With its avant-garde technology, expansive destinations, eclectic cuisine and top notch service, SereneAir aims to provide an aviation experience like never before. SereneAir makes bold promises with its fleet of Boeing 737-800s which are famous for their efficiency and superb safety record. We aspire to provide travellers with a timeless journey, owing to our skilled and professional crew.A blend of excellence, ambition and customer care is what will God willing propel SereneAir as one of the leading names in the industry and inspire travellers to experience serenity like never before.[1] Serene Air  About 
| Title | Description |
| --- | --- |
| Details | |
| Type: | Scheduled Carrier |
| Name: | Serene Air |
| In Urdu: | سیرین ایئر |
| Destinations: | 5 (February 2017) |
| Headquarters: | Islamabad, Pakistan |
| Key people: | Sohail Gul Khan( CEO) , Khalid Bashir(COO) |
| Daily Flights: | 12 |
| Aircraft: | 3 |
| COO: | Khalid Bashir |
| CEO: | Sohail Gul Khan |
| SereneAir aims: | Provide an aviation experience like never before |
| Fleet of Boeing : | 737-800s |
| Famous Record: | Efficiency and superb safety |
| Provide travellers: | Timeless journey, owing to our skilled and professional crew |
| Aim to achieve: | High standards by giving priority to our customers and their needs |
| Website: | https://www.sereneair.com |
| Head Office: | Islamabad |
| Destinations: | Islamabad,Karachi,Lahore,Peshawar, Faisalabad,Quetta,Skardu |
| Special Offers: | Family Discount, Children Discount,nfant Goes Free,Better Baggage Policy,Low Fares |
| Passengers to bring: | Two pieces of check-in baggage upto 32kg |
| SereneAir offers low fares for children : | Age of 2-11 years |
| Commenced operations: | 29 January 2017 |
| Fleet size: | 3 (January 2017) |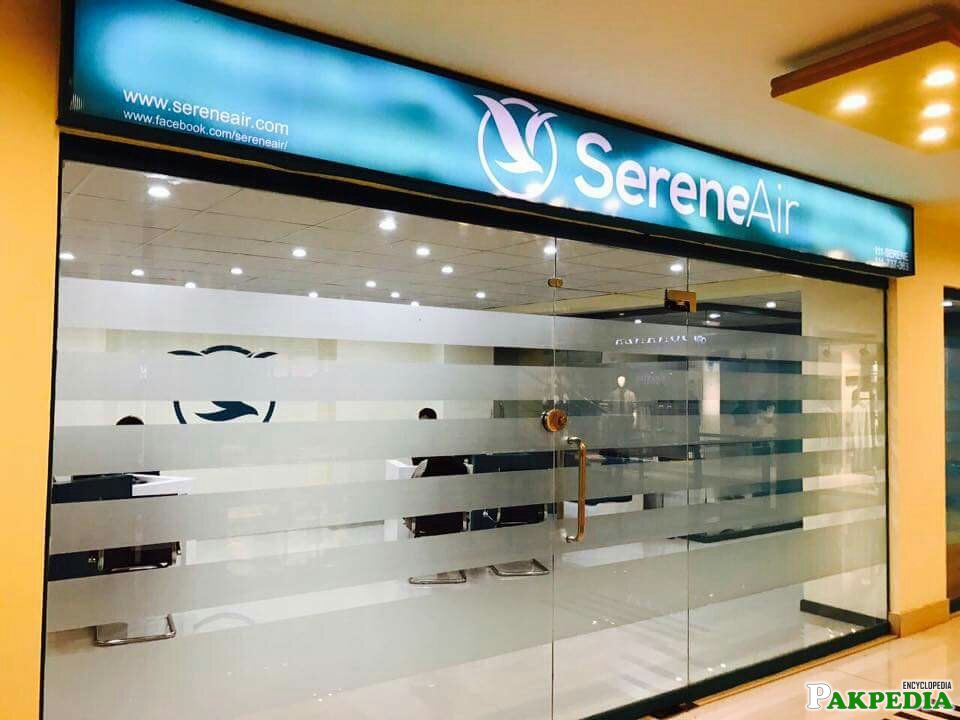 History

The Pakistan Civil Aviation Authority granted a licence in March 2016 that permitted the establishment of  SereneAir . The airline received its first aircraft, a Boeing 737-800, in November 2016. The airline started operations on 29 January 2017, a week after obtaining its air operator's certificate.The inaugural flight departed Islamabad for Karachi. SereneAir became the fourth airline to offer domestic flights in Pakistan, after airblue, Pakistan International Airlines and Shaheen Air.[2]  History 
SereneAir is pleased to launch its operations with the arrival of our 'Boeing 737-800 Next Generation' aircraft with state of the art inflight services making your air travel an unmatched experience.
Catering to the growing travel needs of the country and rising passenger expectations, we aim to achieve high standards by giving priority to our customers and their needs.
SereneAir will initiate its operations with 8 local destinations and plans to further expand its services internationally in the near future. This is only made possible with high dedication and hard work of the Serene team.
We at SereneAir promise to fulfill customer expectations by providing one of the highest standard of air travel and comfort in the region. A lot of work goes into making your journey with us a Serene one and our team of professionals work day and night to give this vision a reality to live in.
The Serene team and I look forward to welcoming you on board.[3] Serene Air CEO
Different Menu Every Day
Bored of having the same meal on your flight every time? We understand that a meal no matter how good it was the first time, just doesn't taste the same after that. Hence SereneAir offers a different menu every day to pleasantly surprise its flyers on every flight. Each better than last.[4] Serene Air Menu
Sky Interior
SereneAir is pushing the boundaries of interior design to recapture the magic of a serene inflight experience. A spacious, comfortable look with soft LED lighting, thoughtfully balanced for leisure, work or rest. Known as the Boeing Sky Interior, it introduces new pivoting overhead bins which is a first for a Boeing narrow body aircraft, new sidewalls, new passenger service units, and LED mood lighting all combined to deliver an unprecedented inflight experience.[5]Serene Air   Interior
More Leg Space
If you've ever been on a plane, it's likely that you've come to the conclusion that one of the biggest contributors to a comfortable flight is how much space you have. At a time when seat sizes are shrinking more and more, it has become more challenging to find comfort at 30,000 feet, SereneAir offers its travellers a spacious and comfortable seat to ensure a sound journey.[6] Serene Air Space
Caring Courteous Cabin
SereneAir boasts an enthusiastic and professional team of cabin crew. These people are the face of our company hence you can expect only the best from them. They are there to make your journey truly peaceful and comforting.[7] Serene Air Cabin crew
Full Meal On-board
Being a Pakistani service at heart, we fully understand that as hosts, not offering a full meal on board to our guests is against our culture and simply unacceptable. SereneAir ensures that every single passenger is treated to a fulfilling meal that combines all the right herbs and spices to make you want to travel with us again for the food alone.[8] Serene Air Meal on board
Preallocation of Seats
A "Pre-reserved Seat" option allows you to reserve your preferred seat(s) during the booking process. With SereneAir, you can experience a complete freedom of choice by opting for any seat you like.[9] Serene Air location seats
Corporate Affairs
SereneAir is a privately owned airline headquartered in Islamabad. As of January 2017, its chief executive officer is Sohail Gul Khan, and its chief operating officer is M Safdar Khan.
Destinations
Islamabad
Islamabad is the capital city of Pakistan built during the 1960s. The city is home of several landmarks, including the Faisal Mosque, the largest mosque in South Asia and the fourth largest in the world, Pakistan's National Monument and the Democracy Square. Islamabad is ranked very high on the Human Development Index, equivalent to that of Belgium. The city has the highest cost of living in Pakistan. The city is home to sixteen universities and is one of the safest in Pakistan.
Karachi
Karachi is the largest and most populous city in Pakistan and the 5th largest metropolitan city in the world. Karachi is the capital of Sindh province. Ranked as a beta world city, the city is Pakistan's premier industrial and financial centre. Karachi is also Pakistan's most cosmopolitan city. Situated on the Arabian Sea, Karachi serves as a transport hub, and is home to Pakistan's two largest seaports, as well as the busiest airport in Pakistan.
Lahore
Lahore is the historic cultural centre of the Punjab region. It exerts a strong cultural influence over Pakistan. Lahore is a major centre for Pakistan's publishing industry. The city is also a major centre of education in Pakistan, with some of Pakistan's leading universities based in the city. Lahore is also home to Pakistan's film industry, Lollywood. The city is also much of Pakistan's tourist industry, with major attractions including the Badshahi and Wazir Khan mosques, Lahore Fort and Shalimar Gardens.
Peshawar
Peshawar is a metropolitan city and the administrative centre and economic hub for the Federally Administered Tribal Areas of Pakistan. Peshawar is situated in a large valley near the eastern end of the Khyber Pass, close to the Pak-Afghan border. Peshawar is irrigated by various canals of the Kabul River and by its right tributary, the Bara River. Peshawar's recorded history dates back to at least 539 BC, making it the oldest city in Pakistan and one of the oldest in South Asia.
Faisalabad
Historically one of the first planned cities within British India. Faisalabad has grown to become a major industrial and distribution centre because of its central location in the region and connecting roads, rails, and air transportation. It has been referred to as the "Manchester of Pakistan" because it contributes over 20% toward Pakistan's annual GDP. Faisalabad's average annual GDP is $20.55 billion (USD), of which 21% comes from agriculture.
Quetta
The city is known as the fruit garden of Pakistan, due to the numerous fruit orchards in and around it, and the large variety of fruits and dry fruits produced there. Quetta is a trade and communication centre between the two countries. The city lies on the Bolan Pass route which was once the only gateway from Central Asia to South Asia. Quetta played an important role militarily for the Pakistani Armed Forces in Afghanistan conflict.
Skardu
Skardu is located at the confluence of the Indus and Shigar Rivers at an altitude of nearly 2,500 metres (8,202 feet). Skardu is a major tourism, trekking and expedition hub in Gilgit-Baltistan. The mountainous terrain of the region, which includes four of the world's 14 Eight-thousander peaks, attracts tourists, trekkers and mountaineers from around the world. The climate of Skardu during the summer is moderated by its mountain setting; the intense heat of lowland India does not reach it.[10]Serene Air Destinations
| Subdivision | City | Airport | Notes |
| --- | --- | --- | --- |
| Balochistan | Quetta | Quetta International Airport | — |
| Islamabad Capital Territory | Islamabad | Benazir Bhutto International Airport | — |
| Khyber Pakhtunkhwa | Peshawar | Bacha Khan International Airport | — |
| Punjab | Faisalabad | Faisalabad International Airport | — |
| Punjab | Lahore | Allama Iqbal International Airport | — |
| Sindh | Karachi | Jinnah International Airport | — |
Travel Policy
Flight opens for check-in 2 1/2 hours before scheduled departure time. Check-in counters close 45 min before flight departure on domestic flights.
Passengers occupying seats (Adults and child) can be booked up to 11 on one PNR. I.e. maximum 06 adults and 05 children can be booked. Number of infants should not exceed than number of adults.
Fares are subject to change and will not remain constant.
If passenger books his flight within 03 hours of departure, he has to purchase the ticket instantly. No time limit will be given in this case.
Insulin/injections can be carried in an ice box and will be handed over to LCC (Lead Cabin Crew) at the time of boarding.
Liquids like creams, gels, pastes and oil etc. may only be carried in containers holding 100ml or less in hand luggage.
When traveling, comply with the laws concerning possession of firearms. A weapon must be declared at the Airport Sales Counter. Weapon Owner must provide "All Pakistan" license to the ASF upon filling the form and ensure that he/she is travelling on the same flight.
Pregnant PAX: Pregnant females can travel up to the 32th week of pregnancy. In this case a medical certificate or letter signed by an appropriately qualified doctor, stating, "Passenger Is Fit for Air Travel" is required.  The certificate should be obtained within two days before flight departure. An indemnity bond will be signed by the passenger.
Ladies can also take along their personal hand bag.
TELEVISION and LED are allowed but it should be in range of 54 inches after packing.
Plants are allowed to be carried in checked luggage ONLY.
APW and TAC vouchers are entertained in Serene Air.
Visually Impaired/Blind Passenger are permitted to travel but only with escort.
Unaccompanied minors are allowed to travel on Serene Air.
The leg space between 2 Economy class seats is 33 inches.[11] Serene Air Travel Policy
Contact
    Head Office Islamabad