The Pakistan women's national cricket team represents Pakistan in international women's cricket. One of eight teams competing in the ICC Women's Championship, the team is organised by the Pakistan .[1] Pakistan Women Cricket Team 
| Title | Description |
| --- | --- |
| Details | |
| In Urdu: | پاکستان خواتین کی قومی کرکٹ ٹیم |
| Location: | Pakistan |
| Best result: | Champions (2013) |
| Women's World Twenty20 Qualifier: | 1 (first in 2013) |
| Last WT20I: | India at the Asian Institute of Technology Ground, Bangkok; 4 December 2016 |
| First WT20I: | Ireland at The Vineyard, Dublin; 25 May 2009 |
| Last WODI: | India at the County Cricket Ground, Derby; 2 July 2017 |
| First WODI: | New Zealand at Hagley Oval, Christchurch; 28 January 1997 |
| Last WTest: | West Indies at the National Stadium, Karachi; 15–18 March 2004 |
| First WTest: | Sri Lanka at Colts Cricket Club Ground, Colombo; 17–20 April 1998 |
| Coach: | Sabih Azhar |
| Captain: | Sana Mir |
| Category : | A Category B Category C Category D or Stipend Category A system of compensation for women players has also been introduced as a match fee A Players are given a match fee for both ODI & T20 games. All medical facilities are provided to the contracted players free of cost |
| PCB spends a budget: | Rs 110 million |
| Core Operational Areas: | Domestic , International , Game Development Grassroots development Technical development Infrastructure development |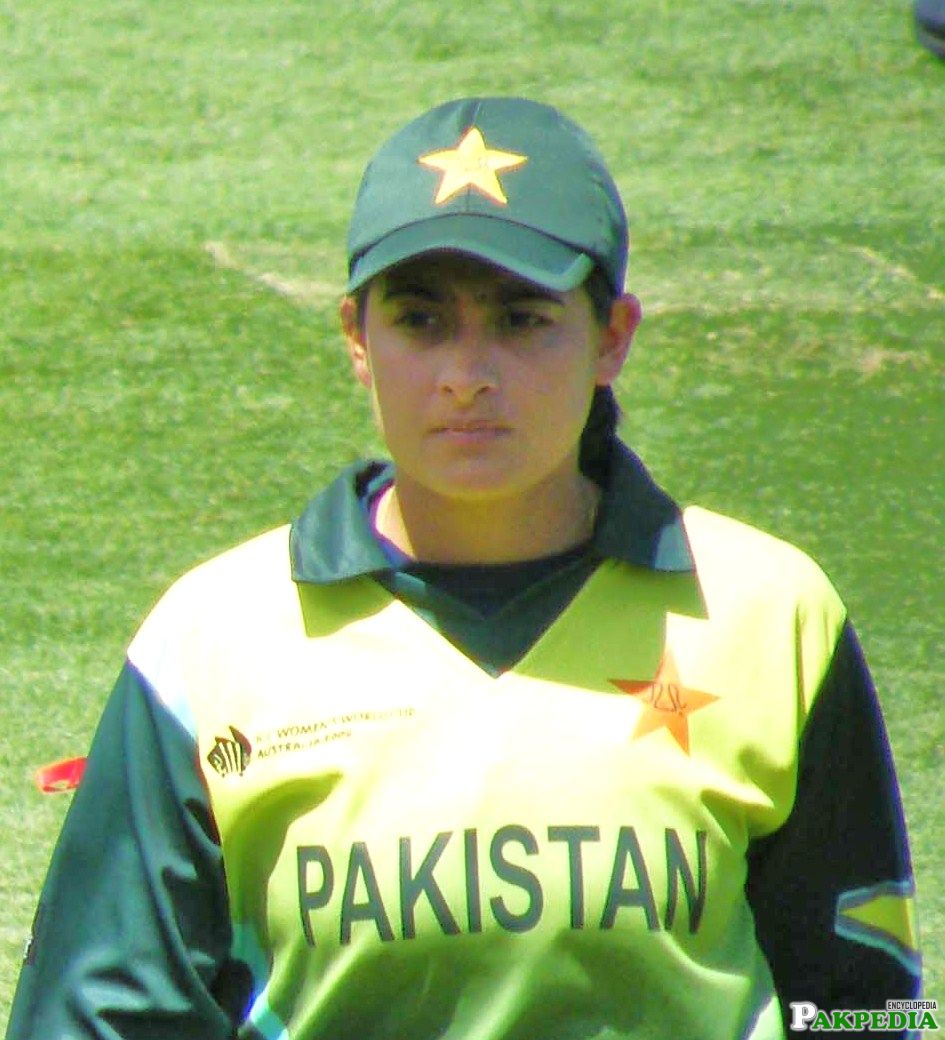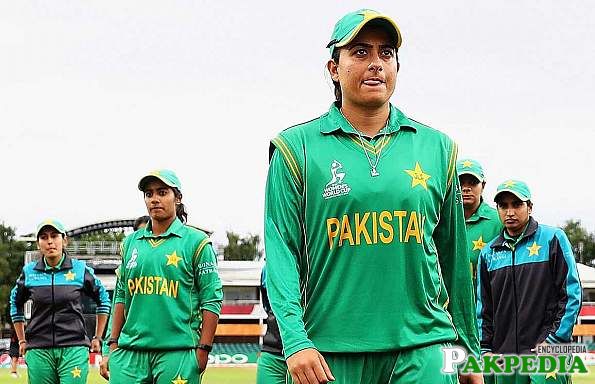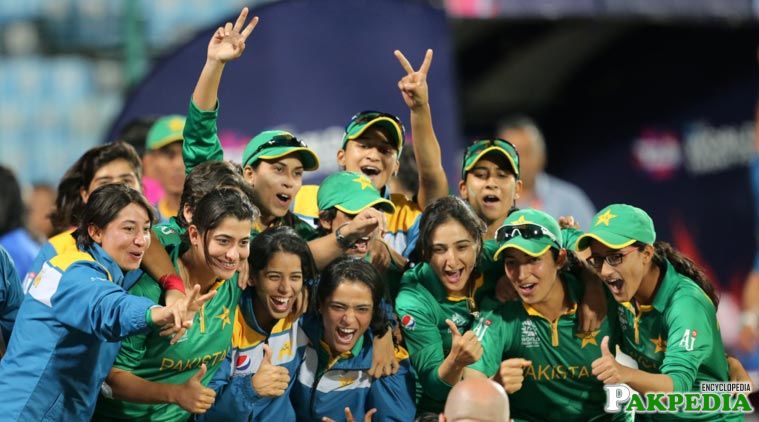 Details
Vision
To maintain Pakistan's position as the premier producer of world class women cricketers.
To maintain Pakistan women's team's ranking among the top teams of the world
The concept of Women's cricket was first introduced in Pakistan by sisters Shaiza and Sharmeen Khan in 1996. They were subsequently met with court cases and even death threats. The government refused them permission to play India in 1997 and ruled that women were forbidden from playing sports in public due to the religious issues
However, Pakistan first appeared in women's cricket in 1997 and playing against New Zealand and Australia. They lost all three One Day International matches on that tour, but they were still invited to take part in the Women's Cricket World Cup later that year in India. They lost all five matches in the tournament and finished last, out of the eleven teams in the competition. The following year, Pakistan toured Sri Lanka and played three One Day International matches, losing all of their matches and played in their first Test match, which they also lost..[2]Vision of Women Cricket Team 
Core Operational Areas
Domestic
International
Game Development
Grassroots development
Technical development
Infrastructure development
Pakistan Cricket Boards PCB
Since the establishment of Pakistan Cricket Board's (PCB) Women's Wing in 2005, the game of cricket among women has improved in leaps and bounds and as a result of PCB's full and all-out support for the establishment and promotion of women's cricket, Pakistan women's team has made great progress at the international level.
Pakistan Cricket Board has been looking after the welfare of women cricketers since its establishment by providing them with all facilities.
PCB has extended its full support toward the development of women's cricket in Pakistan. During the last nine years, the standards have improived and now the game is recognised at par with men's level..[3]Women Cricket Team 
Steps taken by the PCB for womens cricket
Annually, the PCB spends a budget of approximately Rs 110 million for the promotion and development of the game (both at Domestic & International level)
In order to improve the quality of cricket at the domestic level, many departmental teams have currently been formed. The departments have also given contracts to women players, which is a great incentive. Currently, six departments play in the domestic cricket circuit:
.Omar Associates
.Saif Sports Saga
KRl
Higher Education Commission
.Pakistan Education Board
Zarai Taraqiati Bank Limited.
PCB has developed three exclusive practice facilities, which are in accordance with the international standards, in the underdeveloped areas, i.e. Multan, Peshawar and Quetta. This has benefited a lot of players in improving their overall standards.
In order to improve the standing of the Pakistan Women's Cricket Team, the PCB has been arranging two to three international tours annually, which has helped immensely in improving the overall performance of the team and has also enh.[3]Women Cricket Team 
Category
A Category                                       
B Category                                        
C Category                                        
D or Stipend Category          
A system of compensation for women players has also been introduced as a match fee
A Players are given a match fee for both ODI & T20 games.
All medical facilities are provided to the contracted players free of cost.[4]Women Cricket Team 
April 22 2003
PWCCA obtains stay against PCB
The Executive Committee of the Pakistan Women's Cricket Control Association, which is registered under Corporate Law and is a Full Member of IWCC was today, 22 April 2003, awarded a STAY ORDER by the Senior Civil Judge Lahore with regards to the indulgence of the Pakistan Cricket Board with affairs of women's cricket affairs in Pakistan.
PWCCA
PWCCA approached the Senior Civil Judge Lahore after PCB announced that it had taken over the affairs of women's cricket in Pakistan and started holding so-called National trials for women all over Pakistan. It must be noted here that earlier, the Honourable Lahore High Court had directed the PCB only to determine any one genuine association out of the existing three and regulate women's cricket in Pakistan.
PCB worked beyond the mandate given by the Honourable Lahore High Court and decided to take over the affairs of women's cricket. 
A copy of the Stay Order for your ready reference is available here in pdf format. 
The following is an attested copy of the Order passed by Senior Civil Judge. 
"In the Court of Senior Civil Judge, Lahore.
22.4.03    Advocate for the Plaintiff Present,
ORDER: From Defendant's side Mr. Afzal Khan, Advocate, has sought adjournment for filing written statement. As prayed, the case is adjourned to 7.5.03 for written statement and hearing of stay application. Meanwhile, defendants are restrained from interfering illegally into the legal rights of the plaintiff and let them enjoy their legal rights. Both parties are restrained from illegal correspondence and statements with regard to their legal rights.
[5] PWCCA obtains stay against PCB
Womens World Twenty20 2014 Team guide players to watch
World T20 history: Lost all three group games in 2009 and 2010, and picked up a solitary win – by only one run – over India in 2012.Player to watch: Seamer Asmavia Iqbal made her international debut as far back as 2005, a few days short of her 16th birthday. She has adapted well to conditions in Bangladesh, taking 2-22 and 4-16 in Pakistan's recent series against the hosts and removing three of England's middle order to almost set up a shock victory in a warm-up game.
Did you know? Ireland have been Pakistan's most frequent opponents in Twenty20 internationals. The sides have met 12 times (with 10 Pakistan wins and two Ireland victories), but Pakistan have not faced any other country more than six times in the shortest format.[6] Women's World Twenty20 2014
Pakistan to host first womens Asia Cup
Pakistan will host the first women's Asia Cup amid growing female interest in cricket, in Karachi at the end of the month.
"Pakistan has the honour of hosting the first Asia Cup from December 28 to January 4," Pakistan Cricket Board (PCB) women's section secretary Shamsa Hashmi told AFP.
Pakistani women cricketers follow a strict Islamic dress code, wearing baggy trousers and long shirts. "We don't allow male spectators, but families can come and watch the matches," said Shamsa, also the captain of the Pakistan team. "When we hosted India it was great to see families coming and encouraging us."
Pakistan's arch-rivals India along with Sri Lanka would play on a double league basis, but Bangladesh would not take part as it was still in the development phase of women's cricket, Shamsa explained.
Asian nation in Womens Cricket
India are the top Asian nation in women's cricket, having finished as runners-up to Australia in the women's World Cup held in South Africa early this year. Pakistan, Sri Lanka and Bangladesh failed to qualify for the women's World Cup.
Cricket has been drawing a growing female fan base in India, while across the border the women's sport got a shot in the arm earlier this year when it was placed under the supervision of the PCB.
Championship for Women
Pakistan hosted its inaugural national cricket championship for women in March and then invited the Indian Under-21 team for a first-ever women's cricket series between the rivals in October, an event which India won.
The conservative society does not encourage women to play on open fields, but President Pervez Musharraf's government has supported female sports, paving the way for the first women's football championship in September this year. [7]Pakistan to host first women's Asia Cup