23 March, which is also known as the Lahore Resolution is the Day of freedom and having the importance regarding the Pakistani. Pakistan is the country which is the known for its strong culture and the nation which cannot forget the Past. 23 March In Pakistan History is the occasion of that Type. Pakistan (Lahore Resolution) is the Day of Pride towards the Nation and the Day of feeling as the nation for every resident of Pakistan. 23 March In Pakistan History is the day when the Muslims from the different mind setting get the Platform to speak out for Lahore Resolution. 23 March In Pakistan History is also important for Muslims who shows love and positive feelings against Lahore (Pakistan Resolution) which is accepted on 23 March 1940. Pakistan becomes against many devotions of the nation for the betterment of the nation and upcoming cultures in Pakistan. In Pakistan the day (23 March In Pakistan History & Lahore resolution) is being celebrated with full loyalty and joy because of it is the day when Muslim was accepted the very first time as a detach nation on 23 March, 1940.
[1]  23 March In Pakistan History
| Title | Description |
| --- | --- |
| Details | |
| Type: | National Holiday |
| official name: | Pakistan Day |
| Famous as: | Yaum-e-Pakistan |
| In Urdu: | یوم پاکستان |
| Celebrations: | Full Joint Inter-Services military parade, conferring of national decorations, Flag hoisting, award ceremonies, singing patriotic songs and the national anthem, speeches by the president and prime minister, entertainment and cultural programs |
| Significance: | Commemoration of Pakistan Resolution and Constitution |
| Observed by: | Pakistan (Diplomatic missions of Pakistan in other countries) |
| Date: | 23 March |
| Next time : | 23 March 2018 |
| Frequency : | Annual |
| In the Memory of: | The day celebrates the adoption of the Pakistan resolution by the Muslim League at the Minar-e-Pakistan that called for establishing an independent federation comprising provinces with Muslim majority located in north-western and north-eastern region of British controlled territories in India on 23 March 1940. |
| Pakistan Resolution Passed on: | 23rd March 1940 |
| Resolution Presented by: | A. K. Fazlul Huq |
| Seconded by: | Choudhury Khaliquzzaman |
| Witten by: | Muhammad Zafarullah Khan |
| Place: | Lahore |
| Occasion: | 22–24 March 1940 |
| signed by: | Muhammad Ali Jinnah |
| Adopted by: | All-India Muslim League |
| Supported by: | Maulana Zafar Ali Khan from Punjab, Mohammad Abdul Ghafoor Hazarvi from North-West Frontier Province, Sir Abdullah Haroon from Sindh, Qazi Esa from Baluchistan |
| Location: | Pakistan and Diplomatic missions of Pakistan in other countries |
Background

Lord Linlithgow, the Viceroy, told the leaders of the Muslim League that the Government of Great Britain intended to divide India into three dominions – among the Hindus, the Muslims, and the Rulers of Princely States. Within the Muslim League Working Committee, various sub-committees were established, numerous proposals were presented with the final decision resting with the British. However, when the British saw that their objectives could not be met, they unilaterally rejected all proposals submitted by the Muslims. At this point, Zafarullah Khan was asked to submit a proposal on the partition of India, about which the Viceroy wrote to the Secretary of State for India:
"Upon my instruction Zafarullah wrote a memorandum on the subject. Two Dominion States. I have already sent it to your attention. I have also asked him for further clarification, which, he says, is forthcoming. He is anxious, however, that no one should find out that he has prepared this plan. He has, however, given me the right to do with it what I like, including sending a copy to you. Copies have been passed on to Jinnah, and, I think, to Sir Akbar Hydari. While he, Zafarullah, cannot admit its authorship, his document has been prepared for adoption by the Muslim League with a view to giving it the fullest publicity"
[2] Two Nation Theory of sub continent
Lahore Conference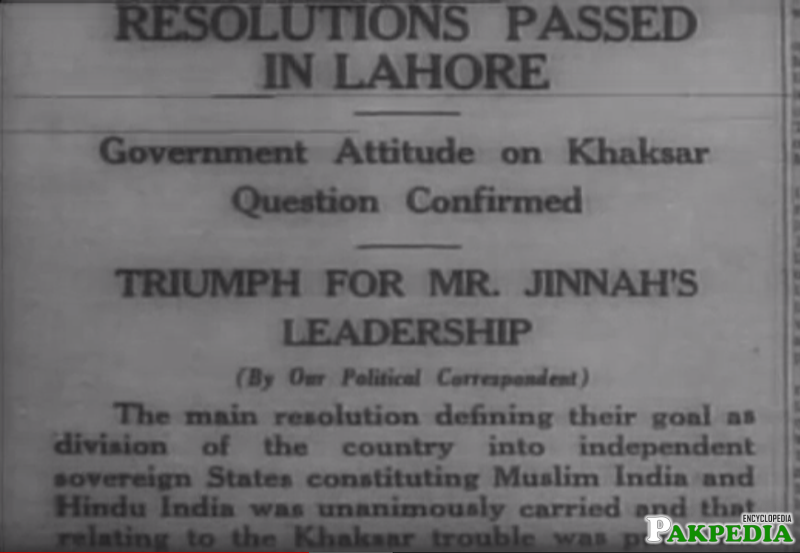 The session was held between 22 and 24 March 1940, at Iqbal Park, Lahore. The welcome address was made by Sir Shah Nawaz Khan of Mamdot, as the chairman of the local reception committee. The various draft texts for the final resolution/draft were deliberated over by the Special Working Committee of the All India Muslim League. Later on, A. K. Fazlul Huq presented the resolution before the public and the AIML General Assembly. The resolution text unanimously accepted the concept of a united homeland for Muslims on the grounds of growing inter-communal violence and recommended the creation of an independent Muslim state. After the presentation of the annual report by Liaquat Ali Khan, the resolution was moved in the general session by A.K. Fazlul Huq, the chief minister of undivided Bengal, and was seconded by Choudhury Khaliquzzaman who explained his views on the causes which led to the demand for partition. Subsequently, Maulana Zafar Ali Khan from Punjab, Mohammad Abdul Ghafoor Hazarvi from North-West Frontier Province, Sir Abdullah Haroon from Sindh, Qazi Esa from Baluchistan, and other leaders announced their support. In the same session, Jinnah also presented a resolution to condemn the Khaksar massacre of 19 March, owing to a clash between the Khaksars and the police, that had resulted in the loss of 32 lives.
The Symbol Minar e Pakistan

Minar-e-Pakistan (Pakistan Minaret) is a minaret (a type of tower) in Iqbal Park in the city of Lahore. It was built to venerate the Lahore Resolution. The minaret is constructed where the Lahore Resolution was passed. This monument symbolizes a blossoming flower and reflects the blissfulness of independence.
[3]  Pakistan Day in Pakistan
Celebrations

Main celebration is held in Islamabad, the capital of Pakistan. The President of Pakistan is usually the Chief Guest; also the attended in public are Prime Minister of Pakistan alongside the Cabinet ministers, military chiefs of staff, and chairman joint chiefs. A full inter-services joint military parade is rehearsed and broadcast live by the news media in all over the country. Pakistan military inter services also shows a glance of its power and capabilities during this parade.
The celebrations regarding the holiday include a full military and civilian parade in the capital, Islamabad. These are presided by the President of Pakistan and are held early in the morning. After the parade, the President confers national awards and medals on the awardees at the Presidency. Wreaths are also laid at the mausoleums of Muhammad Iqbal and Muhammad Ali Jinnah founder of Pakistan. In very rare times and significance, foreign dignitaries have been invited to attend the military parade. From 1956–2000, the following foreign dignitaries who have attended parade are:
|  Year | Chief Guest  | Country  | Notes  |
| --- | --- | --- | --- |
| 1985  | General Rudini | Indonesia | Chief of staff of Indonesian Army |
| 1996 |  Cassam Uteem  | Mauritius  | Mauritius President of Mauritius |