History
As a leader in the kid's entertainment business worldwide and one of the largest producers of children's television programming in the world, NICKELODEON has built its brand on a decidedly kids point of view. In Pakistan, NICKELODEON is a part of ARY Digital Network since 2006. Nickelodeon Major Brands are characters like SpongeBob, Dora, Jimmy Neutron, Diego, Avatar which are recognized as major kids entertainment brands of the world. 
[2]
Official Facebook Page of NICKELODEON PAKISTAN.
Criticism and controversy
In 2005, the Pakistan Electronic Media Regulatory Authority issued an order regarding the ban of several non-private channels because programming which should have been dubbed into Urdu or used Urdu subtitles instead used Hindi terms and references blended into the local scripts, or the networks carried all-Hindi versions imported from India outright. Later on, Cartoon Network Pakistan switched to using the original English audio with Urdu visual translation on PEMRA's orders, but the Urdu dubs with Hindi blended in returned months later. In early 2010, PEMRA again issued a notice against children's networks, and suspended the licenses of Nickelodeon and Cartoon Network, disallowing them from broadcasting. In the meantime, the Pakistani government pushed unsuccessfully for PTV or another domestic broadcaster to launch a children's network to replace private broadcasters in order to assure PEMRA compliance with language standards. On 1 August 2011, the Minister for Information and Broadcasting, Dr. Firdous Ashiq Awan, announced the restoration of the Nickelodeon and Cartoon Network licenses, allowing their return to the air, though she expressed disappointment that a domestic Pakistani broadcaster would not step up to broadcast children's programming, nor PTV would launch one, and that PEMRA would accommodate the launch any such network. 
[3]
Criticism and controversy
2016 network suspension
In the aftermath of the 2016 Uri attack, PEMRA again focused on Nickelodeon Pakistan as the network had begun to share programming with Nickelodeon India due to cost concerns, both within ARY and Viacom, and felt ARY was shirking off PEMRA's orders in order to economize against their orders; this also included the return of Hindi-blended and all-Hindi content to the Nickelodeon Pakistan schedule since their 2011 return to the air. The regulatory authority ordered a ban of the broadcasting of all Indian-originated media after 19 October, though PEMRA ruled that ARY Group had disregarded the order and continued to air imported programming with Hindi language content from Nickelodeon India during the restricted period. The network's license to broadcast was suspended on 31 October, with local providers pulling the network on PEMRA's orders. The network's website has since been taken down; its Facebook remains up but with no mentions of the suspension, and the only updates being to their profile image, possibly automated. 
[4]
2016 network suspension
Kung Fu Panda
Kung Fu Panda: Legends of Awesomeness tells the continuing adventures of Po as he trains, protects, fights, teaches, learns, stumbles, talks too much, and geeks out as the newest hero in the Valley of Peace. Now living in the barracks with the Furious Five, Po will have to take on his many new responsibilities, his many new adversaries, and his many old pounds in the continuing adventures of the Dragon Warrior. And kick some serious boo-tay. 
[5]
Kung Fu Panda: Legends of Awesomeness
Penguins of Madagascar
To most people, Skipper, Kowalski, Rico and Private are just four cute penguins living in the Central Park Zoo. And that's exactly what they want people to think. Why? Because these placid-looking penguins are actually an elite strike force with unmatched commando skills and a secret headquarters. Their mission? To maintain order in the zoo. Their nemesis? Their obnoxious new neighbor, King Julien. This party animal and self proclaimed "King of the Lemurs" is new to the zoo...and he's looking to shake things up. 
[6]
Penguins of Madagascar
SpongeBob Square Pants
SpongeBob lives in a pineapple with his pet snail, Gary, loves his job as a fry cook at the Krusty Krab, and has a knack for getting into all kinds of trouble without really trying. When he's not getting on the nerves of his cranky nextdoor neighbor Squidward, SpongeBob can usually be found smack in the middle of all sorts of strange situations with his best buddy, the simple yet lovable starfish, Patrick, or his thrill-seeking surfer-girl squirrel pal, Sandy Cheeks. 
[7]
SpongeBob Square Pants
Nickelodeon Pakistan
Nickelodeon Pakistan or Nick is the Pakistani subsidiary of the Nickelodeon group. It is operated as joint venture between MTV group and local media. The entire international schedule is aired by dubbing it into Urdu language. Nickelodeon Pakistan is also responsible for distributing Hollywood films in Pakistan which are specifically made for children. The website of the channel also offers various content including games, videos and contests. The whole broadcasting schedule is also available on the website. The channel was launched on 23 November 2006 along with its sister channels from ARY and QTV group. The channel offers variety of content mainly aimed for children including famous shows like Dora the Explorer, SpongeBob Squarepants and Oggy and the Cockroaches. The channel tracks viewers using Facebook, Twitter and has also opened a YouTube channel. Here we are providing you information like their office contact details of the channel like head office address, office contact number, social profiles and some of the important link to their website. 
[8]
Nickelodeon Pakistan Head Office Address, Email ID, Phone Number
Shows
Go Diego Go
Go, Diego, Go is a brand new pre-school series that follows the animal saving adventures of eight-year-old Diego, Dora the Explorer's action loving cousin.  Diego is an avid animal lover who traverses the rain forest in search of animals that need rescuing.  With the help of his older sister Alicia as well as his friends Click and Rescue Pack, Diego gets to meet a variety of different animals in the jungle and learn all about them.
[9]
Go Diego Go
Each episode starts out at the Animal Rescue Centre where Diego locates an animal in need of rescuing with the aid of Click the camera.  His sister Alicia then helps educate Diego and the viewer about the animal with such information as tracking animal prints and what sounds they make.  Diego, along with his trusty aid Rescue Pack and the viewer then sets out on his adventure across the various landscapes in order to rescue the animal.  There are many obstacles to overcome where Diego and Rescue Pack frequently call on the viewers to help him with. Go, Diego, Go! continues the Nickelodeon Pre-school themes of entertainment, education and music.  Like Dora the Explorer, Diego communicates with his audience in both Russian and English in order to further immerse the viewer in another language.  Diego also includes learning about animals and their environment in an entertaining and exciting way. 
Wonder Pets
In a preschool classroom in your neighbourhood there are three very special pets! These pets are no ordinary classroom pets. At the end of every school day, when everyone goes home, they become the Wonder Pets! Three courageous superheroes who travel the world using teamwork to help save young animals in distress. The Wonder Pets! Do not have any actual superpowers. In this way, they are very much like preschoolers. But what they do have is TEAMWORK! They know that by working together and combining their individual skills, there is nothing they can't achieve. This is what makes them the Wonder Pets.
Oobi
Oobi, a bare-hand puppet (with eyes and accessories) focuses on the stage in a young child's life when everything in his or her world is new and incredible. Oobi is a show about wonder. It speaks to the stage in a young child's life when everything is new and incredible: building a block tower, making cookies. Oobi is a show about children's first awkward attempts at mastery and meaning. It's a show about the everyday revelations. Learning Goal: With interactive games and story, Oobi, a curious and gentle four-year-old, discovers the world around him, along with his three-year-old sister Uma, his best friend Kako, and his grandfather, Grampu -- all bare-hand puppets. Through connected learning preschoolers build vocabulary, concepts and skills from mathematicsm, early literacy, logical thinking and movement.
Dora - The Explorer
Live Action
Mike Fukanaga
Mike Fukanagathought dealing with his jokester best friend, Owen Reynolds and trying to win the heart of his long time crush Amanda Mckay would be the biggest challenges in high school. Boy was he wrong. When Mike discovers that he comes from a long line of ninjas, he's ushered into the exciting world of crime-fighting, butt-kicking, and villain-battling. Mike & Owen team up as "Supah Ninjas" and begin training with Mike's grandpa a.k.a "Hologramps." Too bad it's not as easy as it sounds -- between dealing with drama at school and fighting super villains, these Supah Ninjas are in for one tough battle.
Victorius
Victorious follows Tori Vega (Victoria Justice) a teen who unexpectedly finds herself navigating life at an elite performing arts high school. After her sister Trina has a medical mishap on the night of the school's annual talent showcase, Tori steps in to perform Trina's song. Accompanied on the piano by her musically-gifted friend André, Tori's singing and dancing impress the school's principal so much that she offers her the opportunity of a lifetime – an invitation to become a student at Hollywood Arts High School. From her first day at the school, Tori feels out of place among the amazingly talented students, especially mean diva Jade. With the help of Trina, André and her new friends – brooding bad boy Beck, eccentric Cat and lovable but psychologically scrambled ventriloquist Robbie – Tori realizes that she was born to perform and that entertaining people not only makes her happy but may change her life. The series will feature original music performed by Victoria Justice and the ensemble cast.
House of Anubis
House of Anubis, originally a Dutch production and an established Nickelodeon hit in Northern Europe, has been re-created as the first-ever Nickelodeon U.S. live-action show produced in the U.K. Combining mystery, comedy and drama, House of Anubis follows Nina, an American girl who moves to the UK to attend a boarding school. Along with the other students she stumbles upon and tries to solve a hidden mystery at the school, while dealing with the highs and lows of their teenage years.
Big Time Rush
Big Time Rush is a series about friendship and brotherhood that chronicles the finding, making and breaking – of a potential chart-topping music group.  Each of the guys brings something different to the group as they figure out their place in the crazy business of music and entertainment.  A naturally gifted singer, Kendall never planned on becoming famous but definitely has the swagger of a music star.  After seizing this opportunity of a lifetime, he leads his friends on an exciting comedy and music-filled journey.  James has big dreams for himself and his pals and his confidence in their potential for success helps the other guys deal with the more difficult moments. Carlos looks at life as a big playground and this foray into music as an awesome ride that he is on with his buddies. The brains of the operation, Logan is the voice of reason and his sharp wit gives everyone the perspective they need to stay true to themselves and their goals.  Life in the business is not easy and their antics often get them in trouble with the record label.  From falling for the same girl to redecorating their apartment at the Palm Woods to misbehaving with a new school teacher at the recording studio --  the group learns that success comes with hard work and dedication – and the support of one another.
Animation
MONSUNO
MONSUNO...They hurtled through space eons before man existed... They burned through the planet's atmosphere and crashed into four corners of the world, bringing chaos, destruction and the extinction of the dinosaurs...And as suddenly as they arrived...they vanished. NOW THEY ARE BACK!The rise of MONSUNO will spell the ultimate destruction of our planet...or launch the courageous adventure of mankind's newest hero, the unpredictable teenager, Chase Suno.
Keymon Ache
Keymon is a magical creature, a soft toy that doubles up as a schoolbag that comes to life and can bring other toys and gadgets to life too. He is on a constant mission to help Rohan and make his life easier. Of course it usually does not pan out like that and every gadget that Keymon gives Rohan ends up causing more trouble than help. Rohan's gang of toy friends include the lazy and sleepy PSP handheld gaming device Khelsingh, the moralistic football Ballchi who is the voice of reason and the non-talking remote controlled car Cartoon who lets out a siren sound and flashing red lights on sensing danger. Add to this a constantly frowning and worried Mum and Dad, a set of irritating teachers, Mini, the girl Rohan has a crush on and his nemesis Rahul, and you have a show full of the hilarious adventures of an ordinary 9 year old battling with school, home, friends and life in general.
Planet Sheen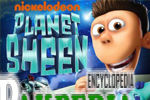 There's never a dull moment in the life of Sheen Estevez! After sneaking into his best friend Jimmy Neutron's laboratory and finding Jimmy's top-secret rocketship, Sheen accidentally blasts himself into outer space! 4 million and 1 light years away, Sheen crash-lands on Zeenu -- a strange planet inhabited by purple aliens called Zeenuians. After using their bathroom, Sheen wants to go home, but his rocketship got smashed in the crash and it's his only ride! No problemo, Sheen can totally fix it! All he needs to do is... uhh... where's Jimmy? Meanwhile, an evil villain named Dorkus is super mad that Sheen destroyed his house in the crash, and he's bent on destroying the pesky Earth boy! Luckily, Sheen makes a ton of new friends on Zeenu, including Doppy (an alien who looks exactly like Sheen's old friend Carl Weezer), Emperor (the grand head ruler of Zeenu who thinks Sheen is a superior being sent from the heaven) and Nesmith (a talking chimp genius who's really good at things like math, English and fixing broken rockets). Will Sheen survive the evil plots of Dorkus and repair his rocket so he can get back to Earth before anyone notices he's gone?!? Watch and see!
Catscratch
Mrs Edna Cramdilly loved her cats as if they were her own children. Therefore it goes without saying that upon her death she would leave her entire fortune and worldly possessions, including her huge mansion, to her fluffy little babies. Now the three brothers, Mr Blik, Gordon and Waffle, enjoy a life of freedom and leisure. Their incredible wealth allows the three of them to live like filthy-rich humans, with no responsibilities and no limit to their adventures. And with these particular upright-walking, monster-truck driving cats, only one thing can come of their endless holiday: Trouble! So join Mr Blik, Gordon and Waffle as their continual comic misadventures lead to mix-ups and mayhem.
Avatar
Water. Earth. Fire. Air. Only the Avatar was the master of all four elements. Only he could stop the ruthless Fire Nation from conquering the world. But when the world needed him most, he disappeared. Until now... On the South Pole, a lone Water Tribe village struggles to survive. It's here that a young Waterbender named Katara and her warrior brother Sokka rescue a strange boy named Aang from a cavernous iceberg. Not only is Aang an Airbender--a race of people no one has seen in a century--but they soon discover that Aang is also the long lost Avatar.
Jimmy Neutron
Welcome to Retroville! Keep your hands inside the rocket at all times, don't get too close to the girl eating plant, and be careful not to step on the invisible hamsters. Wondering where all this wonderful stuff comes from? Why, James Isaac Neutron, of course, Retroville's resident Boy Genius. Jimmy's amazing inventions make his life easier and more interesting... when they work the way they're supposed to. Which is rare. But for Jimmy, his robot dog Goddard and his pals Carl and Sheen, every short circuit is a new adventure!
Nickelodeon Pakistan Office Contact Details
Nickelodeon Pakistan Head Office Address: 6th floor, madina city mall, Abdullah Haroon road, Karachi, Pakistan
Nickelodeon Pakistan Head Office Phone Number: +92 21 111279111
Nickelodeon Pakistan Head Office Fax Number: +92 21 4313565
Nickelodeon Pakistan Official Email ID: info@arydigital.tv
Social Profiles
Facebook Fan Page: facebook.com/nickelodeonpakistan
YouTube Channel: youtube.com/user/nickpakistan