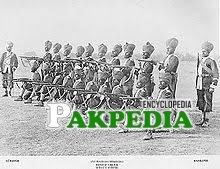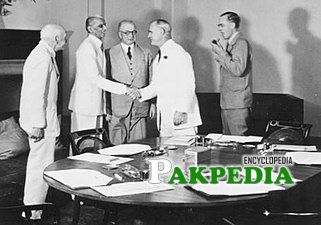 Division of Military
Many army units with large numbers of Muslims were in areas which were to be part of India, and virtually no Hindu or Sikh soldier opted to join the Pakistan army. The agreed division of the military was in ration of 65 to 35 in India's favour, which corresponded roughly with the communal balance in the army. Pakistan receive 6 armors divisions to India's 14, 8 artillery division to India's 40, and 8 infantry divisions to India's 21. Pakistan also receives the staff college in
Quetta
and the service corps school at kakul, which later became the Pakistan, military academy. The British still assumed that the main security threat to Pakistan would be the Soviet Union from the north-west.
Requirement and availability
Pakistan immediate requirement was for an army of 150000 men and 4000 officers. There were only 2500 Muslim officers available, so the shortfall had to be made up temporary commissions and 500 British officers, which included the first two commanders-in-chief. As far as senior commanders were concerned, there was only one Muslim general, two brigadiers 53 colonels available for the new army. This means that the Pakistan army had to be created from scratch and was seriously deficient in stores, supplies and weapons.
Quaids warning to officer
The Quaid was clear about the role of the army when Pakistan army officer complained on 14 august 1947 that the top posts had all been taken by British officers. He warned the officer never to forget that "the armed forces were the servant of the people" and that "you do not make national policy, it is we, the civilians, who decide the issues and it is your duty to carry out those tasks for which you are entrusted" the Quaid repeated the advice 10 months later on an official visit to the staff college at Quetta. On that occasion, he reminded the audience of students and instructors that "executive authority flow from the head of the government of Pakistan, who is the governor-general". Ironically, some in the audience were later to organize and lead the 1958 military coup which establishes the first martial law administration.
Threat from Afghanistan
Pakistan's early years were dominated by active conflict in Kashmir in 1947 and 1948, making Pakistanis desperately aware that the Pakistan army was deficient in even the most basic supplies and was outnumbered by India. Pakistan was also dismayed by the growth of Afghanistan/Indian relation during the early period following partition, as the afghan claim for part of Pakistan's North West was supported by India. The Pakistan army had survived its first test. It now needed enough time to build up its forces against the threat from its eastern border, not the north-west.  
[1]
national security