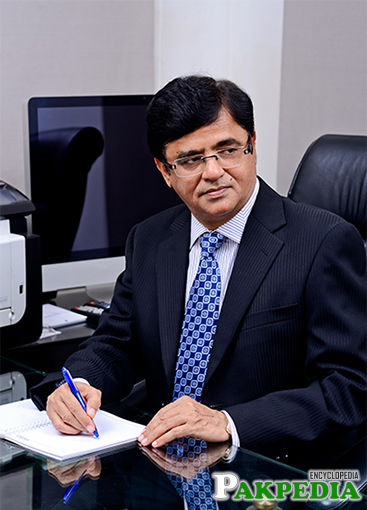 Introduction
Kamran Khan is one of the lead anchor persons of Geo, TV. He is also in charge of The News Intelligence Unit (NIU), where he manages investigative reports for The News International. He started his career as Anchor Person with Geo's program, "Frontline." Geo now has Kamran Khan in a new show; "Aaj Kamran Khan Kay Saath" this show is a late edition for political fans, offering them a daily news round-up. On Pakistan TV, Kamran Khan who is "critical of the Pakistan government," blasted it for incompetence on the capture and killing of Osama Bin Ladan. He said, "We had belief that our defenses were impenetrable, but look what has happened. Such a massive intrusion and it went undetected." By means of more than two decades of journalism experience to cash from, Kamran Khan is now one of Geo's lead anchors during special news and milestone events. Kamran Khan is considered as a Pakistani investigative journalist and "espionage and intelligence expert."
[2]
Kamran Khan Introduction
Kamran Khan Wedding
Kamran is the personality who has no scandals until yet. He has a very successful married life as well as successful career. He has a complete family, he has sons and daughter and caring wife. He married in the early 80's and since he has a very happy and enjoyable life. He lives in Islamabad where he enjoys the environment of nature with his loving family.
[3]
Kamran Khan Wedding
Kamran Khan Interview
In his opinion Al-Qaida does not follow the rules and regulation of border and these people do not have any faith. According to him terrorism is not related to any religion and this will ruin the peace of world. The situation of
Karachi
is not good, according to him some international hand involve to disturb the situation of Karachi. On talking to him about personal life, he is not openly discussing his personal life but he is happy with his wife and kids and enjoyed the daily life routine.
[4]
Kamran Khan Interview
Media Career
Kamran professionally start his career in the middle of 80's and in the year of 1990 he joined the team of Geo Television Network and until yet he is still working for Geo. He has a command on social and international political issues and presents the issue with detail research and investigation. Now he is the leading Geo anchor who is responsible for many things. KK is also do correspondent to some international Newspaper like Washington post, Herald Tribune and Sunday times. He has an honor to represent the live talk show from the platform of Geo Network. Now Kamran is doing a permanent show "Aaj Kamran Khan k sath" on Geo television Network, in this show he covers the daily problems and issues related to politics or social.
[5]
Kamran Khan Media Career
Kamran Khan News Stories
Kamran became famous in the year of 2000, when he first issues the report of Daniel who was kidnapped by Al-Qaida and murdered. Kamran investigates and launches the reality of this issue this step helps in making Kamran popular. Later on, he investigate on many issues related to India, America, Iran, Afghanistan,
Pakistan
and many other countries. Kamran also investigates the issue of 9/11 and he conducts a whole day live show to make their viewers up to date.
[6]
Kamran Khan News Stories