The real name of the Airport situated in Karachi is Jinnah International Airport as it was the first Airport in Pakistan and got the name of Pakistan's founder Muhammad Ali Jinnah. It's the gigantic, busiest and beautiful airport of Pakistan. It consists of four terminals, Terminal I, II, III and the Jinnah Terminal.
IATA code: KHI ICAO code: OPKC
Many Airlines have their main hubs located here including the National airline (PIA) and other private Airlines of Country. This Airport has almost every facility related to aviation including aircraft maintenance (overhauling), washing and cleaning the aircraft and other aviation engineering-related capabilities.
JIAP provides a primary hub for the flag carrier, of our national airlines as well as many other private airlines and international carriers. The airport has equipped latest Radar technology with aircraft engineering and overhauling facilities.
Jinnah international airport is also a hub of Air Cargo handling to and from Karachi.
The airport has a well-organized McDonald's restaurant, which is a big attraction and a refreshment point for all the passengers
The Airport offers many services to its Passengers and visitors, it has many restaurants, beverage and snack counters, Duty-free shops, Mosque, mobile recharging and Wi-Fi / Internet points for the ease of passengers & visitors. [1] About the Airport
| Title | Description |
| --- | --- |
| Information | |
| Location: | Karachi, Sindh, Pakistan |
| Province: | Sindth |
| Name: | Jinnah International Airport |
| In Urdu: | جناح بین الاقوامی ہوائی اڈا |
| Nickname: | Jinnah Airport |
| Type: | Public |
| Address: | Airport Road، Karachi |
| Serves: | Karachi |
| Operator: | Pakistan Civil Aviation Authority |
| Owner: | Manager: Afsar Malik |
| Local Language Name: | Sindhi, English, Urdu |
| Airport Completed: | 1992 |
| completion Cost: | US $100 million |
| Coordinates : | 24°54?24?N 67°09?39?E |
| Latitude: | N 24° 54′ 30.81 |
| Longitude: | E 67° 09′ 45.94 |
| Elevation: | 100′ |
| Longest Runway: | 11100′ |
| Magnetic Variance: | E 0.0° |
| Fuel Type: | JET A-1 fuel is available |
| Oxygen: | Unspecified oxygen facilities are available. |
| Repair Facility: | Major airframe repairs are available. Major engine repairs are available. |
| Landing Fee: | There is a landing fee. |
| Jet Start Unit: | A starting unit is not available at the airport. |
| Precision Approach: | Available. |
| Beacon Light: | A beacon light is available. |
| Customs Facilities: | Customs are available without restriction |
| Usage Type: | Airport/Heliport is open to the public. |
| Time Zone Conversion: | -5:00=UTC |
| Daylight Savings: | Airport observes daylight savings time |
| Website: | karachiairport.com.pk |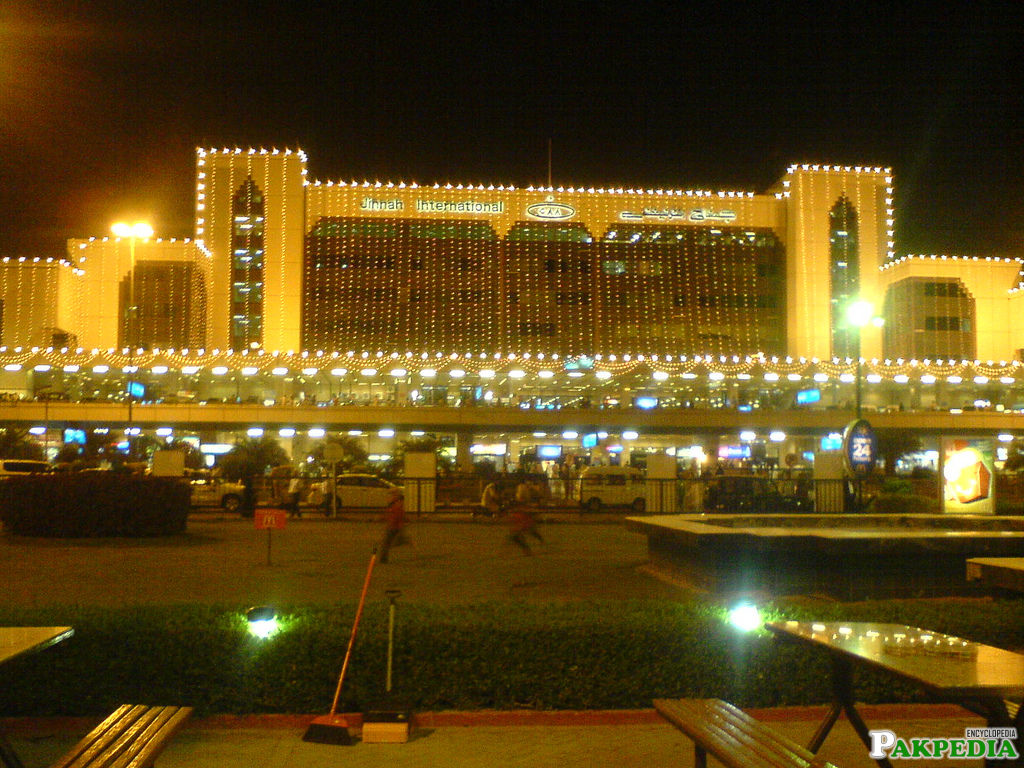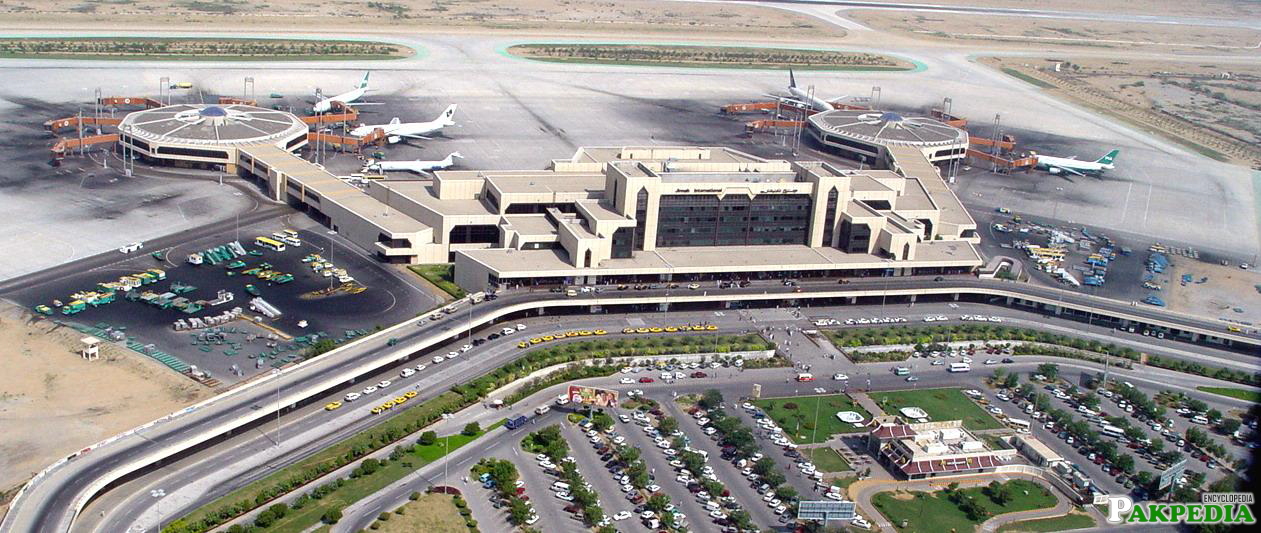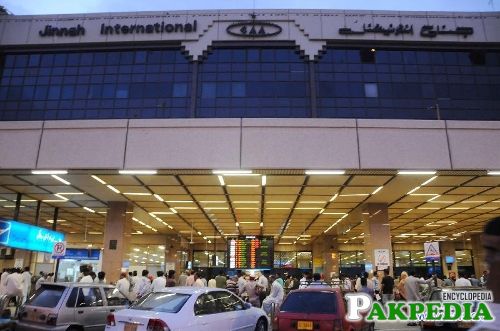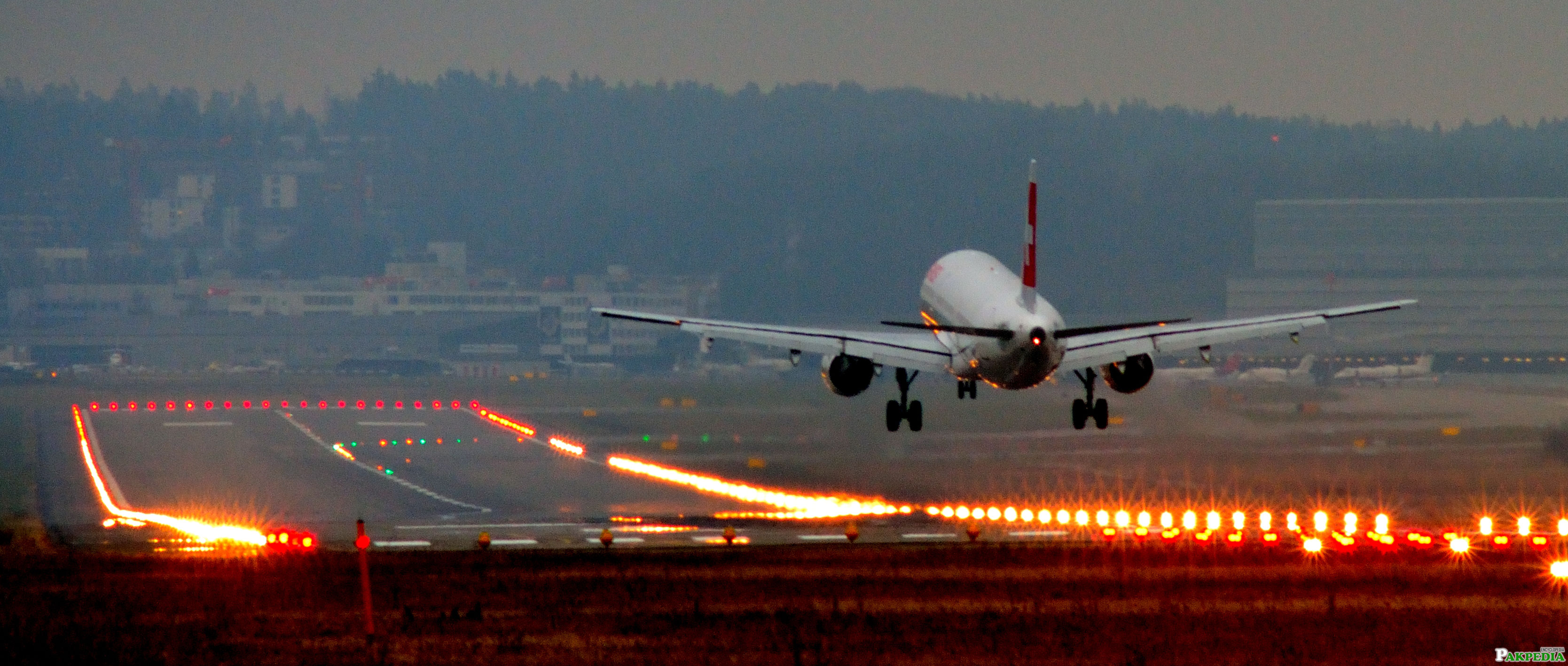 History

Jinnah International Airport (JIAP) Karachi is Pakistan's largest international and domestic airport. It consist of four terminals, Terminal-I, II, III and the Jinnah Terminal. The airport is named after Crown attorney/statesman Muhammad Ali Jinnah, the founder of Pakistan and its first Governor General, who was popularly known as the Quaid-e-Azam ("Great Leader") [2] Airport History
J. R. D. Tata, the father of civil aviation in British India made the maiden voyage from Juhu Aerodrome in Bombay to Drigh Road airstrip (now Jinnah International Airport),  Karachi, via Ahmedabad, on 15 October 1932 carrying mail in a Puss Moth aircraft. [3] History by intro to travel book
ASF – Airports Security Force (Pakistan)
The Airports Security Force (Pakistan) (ASF) is part of the Aviation Division (Pakistan) and is responsible for protecting the airports and the facilities and the planes (on-ground or in-air). ASF safeguards the aviation industry against unlawful interferences, adopting counter terrorism measures, preventing crime and maintaining law within the limits of Airports in Pakistan. The current Director General of ASF is Maj Gen Sohail Ahmad Khan (from Pakistan Army).
The ASF was established in 1976 under the Airport Security Force Act LXXVII of 1975 initially as the Directorate of the Department of Civil Aviation. After the hijacking of a Pakistan International Airlines aeroplane in March 1981, sensing the contradictory requirements of security and facilitation, the ASF was separated, and in December 1983, was placed under the folds of the Ministry of Defence
Airline History
Since this Airport has been constructed from 1924, so many airlines all over the world are being part of it after Pakistan's liberation. Here are the names of some big Airlines:
From Asian Airlines including Middle East: Air India, Sri Lankan Airlines, Kazakhstan Airlines, Uzbekistan airlines, Syrian Airline, Jordanian airline, Kyrgyzstan Airlines, Kuwait Airways, Saudi Arabian Airlines, Qatar Airways, Kuwait Airways, Gulf Airways, Garuda Indonesia, Japan Airlines, Singapore Airlines, Thai Airways, Malaysian Airline, Philippine Airlines etc.
From Europe: Lufthansa, Swiss Air, Scandinavian Airlines, KLM Dutch Airlines, Air France,
From Australia: It was only Qantas Airlines, which was operating from Australia.
From Africa: Nigeria Airways, Ethiopian Airlines etc. [4] Airline Schedule
Terroist Attack
The first attack on Jinnah International Airport was on 8th June 2014, 10 terrorists equipped with weapons attacked Jinnah International Airport in Karachi, Pakistan. 36 people were killed in this attack together with all 10 attackers, 18 people were injured. Two aircrafts of PIA (Boeing 747 and an Airbus A310) and one Air Indus plane were reported damaged.The Pakistani army, after a gun battle lasting more than five hours, killed all 10 gunmen who launched an attack on the old terminal at Jinnah International Airport in Karachi, according to various media reports. The attackers had killed 13 people, mostly security guards and airline workers, BBC reported, adding that the attack also left at least 14 people wounded.
The New York Times, citing Syed Qaim Ali Shah, the chief minister of Sindh Province, reported that the dead included 10 members of the Airport Security Forces and a flight engineer from Pakistan International Airlines.
"They were well trained," Shah told reporters of the attackers, according to the Times. "Their plan was very well thought out."
Several Twitter accounts run by the Pakistani wing of the Taliban, Tehrik-i-Taliban Pakistan (TTP) have claimed responsiblity for the Karachi attack. The attackers had forged credentials identifying them as security personnel, Dawn reported.
The militants and security personnel engaged in a gun battle and three massive explosions rocked the airport, producing huge plumes of smoke over the cargo terminal. Three planes were damaged, Dawn said.
Dawn said the bodies of 10 security personnel were brought to Jinnah Hospital along with 15 people who were injured. An army spokesman said "Indian arms and ammunition" were recovered, according to local reports. [5] Terroist  Attack  
In the attack on Karachi Airport by terrorists, 10 to 15 APC officials have been injured and 5 have embraced shahadat in the encounter. 4 terrorists have been killed and one suicide bomber blew himself up at the custom clearence gate. The weapons that were been recovered had Indian label on it. Operation by the police and rangers is still being carried out.
In a telephonic interview to a private tv channel, Altaf Hussain said that he had been warning the country about talibanization in karachi since a long time. He urged the government and the military to deal the situation with iron hands and assured them the support of MQM and all its workers. [6] Attack by Terroist
Navids
The airport is equipped with just ILS CAT-1, in which radio beams provide pilots with both vertical and horizontal guidance during an approach to land. Intense fog and other disturbing visibility weather phenomena is almost negligible due to sea, CAT-2 or CAT-3 must be installed at Airport to reduce the minima which is helpful for proper and on time landing.
Other necessary Navaids Like VOR, DME and Glide Slop are also operating to help the smooth and efficient traffic flow on this busy airport. [7] Airport Navids  [8] Navids of Airport