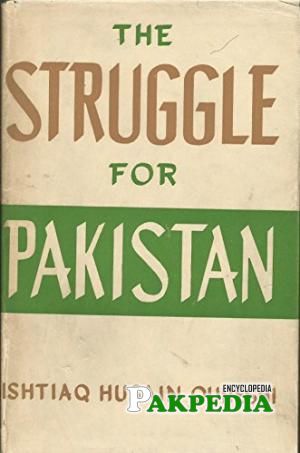 Biography
Prof Dr Ishtiaq Hussain Qureshi was one such fellow. He is one of the big names in historiography and he made history, too. His biographical sketch reads like a plot straight out of a traditional story-book where a boy from a small town who once could not afford a decent education later travels the world and becomes a minister and a famous man. Dr Qureshi wrote history, made history and lived history.
Family
Dr Sahib's family had suffered much at the hands of the British. His grandfather's brother was hanged for taking part in the
1857's war
of independence and his grandfather was grilled about his suspected cooperation with his brother. Dr Sahib abhorred the colonialists and, therefore, joined the Non Co-operation Movement and the
Khilafat Movement
as soon as they were launched. During the movement he helped establish Khilafat committees in the rural areas and gained invaluable experience that shaped his personality and shattered his belief in the notion of Hindu-Muslim unity.
[1]
Family
Born and Education
Ishtiaq Hussain Qureshi was born in a noble family of Patiali, District Etah, a town in Uttar Pradesh, British India. He did matriculation in 1916, and joined MAO College Aligarh. At this time, he took active part in Khilafat movement. He did graduation and M.A. in History from St. Stephen's College, Delhi with distinction. In 1927, he got M.A. in Persian.
[2]
Born and Education
Served As
He served as Lecturer in History at St. Stephen's College from 1928 to 1944. Between 1937–40, he studied at Cambridge University for a PhD degree. The topic of his thesis was Administration of Sultanate of Delhi. During this period, he also briefly joined the Pakistan National Movement founded by Chaudhary Rahmat Ali.After returning from England, he joined Delhi University where he was appointed Professor of History, and subsequently, the Dean of the Faculty of Arts. He also served as Acting Vice Chancellor of the Delhi University. In 1947, during the Partition riots, when the Muslim students of the St Stephen's College had to be evacuated to the Purana Qila, Dr Qureshi's library was completely burnt down by the mobs.
Career in Pakistan
After suffering from riots, he moved to Pakistan in 1948.There, he continued his academic and political career.He served as a member of the Constituent  Assembly of Pakistan. In 1949, he was selected Professor of History at the
University of the Punjab, Lahore
. He also joined the Government of Pakistan as Minister of Refugee and later as Minister of Education. 
Famous Book
Later on, he joined the Columbia University, New York where he wrote his famous book, the Muslim Community of the South Asia, as a story of the trials and tribulations  of the Muslims in the South Asia.On his return, he played a pivotal role in the development of the
University of Karachi
. 
Researching and Writing
The notable aspect of his personality is that during his entire political career he never quit his scholarly pursuits and kept on researching and writing. Joining Columbia University as a visiting professor in 1955 provided him an opportunity to remain engaged in an array of intellectual and scholarly activities. Here he stayed till 1960 and authored his signature work 'The Muslim community of the indo-Pakistan sub-continent', a milestone in the historiography of the sub-continent. In 1960, he was invited to head the then newly-established 'Central institute of Islamic research'.
Vice Chancellor
He accepted the offer but in 1961 was made Karachi University's Vice Chancellor. It was a challenge as the nascent varsity was grappling with a whole lot of problems. Dr Sahib's vision, experience and relentless work transformed it into one of the country's best universities. He got new blocks of buildings constructed, new departments and a new faculty opened and sent many university teachers abroad for further research and training. He got the varsity's central library constructed that today houses over 200,000 volumes.
Two Important Books
During his tenure as VC, he penned two very important books, 'The struggle for Pakistan' and 'The administration of Mughal empire'. After his retirement as VC in 1971, Dr Sahib wrote three valuable books, namely 'Education in Pakistan', '
Akber
the founder of Mughal empire' and 'Ulema in politics'.
The Struggle for Pakistan
When the Muslims demanded a separate sovereign state embracing the Muslim majority areas in the subcontinent, many neutral observers were taken aback. Even today Pakistani writers find it necessary to explain the raison d'etre of their country.In the book Qureshi is trying to fill gaps, clear confusion, and give historical sanction to the
concept of Two-nation theory
and the hardships faced by Muslims in their struggle for Pakistan.Qureshi's conclusions on Pakistan movement are: "Pakistan came into existence as the result of the successful struggle of the Muslims of the Sub-continent against two imperialisms, British, and Hindu" and that "the Pakistanis did not receive Pakistan on a silver platter.
[3]
The Struggle for Pakistan
Other Posts
Dr Sahib held many other posts too, such as president, Pakistan Historical Society, and Member, National Commission for Archives and Historical Records. He attended and addressed a large number of national and international seminars. His countless papers on Pakistan's history and its culture serve as reference for scholars. He did still some more scholarly work during the last phase of his life when in 1979 he was asked to head the then newly-established 'Muqtadira Qaumi Zaban', or the National Language Authority'. Here he planned and took the first steps towards making
Urdu
a language that could replace English as a medium of instruction and as official language of the country, a cause for which he had been fighting throughout his life. Though Urdu has been prepared to assume the mantle of the country's official language, through the efforts of Muqtadira and other similar institutions of the country, a lack political will by successive governments has been hindering its progress.
Honors
In recognition of his services he was decorated with the order of Sitara-e-Pakistan (Star of Pakistan).
On November 20, 2001, Pakistan Post issued a commemorative postage in his name.
The annual Ishtiaq Hussain Qureshi Memorial Lecture continues to be organised by the History Society of St. Stephen's College.
Work
English Titles
Administration of the Sultanate of Dehli (1942)
Ulema in Politics
Akbar, the Architect of Mughal Empire
Education in Pakistan
The Administration of Mughal Empire
Struggle for Pakistan
The Muslim community of the Indo-Pakistan subcontinent, 610-1947: a brief historical analysis. Gravenhage, Mouton. 1962
A Short History of Pakistan (General Editor)
The Religion of Peace (1930)
Urdu Titles
But Tarash
Band Lifafa
Katt Putlian
Gunha ki Diwar
Mitthai ki Tokri
Moalim Aswad
Mullah Aala
Nafrat ka Beej
Hamzaad
Neem Shab
Naqsh-e-Akhir[4] Urdu Title
List of Books
The religion of peace 1930
The Administration of the Sultanate of Delhi 1942 
The Muslim community of the Indo-Pakistan subcontinent, 610-1947 - 1962
The Struggle for Pakistan 1965
Administration of the Moghul Empire1966
A Short History of Pakistan 1967
Ulema in P0olitics 1972
Administration of the Mughal Empire 1974[5]  List of Books 
Death
Dr Qureshi died on January 22, 1981, in
Islamabad
and was buried in Karachi's
Gulshan-i-Iqbal
graveyard.Though he himself has now become history, Dr Ishtiaq Hussain Qureshi will live on as a historian and a research scholar.