From power games of international politics to the conspiracies of Pakistan's power corridors Dr Shahid Masood has seen it all, He looks at the past, examines the present and gives his assessment of the future. His diagnosis and prescription for the issue is often spot on. Currently Dr.Shahid Masood is associated with News One where he is hosting his show Live with Dr. Shahid Masood. Dr. Masood's main strength is in expressing his most rational thoughts and insights in an easy to understand, informal manner. This is what keeps viewers riveted to his show at home and abroad.[1] From power games of international politics to the conspiracies
| Title | Description |
| --- | --- |
| Personal | |
| Name: | Dr. Shahid Masood Khan |
| In Urdu: | ڈاکٹر شاہد مسعود خان |
| Native Name: | Shahid Masood |
| Famous As: | Journalist |
| Nationality: | Pakistan |
| Residence: | Karachi, Sindh, Pakistan |
| Education: | Dow University of Health Sciences, Jinnah Sindh Medical University |
| Religion: | Islam |
| Profession: | Medical doctor |
| Height: | 5 ft 10 in (1.78 m) |
| Weight: | 84 kg |
| Website: | http://www.drshahidmasood.com |
| Twitter Account: | https://twitter.com/Shahidmasooddr |
| Maritial Status: | Married |
| Zodiac: | Pisces |
| Home Town: | Karachi |
| Occupation: | Doctor, Journalist, Political Analyst, columnist |
| Other Role: | Chairman Pakistan Television Corporation |
| In office: | 21 June 2008 – 4 November 2008 |
| Preceded by : | Yousuf Baig Mirza |
| Succeeded by : | Ashfaq Gondal |
| In 2005: | Received a scholarship with CNN |
| In 2001: | Senior Executive Director of ARY Digital Network |
| In 2008: | Appointed as the Chairman of Pakistan Television Corporation (PTV) |
| Born | |
| Date: | 6 March 1967 |
| Age : | 50 |
| Place: | Karachi, Sindh, Pakistan |
| Family | |
| Children: | Marriam Masood, Faizah Masood |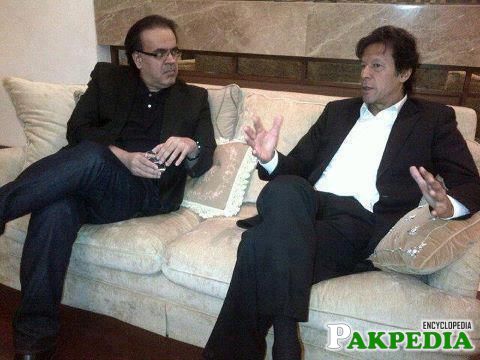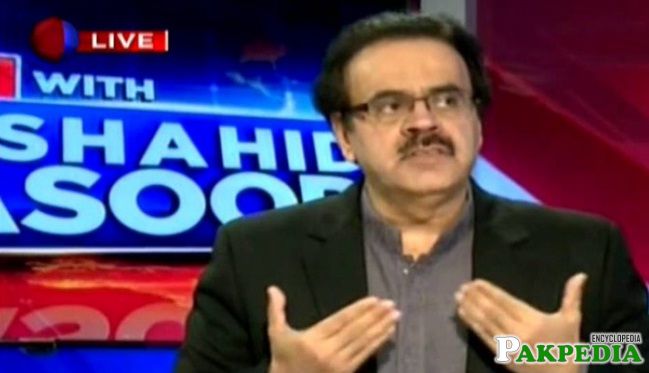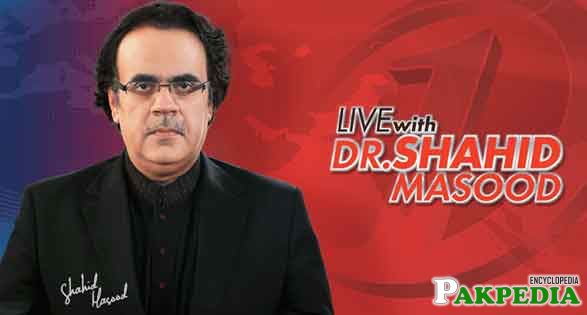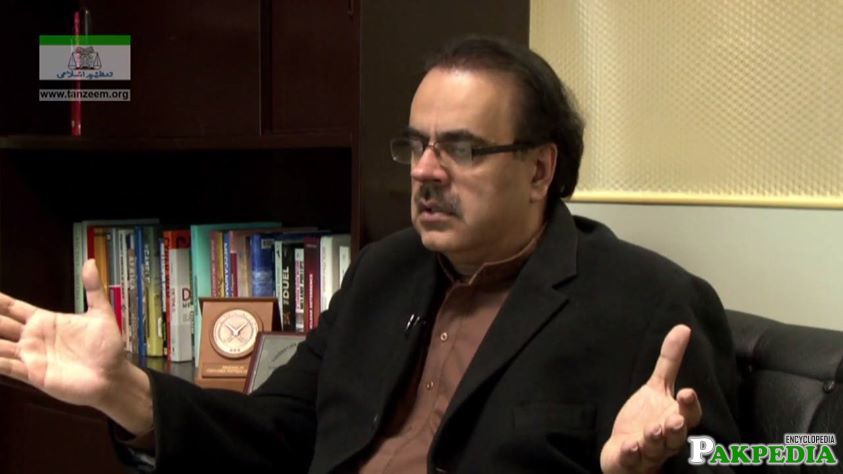 About
Mini Bio
Shahid Masood is a Doctor, Journalist and Political Analyst in Pakistan. Dr Shahid has worked with many News Channels such as Ary News, PTV, and News One. He is a brilliant host and anchor. Meray Mutabiq was the famous talk show of Shahid Masood. He was the Managing Director and Chairman of Pakistan Television Corporation. Now he appears in a talk show Live with Dr.Shahid Masood as a Guests on News One. [2] Shahid Masood is a Doctor, Journalist and Political Analyst
Early life Education
In an interview to Arab News, Khan says that his father was a civil engineer in Saudi Arabia and he worked there for 15 years while, his mother is a teacher. According to him, he spent his childhood in Taif and Riyadh. For seven years, he went to the Pakistan International School in Riyadh. Two of his younger brothers were born in Saudi Arabia so the country is close to him. Khan received fellowship of Royal College of Surgeons, U.K. He is a medical doctor by profession. Khan did his major in International Relations and Defence Studies from the Fletcher School of Law and Diplomacy.[3] In an interview to Arab News, Khan says that his father
Early Career
Dr. Shahid Masood Khan served as senior Executive Director of ARY Digital Network and was hosting TV show Views on News. He was also the chief of the ARY One World.
In 2005, Khan received scholarship from CNN and carried out coverage of three wars including Afghanistan, Iraq and Lebanon.
In 2007, Khan joined Geo TV Network as its Group Executive Director where he hosted the TV show Meray Mutabaq.
In June 2008, Khan was appointed as the Chairman of Pakistan Television Corporation with the additional charge of Managing Director at PTV on a two year contract. However in November 2008 he resigned from the post chairman and managing director.[4] In June 2008, Khan was appointed as the Chairman
Suspension
Reportedly Khan was asked to resign by then President of Pakistan Asif Ali Zardari after he had brawl with then Minister of Information Sherry Rehman which stated after Khan suspended PTV director administration and personnel who was later reinstalled. Ministry of Information was also dissatisfied by the audit of PTV under Khan's chairmanship and at the same time wanted to increase salaries of PTV staff at a time of financial crises. Khan was taking a monthly salary of around ₨ 1 million and was appointed without the approval of Minister of Information. [5] Reportedly Khan was asked ——-   to resign by then  
On War on Terrorism
Ever since 9/11, Masood has been severely critical of the American-led War on Terrorism,although he never supported militancy or extremism. He routinely tends to analyze important issues along controversial lines, such as the Afghanistan,Iran, Iraq and the 2006 Lebanon War.He was the only independent Pakistani journalist who was able to cover three major wars from the combat zones.[6] Ever since 9/11, Masood has been severely critical
Rejoines ARY Digital
On June 3, 2010 Dr. Shahid Masood rejoines ARY Digital as President.[7] On June 3, 2010 Dr. Shahid Masood rejoines ARY Digital
Shahid Masood came into the spotlight with his program Views On News (launched after 9/11) Asia's longest-running current affairs TV show.His show carried interviews with prominent people frompolitics, civil life, literature and culture. Politicians who were interviewed on Views on News included
Former President General Pervez Musharraf,
Former Prime Minister Benazir Bhutto,
Former Prime Minister   Nawaz Sharif,
Former Prime Minister Shaukat Aziz,
Former Prime Minister Mir Zafarullah Khan Jamali,
MQM leader Altaf Hussain,
PML-N leader Shahbaz Sharif,
Former  Pakistani general A. A. K. Niazi (of East Pakistan fame),
Abdul Rashid Ghazi,
Former CIA Director James Woolsey,
Former ISI chief Hamid Gul
President Asif Ali Zardari
Controversies
In 2010, The Express Tribune reported that a Karachi resident filed a petition against Khan and asked the court to take action against Khan for encouraging cultural hatred through his TV show.
In 2013, Dawn reported that an anti-terrorism court in Pakistan ordered Khan to telecast an apology for telecasting derogatory remarks on the judiciary after which Khan submitted written apologies before the court.
In March 2016, The Express Tribune reported that Ishaq Dar sent a legal notice to Khan for allegedly levelling baseless allegations in his TV programme and demanded that Masood offer an apology.
In August 2016, Dawn reported that PEMRA imposed a 45-day ban on Khan show aired on the ARY News after Masood alleged in a programme that the chief justice of Sindh High Court took a bribe and later did not fulfil his promises. He was also banned from participating in any other TV show during this ban period.[8] In August 2016, Dawn reported that PEMRA imposed
Controversy upon Zainabs case
Dr. Shahid Masood, who is one of the most renowned journalists in the country, currently working with News One, dug a little deeper than anyone else in the Zainab rape case. He came forward with his revelation on his show two days ago, and asked the likes of the Federal Govt., the Armed forces and the Judiciary to summon him to present his revelations, to which the Supreme Court of Pakistan obliged.
After presenting documented proofs to the Supreme Court, Dr. Shahid Masood also appeared before the media to let them in on what he knew. He revealed that Imran was not mentally unstable, nor was he possessed by a spirit as he claimed, but was part of a child pornography mafia whose clients resided outside of Pakistan. He also claimed that Imran had over 40 bank accounts, most of which were foreign currency accounts.[9] Zainab's Case
Hearing in Court
The CJ Instructed Zainab's father to comply with the investigations and Investigative authorities, If he faces any problems with regards to the investigations then he may register a complain.
Dr. Shahid Masood has been instructed to make himself available for investigation and scrutiny in front of the newly formed JIT.
The CJP further commented, 'Your statement with regards to the main accused holding 37 plus accounts created an unneeded frenzy among the populace, We can even put your name on the ECL, you made a claim and now proving it is your responsibility as well, Justice Saqib Nisar instructed Dr. Shahid Masood.
The honorary Supreme Court expressed annoyance with Dr. Shahid Masood's conduct and told him to stick to the topic of discussion rather than beating around the bush.
Dr. Shahid Masood reiterated his prior stance and said that he stands by each and every word he has said.
After the clear heated argument between the honorary CJP and senior Anchor Shahid Masood, Dr. Shahid asked to voluntarily walk away from the podium to which the CJP replied that he will not be let go off this easy.
Saqib Nisar said that This is a unique case and can set a set a precedent that is why I have invited senior anchors of Pakistan to the court for the hearing as well.From now onward there will be no more Judicial commissions made for the sake of Inquiry, Inquiries are not the job of a judicial commission, let the investigative agencies do their jobs.[10] Jit Hearing
Arrested in PTV Corruption Case
The Journalist and a former PTV chairman Dr. Shahid Masood has been arrested today on 23rd November 2018 for corruption of RS 38 Million. According to some sources he penned an argument with a fake company in order to have more rights of media for Pakistan Cricket board. Later the channel suffered a great loss due to this agreement. He has been arrested from the Islamabad High Court premises.
Shahid Masood granted bail in Corruption Case
The Supreme Court on Monday 28th January 2019 allowed safeguard to anchorperson Shahid Masood against surety bonds worth Rs500,000 for a situation relating to theft of Rs38 million from state-run telecaster Pakistan Television. As indicated by the Federal Investigation Agency (FIA), Dr. Masood amid his residency as overseeing chief and director of PTV was engaged with the misappropriation of Rs37 million in obtaining Pakistan Cricket Board (PCB) media rights in 2008. The understanding was supposedly done with a phony organization — M/s International Sports Solution (ISS). Agents guarantee that reserves were likewise discharged, making the loss of a great many dollars PTV as the state-run TV slot neglected to get PCB media rights from 2008 to 2013.