Accomplished Sufi master and revered intellectual Syed Ali bin Usman al- Hajvery (Hazrat Data Gang Bakhsh) settled in Lahore during 11th century. He propagated the religious, spiritual, moral and educational dimensions of Islam in South Asia. The shrine of Data Sahib is visited round the clock by the devotees from all over the country. The government embarked upon an ambitious two phase expansion plan of the shrine in 1978. The second phase began in 1997 under the direction of the prime minister is complete. The mosque is now spread over a total of 3,68,150 sq. ft. and is the third largest mosque in Pakistan. It could accommodate upto 52,600 devotees.[1]  Hazrat Data Gang Bakhsh –  settled in Lahore during 11th century
| Title | Description |
| --- | --- |
| Information | |
| Location: | Lahore, Punjab, Pakistan |
| Nickname: | Data Darbar |
| Type: | A Holy place |
| Local Language Name: | داتا دربار |
| Coordinates : | 31.57898°N 74.30474°E |
| Address: | Data Darbar Rd, Lahore |
| Designed by: | Naqvi & Siddiqi |
| Status: | Completed |
| Construction Date: | 1981 |
| Client: | Govt. of Pakistan |
| Building Type: | Shrine |
| Building Usage: | Mausoleum, Masjid, Madrassah, Sarai (Rest for travelers), Conference Hall, Library |
| expansion plan of the shrine: | 1978 |
| spread over a total of: | 3,68,150 sq. ft. |
| Data Darbar Complex: | third largest mosque in Pakistan |
| The large complex : | Jamia Hajveria, or Hajveri Mosque. |
| Details | |
| famous as : | Sufi saint of South Asia |
| Floors Above Ground: | 1 |
| Floors Under Ground: | 2 |
| Parking Floors: | 1 |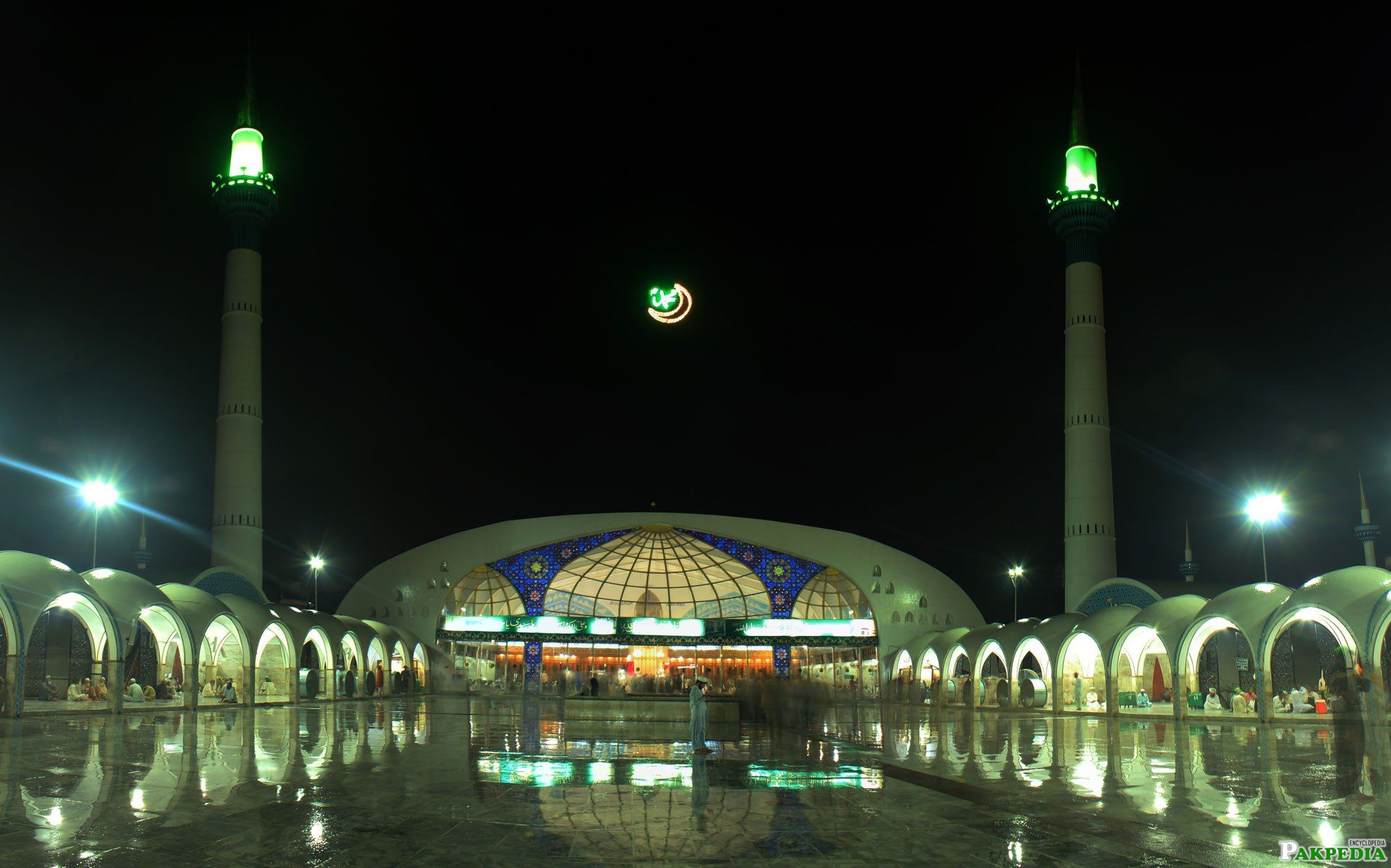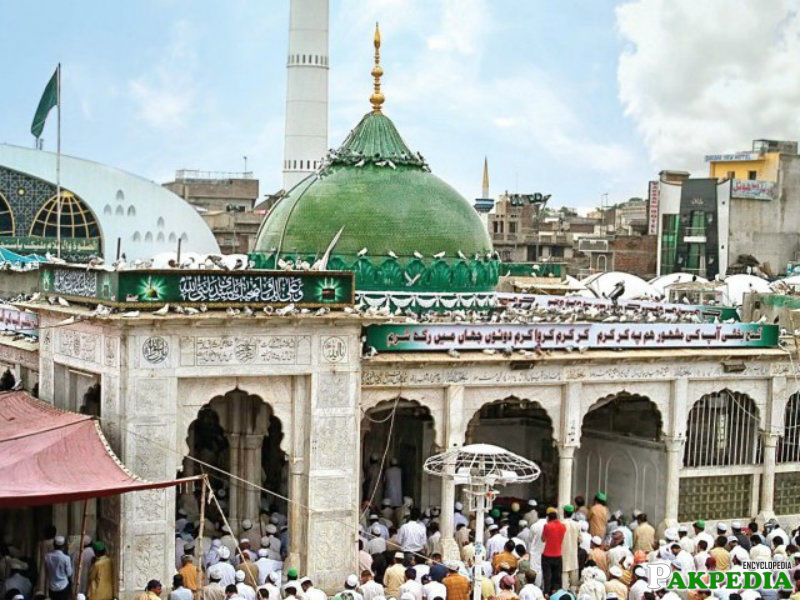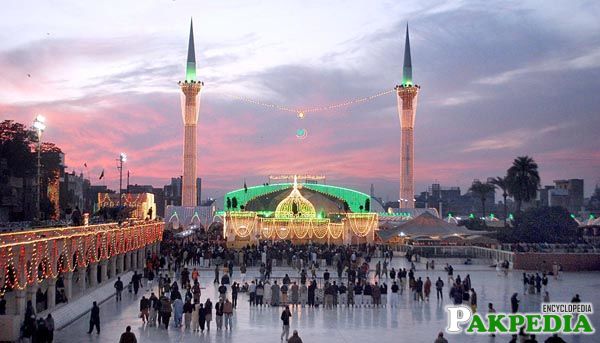 About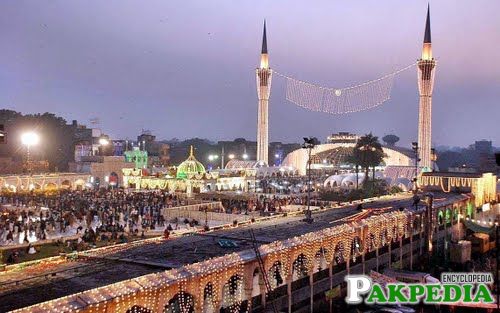 History
The Shrine of Data Darbar is situated in the city of Lahore. Bilal Gunj is situated in the surroundings of it. It is one of the very famous tombs in the subcontinent. At first it was built by the Mughal King. It is the tomb of Hazrat Ali Hajweri (R.A) but its popular name is Data Darbar of Lahore. He is also known as Data Ganj Buksh. He was a great Sufi Saint who was born in the Persia a thousand years ago. An idea about his birth is in between the years 990 to 1077 A.C.[2] The Shrine of  –  Data Darbar is situated in the city of Lahore
He worked very hard to spread the message of Islam in this area. Kashf-al-Mahjub is his famous book which means (revealing the hidden). This book got a high level of appreciation; in this book he discussed the doctrine of the Sufi Mystics. This book is still very famous throughout the world.
A modern and huge complex was built in current days for this tomb. The complex got all the new features and modern style. It is situated in the old city of Lahore and easily accessible from any part of the Lahore. The Shrine of Hazrat Mian Mir is also situated in the same city.[3] A modern and huge –  complex was built in current days for this tomb
On the annually Holy days which are called (Ors) a huge number of peoples around the Globe come here for the congregation. This festival is very famous among the foreign and local visitors. A culture and tradition presented on those days where Fakirs dancers and sacred music are performed. Qawali is most famous and important part of this event.
It is great place to visit in the city of Lahore. It provides the shelters and foods to many people on the daily basis. The administration and other rich people offer these things to the poor and needy persons. This Shrine is a combination of Mughal and modern art so it will be a never forgettable experience for you. It is a must visit place of the city.
Technical Details Of Data Darbar
Designed by: Naqvi & Siddiqi
Status: Completed
Construction Date: 1981
Completion Date: N/A
Client: Govt. of Pakistan
Contractors: N/A
Building Type: Shrine
Building Usage: Mausoleum, Masjid, Madrassah, Sarai (Rest for travelers), Conference Hall, Library
Height: N/A
Area: N/A
Floors Above Ground: 1
Floors Under Ground: 2
Parking Floors: 1
Location: Old Lahore, Multan Road, Lahore
Description
Data Durbar is the tomb of Hazrat Syed Abul Hassan Bin Usman Bin Ali Al-Hajweri, the famous Sufi saint of South Asia, where hundreds of thousands of people come each year to pay their respects and to say their prayers. It is located in Lahore, Punjab, Pakistan[4] Description  – Data Darbar Complex . The large complex also includes Jamia Hajveria, or Hajveri Mosque.
Data Darbar parking
THE tomb of Hazrat Ali Bin Usman Bin Al Hajveri is surely the most frequented place in Lahore. The Data darbar complex has an elaborate car parking space in the basement.
However, since the inception of the threat of terrorism, car parking has been closed. I fully endorse the rationality of this decision. Given the prevailing security environment in the country, the reopening of the basement parking facility doesn't seem possible at least in the near future.
I would, therefore request Chief Minister Shahbaz Sharif to direct the Auqaf department to aquire additional land in the proximity of the tomb and provide an alternative parking space to visitors.[5] The Data darbar complex  –  elaborate car parking space in the basement.
Terrorist attack
There have been rising security fears in recent years after threats by Pakistan's Taliban militants. The large size of the complex which houses the shrine and the fact that it is open at all hours to the public makes protecting it extremely difficult. On 1 July 2010, two suicide bombers blew themselves up at the shrine. At least 50 people died and 200 others were hurt in the blasts. This was the biggest attack on a Sufi shrine in Pakistan since 2001.[6] There have been –  rising security fears in recent years
Data Darbar A Holy place or Haven for Runaways
What happens on such a staggering magnitude in lahore's Data Darbar, occurs daily on a smaller scale elsewhere without outraged editorials being written or inquiry committees being formed. We as a society are simply not prepared to concede that sexual and mental frustration regularly leads to deviant acts among both sexes. Indeed, the whole subject of underground social evils is practically taboo: very little scholarly work has been done in this area, and journalists tend to tread warily around the whole question.
As Lahore is known as "Data ki Nagri" in laymen's term. People form all over the country belonging from all sects of society come to Data Darbar to pay 'Salam' to the great saint. The act has been part of their traditions and has been present since generations. Commonly the belief makes the runaway children and adults think that they will be protected and sheltered by the grace of 'Data Sahib'. These runaway people stay at Data Darbar not with the motive of religious practice; instead, they find ways of hiding from their respective families and any official authority that are in search of them.
"People come to Data Darbar because they get food, secondly they have a place to live, and people outside Lahore have only one thing in mind that Lahore has Data Darbar where everything is available."(Kashif, an official from the Child promotion bureau)
Why do they end up in Data Darbar, why not in any other place? Most runaway children and even adults come from cities that include Sheikhupura (sharakpur), Kohat, Rahim Yar Khan, Multan and Rawalpindi. When entering Lahore through the Ravi River, Data Darbar is the very first place that attracts them because of its lush socio-economic culture in their minds.
Almost everybody in rural areas knows about the importance of Data Darbar's presence in Lahore. Men, women and even children living presently at Data Darbar are so content with their lives there, that unconsciously they attract others of their area and convince them through peer pressure to accompany them to the Darbar's so called extravagant life. Lungar is considered to be source of food for the devotees and residents sheltering at Data Darbar.
The boys, most aged between eight and fifteen, sleep close together for safety and comfort as night falls and the dinner of lentils and roti from the data darbar huge lungar is eaten. (Mean streets – Lahore's runaway children, (Monday, September 20, 2004), Daily Times)
If we talk about the causes of people running away or even leaving homes they can be uncountable. Few causes are huge family concept; that makes them feel neglected, poverty (they may be sent by families to work in urban areas and send money back home), and freedom of living.
'I left home when I was ten, says hafeez, now nearly twenty. He has never since visited his parents, who live in a village near Sheikhupura, around hundred kilometers from Lahore. Hafeez says his father is a drug addict and he just couldn't take the constant beating anymore. (Mean streets – Lahore's runaway children[7] What happens on such –  staggering magnitude in lahore's Data Darbar