Summary
City 42 - A channel dedicated to cater the latest news, top stories, and current affairs of the heart of Pakistan. Based in Lahore city, City 42 News deals with the local domestic news prevailing in the city of Lahore and surrounding areas. Political talk shows, current affairs, city related issues including water, electricity load shedding, metro bus station, and other top stories of Punjab government is catered and broadcast by channel City 42. The channel is the best source of information and news about the city of Lahore. The events, latest happenings in the city and upcoming attractions are being telecast and discussed in their live shows. From current affairs to infotainment, City 42 news live has an access to everything linked to
Lahore
. The online fans of City 42 News live can watch the live streaming of their favorite channel without the disturbance of long buffering.
Owner of City 42
Syed Mohsin Naqvi is owner of City 42 channel. He is also son in law of former CM Punjab Chaughdry Parvez Ilahi. 
[1]
Syed Mohsin  Naqvi owner 
Ex Company
Experience
Rohi Tv
Chief Executive Officer
Rohi Tv
June 2017 – Present (5 months)
Chief Executive Officer
UK44
November 2016 – Present (1 year)
Chief Executive Officer
City41
June 2016 – Present (1 year 5 months)
Channel 24 News
CEO
Channel 24 News
January 2015 – Present (2 years 10 months)
Chief Editor
Daily42
October 2012 – Present (5 years 1 month)
City42
CEO
City42
August 2009 – Present (8 years 3 months)
CNN
Regional Producer
CNN
2000 – 2009 (9 years)
Groups
CNN Alumni
PlacingJobs
About City 42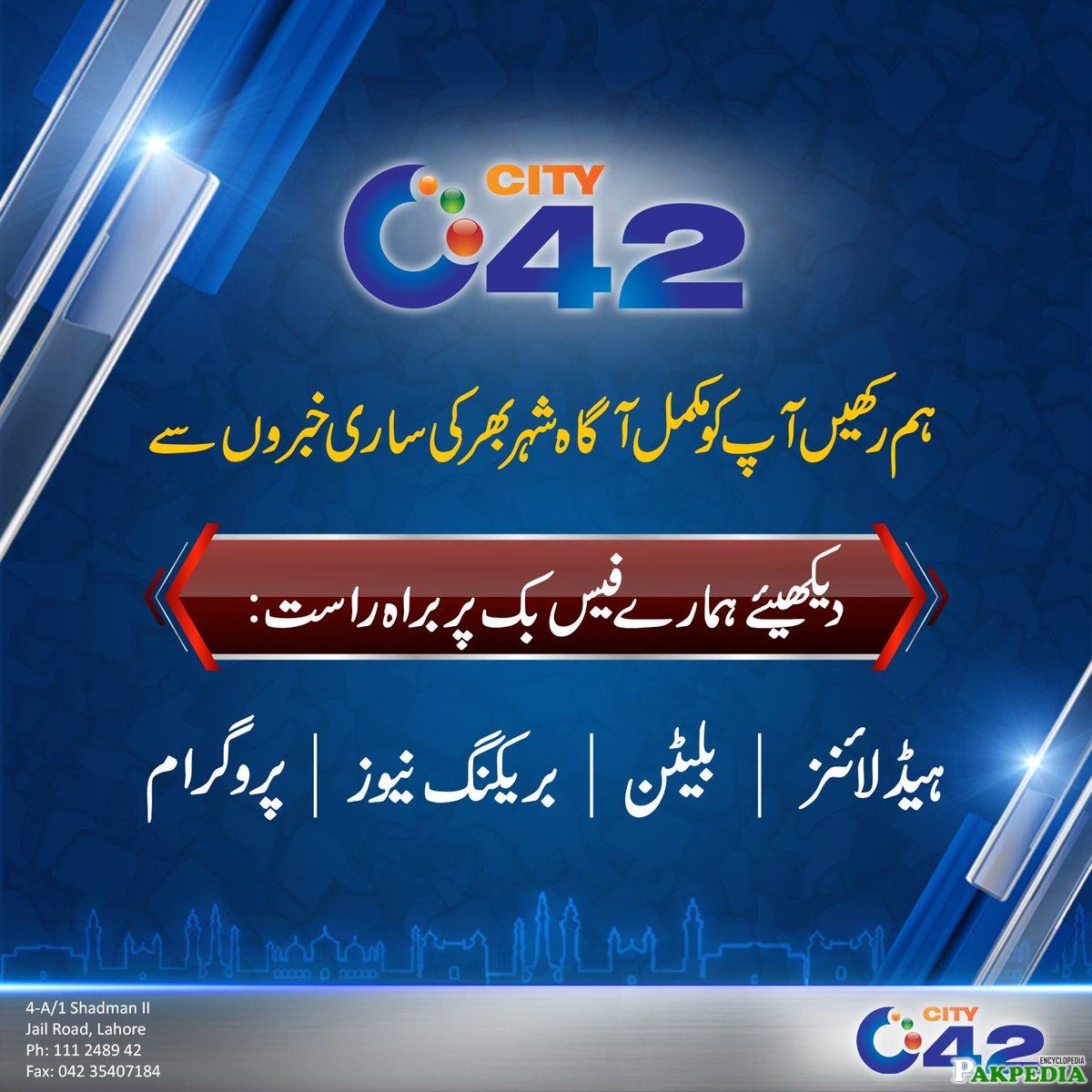 City42 is the newest addition to the media boom in
Pakistan
and it is Pakistan's first ever City TV Channel on satellite with a programming focusing on news, views, current affairs, local weather, traffic update, events, happenings, sports, features, music, and films. 
[2]
About City 42
Seemal Hashmi
Seemal Irum Hasmi started her broadcast journalism career in 2008 when she was a student at the
Punjab University
she worked as a newscaster for Value TV. She joined City 42 as newsanchor in 2012 and she calls it a dream came true as she always wanted to join the network. During the last quarter of 2013 Seemal Hashmi started to host City@10, City42's flagship news morning show. Along with being the face of city42 and anchoring City@10 Seemal also co-hosted Breakfast with Sajad Mir and Khaber Ye Hai on Channel 24 (24 News). Seemal Hashmi holds  a degree of Bs (Hons) in Mass Communication from the University of Punjab and she is daughter of seasoned journalist and editor, Abdul Sattar Hashmi. 
[3]
Seemal  Irum Hasmi 
The Face of City 42
Seemal Hashmi won the best program anchor award at the City News Network Award 217 held last Sunday. The award ceremony is organized by Mohsin Naqvi group every year to show gratitude to the best employees of the network. Seemal Hashmi won the award in the category of the best employee from programming department better termed as best program anchor. Along with award she also bagged a car which she was given as performance bonus and her dedicated service to the network. 
[4]
The Face of City 42
Daily City42 Newspaper
City42 is a local news channel now launching newspaper the name of "Daily City42" Newspaper.
[5]
Daily City42 Newspaper
City42 TC channels which also famous as ch42, now also focusing on daily metropolitan newspaper c42. This newspaper is currently available only in Lahore. Price of this six pages newspaper is 6 rupees. If you have problem to purchase this newspaper (ch42 City Akhbar), then call at 111-2489-42. 
[6]
Daily Ch42 Newspaper Launch
Contact Info
Contact: 4-A/1 Shadman II, Jail Road
Lahore, Pakistan
Telephone: (+92-42) 111-CITY42
Fax: (+92-42) 757-3421
Email: info@city42.tv