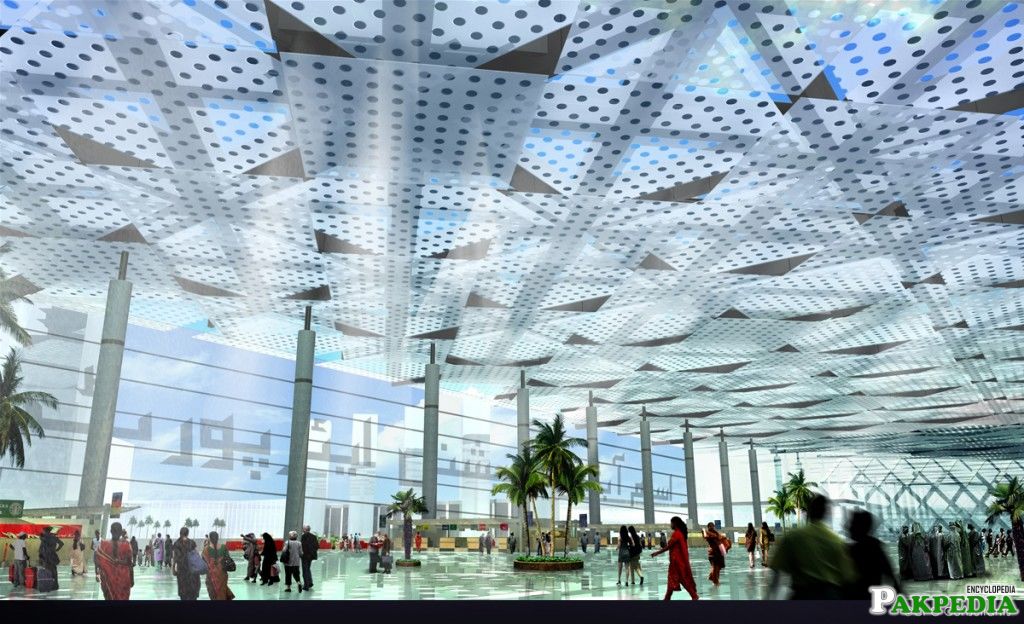 Benazir Bhutto Airport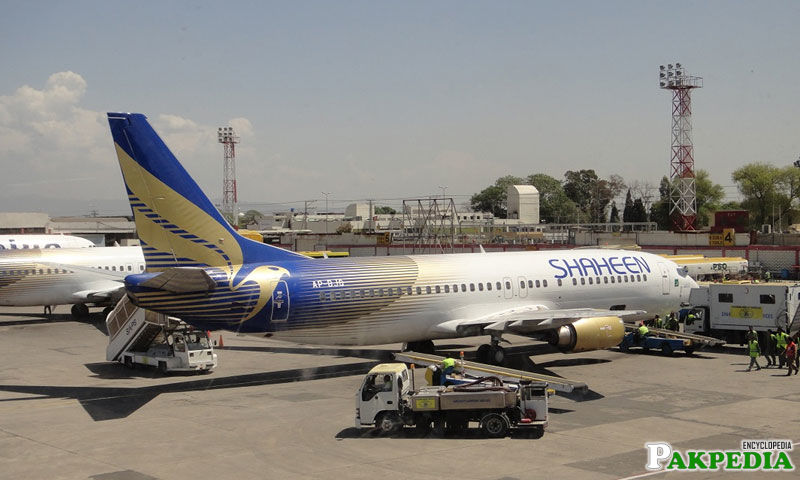 Benazir Bhutto Airport Flights view
Airport View
Flight 747-Landing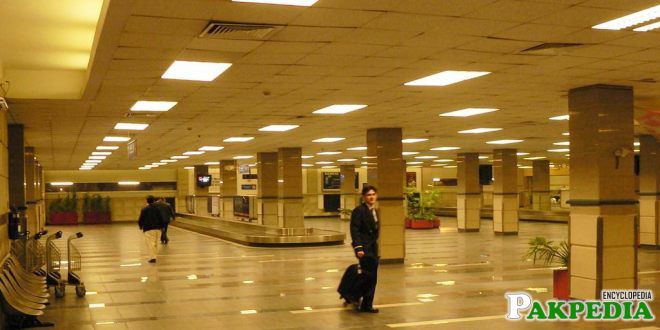 Airport Inside View
About Airport - Introduction
Benazir Bhutto International Airport (BBIAP) named after the then Prime Minister of Islamic Republic of Pakistan on 21st June 2008 is the third-largest and busiest airport of Pakistan, serving both, the domestic and international passengers.
BBIAP, commenced operation during 1948 and over a period of time various structural / design changes have been implemented within the available space and as on today the airport is capable to handle all types of aircraft upto category E.
The airport is hosting the V-VIPs, VIPs, foreign delegates, and business communities on more frequent basis of being capital airport. In the year 2013–2014, over 4.279 million passengers used BBIAP through more than 34,000 scheduled flights of 18 different airlines. The airport has also processed in excess of 80,000 tons of Cargo mostly on international sector, despite sever space constraints.
The new Islamabad Airport, scheduled to be equipped with state of the art facilities, is being completed on fast track basis and therefore, available resources / infrastructure are being used optimally to help / assist the air travelers with least possible inconvenience. [1] About Airport - Introduction 
History
Benazir Bhutto International Airport (IATA: ISB, ICAO: OPRN) is the third-largest airport in Pakistan, serving the capital Islamabad and its twin city
Rawalpindi
in the province of Punjab. Previously known as the Islamabad International Airport, The airport is actually located outside of Islamabad, in the area of Chaklala, Rawalpindi. Being the main airport for the Pakistani capital it often hosts officials and citizens from other nations. 
[2]
History History
Arrivals
Domestic
All arriving domestic passengers will enter the domestic arrival lounge, collect the respective baggage from the baggage belt (if any) and exit on to concourse hall and then board his transport to exit the airport or proceed to pedestrian gate for onward journey.
International
All arriving international passengers are required to have valid traveling documents including their passport, visa (if applicable) and disembarkation form (completed in all respect) for immigration. (International Overseas/Pakistani Card holder Passenger will not submit disembarkation form on board or at BBIAP, Islamabad). These forms are handed over to the passengers on board and also available at the airport. Passengers are advised to complete the forms while on board to expedite their clearance process.
A person entering Pakistan for the purpose of entry must hold a valid passport and visa from the country of his origin to Pakistan, the letter being issued at Pakistan Consulates abroad. Disembarkation card is also required from such persons. For more information on Passport and Visa Policy visit Passport and Visa Information on Govt: of Pakistan Website www.pakistan.gov.pk
Custom Clearance
Custom Clearance
After you collect your luggage from baggage area, custom clearance of your baggage is mandatory in the international arrival area.
If you are having items regarding custom clearance (on which custom duty / tax is applicable) then pass through RED CHANNEL at the international arrival for custom clearance, for this purpose, X-ray scanning machine has been placed by the Custom Authorities. Alternatively, GREEN CHANNEL is also available for passenger not having any taxable items. 
(For more information about Customs Baggage Rule; please visit Customs Rules on FBR Website, www.fbr.gov.pk) For easy access you can visit Baggage Rules on BBIAP Website. 
The damage to checked-in baggage may be reported to the airline representative and must be claimed within 7 days of its return, and for delayed baggage, within 21 days of its return. The claim can be made from the airline with which the passenger has traveled or the agency handling the particulars Airline in this regard.
Baggage Claim
Procedure 
Check and confirm at the LCD screen or monitor displaying the baggage of your flight.
Wait at the designated baggage collection area.
Identify your baggage at the baggage conveyer belt.
Collect your baggage and confirm that it's yours.
Passenger Facilitation Service/Passenger Protocol Service is also available on payment basis, if required.
Lost baggage 
If you find that your baggage is missing, please contact to the concerned airline for assistance. 
The damage to checked-in baggage may be reported to the airline representative and must be claimed within 7 days of its return, and for delayed baggage, within 21 days of its return. The claim can be made from the airline with which the passenger has traveled or the agency handling the particulars Airline in this regard.
Guidelines for Passengers
Following are the general guidelines for passengers:
Do not carry any banned / restricted item / goods on board. Contact concerned airline or its representative in this regard.
Strictly adhere to the baggage weight limit policy and other instructions written on the Airline Ticket.
Do Not Repeat Do not place your valuable items, for example currency, jewelry, Laptop, mobile phone, tablet computer, camera, watch etc, in your check-in baggage during departure.
Do not take any item, eatable, tea / drink etc from anyone / unknown person.
Do not give / handover your hand carry bag / item to anyone.
Do not forget to pick / collect your baggage after search / screening from customs, ANF and ASF.
Obtain necessary information regarding ticket / journey from airline representative at the time of arriving of boarding passes.
Register your complaint regarding loss, damage or theft of / from baggage immediately to Airline or its representative on arrival at Destination.
Do Not Repeat Do not forget to bring your CNIC.
Kindly take care of your luggage.
International Overseas / Pakistani Passengers will not submit embarkation / disembarkation form on board or at international airports at Pakistan.
Car Parking
You're more than welcome to bring the car. We have plenty of spaces, short and long-term, senior citizens / special person parking at BBIAP Airport. There are clear signs for parking as you approach the airport.
You can enter into the Airport along with your car through following Entry Gates as shown in the attached drawings. While entering under vehicle search will be carried out by ASF security personal deployed at each entry point.
Car Parking Functionary
CAA functionary car park for more than 300 vehicles and 800 motorcycles is also available, which is shown in the drawings located on the Nur Khan Airbase road. All the departments i.e. CAA, ASF,
PIA
, immigration, Pakistan Customs, ANF, Airport Health and other International Airlines staff working at the BBIAP Airport can park their car in the functionary car parking. This facility is subject to issuance of the sticker from CAA on prescribed payment.
Security Checks at Entrance
Getting to the BBIAP Airport by taxi from twin cities, approach to fast track for instant and rapid entrance into airport premises through pedestrian gate, subject to body and baggage search.
While entering into Airport premises, body and under vehicle search, will be made by ASF security personal deployed at each entry point.
Departing passengers are advised to arrive at the airport 01 to 02 hours (for Domestic Flights) and 04 hours (for International Flights) prior to the scheduled time of departure of the flight.
DOCUMENTS REQUIRED FOR ENTRANCE
While entering through pedestrian gate or main gate with your car, either of the following valid documents will be required
By Taxis Getting to the Airport
The easiest mode to travel in twin cities is by yellow cab taxi. Although the Taxi service in Islamabad/ Rawalpindi is satisfactory, but are non-air-conditioned. Furthermore, they are not controlled by any centralized agency. The taxis in Islamabad are almost all black with a yellow painted roof and you'll have no trouble in hiring the same. Passengers are suggested to bargain and decide the fare before start of journey.
In addition to hiring a yellow cab one can utilize the services of more comfortable air conditioned Taxi/Cab services for moving to/from Airport to any specific location. Following cabs are available at BBIAP Islamabad.
CNIC or
Valid Airline Ticket or
Passport
ENTRANCE PROCEDURES Pedestrian Gate
Make a queuing line while entering through pedestrian gate, where first come first served will be applied. Please give way to special/senior citizen/needy persons and female passengers.
Take off your hat and sunglasses. Refrain from using your mobile phone while waiting. Due to space constraints in the Terminal building only one meter/greeter will be allowed to receive / see-off a passenger through the pedestrian gate.
Show your passport or CNIC or valid airline ticket, if demanded to prove your identification.
After going through entry procedures at pedestrian gate, you may proceed to respective area of departure or arrival as required.
Airport Entry Fee
Airport Entry Fee @ of Rs. 20/- Per meeter/greeter at the pedestrian gate or in the vehicle carrying passenger, while entering the car park.
Following persons are exempted from the Airport Entry Fee:
Passenger having valid Airline Ticket.
Airport Functionaries having Passes.
Person visiting Airport for Official Purpose.
Drivers and Vehicles intending to drop the passenger at Drop Lane.
Diplomats, Consulate, UN Mission Deputy Head/ Their spouse and Local Ambassadors.
Parliamentarians, their spouse, children and Parents.
Members of Senate.
Senior Officers of Armed Forces.
High Judiciary.
Metro Radio Cab
Concourse Hall, Islamabad Airport
24 hours call center No. 
UAN: (+92-21) 111-222-787, 
Tel: +92-51-5872236
Islamabad Radio Cab
16 Muhammadi Plaza, Nazimuddin Road, 
Blue Area Near American Center, 
Islamabad. 
Tel: +92-51-111-888-100
Address
Benazir Bhutto International Airport,
Airport Road, Rawalpindi 46-200,
Pakistan.
Tel: +9251.5405141-4, +9251.5405242-5
Email: info.islamabad@caapakistan.com.pk