The real name of Peshawar airport is Bacha Khan International Airport it was formerly known as Peshawar International Airport. The airport was renamed on January 2012 after Khan Abdul Ghaffar Khan  he was also known as Bacha Khan a Pashtun nationalist political leader. It is located around 10-minute drive from the center of Peshawar in the Khyber Pakhtunkhwa province of Pakistan., It is an international airport which is located in the city of Peshawar and also known as the main passenger hub. This airport is the fourth busiest airport in Pakistan.
The airport has some services to fulfill the basic requirements of travelers/Passengers; there are ATMs that passengers can use at the airport.
It has Animal Quarantine facility, some restaurants, beverage and snack counters, Mosque, mobile recharging and Wi-Fi / internet points three currency changers shops one each in Int'l departure lounge, Int'l Arrival lounge and concourse hall also having rent-a-car service for the ease of passengers & visitors.
There are two Domestic Departure and Arrival Lounge, two International Departure and Arrival Halls, one Executive Lounge for Premium and CIP passengers with Wi-Fi/ internet facility in each.
LED/Tv screens placed at several points within the halls showing television programs and flight schedule timings.
On ground handling Shaheen Airport Services (SAPS), Royal Airport Services (RAS) and Gerry's dnata are its handling agents
(IATA: PEW, ICAO: OPPS)  [1] Airport History
| Title | Description |
| --- | --- |
| Information | |
| Location: | Khyber Pakhtunkhwa province |
| Country: | Pakistan |
| Name: | Bacha Khan International Airport (Peshawar) |
| In Urdu: | باچا خان بین الاقوامی ہوائی اڈا |
| Nickname: | BKIAP |
| Type: | Public |
| Local Language Name: | Peshawar International Airport |
| Serves: | Peshawar |
| Coordinates : | 33°59?38?N 71°30?53?E |
| Latitude: | N 33° 59′ 38.09 |
| Longitude: | E 71° 30′ 52.50 |
| Elevation: | 1211′ |
| Longest Runway: | 8900′ |
| Magnetic Variance: | E 2.0° |
| Fuel Type: | JET A-1 fuel is available |
| Oxygen: | Oxygen facilities are unavailable. |
| Repair Facility: | Repair facilities are unavailable |
| Landing Fee: | There is a landing fee |
| Jet Start Unit: | A starting unit is not available at the airport. |
| Precision Approach: | Availability is Unknown. |
| Beacon Light: | A beacon light is not available. |
| Customs Facilities: | Customs are available without restriction |
| Usage Type: | Airport/Heliport is open to the public. |
| Time Zone Conversion: | -5:00=UTC |
| Daylight Savings: | Airport observes daylight savings time |
| Change Notices Available: | none |
| passengers: | 1,350,121 |
| Website: | www.peshawarairport.com.pk |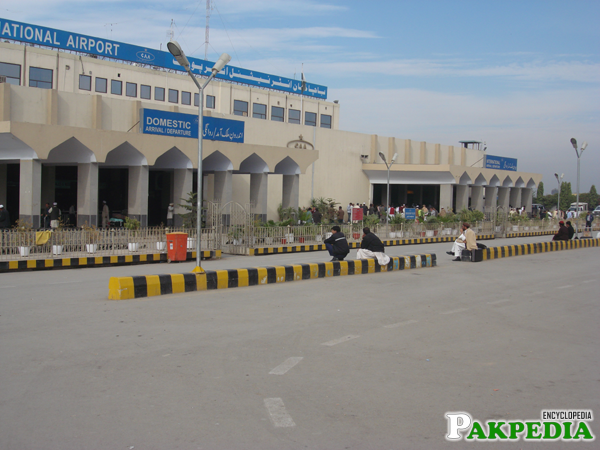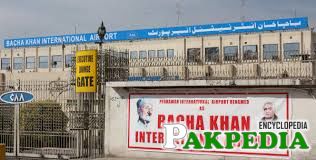 Construction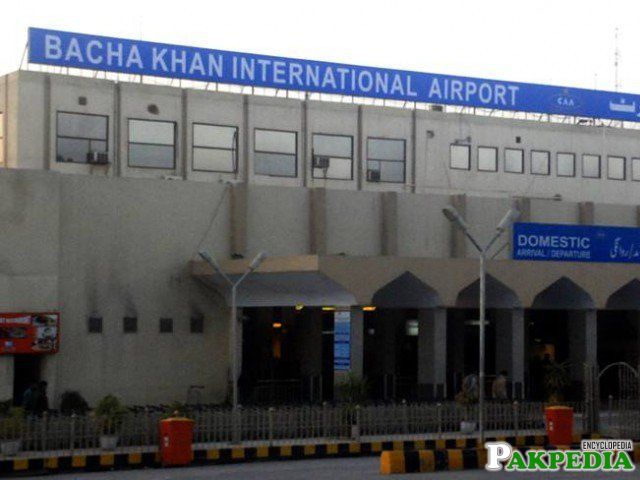 The airport started its initial services in  1927 when there was a small airport that served to much of the British Empire and aircrafts. The airport gained much importance after the independence of Pakistan. The Civil Aviation Authority of Pakistan and the Pakistan Air Force started to use the airfield cooperatively for both military and civil operations. The airport achieved international status in 1965 when the first flight was operated from Kabul, Afghanistan to Peshawar. The flight was operated by the national flag carrier, Pakistan International Airline. After one year the airport expanded with more flights and aircrafts.
It was not until 1981 that the CAA extended the terminal to meet future needs and to meet the projected growth of passengers. The apron was established in 1986, and then airport was successfully able to handle four wide body aircraft and two small narrow body aircraft at one time. In January 2008 the provincial governments meet to discuss the developmental work needed to upgrade the quality of the aircraft in terms of facilities, services, terminal advancement and cargo progress.
The airport is presently under assessment to be upgraded to make it compatible with future needs. The CAA is currently working with the provincial government to develop the airport to meet international standards. [2] Bacha Khan Airport Construction
New and improved
Both domestic and international lounges will be expanded. The car park will also be extended to accommodate more than double the current number of vehicles that can be parked at BKIA. The official added construction will be completed within a year.
"As per the new design, the domestic lounge will be merged into the international lounge." He said a separate space would be constructed near the cargo building for a new domestic lounge.
When contacted, BKIA Manager Tahir Sikandar confirmed the development. Highlighting the scope of the project, he said, the current car park can accommodate 300 vehicles. The lot, he added was crammed with vehicles, especially during Hajj days. "With the expansion of the car park, 800 vehicles would be easily accommodated."
Speaking about the duration in which the construction would be completed, Sikandar estimated the international lounge will be complete within six months whereas the domestic lounge will be complete within 9 months. "The timeframe for all the work to be finished is around 18 months but hopefully it will be completed earlier."
The airport manager added BKIA is the only functional airport in Khyber-Pakhtunkhwa which receives a large number of passengers travelling to and out of the country. "It was a longstanding issue but the federal government has finally approved it." Sikandar said the renovated facility will have escalators and more counters.
"Passenger planes land from both sides on the runway as the expansion of the landing strip or the construction of another one is not possible due to shortage of space," he said. "However, after the expansion of the airport almost all the facilities will be doubled."
Overburdened
The CAA operates over 35 flights, including four domestic, on a daily basis. "Passengers from across the province, Federally Administered Tribal Areas and Provincially Administered Tribal Areas use the airport to fly in and out of the country," said another CAA official. "A majority of these passengers are seen off by their relatives at the airport."
He added, "One passenger is normally accompanied by two or three relatives, which is why the authority has been demanding a bigger airport."
Prior to these developments, on August 31, Federal Ombudsman Salman Farooqi inaugurated a facilitation desk at BKIA for the convenience of overseas Pakistanis. Representatives of 12 different agencies, including customs and health departments, Anti-Narcotics Force, Airports Security Force, CAA, Federal Investigation Agency and
others are present at the counter and are accessible to overseas Pakistanis.[3] Airport Construction
Services
Passenger Facilitation Services PFS
Paid Porter Services are available for all Arriving/Departing Passengers. Porters services can be hired from CAR PARK to CHECK-IN counters and from BAGGAGE CLAIM to CAR PARK.
Complimentary Trolleys
Baggage Trolleys are also available for all Arriving/Departing passengers on complimentary basis, from CAR PARK to CHECK-IN counters and from BAGGAGE-CLAIM to CAR PARK.[4] services to passengers
New Medical Centre
A New and upgraded medical centre has been established on a new site. New Medical Centre comprises of separate furnished and well equipped room for male medical officer, Female Medical Officer and Duty Medical Officer (DMO). Moreover there is state of the art 2 bedded treatment for the sick passengers as well CAA Employees. A detention room equipped with all necessary equipments including Automated Defibrillator, Nebulizer, Glucometer and Suction unit. All rooms having latest facilities and maintained in the best possible manner.[5] Airport Medical Service
Designated Prayer Area
Within the vastness of the Terminal Building, where everything is on a large scale, there is a more intimate place where one can seek peace opens 24 hours a day, the Prayer Area is located for ease of access in the Domestic & International Lounges separately for Ladies & Gents with ablution places. Prayer Area is appropriately decorated to create the right setting for Muslim Prayers. [6] Airport Prayer Room
Accidents History
On 1 May 1960 A spyplane, left Peshawar Airport planning to fly over the Soviet Union.  Pilot named Gary Powers  was the pilot on that plane his plane was shot down and he was trapped 
On 26 March 1965, a PIA aircraft took off from the airport, the aircraft lost connection with air traffic control. The aircraft had crash landed at the Lowery Pass. All passengers and crew members died.
On 23 October 1986 a PIA Fokker F-27 Friendship due to co-pilot error, the aircraft was lower than expected undershot the runway, causing it to land in a ditch which caused the aircraft to break up. 13 passengers and crew members got serious injuries and the aircraft was written off. 
In August 2009 following a rocket attack on the airport 6 international airlines had momentarily postponed flights to Peshawar because of security situation. All the airlines restarted there services to the city after a short break.
On 15 December 2012, the airport suffered attack by terrorists, which killed 9 people.
Address
Bacha Khan International Airport,
Airport Road, Peshawar,
Pakistan.
Tel:+9291-9211525
Email: [email protected]