Allied Bank is a commercial bank in Pakistan. Allied Bank, with its registered Offices in Karachi and Lahore, is one of the largest banks within the country with over 1300 branches, connected to an online network. It was the first Muslim bank established in Pakistan before independence (1942) with the name of Australasia Bank. It was named as Allied Bank of Pakistan from Australasia Bank Limited in 1974, and Sarhad Bank Ltd, Lahore Commercial Bank Ltd and Pak Bank Ltd were also merged in it.
| Title | Description |
| --- | --- |
| Details | |
| Type: | Bank |
| Name: | Allied Bank Limited |
| In Urdu: | الائیڈ بینک لمیٹڈ |
| Moto: | Aap ke dil me hamara Account |
| Traded As: | Public Karachi Stock Exchange |
| Vision: | To become a dynamic and efficient bank providing integrated solutions in order to be the first choice bank for the customers. |
| Industry: | Finance and insurance Commercial bank |
| Products: | The bank provides its customer various products & services, to cater there need of investments, and other social or business requirements. |
| Founded: | 1942, Lahore Pakistan |
| Headquarter: | Karachi, Lahore, Pakistan |
| Branches: | More Than 1143 |
| CEO: | Tahir Hassan Qureshi (1 Jan 2017) |
| Product: | Financial services |
| Revenue: | $150 billion |
| Subsidiaries: | ABL Employees Superannuation Funds , Ibrahim Leasing Limited , Allied Bank of Pakistan Ltd. , ABL Asset Management Company Limited , |
| Company Profile | |
| Location: | Allied Bank is a commercial bank in Pakistan. Allied Bank, with its registered Offices in Karachi and Lahore, is one of the largest banks within the country with over 1150 branches and ATMs. |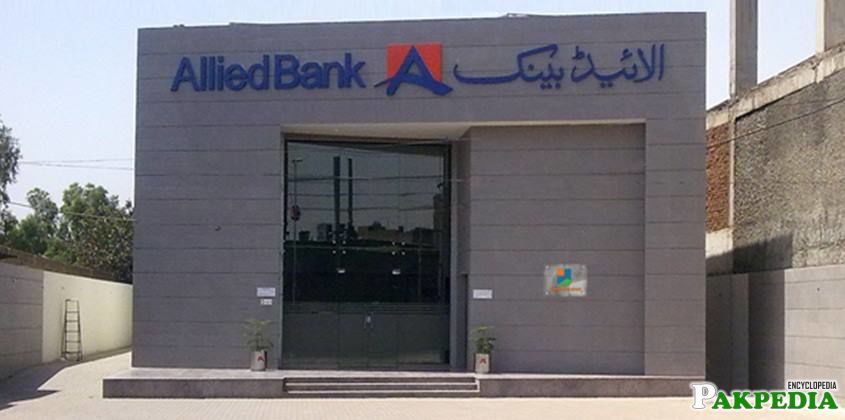 History

The Bank started out in Lahore by the name Australasia Bank before independence in 1942; and became Allied Bank of Pakistan in 1974.
In August 2004, because of capital reconstruction, the Bank ownership was transferred to a consortium comprising Ibrahim Group; therefore, it was renamed as Allied Bank Limited in 2005.
Today, with its existence of over 70 years, the Bank has built itself a foundation with a strong equity, assets and deposit base. It offers universal banking services, while placing major emphasis on retail banking. The Bank has a large network of over 1100 online branches and ATMs in Pakistan and offers various technology-based products and services to its diverse clientele.[1] Allied Bank History
Corporate Values
We believe that a strong corporate culture inspires passion among employees in carrying out their business tasks. In order to reach a higher level of business performance, new vibrancy has to be injected into our corporate culture. After careful formulation and thorough discussion, the Board approved the Bank Vision, Mission and Core Values. With this initiative, we have embarked on building a coherent and bank-wide corporate culture that motivates us and moves us forward in the 21st century. [2] Allied Bank Corporate Values
Allied Bank Limited operates by the following Vision, Mission and Values:
Vision
To become a dynamic and efficient bank providing integrated solutions in order to be the first choice bank for the customers. [3] Allied Bank Vision
Mission Statement
To provide value-added services to our customers.
To provide high-tech innovative solutions to meet customers requirements.
To create sustainable value through growth, efficiency and diversity for all stakeholders.
To provide a challenging work environment and reward dedicated team members according to their abilities and performance.
To play a proactive role in contributing towards the society. [4]Allied Bank Mission Statement
Core Values
Integrity
Excellence in Service
High Performance
Innovation and Growth[5] Allied Bank Core Values
Strategic Objectives
Enhancing brand image and creating shareholders value through sustainable performance, while optimizing return against acceptable risk appetite.
Augmenting financial inclusion of unbanked population through innovative and diversified technologies, building customers confidence through convenient delivery channels and product designs.
Continuous re-engineering of policies, procedures, SOPs, SLAs and TATs, ensuring operational efficiencies through effective management of key resources.
Instilling a culture of ethics and responsibility among human resource and becoming an Employer of Choice for the Top Professionals.[6] Allied Bank Strategic Objectives
Business Banking
Cash Management Solutions
The Cash Management team focuses on our Corporate customers need for Collections and Payments across the country. Tailor- made products and transactional structures are developed for customers as well as a host of MIS reporting options for receivables management and handling of disbursements/ payouts.
Through our value added proposition, ABL cash management team strives to deliver the best combination of services to corporate clients and their suppliers, dealers, vendors and employees nationwide [7] Cash Management Solutions
Trade Services
Allied bank, with its variety of export products and expertise, can help customers mitigate risks involved in export transactions, which in turn, will help their export business flourish. We offer a wide range of import products delivered by our expert trade team who ensures quick and efficient processing of transactions.
Allied Bank provides highly efficient trade finance services for import/export businesses through a large number of authorized branches where trained and motivated staff is available to handle the business on the customer behalf. [8] Trade Services
Islamic Investment Certificates
Investment certificates will be issued based on the mode of Mudaraba for the period of 1 month, 3 months, 6 months, 1 Year, 2 years, 3 years, 4 years and 5 years through Allied Islamic Saving / Current account. The deposit will be accepted for different periods at the discretion of the Bank from time to time.
Profits or Loss will be shared on Monthly, Quarterly, Half Yearly or Maturity basis or may be decided / declared from time to time at the discretion of the Bank.
Investment certificate will be issued in the multiple of minimum Rupees 25,000.
The Bank will utilize all such deposits as the Bank may deem appropriate in Shariah compliant modes of financing / investments.
Following options will be available at maturity of the certificate or as approved by the Bank from time to time:

Roll-over with Principal and ProfitProfit Encashment (in linked current / saving account) and Principal Roll-overPrincipal and Profit Encashment at maturity (in linked current / saving account)

In case of early/premature encashment, the applicable weightage on such Certificate (TDR) shall be that of the Certificate (TDR) of the nearest completed tenor. For instance, a five year Certificate (TDR) encashed after one year shall be assigned the weightage applicable on one year Certificate (TDR). Pre-mature encashment will be allowed on the profit rates declared for the corresponding period for which investment remained with the Bank, as follows:

For completed years (i.e. 1, 2, 3, 4), rates for the corresponding completed years will be selectedFor the period exceeding completed years, last declared rate for the regular saving accounts will be selectedFor the TDR having maturity less than one year, last declared rate for the regular saving accounts will be selectedNo premature charges or termination fees will be charged on any type of investment certificate[9]Islamic Banking Islamic Investment Certificates
PER AND IRR POLICY

PER is a reserve to accommodate the pool abnormal yield fluctuations.
PER will be maintained at the Bank discretion and the accumulated balance not to exceed 30 percent of Islamic Banking Fund (Equity) or as per the State Bank of Pakistan directives from time to time.
Amount of contribution into or utilization from the reserve will be approved by ALCO.
50 percent of the reserve balance will be disclosed as reserve whereas remaining 50 percent will be disclosed as liability in the Bank balance sheet.
Reserve funds will be invested in SLR eligible securities like Sukuk and other similar instruments etc. and profits / return earned from such investments will also be credited into the PER account whereas Mudarib / Bank Share should not exceed 10% from the such profit / return. [10]Islamic Banking  PER AND IRR POLICY 
Board of Directors
MOHAMMAD NAEEM MUKHTAR
Chairman / Non Executive Sponsor Director
SHEIKH MUKHTAR AHMAD
Non Executive Sponsor Director
MUHAMMAD WASEEM MUKHTAR
Non Executive Sponsor Director
ABDUL AZIZ KHAN
Non-Executive Director
MUBASHIR A. AKHTAR
Non-Executive Director
ENGR. DR. MUHAMMAD AKRAM SHEIKH
Independent Director
ZAFAR IQBAL
Independent Director
TAHIR HASSAN QURESHI
Chief Executive Officer [11]

Board of Directors