MM Alam The Pride of Pakistan. When ever we take his name our heads become high energize our spirit with Patriotism . He was a true Patriot and Hero of our nation. Muhammad Mahmood Alam also Known as MM Alam  was born in 6th July 1935 in East Pakistan. He completed his secondary education in 1951 from Government High School, Dacca, East Pakistan. He joined the PAF in 1952 and was granted commission on October 2, 1953. His family moved to West Pakistan in around 1971.[1] When ever we take his – name our heads
| Title | Description |
| --- | --- |
| Personal | |
| Name: | Muhammad Mahmood Alam |
| Local Language Name: | محمد محمود عالم |
| Famous As: | Little Dragon |
| Nationality: | Pakistan |
| Residence: | Karachi, Pakistan |
| Education: | Government High School, Dacca, East Pakistan |
| Religion: | Islam |
| Profession: | Fighter Pilot |
| Awards : | Sitara-e-Jurat |
| Born | |
| Date: | 6 July 1935 |
| Place: | Calcutta, British India |
| Family | |
| Siblings : | M. Shahid Alam, Mohammad Sajjad Alam |
| Died | |
| Date: | 18 March 2013 |
| Rest Place: | Karachi, Pakistan |
| Details | |
| Allegiance : | Pakistan |
| Service/branch : | Pakistan Air Force |
| Years of service : | 1960–1982 |
| Rank : | Air commodore (Brigadier-General) |
| Unit : | No. 11 Squadron Arrows (1965) & No. 5 Squadron Falcons |
| Battles/wars : | Indo-Pakistani War of 1965 & Soviet War in Afghanistan |
| Commander of: | No 11 Squadron |
| In 1965: | Notable leader and highly experienced pilot |
| Positions: | He was a F-86 Sabre flying ace and one-star general in the Pakistan Air Force |
About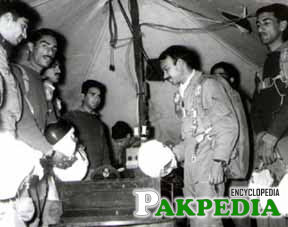 Early Life
He was a patriotic person who never married due to patriotism and love with the country. He never gave importance to his mother tongue languages Bengali always preferred Urdu Language In one of his interview he says " This was my Wish from the childhood to become a soldier and defend my country and to be a fighter pilot and with the grace of GOD I succeeded in my mission and joined PAF ( Pakistan Air Force ) . Some facts of Islam and jihad always remained in my mind that one Muslim is equal to 10 kafirs during the war and these were the all things which I remember every time and I love my country so much "[2] He never  importance – mother tongue Loving his Country can be described in such words that in hot summer days with fasting M M Alam don't rest in the Air condition rooms while others were having rest, he goes outside and passes his time with his Aircraft F-86 and aiming at different angles that whom he don't miss his Aim during any War in the future and keep preparing himself in the free time.
Indo_Pak War 1965
In 1965 When India  underestimated the power of Pakistan Air Force and WAR started in the late mist dark night and the Untold WAR begins. Gen Ayub Khan Addressed to Pakistani Nation about that Untold War. At that time India was 3 times bigger and more powerful then Pakistan. This time Mr.MM Alam who was the first commanding officer of the first squadron of Assaults Mirage III he took his F-86 Sabre Jet Plane equipped with AIM-9 Sidewinder  missiles and Fly Over the Skies of  Sargodha to defeat the enemies who entered in Pakistani Air Space to attack that's when M.M Alam made the unforgettable history by knocking down 9 Indian Fighter Jets " Hawker hunters" in air to air combat as Hawker Hunter were more powerful than F-86. Not only he shoots down as he sets an unbeaten world record by Downing five Indian aircraft in thirty seconds . Alam announced to the radar controller that he had shot down 9 IAF Air crafts And When Radio Pakistan announced his brilliance, The Peoples of Pakistan started rising the slogans of "Allah o Akbar" from this M M ALAM spoiled the dirty Dreams of the enemy.[3] In 1965 When India —-   underestimated
Afghanistan War
MM Alam also took part in the Afghanistan WAR against Soviets as a Mujahid. M. M. Alam Road, a major road in Lahore, is named in honor of the flying ace of Pakistan Air Force.
War of 1965
Alam's confirmed kills are as follows:

Squadron Leader Onkar Nath Kacker, No. 27 Sqn, POW
Squadron Leader A B Devayya, No. 7 Sqn. (IAF shows him a Mystere Pilot & he belonged to No 1 Squadron)
Squadron Leader Suresh B Bhagwat, No. 7 Sqn
Flight Lieutenant B Guha, No. 7 Sqn
Flying Officer Jagdev Singh Brar, No. 7 Sqn, KIA, near Sangla Hill.[4] Alam's confirmed kills —-   are as follows
Memorials
M. M. Alam Road, a major road in Lahore, Punjab, Pakistan is named in honour of the flying ace of Pakistan Air Force, Air Commodore Muhammad Mahmood Alam, running from Main Market to Gulberg. The road runs parallel to famous Main Boulevard thus providing an alternate route and is a commercial hub with many restaurants, fashion boutiques, shopping malls, beauty saloons and décor stores. M.M. Alam Road hosts a variety of flamboyant restaurants in modern Lahore. On 20 March 2014, on account of his first death anniversary, the PAF Airbase Mianwali was renamed after him as PAF Base M.M. Alam.[5] M. M. Alam Road – major road in Lahore,
Achievments
In 1967, Alam was transferred as the Squadron Commander of the first squadron of Dassault Mirage III fighters procured by the PAF. He was removed from staff college over his alleged excessive involvement with Tableeghi Jamat and focusing more on preaching religion instead of carrying out his core responsibilities. In 1982, Alam retired as an Air commodore and took up residence in Karachi. Since retiring, Alam had become more deeply interested in religion. He was suspected of mentoring extremists and remained under surveillance for most part of his post retirement life.
Death
The Air Force legend was admitted to Pakistan Naval Station Shifa Hospital in Karachi. Alam died in Karachi on 18 March 2013. He was 77. He was being treated for respiratory problems for 18 months. Alam's funeral prayer was performed at the PAF Base Masroor, where he served some of the significant years of his career. Alam was buried at the Shuhuda (Martyrs) Graveyard, located at PAF Masroor Airbase. Air Chief Marshal Tahir Rafique Butt, Sindh Governor Dr Ishratul Ebad, Air Chief Marshal (Ret.) Farooq Feroz Khan, Sindh corps commander Lt. Gen Ijaz Chaudhry, Pakistan Rangers (Sindh) Director-General Maj. Gen. Rizwan Akhter, Base Commander PAF Base Masroor Air Commodore Usaid ur Rehman, many war veterans of the 1965 war and Alam's closest colleagues attended the funeral. One of the younger brothers of the deceased, Zubair Alam, was also present.[6] Pakistan Naval Station —   Shifa Hospital