Tarbela Dam, giant rock-fill dam on the Indus River, Pakistan. Built between 1968 and 1976, it has a volume of 138,600,000 cubic yards (106,000,000 cubic m). With a reservoir capacity of 11,098,000 acre-feet (13,690,000,000 cubic m), the dam is 469 feet (143 m) high and 8,997 feet (2,743 m) wide at its crest. Tarbela Dam is one of two main structures (the other is Mangla Dam on the Jhelum River) in the Indus Basin project, which resulted from the Indus Waters Agreement between India and Pakistan. Together with their subsidiary dams, Tarbela and Mangla were built to control seasonal fluctuations on the Indus River.[1] Tarbela Dam, giant rock-fill dam –   the Indus River
| Title | Description |
| --- | --- |
| Information | |
| Location: | Tarbela, Khyber Pakhtunkhwa, Pakistan |
| Nickname: | Earth fill dam |
| Type: | Embankment dam |
| Local Language Name: | تربیلا بند |
| Coordinates : | 34°05′23″N 72°41′54″E |
| Power Station Unit: | 14 |
| UNITS 1-10: | 175 MW EACH (Total 1750 MW) |
| UNITS 11-14: | 432 MW EACH (Total 1728 MW) |
| TUNNEL-1 : | 4 UNITS OF 175 MW EACH (COMPLETED 1977) |
| TUNNEL-2: | 6 UNITS OF 175 MW EACH (COMPLETED 1985) |
| TUNNEL-3: | 4 UNITS OF 432 MW EACH (COMPLETED 1993) |
| Service Spillway: | No of Gates, 7 (50 feet wide x 61 feet high) |
| Auxiliary Spillway: | No of Gates, 9 (50 feet wide x 61 feet high) |
| Details | |
| Construction began : | 1968 |
| Opening date : | 1976 |
| Construction cost : | USD 1.497 billion |
| Impounds : | Indus River |
| Height : | 143.26 metres (470 ft) from river level |
| Length : | 2,743.2 metres (9,000 ft) |
| Creates: | Tarbela reservoir |
| Total capacity : | 13.69 cubic kilometres (3.28 cu mi) |
| Catchment area : | 168,000 km2 (65,000 sq mi) |
| Surface area : | 250 km2 (97 sq mi) |
| Turbines : | 10 × 175 MW 4 × 432 MW |
| Installed capacity : | 3,478 MW 6,298 MW (max) |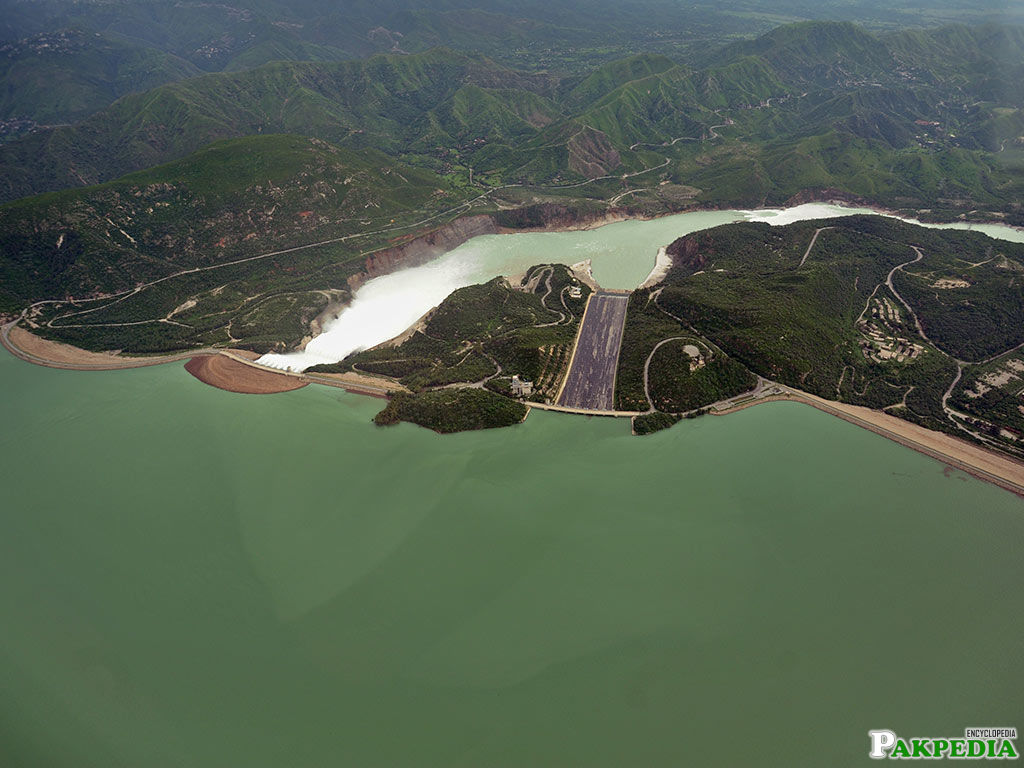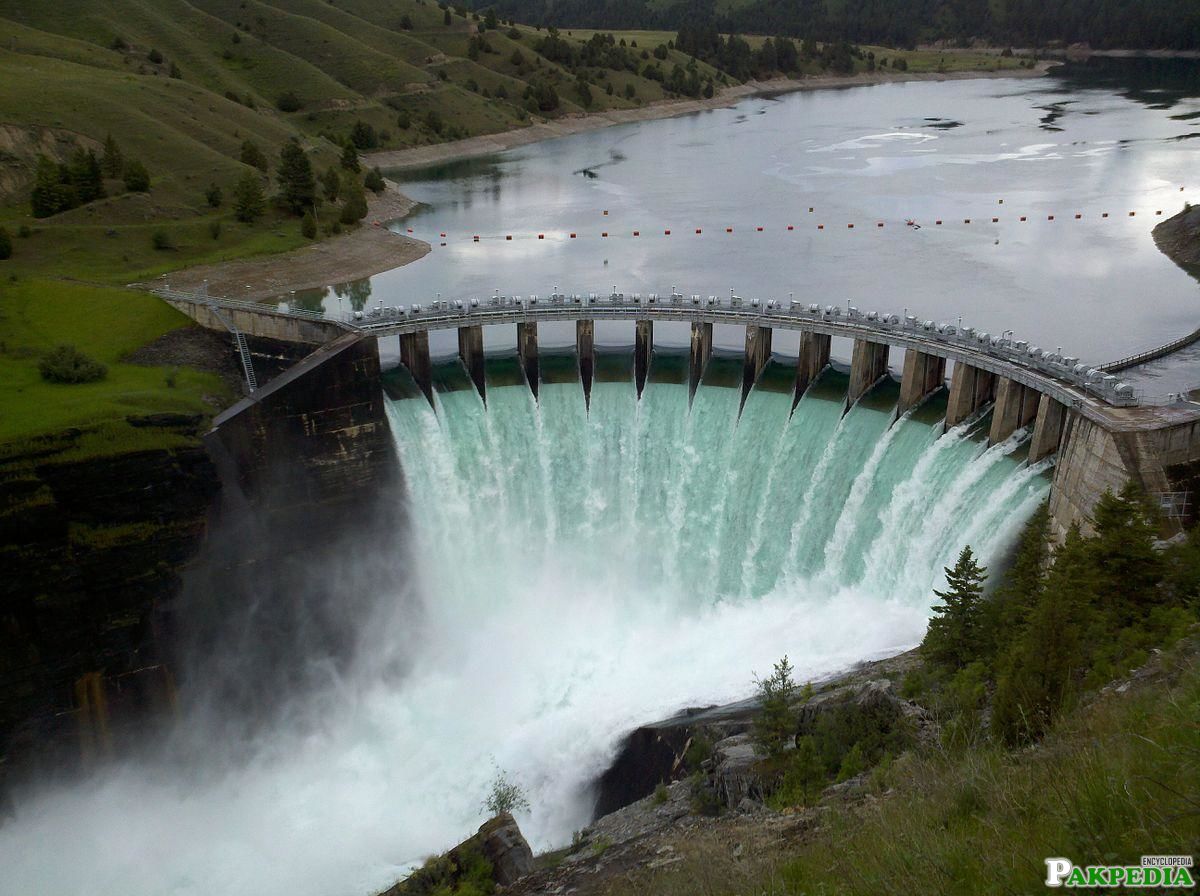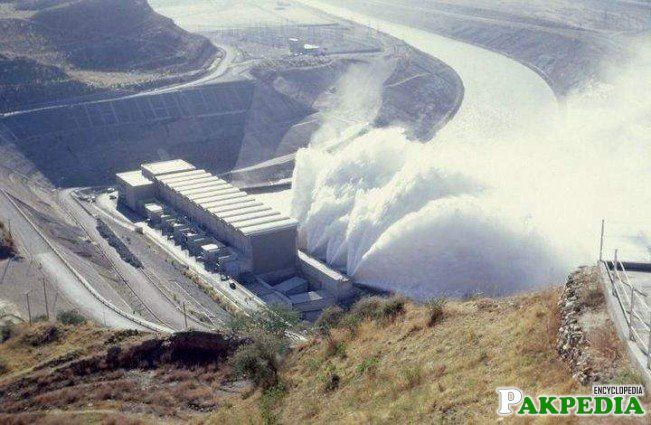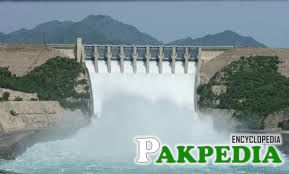 Detail
Location
Tarbela Dam is one of the world's largest earth and rock filled Dam and greatest water resources development project which was completed in 1976 as a component of Indus Basin Project. The Dam is located on the river Indus known as the "Abbasin" or the father of the river at a distance of 130 KM (50 Miles) to the North West of Islamabad, in Distt Sawabi KPK.Emerging from the land of glaciers on the northern slopes of Kailash ranges, some 17,000 feet (5182 meters) above sea level, the river Indus has its source near the Lake Mansrowar in the Himalyan catchment area. It flows over 1800 miles (2900 k. meters) before it outfalls into the Arabian sea draining an area of about 372,000 square miles (964,261 sq.kms).In stage-II, the main embankment dam and the upstream blanket were constructed across the main valley of the river Indus while water remained diverted through the diversion channel. By the end of stage-II, tunnels had been built for diversion purposes. The Stage-II construction took 3 years to . Under stage-III, the work was carried out on the closure of diversion channel and construction of the dam in that portion while the river was made to flow through diversion tunnels. The remaining portion of upstream blanket and the main dam at higher levels was also completed as part of stage-III works.[3] embankment dam upstream blanket – constructed
 Construction
The construction of Tarbela Dam was carried out in three stages to meet the diversion requirements of the river.
In stage-I, the river Indus was allowed to flow in its natural channel while work was continued on right bank where a 1500 feet (457 meters) long and 694 feet (212 meters) wide diversion channel was excavated and a 105 feet (32 meters) high buttress dam was constructed with its top elevation at 1,187 feet (362 meters). Construction under stage-I lasted 2.5 years.
In stage-II, the main embankment dam and the upstream blanket were constructed across the main valley of the river Indus while water remained diverted through the diversion channel. By the end of stage-II, tunnels had been built for diversion purposes. The Stage-II construction took 3 years to complete.
In stage-III, the work was carried out on the closure of diversion channel and construction of the dam in that portion while the river was made to flow through diversion tunnels. The remaining portion of upstream blanket and the main dam at higher levels was also completed as part of stage-III works.
Tunnels
The four each of half mile long, tunnels through the right (rock) abutment initially served for the diversion of water during the final phases of construction of the Project. Now, they are being used for Power generation (tunnels 1, 2, 3 and eventually 4). The discharge capacity of each irrigation tunnel at higher reservoir elevations is approximately 90,000 cusecs (2,549 cumecs). The discharge pass through energy dissipater structures and the water returns to the river. A fifth tunnel on the left bank designed to augment irrigation releases upto 80,000 cusecs (2,265 cumecs) at high reservoir level, has also been added to the project.[4] The four each  half mile  tunnels – through the right
Number 4
Length 2400 feet each (732 M)
Diameter (u/s gate shafts) 45 feet (13.72 M)
Diameter (d/s gate shafts) 36 feet (10.97 M)
Discharge Capacity 90,000 cusecs (2,549 cumecs)
Length 2760 feet (841 M)
Diameter (u/s gate shafts) 43.5 feet (13.26 M)
Diameter (d/s gate shafts) 36 feet (10.97 M)
Discharge Capacity 80,000 cusecs (2,265 (approximately) cumecs)
Project Benefits
In addition to fulfilling primary purpose of the dam i.e. supply water for irrigation, Tarbela Power Station has generated 438.978 Billion KWh of cheap Hydel energy since commission. A record annual generation of 16.463 Billion KWh was recorded during 1998-99. Annual generation during 2013-14 was 15.181 Billion KWh while the station shared peak load of 3605 MW was recorded during the year.[5] Tarbela Power Station generated – 438.978 Billion
Spill Ways
Service Spillway

No of Gates 7 (50 feet wide x 61 feet high)
Discharge 650,000 cuses
Auxiliary Spillway
No of Gates 9 (50 feet wide x 61 feet high)
Discharge 850,000 cuses
E M Equipment of Tarbela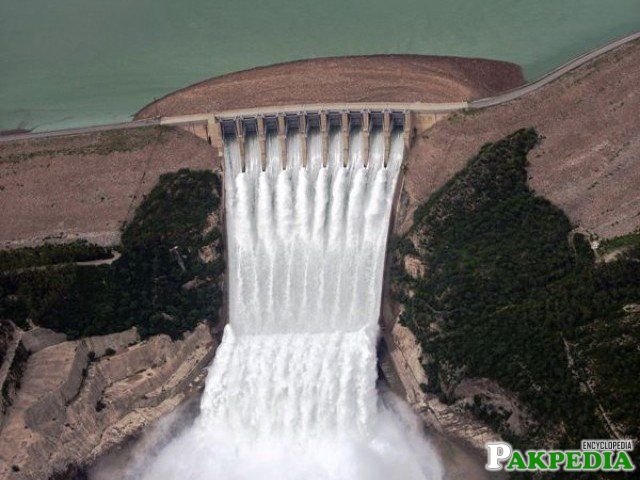 Turbine           
 
Units
(1~4)
(5~8)
(9~10)
(11~14)
Turbines Make
Hitachi Japan
DEW Canada
DBS Canada
DBS/SEW Canada
Type
Vertical Frances
Vertical Frances
Vertical Frances
Vertical Frances
Rated Output (BHP)
275,000 / 239,000
275,000 / 239,000
275,000 / 239,000
596,000
DesignedHead (FT)
270
333
333
270
Rated Head (FT)
378
378
378
385
Speed (RPM)
136.4
136.4
136.4
90.9
Rated Discharge for one unit (CFS)
6700
6700
6700
15000
Generators
Units
(1~4)
(5~8)
(9~10)
(11~14)
Generators Make
Hitachi Japan
CGE Canada
Hitachi Japan
Siemens Germany
Type
Semi Umbrella
Rated Capacity (MW)
175
175
175
432
Power Factor
0.85
0.95
0.95
0.90
Rated Voltage
13.8
13.8
13.8
18
Speed (RPM)
136.4
136.4
136.4
90.9
Overload Capacity
115%
115%
115%
–
Power Transformer
Units
(1~4)
(5~8)
(9~10)
(11~14)
Capability (MVA/Phase)
79
71
71
160
Voltage Ration (KV)
13.2 /220
13.2 /500
13.2 /500
25.0 /500
Make
Jeumont Schneider France
ASEA Canada/ Hitachi Jap/
TBEA China
Hitachi Japan
Ansaldo Italy
The Barrage
The Barrage located 7 km downstream of Tarbela Dam, provides a pond which re-regulates the daily discharge from Tarbela by diverting the flow into the Power Channel. The principal features include 20 No. standard bays, 8 No. under sluices and 8 No. head regulator bays in addition to rim embankments, fuse plug and dividing island. The Barrage can pass the design flood of 18,700 cumecs, equivalent to the flood of record, through the standard bays and under sluices at the normal pond level of El. 340 m. The fuse plug has been provided to pass the extreme flood up to the capacity of Tarbela's spillway and tunnels equaling 46,200 cumecs.{:ref:{ Tarbela Dam, provides a pond which – re-regulates }}