It was back in the 1930s when for the first time people living in this part of the sub-continent heard it on the airwaves from two small radio stations in Peshawar and Lahore. This small magical box made history, when at midnight between August 13 and 14, 1947, it voiced: "Assalam-o-Alaikum! Pakistan Broadcasting Service. Hum Lahore se bol rahe hain. Teraan aur chaudaa August sunn saintalees ki darmiani raat, bara baje hain, tuloo-e-subhe Azadi!". (we are speaking from Lahore, midnight of 13 and 14th of August, it's 12'O clock, rise of morning of freedom). These words of Mustafa Hamdani announced the creation of Pakistan and simultaneously the establishment of state broadcast service, which was later named as Radio Pakistan.
    
| Title | Description |
| --- | --- |
| Basic Information | |
| Formed: | 14 August 1947 (radio) |
| In English: | Radio Pakistan |
| In Urdu: | ریڈیو پاکستان |
| Type: | Federal Corporation |
| Industry: | Mass media ,Public broadcasting, Radio network ,Television network |
| Headquarters: | National Broadcasting House G-5/2, Islamabad, Capital Territory, Pakistan 44000 |
| Area served: | National; available on terrestrial and cable systems |
| Key People: | Marriyum Orangzaib (Minister of Information & Broadcasting) |
| Products: | Broadcasting, Radio, Television |
| Services: | Radio Pakistan, PTV Bolan, PTV Global ,PTV Home ,PTV National, PTV News, PTV Sports, PTV World ,AJK TV |
| Owner: | Government of Pakistan |
| Website: | http://radio.gov.pk/ |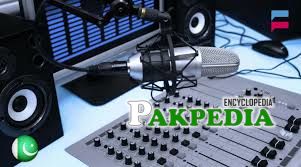 History

Radio Pakistan was formed on 14th August 1947 when Pakistan became independent. It was a direct descendant of the Indian Broadcasting Company which later became All India Radio. At independence Pakistan possessed three radio stations at Dhaka, Lahore and Peshawar. A major programme of expansion saw new stations opened at Karachi and Rawalpindi in 1948, and a new broadcasting house at Karachi in 1950. This was followed by further stations at Hyderabad (1951), Quetta (1956), a second station at Rawalpindi (1960) and a receiving centre at Peshawar (1960). Radio Pakistan reaches 80% of the area of the country and 96.5% of the total population of Pakistan and is broadcasted in 21 different languages. Half of airplay devoted to information and education while other airplay devoted to entertainment. [1] biography 
New stations were opened in different parts of the country after independence. 
In 1972 Radio Pakistan was converted into Pakistan Broadcasting Corporation 
At national level Radio Pakistan reaches to 80 per cent of the total area of the country. 
Its Population-wise reach is 96.5 per cent. Radio Pakistan is working with 31 radio stations, which are located in different parts of the country while its headquarters is in Islamabad. Among the 31 radio stations three are working in Azad Kashmir seven in Baluchistan, one in Islamabad, six in North West Frontier Province (NWFP), two in Northeren Areas, and seven in the Punjab (PBC, 2005). The government is opening new radio stations in other areas as well.  
Mission
Counter adverse foreign propaganda and negative perceptions 
Educate people on social issues and problems i.e public service programmes covering health, education, environment,population welfare, agriculture, special persons, rights of women and priorities, human rights and media freedom.
Entertain people through music programmes
Board of directors
In the Board of directors of Radio Pakistan the secretary to the Governement of Pakistan is the ministry of information and media development. It consist of well known persons each from the four provinces relating to media and management who is appointed by the Federal government. 
The Board also includes the Additional Foreign secretary, Additional Finance secretary, the Director General, ISPR Managing Director, PTVC. Director General, PBC are the members of the board. 
Private Radio in Pakistan

Before 1994 air waves in Pakistan were the monopoly of the state however, in 1994 the deregulation of airwaves started in the country when the first private owned radio station (FM100) was established, which started its regular transmission from March 23, 1995 (FM 100 Pakistan, 2002). Since then there is a mushroom growth in the number of FM radio stations in the country. Even where FM broadcasting is concerned, Radio Pakistan was the pioneer, launching the FM Gold service in 1993. Yet unlike the global standard, this channel played recorded material and could hardly make an impact. It was not until the privately-owned FM100 entered the scene in 1994 that the 'FM culture' struck roots in the country. Beginning originally in the three metros — Karachi, Lahore and Islamabad — FM100 introduced a youthful and much more street-savvy live style to the radio-listening audience. The playlist was eclectic, featuring slots for local pop acts, Western pop music, as well as semi-classical Eastern numbers. The DJs, or RJs as they are now referred to, were mostly young men and women who would intersperse the tracks with fluffy, light banter. It was radio for the modern age. [3] FM 
Launching FM 101
Learning from its earlier experiences, Radio Pakistan got back into the act in 1998, launching its FM 101 platform also in the three metros. Taking a leaf out of the FM 100 book, 101 also introduced young DJs who could chat up the audience on pop culture, sports and poetry in jargon the urban youth of Pakistan could identify with. From thereon, as the new millennium approached, the country witnessed explosive growth in FM radio channels. From two FM stations in 1998, today, as per the Pakistan Electronic Media Regulatory Authority's figures, licences have thus far been issued to 143 commercial and 45 non-commercial entities from Gwadar and Karachi in the south, to Gilgit and Skardu in the north.
FM revived radio
Today there is a wide variety of FM radio programming available in Pakistan, from accented RJs playing 'indie' music from the clubs of New York and London to their elite urban listeners, to more folksy broadcasts in regional languages in Pakistan's secondary cities. Indeed, today, a wide variety of listeners, from the man on the street to the elite, seem to have an ear tuned to FM radio, especially since FM receivers in smartphones and in car decks have made listening in even easier. Just as FM revived and rejuvenated radio in Pakistan in the 1990s, today, internet-based radio and convergence of media may throw up even newer formats or programming styles. While at one time preparations were being made for radio's funeral, today the future for this medium in the country seems bright.
Early days

Radio was what the people tuned into, listened to and followed. The entire family would sit around this magical box and avidly listen to their favourite programs, including dramas, music and radio shows. 
Those were the days when radio presenters were celebrities and radio stations would receive sacks full of letters from listeners.  Radio educated the people and played a pivotal role in shaping their minds. 
On the lighter side, it was a great entertainer too. Singers, musicians, instrumentalists, poets and writers from different parts of Pakistan became associated with Radio Pakistan and a new era of cultural renaissance began in the country.
Ball-to-ball commentary of cricket matches fed into the nation's obsession to the game and radio was supremely popular during the cricket season, right up to the '70s when TV took over live telecast. Those who were around in the '50s and '60s would nostalgically recall Umar Qureshi and Jamshed Marker, whose English commentary familiarized cricket fans with idioms like 'Googly' and 'Howzat'.
Hockey, the national game, was no less popular and commentator S.M.Naqi played an integral role in popularizing the sport. He was considered to be the pioneer of Urdu commentary for hockey and was the only Urdu commentator to have access to the national game during this golden era of the sport in Pakistan.
That was a time when men relied on radio news and current affairs programs while women were entertained by drama and music and students actively engaged in programs like Bachon Ki Dunya. Huge numbers of students participated in competitions, debates, declamation contests, mushairas and bait baazi as well as drama.
General Program Categories
Religion
News and current affairs
Women, Children, & Labor
Youth-Students
Forces
Rural & Farm
Drama/Features
Publicity Campaigns
Science, Technology, Health
Sports
State owned enterprise

Being a state-owned enterprise, the news broadcast on Radio Pakistan was only what the government wanted you to hear. Otherwise, there was an interesting mix of cultural, musical and religious programming on offer. The language used on air as far as Urdu and English broadcasting was concerned , was top-notch, with absolutely no room for slang or banter used on the street. In fact it would not be wrong to say that people could improve their pronunciation by listening to Radio Pakistan. Some veterans of Radio Pakistan told  that presenters were thoroughly coached in the art of proper pronunciation before being allowed in front of the microphone. Compared with much of the stuff that makes it to the airwaves today, Radio Pakistan would only accept the King's Urdu, and nothing else. 
Presenter of Culture
Radio Pakistan is still continuing with its historical role in the promotion of culture and providing real time information to the people of far – flung areas of Pakistan. With its network of regional radio stations, the organisation is providing transmission in more than 20 regional languages, including the Shina and the Balti of Northeran Areas to Dhatki language of Tharparkar. These regional radio stations are regarded as leading cultural centres in their respective areas.
Radio Pakistan Hyderabad

It would be unjust if we do not  mention the role of Radio Pakistan, Hyderabad, which celebrated its 56th birthday on Aug 17. Soon after its establishment in the 1950s the station became the cultural nerve centre of Sindh. Singers, musicians, instrumentalists, poets and writers from different parts of Sindh became associated with the institution and a new era of cultural renaissance began in the province. The music section of Radio Hyderabad initiated the process of composition and recording of folk and Sufi poetry of Sindh in voices of different singers who later on emerged as legendary singers of the country. Poetry of Hazrat Shah Latif was recorded in both recital and musical formats and the radio station was awarded with Shah Latif Award in 2006. Veteran music producers and composers turned the studios of Radio Hyderabad into a music school and the leading singers of Pakistan like Abida Parween, Alan Faqeer, Ustad Muhammad Juman in the past and Sanam Marvi in recent times initiated their careers from this institution.
Similarly, Radio Hyderabad has also contributed to different other fields of arts and famous film stars like Mustafa Qureshi, Muhammad Ali and broadcasters like Syed Saleh Muhammad Shah provided their debut acting performances in the drama section of the station. [4] culture, haiderabad