Malik Riaz Hussain ( born February 8, 1954) is a Pakistani real estate tycoon and philanthropist. He is the founder and chairman of Bahria Town.Riaz is currently the 7th richest person in Pakistan, with an estimated wealth of US$1.1 billion as of 2017 and is one of Pakistan's most prominent philanthropists.[1] Profile: Malik Riaz Hussain on Dawn.com
| Title | Description |
| --- | --- |
| Personal | |
| Name: | Malik Riaz |
| In Urdu: | ملک ریاض |
| Nick Name : | Riaz |
| Famous As: | Real Estate tycoon |
| Nationality: | Pakistani |
| Residence: | Lahore |
| Occupation: | Founder/Chairman of Bahria Town |
| Education: | Matric |
| Religion: | Islam |
| Did you know: | Malik Riaz is the seventh-richest Pakistanis by net Worth (₨84 billion (US$800 million) USD) |
| Profession: | Real Estate |
| Mini Info: | Malik Riaz Hussain is a Pakistani businessperson, billionaire and philanthropist. He is the founder and chairman of Bahria Town, the largest privately held real estate development company in Asia. |
| Website: | http://malikriaz.com |
| Net Worth: | ₨84 billion (equivalent to ₨260 billion or US$2.4 billion in 2013) |
| Born | |
| Date: | 8 February 1954 |
| Place: | Sialkot, Punjab, Pakistan |
| Family | |
| Spouse: | Beena Riaz |
| Children: | Ahmed Ali Riaz Malik |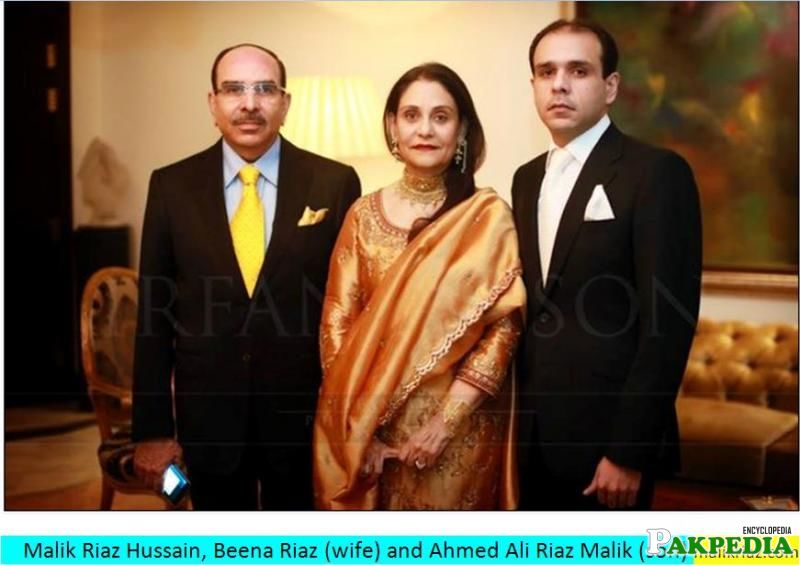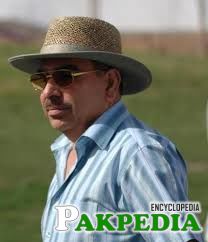 Early Life
Born in Sialkot into a wealthy family which went bankrupt during his adolescence.Malik Riaz was born to a contractor who suffered heavy losses in business forcing Riaz to drop out of high school after completing his matriculation. He went on to work as a clerk with the Military Engineering Service and often working part-time as a painter. He later moved to become a low-key contractor in the military.According to Dr. Ayesha Siddiqa, Riaz learnt to 'work the system', according to Siddiqa, Riaz used his contacts to secure a contract with Pakistan Navy in mid-1990s to develop two housing schemes in outskirts of Rawalpindi. In 2000, Pakistan Navy transeffered its entire shareholding to Hussain and later fought a legal battle with Riaz over contract infringement which the Supreme Court ruled in Hussain's favor. Riaz started his career as a clerk with a construction company in Rawalpindi. In the 1980s Riaz moved to become a contractor, and in 1995 was contracted to develop a gated community for Pakistan Navy. The contract was eventually terminated, but Riaz went on to develop Bahria Town Rawalpindi.
Business
Malik Riaz has ambitiously expanded his business empire under the brand name of Bahria Town Group. Riaz is considered as a liberal in his business practises, according to Dr. Ayesha Siddiqa "to think that he is defined by religiosity and traditionalism, however, would be a mistake. His employees' profiles show that he hires a lot of women, especially at the middle and senior management levels, because he finds them "hard-working, efficient and diligent".'
Bahria Town has projects in Lahore, Rawalpindi, Islamabad, Murree and Karachi.
Twelfth Richest Man of Pakistan
He started off as a small time contractor in 1980s; however, the details on how Hussain, from an ordinary clerk in Military Engineering Service (MES) climbed up the ladder of success and became one of the biggest business magnates of Pakistan are extremely sketchy. All the country knows is that he is the man behind Bahria Town, one of the largest private development projects to have materialised in Southeast Asian region.
Bahria town, which spans over an area of 45,000 square acres, along with its owner invited many speculations and controversies since the time of its construction.
[2]Profile: Malik Riaz Hussain 
Bahria Town
Bahria Town Founded in late-1990s, it established its first gated community in southern Rawalpindi on the Grand Trunk Road, which by mid-2000s had expanded into nine phases divided into two compounds.Its second gated community opened in Lahore, which is influenced by Greco-Roman culture, and is build in Southern Lahore. In 2015, it launched the Bahria Town Karachi, the largest of its gated communities, while Bahria Enclave Islamabad (launched in 2013) is the smallest of them. Most of these communities are large towns in their own right, its oldest community in Rawalpindi spans over 40,000 square acres. The under-construction Bahria Town Karachi spans over 44,000 acres is the largest privately owned residential community in the country.Combined, its projects have the capacity to house over a million people.
Apart from gated towns, the company owns several shopping complexes including the Mall of Lahore and the under-construction Mall of Islamabad, chain of cinemas under the brand of Cine Gold, a chain of supermarkets under the banner of Green Valley Hypermarket and skyscrapers including the Bahria Icon Tower, which is the tallest in Pakistan. With over 100,000 employees, the group also is the developer of Grand Jamia Mosque, Lahore, which is the seventh largest in the world, and is constructing the third largest mosque in Karachi.The under-construction Rafi Cricket Stadium stadium when completed will also be the largest in the country. On November 2016, Bahria entered into a contract with Hyatt to develop four properties across Pakistan, including two golf resort's, worth combined $600 million. The properties would be owned by Bahria.
[3] Bahria Town  
Bahria Town Karachi
Bahria Town Karachi is a stellar addition to the chain of Bahria Town Projects already operating successfully in Islamabad, Rawalpindi and Lahore. This mega housing scheme was launched on 26th of January 2014 and received an immense response from general public as well as investors across the country as well as overseas Pakistanis. Bahria Town Karachi has been a long awaited project due to the vacuum of a well planned housing scheme in the largest city of Pakistan. Karachi doesn't have any society that matches with the international standards of infrastructure and living. Even DHA Karachi is not a well-planned Society, however it is considered to be the dwelling of the upper class of Karachi. DHA doesn't have parks, play areas, planned commercial areas, underground electricity, well-built roads and infrastructure and quality of construction. However, it does maintain cleanliness and security better than the rest of the city. Bahria Town, a rival of DHA, has approached Karachi with a master planned mega housing scheme which promises the international standards of infrastructure with state-of-the-art amenities to the residents and hence it becomes the most appealing choice for all Karachiites where they can live in a calm and peaceful environment while enjoying the luxuries of life. Bahria Town mainly targets the middle class of Pakistan, therefore the number of application pouring in from all corners of Pakistan for the booking of plots, homes and apartments are innumerable.
[4] Bahria Town Karachi
Bahria Town Islamabad Rawalpindi
Bahria Town Islamabad / Rawalpindi housing project is a very beautiful, well planned housing scheme. People earned very huge profits through investments in various Bahria projects. Garden City, Bahria Enclave, Safari valley, Bahria Overseas Encalve, Intllectual Village, Bahria Residentia, Phase 1 to 6, Phase8, Phase9. Low cast housing Projects like Awami Villas and Safari Homes. It is the only housing scheme, in which you can enjoy Luxuries of life very economically. Shopping, Zoo's, Parks, Hospital, Mosque, School, College's, Cinema,s, Resturants, Tennis Club, Cricket Stadium, Golf Course.
[5]  Bahria Town Islamabad / Rawalpindi 
Bahria Town Lahore
 Bahria Town is the largest housing project of Pakistan. Bahria Town has housing colonies in Islamabad and Lahore. Where the historical cultural centre of Pakistan, the great city of Lahore, is greatly treasured for its historical assets; urbanization has already converted its image to a modern metropolitan. Hi-rise developments and an ever increasing population density has gradually crept over the natural greens that are a signature of the land of the five rivers. Bahria Town Lahore developments bring back the spirit of the land of the greens with a modern touch. The master design revives the communal setting alongside the famous Lahore Canal. Life is caressed at Bahria Town Lahore development with the provision of the most conventional to most modern means to enable a complete lifestyle. Bahria Town Lahore developments form the horizon of the rich history of the land of Punjab. It forms the juncture of a rich cultural & architectural history to a bright and progressive future. Vast plains abundant with natural green settings, host the most progressive residential lifestyle yet to be matched by any other development. Farm houses, traditional bungalow type large land formats, economy housing and luxury lifestyle are all harmonized to carve the most versatile and diverse community. Health facilities, entertainment, commercial and business opportunities establish Bahria Town Lahore as the happening place already. With the futuristic business district of Lahore planned and under development here; businesses and especially new businesses are exploring their future with us. The burgeoning residential schemes following suit have further re-affirmed business and lifestyle soundness of Bahria Town pioneering developments. Following are the most famous housing colonies of Bahria Town Lahore.
[6]  Bahria Town Lahore 
Malik Riaz to appear before Supreme Court
Malik Riaz Hussain along with his son in law Zain Malik are assumed to appear before the Supreme Count in front of 2 Judge bench including Chief Justice Saqib Nisar in 35 billion fake account case. Malik Riaz and his son in law were accused of snatching the land in Bagh Ibn-i-Qasim for the Bahria Icon Towers project as well as Pakistan Steel Mills land illegally. A huge amount had been transferred into the fake accounts and it has been found that the Bahria town Bahria Town appeared as a big beneficiary by grabbing thousands of acres of the prime urban state as well as private lands for its projects in Karachi against which it paid huge kickbacks.