Jansher Khan
Jansher Khan
Jansher Khan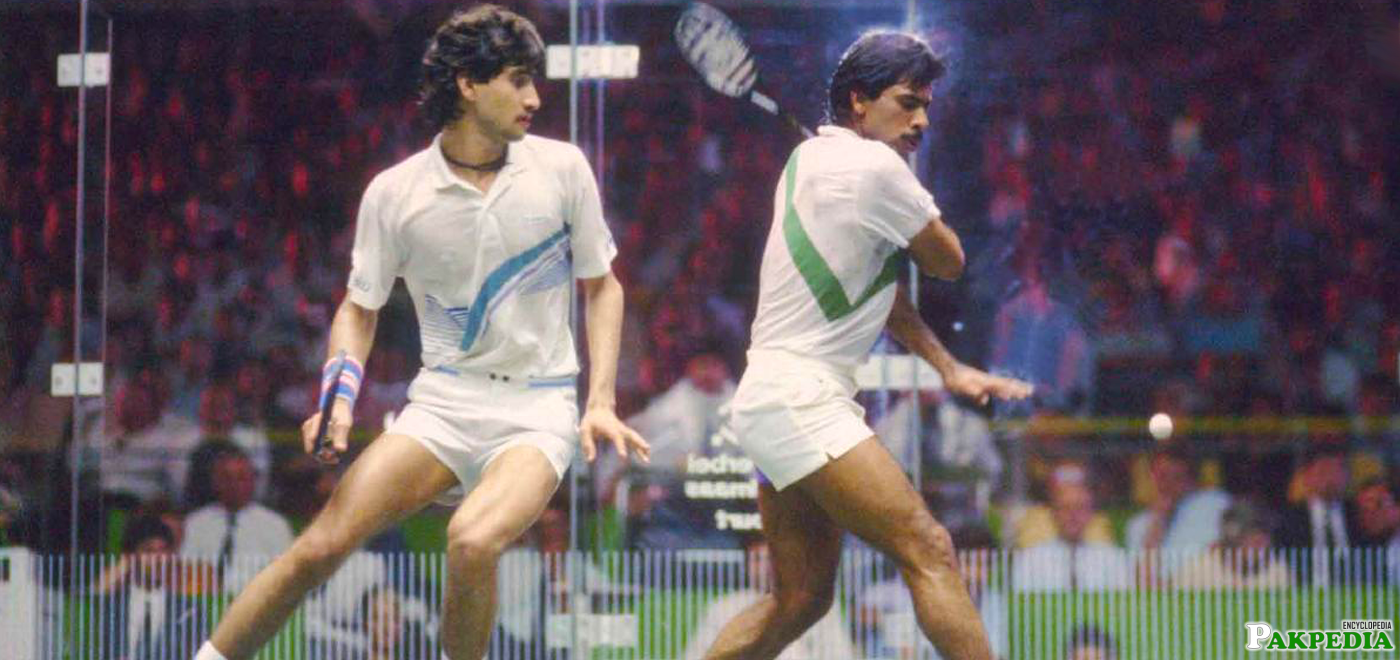 Jansher Khan with jahangir khan
Jansher Khan
Jansher Khan A True Legend
Jansher Khan had a very catchy nickname, The Punisher and for a good reason. Born on 15 June 1969 at the home village of Jahangir Khan in
Peshawar
he was the toughest rival Jahangir Khan faced and fought many times in the squash arena. Jansher Khan followed the footsteps of Jahangir Khan after he was on his own peak and defeated the legend after true hard work. Their initial encounters resulted in Jansher's defeat but eventually he took Jahangir up and defeated him in a streak of matches before Jahangir could recover and win his titles back from Jansher.Jansher Khan won his first World Championship, The World Junior Squash Championship in 1986 and went on to face Jahangir Khan the sensational legend who had taken up the squash arena. Their rivalry went on for years until Jahangir retired in 1993 leaving the arena open for Jansher Khan extend his own legacy. On one hand, their rivalry in singles gave the viewers goose bumps and on the other for years they entertained viewers of squash in the doubles games. Beside Jahangir he had another rival ho he defeated many times in the World Open, Australian player Chris Dittmar. During and after his rivalry with Jahangir he won more than 90 professional titles and was ranked World No 1 for over a decade. Unlike Jahangir, the Punisher and King Khan Jansher's longest world championship streak is of four years but beside this, he has shown exceptional skills in the squash arena. We cannot blame Jansher for poor play because most of the times his opponent was Jahangir. He stayed on top of the squash arena right before and after Jahangir left from 1992-1996 as the world open champion. This is one of the greatest players we are talking about, who along with Jahangir, gave his all for the country. Jansher Khan won World Open Squash 8 times and British Open 6 times.
[3]
 Jansher Khan – A True Legend 
Jahansher Khans Track Record
The two Khans ruled over the game of squash like no other player, team, or country has ever ruled any sport.So to all those diehard football fans who think there is nothing beyond the likes of Maradona and Pele, think again!Mr. Jahangir is considered by many to be the world's finest athlete and greatest squash player who ever lived. The rest consider Mr. Jahansher to be the greatest squash player.The Khan dominance of world squash began with Jahangir in 1979 and ended in the late 1990's when Jahansher finally lost to Peter Nicol. That is 19 years of dominance by one single country: Pakistan.
[4]
 Jahansher Khan's Track Record
Jansher Khan took retirement
Jansher Khan took retirement in 2001 but decided to come back in 2007 however, the initial stages of his Parkinson's disease took their toll and he was defeated in his first match. He was official diagnosed of Parkinson's disease in 2011 and has been under treatment from then onwards. We have compiled a list of his World Open and British Open wins for our readers.
[5]
Jahansher khan took retirement
World Open final appearance
Win(8) 
| | | |
| --- | --- | --- |
| Year | Opponent in final | Score in final |
| 1987 | Chris Dittmar | 9–5, 9–4, 4–9, 9–6 |
| 1989 | Chris Dittmar | 7–15, 6–15, 15–4, 15–11, 15–10 |
| 1990 | Chris Dittmar | 15–8, 17–15, 13–15, 15–5 |
| 1992 | Chris Dittmar | 15–11, 15–9, 10–15, 15–6 |
| 1993 | Jahangir Khan | 14–15, 15–9, 15–5, 15–5 |
| 1994 | Peter Marshall | 10–15, 15–11, 15–8, 15–4 |
| 1995 | Del Harris | 15–10, 17–14, 16–17, 15–8 |
| 1996 | Rodney Eyles | 15–13, 17–15, 11–15, 15–3 |
Runners-up (1)
| | | |
| --- | --- | --- |
| Year | Opponent in final | Score in final |
| 1988 | Jahangir Khan | 6–9, 2–9, 2–9 |
Retirement and after squash
Jansher officially announced his retirement from squash in 2001. He won a total of 99 professional titles and was ranked the World No. 1 for over 10 years. In August 2007, Jansher announced that he was coming out of retirement to play in a Professional Squash Association tournament in London in October 2007. He said in a news conference that the reason for his comeback was that, "I feel I am mentally and physically fit to play the international circuit for another three to four years". He lost in the opening round of the event to England's Scott Handley 11–9, 6–11, 6–11 0–11.In October 2011, It was revealed that Jansher was suffering from Parkinson's disease.