Irum Azeem Faruqi
In Mzaq rat with HSY
In Assembly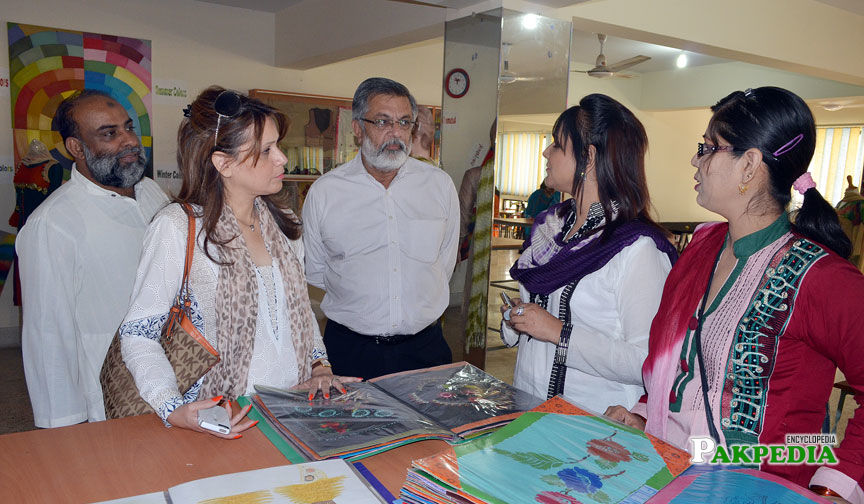 On visit to a school exhibition
Irum with Munazza Khoso
Profile
Iram Azeem Farooqi was born on 1967-02-05 in
Karachi
. She studied from PECHS College for Women Karachi.  Her family lives in the United States and she shuttles between Karachi and Houston frequently. 
[1]
profile
Career
Irum Azeem Faruqi was elected on a reserved seat for women in the 2013 General Election. She headed the public relations wing of the
MQM
for years. 
Rumor
Social media in Pakistan caught fire and became hot when some id with the name of #PakistanDefense claimed that there was relationship between MQM's MPA Irum Azeem Farooque and MQM top leader
Farooq Sattar
. This social media id claimed that when rangers raided the residence of Farooq Sattar in order to detain him, he was not present at his home, rather he was present at the house of Erum Azeem Farooque. 
Irums response
 Irum Farooque reacted immediately and told on social media that she was abroad with her parents and wasn't even in Karachi and it was all a huge lie. The social media id #PakistanDefense retracted and removed her name from their tweets. It is to be noted that this #PakistanDefense id is not any official id of Pakistani defense forces, rather some fake account. There are some people who would go to any length to be more loyal to Shah than the Shah and in their idiocy they harm their idols. This is so condemnable. What MQM does in Karachi is evil, but defaming any person is also evil and must not be done. 
[2]
Rumor
Irum left MQM
In Sep 2014, she announced she was quitting the MQM, citing the presence of groups in the party looking after their own interests. Weeks later, in Oct 2014, she had reconsidered her decision after
Altaf Hussain
assured her of action against opportunist elements within the party. Subsequently, Citing attack on media (
ARY News
) and the alleged raising of 'Pakistan Murdababad' (death to Pakistan) slogan during the party's hunger strike as reasons for her resignation, Mrs Farooqui had said that she had already resigned two days ago but didn't disclose it because of party's ongoing strike but is really disappointed to hear the slogans and on Aug 22, 2016 Farooque disassociated herself from the party and resigned from her membership of the provincial assembly. 
[3]
resignation
Joining of PTI
Former Muttahida Qaumi Movement (MQM) leader Irum Azeem Farooque  announced to join Imran Khan-led Pakistan Tehreek-e-Insaf (PTI). "PTI leadership has been in touch with me since a few month and has Respectfully offered me to join them. Yes today I announce joining PTI," Irum Farooque tweeted on 1 August 2017. It is pertinent to note here that Irum Azeem Farooque announced to leave MQM after the then MQM chief Altaf Hussain's anti-Pakistan statement on August 22, 2016.  
[4]
Joining
Irum Azeem lashes out at Salman Baloch
Former Muttahida Qaumi Movement (MQM) member and MPA Irum Azeem Farooque  came down hard on the expelled MNA of the party,
Salman Mujahid Baloch
, for holding her responsible for his expulsion on August 2 ,2017. Irum, who recently joined Pakistan Tekreek-e-Insaf, asked former MQM-P member Baloch to discuss the matter openly with her. "Salman Mujahid every month demanded Rs2.5 million from the District Municipal Corporation," she claimed. The Muttahida Qaumi Movement-Pakistan  had expelled its MNA Salman Mujahid Baloch for "violating party ethics". The spokesperson of MQM mentioned that Baloch was asked to resign from the party, adding that he should not be contacted by any party member, now that he has been expelled from the party. Salman alleged that his expulsion from the party was a penalty for raising his voice against the dismissal of another party member, Erum Naseem. While talking on a local TV talk show, the expelled MNA remarked that the party had no authority to expel him like that, adding that the MQM-P isn't the property of any one person and belongs to everyone. 
[5]
lashes out