General Tyre
High Quality Tyre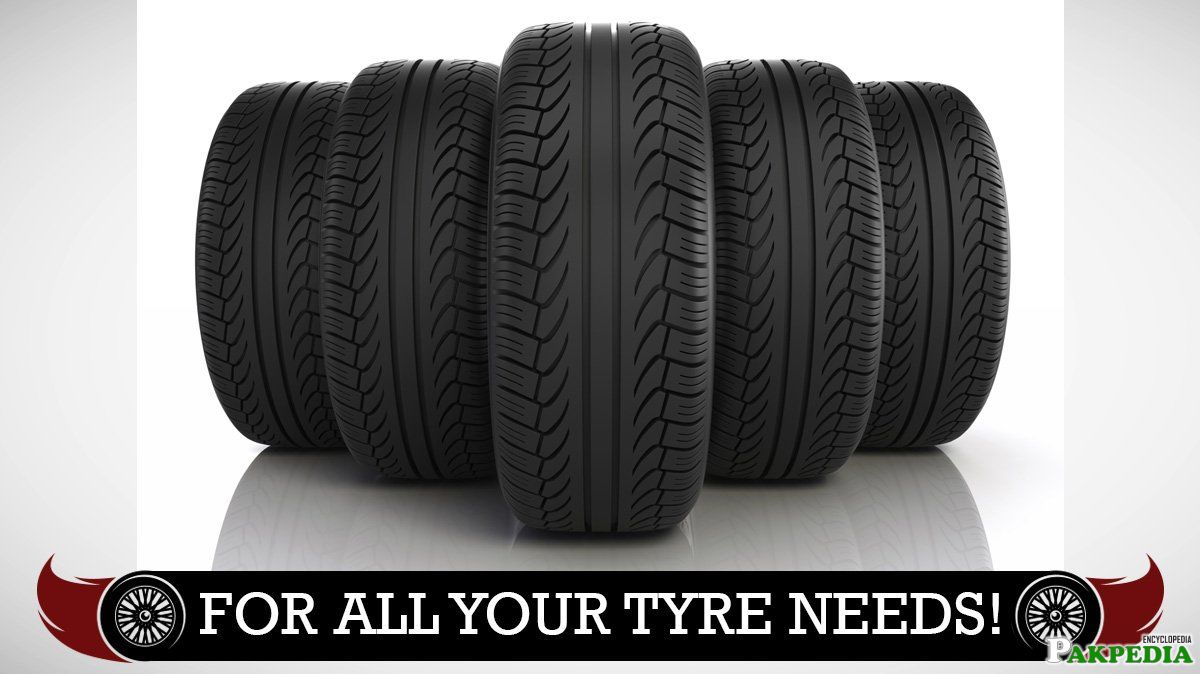 For All your Tyre Needs
General Tyre
Quality Tyre
Details
The General Tyre and Rubber Company of Pakistan Limited (GTR) came into existence in 1963, at Landhi Karachi on a 25 acre plot and commenced its production in 1964.
Company
The Company was then established by General Tire International Corporation (GTIC) of USA, with a total capacity of only 120,000 tyres per annum.
Shares
GTIC sold 90% of their shares to the present owners M/s Bibojee Services Ltd. in 1977 and retained 10% of the ownership. In 1985, the Company completed a major expansion, which took the capacity to 600,000 tyres annually.
Germanys Number One Tyre Manufacturer Purchased
Continental AG, Germany's number one tyre manufacturer purchased GTIC in 1987 and thus became 10% owners in GTR. Continental provides Technical Assistance to GTR under a program, which includes training of our people, formulations, recipe, and selection of equipment and approved suppliers. GTR under this agreement with Continental is bound to follow all rules and regulations provided by Continental including the given quality standards. The brand name "GENERAL" used by GTR also belongs to Continental AG. Now this brand name is synonymous with quality and experience in the art of making tyres since being in this market for more than 50 years.
GENERAL
The name 'GENERAL' carries the highest top of the mind brand name recall in Pakistan when it comes to tyres. The capacity of the Company stands at 2.5 million tyres approximately meeting one third of the country's demand. General is producing tyre sizes and patterns that cover almost 85% of the sizes in demand in
Pakistan
. GTR is the first & largest automotive tyre manufacturer in the country producing tyres for cars, light commercial vehicles, trucks/buses, tractors, CNG Rickshaw. While motorcycle tyre plant has been added with the capacity of one million tyres per annum.
Public Listed Company
Being a Public Listed Company, the current main sponsors of the Company are: (i) Bibojee Services (Private) Ltd. and (ii) Pak Kuwait Investment Company (PKIC) and the remaining shares are held by the general public and several institutional investors.GTR has four market segments to cater to. These are:
   The Original Equipment Manufacturers – Vehicle assemblers
   The Replacement or the After market
   Government Departments/Institutions
   The Export Market
GTR Sells
GTR sells its tyres in replacement market through more than 150 nationwide authorized dealers/distributors most of whom have been working with GTR for more than three generations setting a milestone on customer loyalty and satisfaction. It has offices / warehouses in four major cities of Pakistan and intends to add another new office soon. All automotive tyres produced by us are covered with warranty.
[2]
Profile General Tyre
Vision
To be the leader in tyre technology by building the Company's image through quality improvement, competitive prices, customers' satisfaction and meeting social obligations.
Mission
   To offer quality products at competitive prices to our customers.
   To endeavor to be the market leader by enhancing market share, consistently improving efficiency and the quality of our products.
   To improve performance in all operating areas, so that profitability increases thereby ensuring growth for the company and increasing return to the stakeholders.
   To create a conducive working environment leading to enhanced productivity, job satisfaction and personal development of our employees.
   To discharge its obligation to society and environment by contributing to social welfare and adopting environmental friendly practices and processes.
Quality Policy
We are a Company of dedicated people who enjoy working as a team and with our customers in an enterprise committed to quality.
We will continually strive to bring improvements in our products, services & quality management system to meet or exceed our customers needs and expectations.
We will work within the framework of legal and regulatory requirements.
Code of conduct
Purpose
The General Tyre and Rubber Company of Pakistan Limited (the "Company") is committed to conduct its affairs ethically and lawfully. This Code of Conduct establishes policies and procedures that are intended to guide employees, officers, and directors in the performance of their duties and responsibilities and ensure compliance with the Company's commitment to ethical and lawful conduct. These policies and procedures shall apply to all employees and officers (referred to collectively hereafter as "employees") and directors of GTR.
Obeying The Law
The Company takes responsibility to comply with laws and regulations very seriously and each of us is expected to comply with applicable legal requirements and prohibitions.
Work Enviorment
The Company will maintain a safe work place which is free from discrimination and harassment based on race, religion, sex, age, disability or any other impermissible factor.
Consumer Satisfaction
The Company is committed to produce products that are safe and effective. In developing and manufacturing product, the Company has established and will comply with standards that meet or exceed regulations promulgated by the laws. In manufacturing its products, the Company will comply with all applicable laws and regulations, including those relating to the environment and occupational health and safety.
Competition
The Company will compete for all business opportunities vigorously, fairly, ethically and legally. The Company will comply with all laws, regulating competition and will not discuss pricing, cost, production plans, business strategies, or any other proprietary or confidential information with its competitors.
Business Partner
The Company will represent its products and services accurately and will comply with applicable regulatory and legal requirements governing the marketing and sale of its products and services to become a business partner.
Recording and Reporting Information
In recognition of the fact that accurate information is essential to the Company's ability to satisfy legal and regulatory obligations, all employees and directors will record and report all information accurately and honestly. No employee or director will sign or submit, or permit others to sign or submit on behalf of the Company, any document or statement that he or she knows or has reason to believe is false.
Payments
The Company and its employees and directors will not make any improper payments to government or non-government officials, employees, customers, persons, or entities, nor will the Company or its employees and directors request or accept any improper payment from suppliers, customers, or anyone seeking to do business with the Company.
Fair Dealing
Each employee and director will deal fairly with the Company's customers, suppliers, competitors, independent auditors and other employees and will not take unfair advantage of anyone through manipulation, concealment, abuse of privileged information, misrepresentation of material facts, or any other unfair dealing or practice.
Shareholder
The Company provides all applicable facilities to Shareholders through Registrar and distribution of Dividend Warrants in time, as and when approved.
Standard of Conduct
No employee or director will use, for his or her own personal gain, or disclose to any third party, any confidential or proprietary information that he or she obtained as a result of his or her employment with or relationship to the Company. Confidential or proprietary information includes all non-public information that might be of use to competitors or harmful to the Company and its customers if disclosed. No employee or director will buy, sell, or deal in the Company's stock based on non-public information.
Public Activities
The Company will make no corporate political contributions to parties or individuals, even where such contributions may be legal, but encourages employees and directors to participate in community affairs and to exercise citizenship responsibilities.
Corporate Opportunities
Employees and directors owe a duty to the Company to advance its legitimate interests when the opportunity to do so arises. Employees and directors are prohibited from (a) taking for themselves personally opportunities that are discovered through the use of corporate property, information, or position, (b) using corporate property, information, or position for personal gain, or (c) competing with the Company.
Conflicts of Interest
No employee or director will engage in any activity or have any outside interest that might deprive the Company of his or her loyalty, interfere with the satisfactory performance of his or her duties, and make it difficult to perform his or her duties for the Company objectively and effectively, or be harmful or detrimental to the Company. Employees and directors must immediately disclose in writing any actual or potential conflict of interest to the Secretary of the Company, for resolution. A conflict of interest occurs when a person's private interest interferes or appears to interfere in any way with the Company's interests and may also arise when an employee or director or a member of his or her family receives improper personal benefits as a result of his or her position with the Company.
Warranty
The General Tyre & Rubber Company of Pakistan Limited gives an undertaking that every tyre manufactured by the Company bearing its name, serial number and logo is brand new and warranted to be free from defect in workmanship and material. If a tyre on examination is found to be having some manufacturing defect, the Company will either repair it free of cost or make reasonable allowance on pro-rata basis on the purchase of a new tyre. This allowance will be based on the actual wear and balance left of a tyre. The decision of the Company regarding any claim of a tyre will be final and non-negotiable. Any dispute with regards to warranty claim shall be settled of the Company's registered office and factory in Karachi and only the Courts in Karachi shall have the jurisdiction in case of any legal disputes.
[3]
general Tyre
Corporate Social Responsibility CSR
The General Tyre & Rubber Company of Pakistan has the culture and history of undertaking social and philanthropic activities which reflects the commitment of its sponsors towards the social uplift of the down trodden. The Company regularly pays to Wakf-e-Kuli Khan Trust, a trust engaged in spreading of education in the under privileged class. During the current year the Company has provided for Rs. 25.6 million as donation to Wakf-e-Kuli Khan. Additionally, the Company also paid during the year donations amounting to Rs. 1.2 million to various hospitals and charitable organizations. During the year the Company contributed Rs. 2,266.4 million towards national exchequer under various modes
[3]
general Tyre
Services
Purchase Quality Tyres and get Tyres Changed, Wheel Aligned and Balanced.
20, Shahrah-e-Fatimah Jinnah Road,
Near Ganga Ram Hospital,
Lahore.
UAN: 042-111-487-487
Telephone: 042-6300105-06
Fax: 042-6300108
Do you Want To Save Cost on Tyres
We can provide consultancy on tyre care and services.
We deliver lectures on tyre care to drivers and service people.
Programme can be made to suit your requirements.
Get expert opinion on tyre savings.
[3]
general Tyre
Customers
Karakoram Motors (Pvt) LTD. Hino Pak Motors LTD
D-2, S.I.T.E.
Manghopir Road
Karachi, 75700 021 2563028.
11th Floor, NIC Building
Abbasi Shaheed Road
Karachi, 021 5680822, 566081-5. Dewan  Farooque  Motors Ltd.
Dewan Centre, 3-A Lalazar
Beach Hotel Road
Karachi, 74000 111-313-786.
Ghandhara Industries Ltd (N.M.L) (Formerly National Motors Ltd)
Hub Chowki, S.I.T.E
Karachi, 021 2560090. GHANDHARA NISSAN LTD.
Ghandhara House
109/2 Clifton, P.O.Box No. 3812
Karachi, KARACHI-6 021 5683756.
Honda Atlas Cars (Pvt) Ltd.
43 KM Multan Road
Manga Mandi
Lahore, 425877711.
NWZ / P-1
Port Qasim Industrial Estate
Karachi, 021 4750041-8.
MILLAT TRACTORS LTD.
Sheikhpura Road
Shahdara
Lahore, 427924166. MASTER MOTOR CORPORATION LTD.
S-30, S.I.T.E.
Mauripur Road
Karachi, 75750 021 2571982.
DSU-13, Pak.Steel Industrial Estate
Karachi, 021 4750788. SIGMA MOTORS.
HEAD OFFICE 28,KHAGHAN ROAD
1-B,Street 55,F-8/4
Islamabad, 051 2262803.
Contact US
Head Office Factory
H-23/2 Landhi Industrial Estate,
Landhi, Karachi,
Pakistan.
Phone: +92 21 3508 0172 (10 Lines)
UAN: +92 21 111 487 487
Fax: +92 21 3508 0171 – +92 21 3508 3606
Email: headoffice@gentipak.com
[5] General Tyre Contact US
Islamabad Office
Col. Retd. Rozi Khan (Regional Manager Sales – North)
Plot No. 189 – A, I- 10/3,
Islamabad.
Phone: +92 51 444 9955 – 56
UAN: +92 51 111 487 487
Fax: +92 51 444 0916
Email: islamabad@gentipak.com
[5] General Tyre Contact US
Lahore Office Sales SERVICE CENTRE
Mr. Khawer Asghar Gill (Regional Manager Sales – Central)
20, Shahrah-e-Fatimah Jinnah Road,
Near Ganga Ram Hospital,
Lahore.
Phone: +92 42 3630 8605-08
UAN: +92 42 111 487 487
Fax: +92 42 363 00108
Email: lahore@gentipak.com
[5] General Tyre Contact US
Multan Office
Mr. Ashar Iftikhar (Regional Manager Sales – Multan)
Plot No. 758 – 759 / 21,
Khanewal Road, Multan
Pakistan.
Phone: +92 61 677 4407-8, +92 61 678 0758
Fax: +92 61 678 0757
Email: gtrmultan@gentipak.com
[5] General Tyre Contact US