A law professional and practising lawyer, Mian Raza Rabbani was born in Lahore on 23 July, 1953. After his early education at the Habib Public School Karachi, he joined the University of Karachi where from he got his B.A. degree in 1976. There after, he opted for education in Law and Jurisprudence and got the LLB from the same University in 1981 when he was in jail.
Mian Raza Rabbani is a political activist who has always stood for democracy, democratic norms and the cause of Human Rights. He was an active critic of the Martial Law Regime and hence was imprisoned under preventive detention laws for an accumulative period of more than thirty months from 1977 to 1993. He has led a very active political life and has been a staunch supporter of late Zulfiqar Ali Bhutto and the Pakistan Peoples Party.
During his student life, Mian Raza Rabbani pioneered the National Organization of the Progressive Students and was its founder Chairman from 1971 to 1974. He was Chief Organizer of the All-Pakistan Youth Festival held in 1974 at Karachi. He has been information Secretary of the Pakistan Peoples Party District East Karachi, Deputy General Secretary of the PPP Karachi division, member Sindh Executive Committee PPP and President Peoples Lawyers Forum Sindh.Mian Raza Rabbani has been Advisor to the Chief Minister Sindh for Cooperatives from 1989 till 1990. He has led a number of Youth delegations to various international events and is a recipient of the Services of Human Rights Award of the Lawyers Committee for Human Rights, Pakistan in 1986.[1] Mian Raza Rabbani biography
| Title | Description |
| --- | --- |
| Personal | |
| Name: | Mian Raza Rabbani |
| Nationality: | Pakistani |
| Education: | B.A (Hons) L.L.B |
| Province: | Sindh |
| Religion: | Islam |
| Profession: | Politician |
| Minister of Law and Justice Succeeded by: | Tehmina Daultana |
| Minister of Law and Justice Preceded by: | Saima Akhtar Bharwana |
| Chairman of the Senate of Pakistan Incumbent Assumed office: | 11 March 2015 |
| Chairman of the Senate of Pakistan Incumbent Preceded by: | Nayyar Hussain Bukhari |
| Chairperson of the Parliamentary Committee on National Security and Constitutional Reforms In office: | 18 February 2008 – 9 March 2013 |
| Chairperson of the Parliamentary Committee on National Security and Constitutional Reforms Preceded by: | Mushahid Hussain Syed |
| Minister of Law and Justice In office: | 19 October 1993 – 5 November 1996 |
| Minister of Law and Justice Prime Minister: | Benazir Bhutto |
| Alma Mater: | University of Karachi |
| E-mail: | [email protected] |
| Local Address: | House No:16, Minister Enclave, F-5, Islamabad |
| Home Number: | 051-9223854, 021-35865841 |
| Office Number: | 051-9223475-6 |
| Seat Description: | General |
| Height: | 6 ft (1.8 m) |
| Born | |
| Date: | 23 July 1953 |
| Place: | Lahore, Pakistan |
| Career | |
| Political Party: | Pakistan Peoples Party |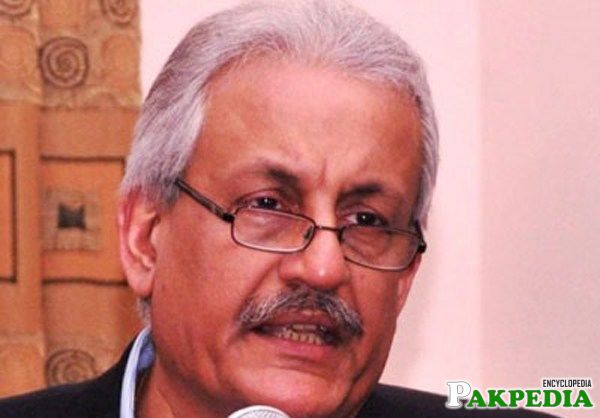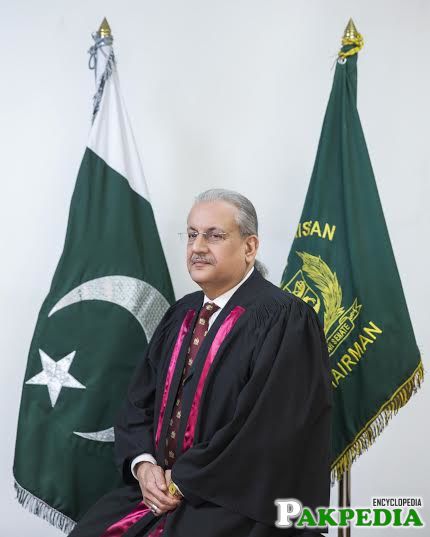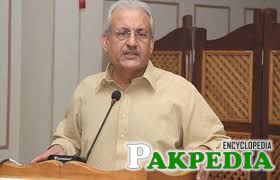 Early life and education
Raza Rabbani was born in Lahore on 23 July 1953 in a Punjabi Arain family. His family moved to Karachi where Rabbani attended the Habib Public School in Karachi, Sindh Province of Pakistan. After graduating from Habib Public School, Rabbani was admitted to Karachi University to study Law and liberal arts in 1976.During his university years Rabbani was politically active, first playing a pioneering role in establishing the National Organization of the Progressive Students and later by also holding the chairmanship position of the Peoples Students Federation (PSF). The PSF is a student union body directly linking to Pakistan Peoples Party (PPP) founded in the 1970s to promote student politics in the country.
In 1988, Rabbani earned BA (Hons) in Economics and a LLB degree in civil law from the Karachi University.His father, late Group Captain (Retd) Ata Rabbani served as the first ADC (aide de camp) to Pakistan's founder and first Governor-General Muhammad Ali Jinnah.
Politic Career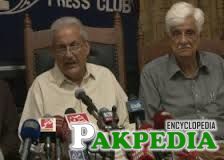 Starting his career in national politics through PPP in the 1980s, Rabbani served as an advisor to Sindh's chief minister from 1988 to 1990. He was elected to the Senate several times, most recently in March 2012, and also served as federal minister of state for law and justice during Benazir Bhutto's second government.
During 2008-2013, he was first inducted as federal minister for inter-provincial coordination in November 2008 but resigned after PPP's top brass nominated Farooq H. Naek for the post of Senate chairman, replacing Rabbani. He was again inducted as minister with the same portfolio in February 2011 but resigned in May 2011 over the PPP leadership's decision to make Pakistan Muslim League – Quaid (PML-Q) a partner in the coalition government.Rabbani is highly regarded among political circles as ideologically driven and as a party stalwart. Among Rabbani's major achievements is the 18th Amendment of which he was the chief architect. As chairman of the parliamentary committee on Balochistan, Rabbani was closely involved in the drafting of the Aghaz-i-Huqooq-i-Balochistan package which was put together as a step forward in addressing the province's woes. He also helped the 2008-2013 PPP-led coalition government in developing foreign and domestic policies and chaired the Parliamentary Committee on National Security which redrafted the terms of engagement with the United States. The committee, under Rabbani's leadership, also addressed other issues involving national security.[2] Politic Career
Parliamentary Services
 (i) 2012 to 2018
 (ii) 2006 to 2012
 (iii) 2003 to 2006
 (iv) 1997 to 1999
 (v) 1994 to 1997
i. Chairman Parliamentary Committee on Constitutional Reforms
 (a) Co-authored and piloted Bill of Eighteenth Constitutional Amendment.
 (b) Co-authored and piloted Bill of the Nineteenth Constitutional Amendment. 
 (c) Co-authored and piloted Bill of the 20th Constitutional Amendment.
Drafted the Bill or Amendments to the following Bills in the Senate of Pakistan
 (a) Service Tribunals (Amendment) Bill, 2004.
 (b) Banking Companies (Amendment) Bill, 2003.
 (c) The Ratification of Foreign Agreements by Parliament Bill, 2004.
 (d) The Exit from Pakistan (Control) (Amendment) Bill, 2004.
 (e) The Pakistan Commissions of Inquiry (Amendment) Bill, 2004.
 (f) The Declaration of Assets and Liabilities Bill, 2004.
 (g) The Pakistan Portal on Contracts (Procurement of all Services and Purchase) Bill, 2004.
 (h) The Removal from Service (Special Powers) Ordinance, 2000 Repeal Bill, 2004.
 (i) The Fiscal Responsibility and Debt Limitation (Amendment) Bill, 2005.
 (j) The Banking Companies (Amendment) Bill, 2009.
 (k) The State Bank of Pakistan (Amendment) Bill, 2010.
 (l) The State Bank of Pakistan Banking Services Corporation Ordinance (Repeal) Bill, 2010.
 (m) Co-author of the Industrial Relations Bill, 2008.
 (n) Co-author of the Industrial Relations Bill, 2012.
 (o) Move Bill for the repeal of the National Security Council Act 2001.
 (p) Private member resolution passed by the Senate against General Musharaff.
Elected Chairman Parliamentary Committee on National Security.
  i) Co-authored 63 recommendations to the Resolution passed on 22nd October-2008 in a Joint Sitting of the Parliament. 
 ii) Co-authored various other recommendations on National Security. 
iii) Co-authored new Terms of Engagements with the United States and NATO
 As Chairman Implementation Commission completed the process of devolution under the 18th Constitutional Amendment within the period of one year as provided in the Constitution.
Drafted Aghaze Haqooq-e-Balochistan (a development, administrative, political and financial package for Balochistan) and laid it before the Joint Sitting of Parliament.
Co-authored two Resolutions on National Security passed by the Joint Sittings of Parliament on 8th October, 2008 and 14th May, 2011.[3] Parlimentary services
Position Held
Federal Minister of State for Law and Justice(1994-1996).
  Deputy Leader of the Opposition, Senate of Pakistan (1996-99).
 Chairman, Senate Standing Committee on Information and Broadcasting (1996-99)
 Chairman Senate Standing Committee on Sports and Culture (1993-1994).
 Member, Senate Standing Committee, on Law & Justice (1996-1999).
 Member, Senate Standing Committee on Foreign affairs (1996-1999).
 advisor, Chief Minister of Sindh, for Co-operative (1988-90).
Deputy Secretary General, Pakistan People Party.
 acting Secretary General, PPP (2001-2003).
  Leader of the Opposition in Senate (Jan 2005 – March 2006) [4] Position held raza rabani
Profession
a) Practicing Lawyer at the High Courts.
b) Member High Court Bar association.
PPP Chairmansupport a hrefhttpswww.pakpedia.pkdocMian_Raza_Rabbani classexternal-link target_blank Raza Rabbania
Pakistan People's Party (PPP) Co-Chairman Asif Ali Zardari and Chairman Bilawal Bhutto Zardari Saturday supported Senate Chairman Mian Raza Rabbani over his decision to quit office of Senate chairmanship.In a message to the Senate Chairman, the duo said, "The PPP stands by you as your viewpoint is right."[5] Zardari support the raza rabani
Pervaiz Rabbani visit Edhi
Information Minister Pervaiz Rashid and Chairman Senate Mian Raza Rabbani arrived in Karachi Sunday and visited home of renowned philanthropist Abdul Sattar Edhi and family of slain Qawwal Amjad Sabri.Pervaiz Rashid, on the direction of Prime Minister Nawaz Sharif, enquired after Edhi's health and presented bouquet to him on behalf of the Prime Minister.
Later, talking to newsmen, the Information Minister paid rich tributes to Edhi and highlighted his services for the humanity."Edhi projected the image of Pakistan as a human loving country across the world… Every person in the country has a respect for Edhi and we cannot pay debt of his selfless service for humanity," he said.
Meanwhile, Raza Rabbani also visited Edhi and enquired about his health. He paid rich tributes to the meritorious services of Abdul Sattar Edhi for the humanity at large.[6] Raza rabani  visit edhi
Senate Election Results 2018
The  PPP clinched 10 seats including five general seats, two reserved seats for technocrats and women each and one for non-Muslims to take its total strength to 20 against the expectation of 17. Successful PPP candidates on general seats from Sindh include sitting chairman of Senate Mian Raza Rabbani,  Maula Bux Chandio, Mohammad Ali Shah Jamote,  Mustafa Nawaz Khokhar and Dr Sikander Menghro.  Rukhsana Zuberi and  Dr Sikandar Mandhro won the technocrat seats while  Anwar Lal Dean won the seat for minorities.  Quratulain Marri and  Krishna Kohli won the election for the reserved seat for women. PML- F candidate Muzzafar Hussain Shah's contacts with two  MQM factions and the  Pak Sarzameen Party also worked to save his party's elimination from the upper house as he bagged one seat.[7]  Senate Election Results 2018