Aitzaz Hasan was a brave young man who sacrificed his life in order to save thousands of students. He was the student of 9th Grade who didn't think about himself for once and stopped the bomber from entering school. After his death, many notable personalities came forward and expressed their views on his courage and bravery.
After a few days of his death, he was awarded Global bravery award for showing audacity. He was warned by his friends not to go near bomber, but he didn't listen and saved so many lives by risking his own. This article has every detail about him, including Aitzaz Hasan Biography.
| Title | Description |
| --- | --- |
| Personal | |
| Name: | Aitzaz Hassan |
| In Urdu: | اعتزازحسن |
| Famous As: | Sacrificed his life for Pakistan |
| Nationality: | Pakistani |
| Residence: | Hnagu, |
| Education: | 9th Grade |
| Institute: | Ibrahimzai High School |
| Religion: | Islam |
| Awards : | Civil decorations of Pakistan |
| Born | |
| Date: | 1998 |
| Place: | Khyber Pakhtunkhwa |
| Family | |
| Parents: | Mujahid Ali Bangash |
| Siblings : | Brother and 2 Sisters |
| Relatives: | Mudassir Bangash (Cousin) |
| Died | |
| Date: | 6 Jan 2014 |
| Rest Place: | Hangu, District Pakistan |

Aitzaz Hasan Biography
Aitzaz was a student of 9th Grade when he showed utmost bravery and tackled with a bomber all alone. Though he made his mother cry yet rescue so many mothers from crying. After his death he was given tributes in the form of releasing a movie, Constructing a hostel on his name, describing him as a Mujahid and a lot more.
After several years his bravery is still appreciated and every year his death anniversary is being observed especially in Khyber Pakhtunkhwa, his residence. People like Aitzaz born after ages, yet they live forever in everyone's heart even after being martyred.
Aitzaz Date of Birth
He was born in 1988 in Khyber Pakhtunkhwa in Hangu Province. The area where he used to live was home to numerous Shia Muslims.
Education of Aitzaz
At the time of death, he was the student of 9th class and was studying in Ibrahimzai High School. After his death, the school was renamed Aitzaz Hassan Shaheed High School.
Aitzaz Hasan Family
He was from an ordinary family of Khyber Pakhtunkhwa. His father was in the United Arab Emirates at the time of his death. He had 1 brother and 2 sisters.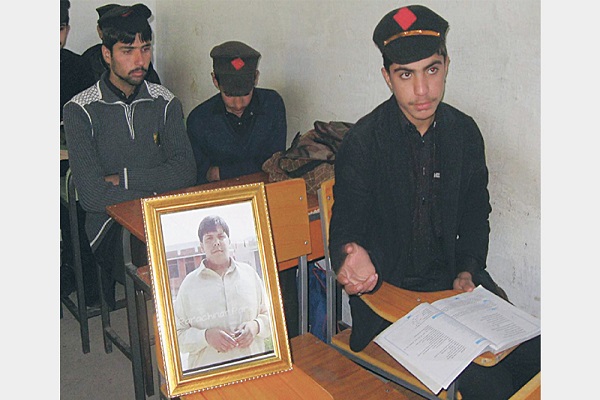 Aitzaz Hasan Death
His death controversies have been stated differently everywhere, yet the only truth behind them is he sacrificed his life to save thousands of lives. On 6th January 2014, he stopped a suicide bomber from entering the school where thousands of students were present. The example he set with his bravery is commendable.
After his death, many notable personalities gave a salute to his courage and called him Shaheed, who didn't care about his life and fought all alone despite being a young boy. Later the Lashkar e Jhangvi claimed to be the masterplan behind this attack.
Tribute
He was honoured with many tributes. The Khyber Pakhtunkhwa Minister called him a brave man and a real hero. Raheel Shareef stated him a real hero. Malala Yousaf Zai donated £5000 to his family. He was also called Mujahid by Fazal ur Rehman. In 2016 a film with the title 'Salute' was released on his real life.
Later a hostel in 'College of EME' was established after his name. On 12th January 2014, he was awarded Global Bravery award.