A teenage student sacrificed his life tackling a suicide bomber in an attempt to save the lives of over 2000 schoolmates in Hangu. Aitzaz's action to save his classmates captured the hearts of  Pakistan , and he was hailed as a National hero. For his act, the office of Pakistan Prime Minister  Nawaz Sharif  had advised President  Mamnoon Hussain  to confer Aitzaz Hasan with the high civil award of  Sitara-e-Shujaat  . He was named as the Herald's Person of the Year for 2014. Aitzaz Hasan was pupil of grade 9th . He sacrificed his Life for his School , friends and country. Aitzaz Hasan proves that dependability is not merely by virtue of age. 
| Title | Description |
| --- | --- |
| Personal | |
| Name: | Aitzaz Hassan |
| In Urdu: | اعتزازحسن |
| Famous As: | Sacrificed his life for Pakistan |
| Nationality: | Pakistani |
| Residence: | Hnagu, |
| Education: | 9th Grade |
| Institute: | Ibrahimzai High School |
| Religion: | Islam |
| Awards : | Civil decorations of Pakistan |
| Born | |
| Date: | 1998 |
| Place: | Khyber Pakhtunkhwa |
| Family | |
| Parents: | Mujahid Ali Bangash |
| Siblings : | Brother and 2 Sisters |
| Relatives: | Mudassir Bangash (Cousin) |
| Died | |
| Date: | 6 Jan 2014 |
| Rest Place: | Hangu , District Pakistan |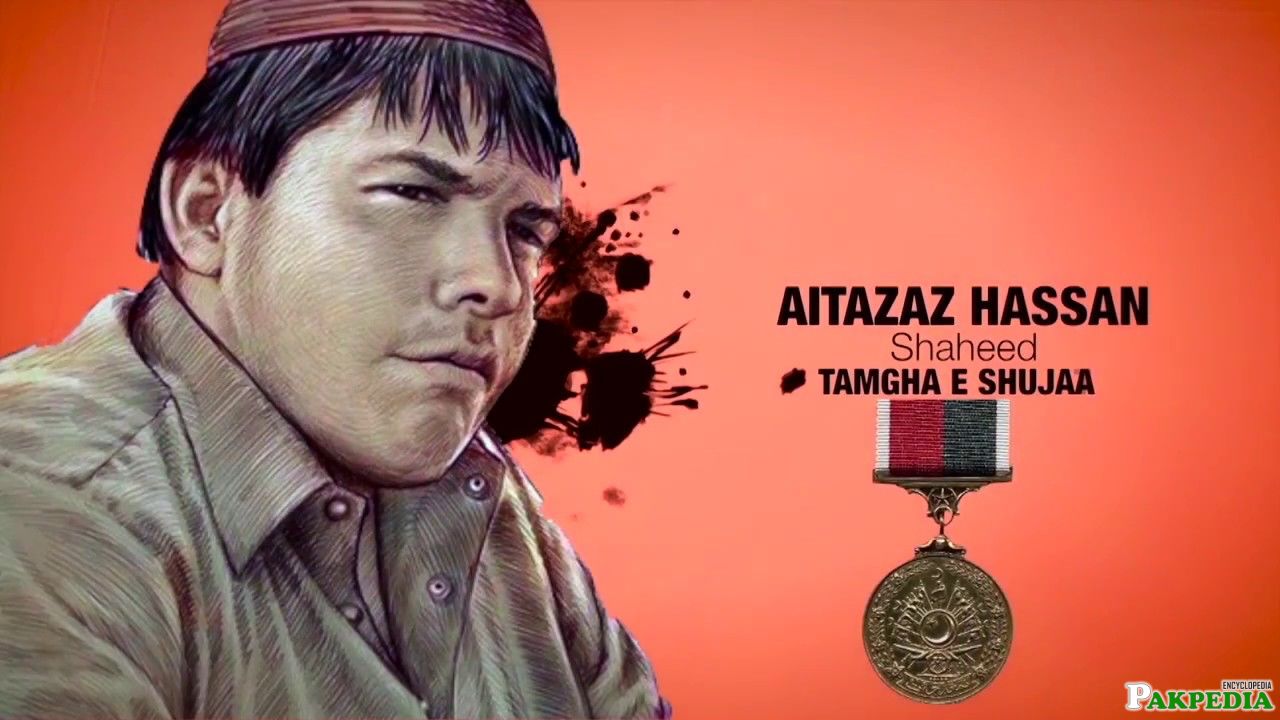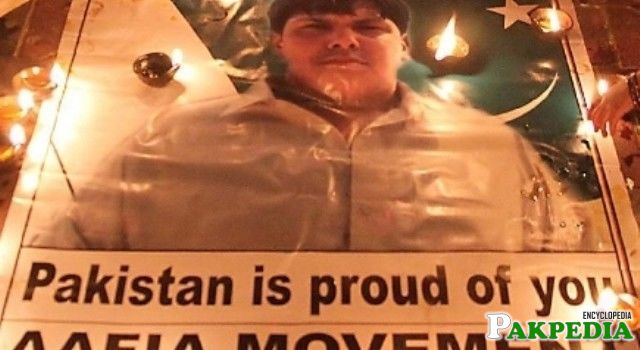 Life
  Aitzaz Hasan lived in Hangu , KPK.  Aitzaz Hasan's father's name is Mujahid Ali. His other family included his mother, brother and two sisters. Aitzaz Hasan was a 9th grader at the Ibrahimzai high school. Hasan's cousin Mudassir Bangash described him as an accomplished student who excelled in all extracurricular activities.The area where Aitzaz Hasan lived is home to many Shia Muslims, a number of whom have been killed by Taliban. The teenager was known for openly criticizing armed groups. [1] Early Life
Education
   Aitzaz was  a student of 9th grade in Ibrahimzai High School .
HisSacrifice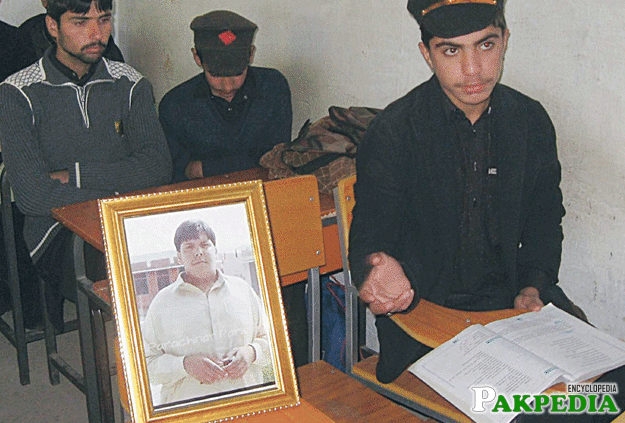 The 15-year-old Aitzaz was playing with friends outside school when they saw a man wearing a suicide vest heading towards the school. Aitzaz was then warned by fellow students not go near the bomber but the teenaged hero had decided to brave the fear and confront the apparent suicide bomber. It is during this confrontation that the bomber detonated his vest killing himself and Aitzaz. The bomber blew himself up and the young Aitzaz lost his life but simultaneously, won the hearts of millions of people. An estimated number of 2000 pupils were inside the school at that time and the casualties would have been multiplied had the bomber reached his aim.The incident took place at a Shia-dominated area of Hangu and targeting based on sectarian profiling has increased in numbers especially in the recent times. According to reports, banned outfit Lashkar-e-Jhangvi had claimed the responsibility of this terrorist attack.
Aitzaz Hasan's cousin while speaking to a British media said that his cousin wanted to capture the attacker as he believed the bomber was going to attack his friends and other pupils inside the school building. Aitzaz's cousin further said that without the sacrifice of his cousin, the school would have been a sight of destruction.  [2] Sacrifice Aitzaz  
Reactions
 "My son made his mother cry, but saved hundreds of mothers from crying for their children," Mujahid Ali, Aitzaz 's father is quoted as saying.
Aitzaz Hasan proves that dependability is not merely by virtue of age. Every Pakistani, who knows the word courage, should know the name 'Aitzaz Hasan'.
Aitzaz is being hailed as a hero in an outpouring of praise on social media. [3] Praise Aitzaz
There have even been calls for him to receive the army's highest honour awarded to those who have sacrificed their life for their country, though it is unclear if he would be qualified to receive it as a civilian. 
"We the citizens believe that State of Pk must award Nishan-i-Haider to Pk's brave son Shaheed Aitezaz," journalist Nasim Zehra tweeted . [4] Aitzaz Hasan
Awards
  The incident has attracted attention on the cyber space and members of civil society have called for the award of Nishan-e-Haider for the young martyr which is a highest posthumous military prize awarded to soldiers with extraordinary sacrifices. [5] Award Bravery
Salute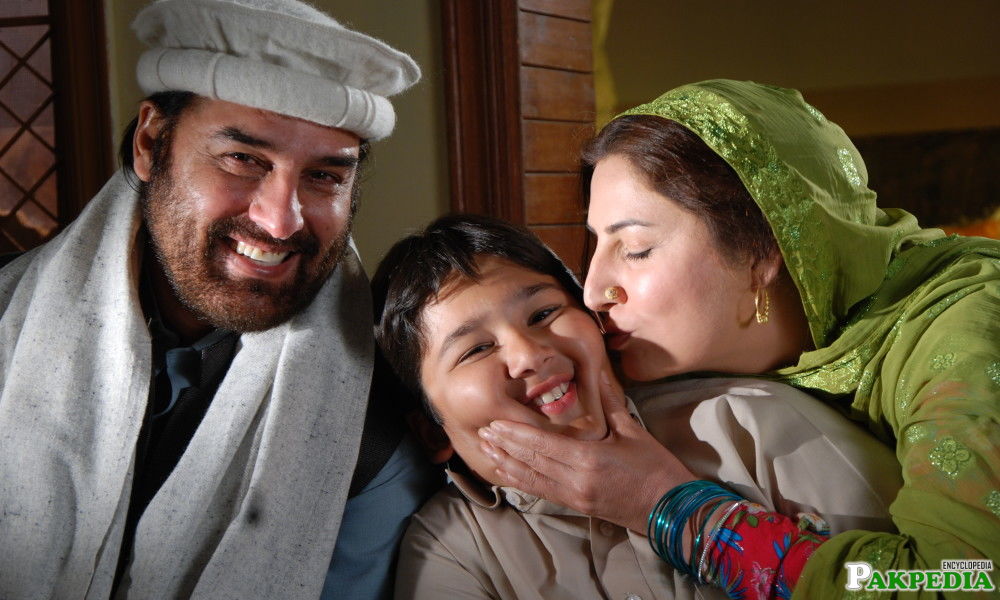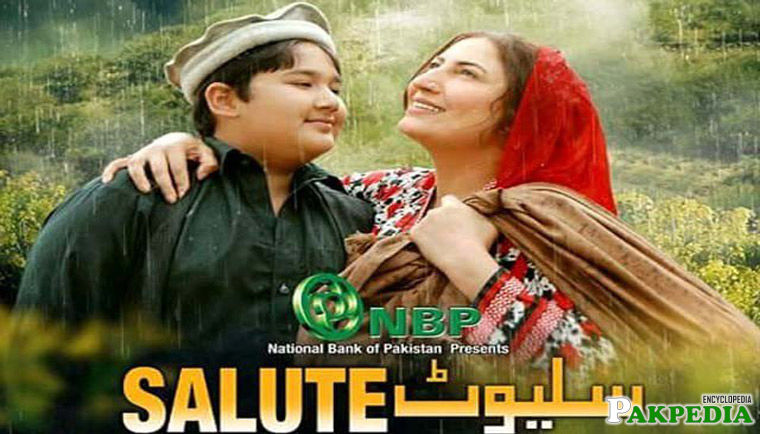 Pakistani movie "Salute", paying tribute to the brave soul of Kohat Aitzaz Hassan has finally censored from SBFC. The movie was released on 2nd December 2016. 
The Pakistani soil is filled with stories of forgotten champions who lost their lives in the name of patriotism.
One such story is that of Aitzaz Hassan, a 16 year old boy who sacrificed his life on 6th January 2014 to avert a suicide bomb attempt at his school in Hangu.
Salute is not a movie , It is in fact not only a tribute to the martyrs but a message to millions of school going children and their parents that only BELIEF and COURAGE are the weapons against the fear. [6] Movie Salute   
Tribute
 People in the area would like to see the government giving Aitzaz an award to recognize his bravery, and compared him with celebrated Pakistani education campaigner Malala Yousafzai – a comparison being echoed across social media.
On Twitter, users are paying tribute to Aitzaz using the hashtags #onemillionaitzaz and #AitzazBraveheart echoing the language used online around figures such as Malala .[7] Aitzaz Tribute