The PAEC (Pakistan Atomic Energy Commission) is an independent government agency involved with developing and researching nuclear power, nuclear science promotion, nuclear technology usage in a peaceful way, and energy conservation.
The PAEC actively cooperates with CERN (European Organization for Nuclear Research) to research particle physics, providing financial contributions and human capital. The commission arranges conferences and supervises research activities at renowned institutes in Pakistan. This article contains all the information including Pakistan Atomic Energy Commission Introduction.
| Title | Description |
| --- | --- |
| Basic Information | |
| Formed: | March 1956 |
| Name: | Pakistan Atomic Energy Commission |
| In Urdu: | ادارہ جوہری توانائی پاکستان |
| Superseding : | Pakistan Nuclear Regulatory |
| Agency: | Authority (PNRA) National Command Authority (NCA) |
| Jurisdiction : | Government of Pakistan |
| Headquarters : | Islamabad, Islamabad Capital Territory |
| Agency Executive : | Muhammad Naeem, Chairman |
| Research and Development of: | Nuclear Power, Promotion of Nuclear Science, Energy Conservation, Nuclear Technology |
| Integrated with: | National Command Authority |
| Now Under: | Prime Minister Shahid Khaqan Abbasi |
| Power Plants Energy Production: | The capacity of ~8800MW by 2030 |
| Power Plants: | Kanupp Chashnup |
| Chairman: | Muhammad Naeem |
| PAEC Member : | Aslam Hayat Bhatti, Mr Jamal Ud Din Ahmad, Mr Mansoor Ali Sheikh, Mr Tariq Mahmud |
| Finance Secretary MOF: | Mr Mansoor Ali Sheikh |
| Website: | http://www.paec.gov.pk/index.aspx |

Pakistan Atomic Energy Commission Introduction
Since its foundation in 1956, the energy commission has looked after nuclear infrastructure's substantial development to support Pakistan's economic uplift by establishing institutes that concentrate on nuclear-medicine radiation treatment to cure cancer and food irradiation. 
The energy commission is also a sponsor and research partner of CERN (European Organization for Nuclear Research). Competent scientists of Pakistan have played their part in developing particle-accelerators and conducting research on particle Physics. Scientists working in PAEC regularly visit CERN while carrying out projects of CERN.
The energy commission worked as a civilian-federal oversight institute until 2001 and manifested nuclear weapons development and control of the atomic radiation. Later National Command Authority and NRA (Nuclear Regulatory Authority) took control of these functions under PM Pakistan.
Early History
After the British-Indian Empire's partition by the U.K in 1947, Pakistan became a Muslim state. The establishment of PCSIR (Council of Scientific & Industrial Research) in 1951 started research on 'Physical Sciences.' David Dwight, the U.S. President, announced a program, 'Atoms for Peace' in 1953, and Pakistan became the earliest partner of this program.
The Pakistani Govt set up a scientists committee in 1955 to make plans for nuclear energy and built an atomic infrastructure at the industrial level throughout Pakistan. 
Establishment of PAEC
After implementing the Energy-Council Act, the PM Huseyn Suhrawardy set up PAEC (Pakistan Atomic Energy Commission) in March 1956. Firstly, an experimental physicist Nazir Ahmed chaired this commission. Other PAEC members were Saleem-uz-Zaman Siddique, an organic chemist at UoK (University of Karachi), and a mathematical physicist Razi-ud-Din Siddique.
Both these experts held charge of the development and research directorates of this commission. Abdus Salam of Punjab University and Muneer Ahmed joined the energy commission in 1958, who initially demanded getting a swimming pool reactor from the USA.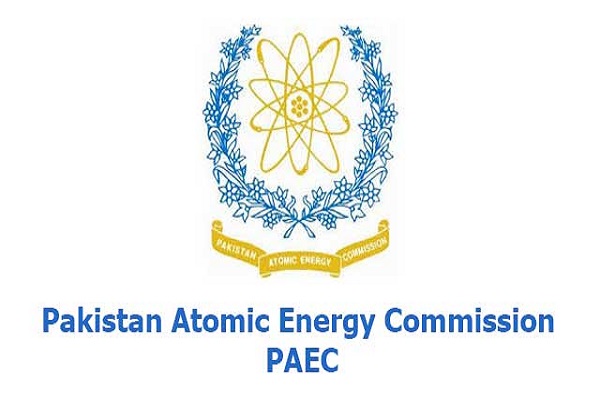 Establishment of Heavy-Water Facility
Chairman PAEC Nazeer Ahmed proposed in 1958 to PIDC (Pakistan Industrial Development Corporation) to establish a heavy-water production facility to produce fifty kg heavy-water/day at city Multan. Still, the proposal wasn't brought into action.
Ishrat Hussein Usmani took control of PAEC as its 2nd chairperson after Nazeer Ahmed's transfer at PBS (Pakistan Bureau of Statistics). 
Establishment of PINSTECH
PAEC founded its 1st research institution in 1964, the PINSTECH (Pakistan Institute of Nuclear Science & Technology) at Nilore, and started a dialogue for 1st commercial nuclear power plant of Pakistan to be established in Karachi. 
Agreement with CGE
The PAEC agreed in 1965 with CGE (Canadian General Electric) to establish a CANDU reactor in Karachi. ECC (Economic Coordination Committee) made financial investments for KANUPP (Karachi Nuclear Power Plant), and an America based architect Edward Durell was employed to supervise the architectural pattern of PINSTECH.
Uranium Discovery
The energy commission sent six-hundred scientists abroad for receiving nuclear sciences training. PAEC announced uranium discovery in 1973 in Punjab.
Creation of Nuclear Weapons
After India's victory in the 1971 Indo-Pak War, Pakistan withdrew its 'non-weapon' policy. In 1972 Pakistan began to research and creation of nuclear weapons. PM Zulfiqar Bhutto named Muneer Ahmed, the atomic engineer, as 3rd chairperson of PAEC.
In the 1970s, work started on developing nuclear fuel chain infrastructure. Scientists started research on weapon-designs at PINSTECH and eventually testing of atomic weapons. In 1976 PAEC decided on possible sites for testing weapons, and in 1979 site construction got completed.
PAEC's struggles bore fruit in 1983 when it carried out 1st subcritical testing of weapon design, and this testing extended until the 1990s with the codename 'Kiarna-I.'
Research & Education
Since its foundation, PAEC had provided remarkable examples of atomic era technologies' advantages for the progress of biology, agriculture, medicine, and engineering. The PAEC founded its 1st centre of nuclear medicine to treat cancer at JMC (Jinnah Medical College) of Karachi University.
At Mayo Hospital of KEMU (King Edward Medical University), the 2nd medical Isotope Institution was set up. The PAEC founded its atomic research facility in Lahore and established a metallurgy centre in 1963 in Karachi.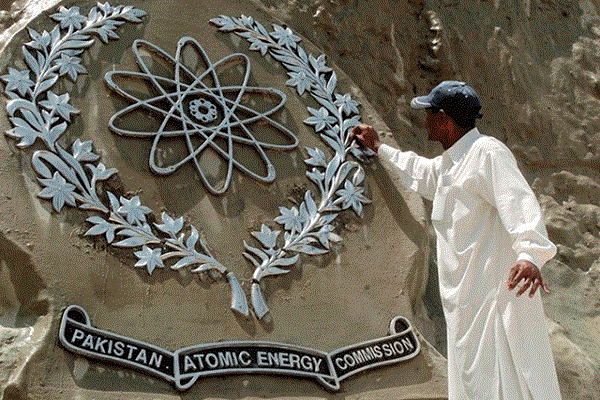 Establishment of PIEAS
PAEC established PIEAS (Pakistan Institute of Engineering & Applied Sciences) ranked among the country's primary technical institutes, and many engineers and scientists from PAEC served in this institute.
PAEC Contributions to INSC and ICTP
The PAEC supports the Physics program at GCU (Government College University) Lahore and awards fellowships to its students. Presently, PAEC maintains its image as a prestigious institute and is considered among the most extensive science & technology institutes.
It supports learning programs and research activities at ICTP (International Center for Theoretical Physics). The PAEC is serving as sponsor and organizer of INSC (Intl Nathiagali Summer College on Physics & Contemporary Needs) conference every year.
Scientists from all parts of the world attend this conference. This college spread knowledge of Logic, Philosophy, Computer Science, Mathematics, Astronomy, Biology, Chemistry, and Physics. 
Studies and Research on Nuclear Power Expansion
PAEC is responsible for the proper functioning and design preparation of nuclear power plants in Pakistan. It lobbies at the government level for safe use of nuclear-power sources via nuclear safety rules; PNRA (Pakistan Nuclear Regulatory Authority) manages nuclear-power facilities' safety.
It also provides policy guidance to govt, and the establishment of power plants are in process with a capacity of eighty-eight hundred Megawatts by the year 2030. The CHASHNUPP and KANUPP power-plants are under construction since 2013.
The partnership of PAEC with CERN
Pakistan has been participating in research and experiments with CERN since the 1960s. A prominent example is Abdus Salam, who was 1st man to be authorized with all cooperation with CERN. He convinced them to provide Pakistan with the stacks of nuclear emulsions-plate disclosed to study further anti-protons, kaons, and pions in the 1960s.
Some Pakistani experimental physicists specializing in SSNTD (Solid State Nuclear Track Detectors) technique gained an advantage from CERN by displaying stacks in the SPS beam (Super Proton Synchrotron). 
Agreement Between CERN & PAEC
On 27th Jun 2011, CERN and PAEC agreed to develop technical cooperation with upcoming CERN programs. Director-General of CERN Rolf-Dieter visited Pakistan and talked about the significance of Science & Technology in Pakistan and the benefits of Germany's strategic alliance with Pakistan. 
Contribution of PAEC to CMS 
PAEC chairperson Ishfaq Ahmed signed a contract with CERN after detailed discussions to construct 8-magnet supports for CMS (Compact Muon Solenoid) detector. It made magnetic feet and also installed Three-Hundred and Twenty RPC (Resistive Plate Chambers) for CMS. PAEC also built many other components for LHC & ATLAS.
Largest particle-accelerator of the World at CERN
The PAEC, in collaboration with leading universities of Pakistan, sent a team of engineers and scientists to CERN for participation in 'Large Hadron Collider' on 10th Sep 2008. Pakistani scientists keenly participated in developing the 'Large Hadron Collider' highest energy and most extensive particle accelerator.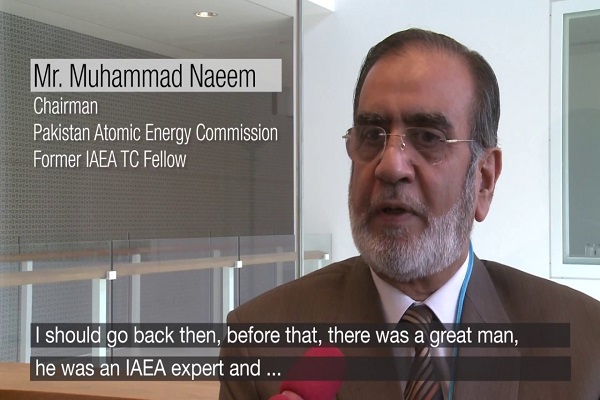 Management Team
Mohammad Naeem-Chairperson

Dr Adnan Aqeel-Member

Dr Ghani Akram-Member

Mr Syed Zia-ud-Deen-Member

Dr Qamar Mehboob-Member

Mr Mansoor Ali-Member

Dr Mohammad Sarwar-Member

Mr Saeed-ur-Rehman

Engr Munawar Ahmed-Member

Dr Mohammad Masood-Member

Dr Raja Ali-Member
Chairpersons of PAEC
Nazeer Ahmad        11th Mar 1956 21st May 1960

Ishrat Hussein        15th Jul 1960 10th Jan 1972

Muneer Ahmed       20th Jan 1972 19th Mar 1991

Ishfaq Ahmed         7th Apr 1991 6th Apr 2001

Parvaiz Butt            29th Dec 2001 5th Apr 2006

Anwar Ali                1st May 2006 31st Mar 2009

Ansar Pervez          7th Apr 2009 5th Apr 2014

M. Naeem                6th Apr 2014
Constituent Institutes
NORI- Nuclear Medicine Oncology & Radiotherapy Institute

PIEAS- Pakistan Institute of Engineering & Allied Sciences

NILOP- National Institute of Lasers & Optronics

NARC-National Agricultural Research-Center

NIBGE-National Institute of Biotechnology and Genetic Engineering

NIAB-Nuclear Institute for Agriculture & Biology

NIFA-Nuclear Institute for Food & Agriculture
Contact Information
Address: PAEC Near K-Block, P.O. Box 1114-Islamabad, Pakistan
E-mail: [email protected]
Phone #: (+92 51) 9209032-37