Pakistan Atomic Energy Commission (PAEC) is planning to organize workshop for media persons to give them orientation about basics of nuclear technology, nuclear power production in Pakistan, radioactivitiy and its effects."We are planning to hold training workshops to give basic information to media people regarding nuclear issues.
| Title | Description |
| --- | --- |
| Basic Information | |
| Formed: | March 1956 |
| Name: | Pakistan Atomic Energy Commission |
| In Urdu: | ادارہ جوہری توانائی پاکستان |
| Superseding : | Pakistan Nuclear Regulatory |
| Agency: | Authority (PNRA) National Command Authority (NCA) |
| Jurisdiction : | Government of Pakistan |
| Headquarters : | Islamabad, Islamabad Capital Territory |
| Agency Executive : | Muhammad Naeem, Chairman |
| Research and Development of: | Nuclear Power, Promotion of Nuclear Science, Energy Conservation,Nuclear Technology |
| Integrated with: | National Command Authority |
| Now Under: | Prime Minister Shahid Khaqan Abbasi |
| Power Plants Energy Production: | Capacity of ~8800MW by 2030 |
| Power Plants: | Kanupp Chashnup |
| Chairman: | Muhammad Naeem |
| PAEC Member : | Aslam Hayat Bhatti,Mr.Jamal Ud Din Ahmad,Mr. Mansoor Ali Sheikh,Mr. Tariq Mahmud |
| Finance Secretary MOF: | Mr. Mansoor Ali Sheikh |
| Website: | http://www.paec.gov.pk/index.aspx |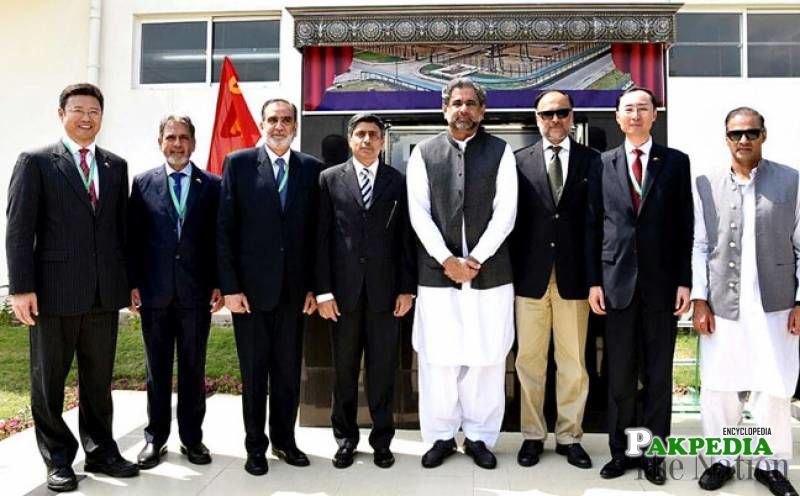 bHistoryb
The history of Pakistan Atomic Energy Commission goes back to 1956, when the Atomic Energy Research Council was established. In 1964, 1965 and 1973 reorganization took place and the Atomic Energy Commission was incorporated as a statutory body under an Act, with considerable autonomy. In 1972 the commission was transferred from the Science and Technology Research Division to the President's Secretariat.[1]  History 
bNow a Daysb
PAEC is now the largest S & T organization of the country, both in terms of scientific/technical manpower and the scope of its activities. Starting with a nuclear power reactor at Karachi (KANUPP) and an experimental research reactor at Nilore, Islamabad (PARR-I), the emphasis in the early years remained focussed on the peaceful uses of nuclear energy. Consequently research centres in agriculture, medicine, biotechnology and other scientific disciplines were set up all over the country. As the emphasis shifted towards concerns for national security, important projects were also initiated in this area.
bFunctionsb
PAEC is charged with the promotion of, and research work on the peaceful uses of atomic energy in the fields of agriculture, medicine and industry, as well as the execution of development projects involving nuclear power stations and the generation of electric power, and to perform such other functions relating to the peaceful uses of atomic energy as may be agreed to between the Commission and the government.
bAccordingly the Commission is Engaged inb
Programmes to develop nuclear power and fuel-cycle facilities 
Promotion of use of radiation and radio-isotopes in agriculture, medicine and industry
Research, development and training of manpower to support the programmes of nuclear power and radio-isotope applications
bNational Defence Complexb
Pakistan's development of solid-fueled ballistic missiles began at the Pakistan Atomic Energy Commission (PAEC).Benefiting from substantial Chinese assistance, the PAEC historically competed with the North Korea-assisted liquid-fuel missile programs at the Khan Research Laboratories (KRL).The 1999-2001 command-and-control reforms consolidated the bulk of nuclear weaponization activities, including missile development, under the National Defence Complex (NDC).
bFocusesb
The PAEC now focuses on civilian research, and hosts a wide range of such programs ranging from nuclear medicine to biotechnology.The PAEC also actively collaborates with the European Organization for Nuclear Research on fundamental particle physics research, providing both human capital and financial contributions.
bNuclear Test -1998b
Following Pakistan's 1998 nuclear tests, the Clinton Administration sanctioned the PAEC and roughly 20 of its subsidiaries under the Arms Export Control Act for involvement in "nuclear or missile activities."President George W. Bush waived these sanctions in 2001 to facilitate post-September 11 cooperation with Pakistan.[2] Nuclear Test –  1998  
bResearch Developmentb
R&D efforts at Pakistan Atomic Energy Commission are focused on nuclear science and technology as well as the allied fields of physical and chemical sciences through well-defined and goal oriented projects. The major thrust of the program is geared towards direct applications in the peaceful uses of atomic energy. In order to keep the program well balanced and tuned to the need of the future, basic research is also carried out.
bPakistan Institute of Nuclear Science Technologyb

PINSTECH, being a premier R&D institute of PAEC has contributed to the frontiers of knowledge in a number if fields. Over the years, it made significant contribution in PAEC program by carrying out various technical assignments of national interest. The highly qualified manpower is engaged in the R&D at PINSTECH.
bPakistan Research Reactor – I PARR-Ib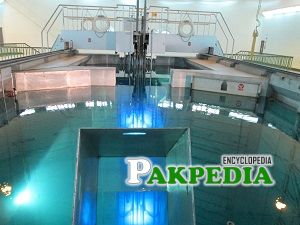 In the beginning, the experimetnal & research facilities at PINSTECH were limited to PARR-I, a 5 MW swimming pool type research reactor. The reactor has now been upgraded to 10 MW. With this upgrdation, the experience and know-how obtained in redesigning, engineering and renovation has promoted indigenous expertise and led to a greater degree of self reliance.
bPakistan Research Reactor – II PARR-IIb

PARR-II is a Tank-In-Pool type, 27 KW research reactor. It is a safe and economical tool for neutron activation analysis and training. PARR-II is an ideal facility for teaching and training.[3]  Pakistan Research Reactor 
bInside PAECb
Nuclear Power
Engineering
R & D
Agri & Biotech
Cancer Hospital
HRD
bProject and Plantsb
bKarachi Nuclear Power Plant KANUPP Unit 1b
KANUPP is Pakistan's first nuclear power plant, inaugrated on November 28, 1972, with a total gross capacity of 137 MW.
bChashma Nuclear Power Plantsb
Unit-1 (C-1), Unit-2 (C-2) & Unit-3 (C-3):C-1 and C-2 are 2 x 325 MW pressurized water reactors (PWR), performing with a high capacity factor.C-3 is 340 MW pressurized water reactors (PWR) with a design life of 40 years.
bChashma Nuclear Power Projectb
Unit-4 (C-4):C-4 is 340 MW pressurized water reactors (PWR) with a design life of 40 years. The plant is under construction.
bKarachi Nuclear Power Projectb
Unit-2 (K-2) & Unit-3 (K-3):K-2 and K-3 are 2 x 1100 MW PWRs. Groundbreaking of K-2 and K-3 at Karachi near KANUPP was performed on November 26, 2013.
bEngineeringb
The provision of engineering services and equipment is vital to keep industrial plants in good operating condition. This is especially true for Chemical, Mechanical, Conventional and Nuclear Power plants. PAEC has therefore established its own engineering support setup, known as SES. The purpose of this setup is to provide state of the art heavy mechanical as well as high precision engineering equipment support to all the projects and plants of PAEC. In addition it has the capacity to provide engineering services to other public/privates sectors industries in Pakistan.
bHeavy Mechanical Complex HMC-3b
Heavy Mechanical Complex-3 has in house design, manufacturing, inspection, testing facilities and is capable of manufacturing heavy equipment of nuclear power plants, chemical & processing industries. All equipment are designed accordance with the relevant international codes and standards such as API – 1 stamp, ASME – 4-5 stamps etc., PNRA – Safety class 1,2,3, ISO 9000 / ISO 9001 certificate. It also has boiler manufacturing license from Govt of Pakistan.
bAgriculture Biotechnologyb
Pakistan Atomic Energy Commission has taken the lead in utilizing nuclear technology to improve productivity of Agriculture sector through the introduction of new crop varieties, pest control technologies, plant nutrition and water management, animal health and productivity and food decontamination and preservation. Agriculture centers of PAEC also organize 'Farmer's Days", field visits and awareness programs to educate the farmers about newly released varieties, advanced methods of cultivation and water saving techniques.
Development of New Varieties
Utilization of Marginal Lands
Plant Nutrition and Water Management
Reduction of Losses to Pests and Pathogens
Improved Export Potential
Human Resource Development
bCancer Hospitalsb
Pakistan Atomic Energy Commission gives high priority to the application of nuclear technology in health sector. Through its 18 medical centers spread all over the country, patients receive state-of-the-art diagnostic and treatment facilities either free of charge or at subsidized rates. PAEC NM&O Hospitals are also involved in the national cancer awareness and prevention program.
Diagnostic Imaging (Nuclear Medicine & Radiology)
Oncology (Radiation & Medical)
Medical Physics
Teaching and Training
bHuman Resource Developmentb
Appropriate human resource development is essential before undertaking any highly technical or scientific endever. PAEC has setup many training institutes/centres, fully equipped with latest and state of the art facilities, aiming to provide high quality education and training to its workforce. Its leading institutes are Pakistan Institute of Engineering & Applied Sciences (PIEAS), Karachi Institute of Power Engineering (KINPOE) and CHASNUPP centre of Nuclear Training (CHASCENT). These institutes not only provide education related to nuclear fields but also contribute towards the Research & Development (R&D) programs of Pakistan.
Pakistan Institute of Engineering & Applied Sciences (PIEAS)
Karachi Institute of Power Engineering (KINPOE)
CHASNUPP Centre of Nuclear Training (CHASCENT)
bContact Informationb
P.O. Box: 1114, Islamabad, Pakistan
Telephone:PABX: +92 51 9209032-37
E-mail: webmaster@paec.gov.pk