The culture of Kashmir refers to the culture and traditions of Kashmir, a region in northern India (consisting of Jammu and Kashmir), northeast Pakistan (consisting of Azad Kashmir and Gilgit–Baltistan) and the Chinese territory of Aksai Chin.The culture of Kashmiri is a diverse blend and highly influenced by northern South Asian as well as Central Asian culture. Along with its scenic beauty, Kashmir is famous for its cultural heritage; it amalgamates Muslim, Hindu, Sikh and Buddhist philosophies and has involved composite culture based on the values of humanism and tolerance. [1] Kashmiri Culture
| Title | Description |
| --- | --- |
| Details | |
| Languages: | Urdu, Kashmiri,Gojri ,Hindi, Paharim Ladakhi, Dograi, Kashmiri, Potwari, and the Pahari |
| Province: | Punjab |
| People of kashmir: | Kushur people, Pahari people, Gujri, Dogra,Kargili,Ladakhi, Hunza, Gilgiti and Balti people |
| Population: | 13 million (approximate) |
| Area: | 151,360 square kilometers,Indian-occupied Kashmir: 95,356 sq.kms, Azad Jammu and Kashmir : 56,003 sq.kms |
| Kashmir: | Muslim population |
| Sweets: | Gulab Jamun, Sevaiyaan, Phirni and Barfi |
| Cuisine: | Popular Kashmiri meat preparations are: Kashmiri Kebab Rogan Josh Rista Jigar/Kaleyji Methi Keema Yakhni Syun Alu Kabargah Marzwagan Pasanda Potato, cottage cheese, Shree Pulao, Mutton Pulao, Tursh Zarda, Kulcha |
| Festivals: | Lohri, Holi, Navratri, Baisakhi or New Year Day, Guru Ravi Das's Birthday, Tihar and Samkrant |
| Musical Instruments: | Dukra, Sitar and Nagara, Viz, Sufi, Ghazals and Choral, Wanawun |
| Music: | Rabab |
| Dance: | Mask, Hafiza, Nagma, Ruf, Wuegi-Nachun, Roul and Dogri, |
| Famous Skills: | Handicrafts, Carpets, Shawls, Wood Carvings (decoration pieces, door styles, window styles), Shawl for men 'Looi' |
| Source of Earning: | Agriculture and Cultivation |
| Food: | lobia daal chawaal, Also, pink tea and black tea (kehwa), Salt in the tea (black tea with milk) |
| Norms: | Folkways, Mores, Taboos, Rituals |
| Dress: | Shalwar Kameez, Shawl |
| In Urdu: | کشمیری ثقافت |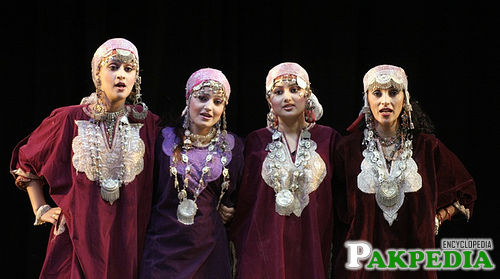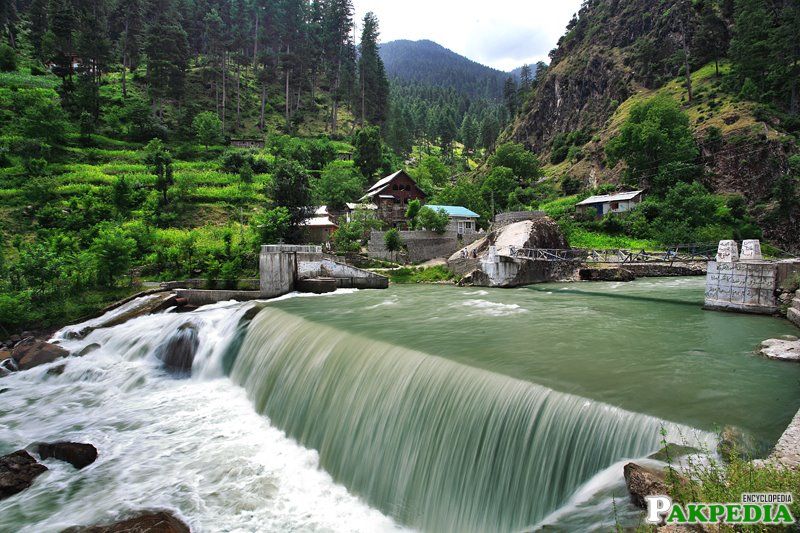 Culture
The culture of Azad Kashmir has many similarities to that of northern Punjabi (Potohar) culture in Punjab province. The natives of Azad Kashmir speak Urdu, Potwari, and the Pahari languages. The Kashmiri language is spoken by hardly 5% of Azad Kashmir's population according to Kashmiri journalist Shujaat Bukhari. Professor Khawaja Abdul Rehman states that the Kashmiri language is on the verge of dying out in the Neelam Valley. [2] Kashmir Culture of Pakistan The traditional dress of the women is the shalwar kameez in Pahari style. The shalwar kameez is commonly worn by both men and women. Women use shawl to cover their head and upper body.
People of kashmir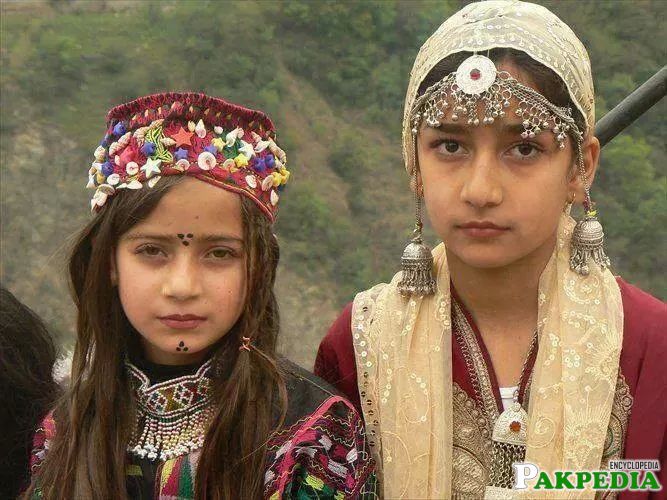 Kushur People
Mostly are found in Kashmir Valley but also found in Neelum Valley, AJK.
Pahari People
Majority are found in Azad Kashmir and also Indian side Kashmir such as Kupwara, Poonch and Rajouri Districts.
Gujri People
They live mostly in Azad Kashmir, West Kashmir Valley and North Jammu.
Dogra People
Mainly are found in southern Jammu.
Kargili People
Majority of them found in Kargil, one of districts in the Ladakh.
Ladakhi People
They live in north Ladakh.
Hunza People
Found in Northern-West Gilgit Baltistan.
Gilgiti People
Mostly are found in South-West Gilgit Baltistan.
Balti People
Found in East Gilgit Baltistan.
Language
Language is the mode of communication used in any area. Urdu, Kashmiri and gojri are the official languages of AJ&K whereas; Hindi, Pahari and Ladakhi, Dograi, Kashmiri, are also spoken in some parts. Northwestern Dardic language of the Indo-Aryan branch of the Indo-Iranian subfamily of the Indo-European language family is primarily used in Jammu Kashmir whereas language used in Azad Kashmir is Pahari because this part of Kashmir normally contains mountains and hilly areas. Furthermore, variation in language is found when we travel in different areas of Kashmir i.e. the accent, pronunciation, and at times meanings varies from area to area. Arabic script is followed as their writing script.
Norms
Norms are the folkways, mores, taboos, rituals that people of a particular area follow. There are different traditions regarding food, dressing, ceremonies etc. Rice is the staple food of Kashmiris. Besides that, majority of the people have their own farms so they grow their own wheat, corn for bread, vegetables, fruit, herbs, rice etc. and they also have their own farm animals like cows, goats, hens etc for their feeding purpose. In the region of Muzafrabad, people do their breakfast with yogurt, naan, Kulcha and pink tea.  At the time of ceremonies whether they are wedding or death or any kind of ceremonies, the food served must contain lobia daal chawaal. Also, pink tea and black tea (kehwa) are the compulsory items after food. Another important thing to be noticed is that Kashmiris use salt in the tea (black tea with milk).
Values
Kashmiris are really hard working people, they are independent and they work in their on farms for their livelihood because agriculture and cultivation is their main source of earning. They are very courageous as they live in the tough climatic region but still work hard. They are extremely brave as they are continuously striving for their independence regardless of the harshness and torture they face. Moving further, they are highly prone towards education. Children go to their schools in the morning and help their parents in every way they can after coming back from school. They are extremely patriotic.
Talking about their kind of work, they are primarily famous for their hand work. The neatness, the perfection, the ideas, everything is just so amazing. Kashmiri handicrafts, carpets, shawls, wood carvings (decoration pieces, door styles, window styles etc.) are famous worldwide. Another rare thing is the sandal made of rope (baan) with hands. They call shawl for men Loo.
[3] Values of Kashmiri People
Music and Dance
Jammu & Kashmir has a rich tradition of music, dance and drama. The folk music and dance of the state is the lifeline of the Kashmiris. There are various dance forms performed according to the occasion  various seasons, harvest, weddings and religious festivals. One of the popular dance forms of the state is the Mask Dance, performed during the Hemis festival in Ladakh by the Lamas of the Hemis monastery. The dancers, representing divine or mythological figures, wear colourful brocade robes and heavy masks as they perform ceremonial dances around the monastery courtyard.
Marriage ceremonies in the state are marked by the Hafiza dance where young Kashmiri boys celebrate the harvest season with Bacha Nagma dance. Other famous folk dances of Jammu and Kashmir are Ruf, Wuegi-Nachun, Roul and Dogri. Among folk music, the most famous is the Rabab and the common musical instruments are Dukra, Sitar and Nagara.
As far as forms of music in Kashmir is concerned there are three distinct forms, viz. Sufi, Ghazals and Choral Music. Wanawun is another form of music that is sung and played during wedding ceremonies in Kashmir.
Festivals

The paradise on earth, Jammu and Kashmir is home to a rich cultural heritage, besides a panoramic landscape that leaves many a visitor spellbound. This culture and tradition is reflected in the several fairs and festivals in Jammu and Kashmir that are widely celebrated across the state with much zeal and gaiety. We at Indian Holiday take you on tours to Jammu and Kashmir that provide you with an exclusive opportunity to be a part of these memorable celebrations.
Almost all the major Hindu festivals in India are celebrated with equal enthusiasm in the state of Jammu and Kashmir. Some of such prominent fairs and festivals in Jammu and Kashmir include Lohri, Holi, Navratri, Baisakhi or New Year Day, Guru Ravi Das Birthday, Tihar and Samkrant. People from across Jammu and Kashmir gather in large numbers during the time of these festivals. Interestingly, all Hindu, Muslim or Sikh fairs and festivals are religiously observed in the entire state of Jammu and Kashmir.
Cuisine

Some of the popular Kashmiri meat preparations are:
Kashmiri Kebab
Rogan Josh
Rista
Jigar/Kaleyji
Methi Keema
Yakhni
Syun Alu
Kabargah
Marzwagan
Pasanda
Potato, cottage cheese and a variety of vegetables are used to make interesting combinations of vegetarian Kashmiri food preparations. Both fresh and dried vegetables are used for cooking. These are some delicious vegetarian dishes from Jammu and Kashmir:
Hak
Rajmah
Ladyar Tsaman
Nadeir Yakhaen
Rice is a staple diet in Kashmir. It is grown in the lake shores and river banks. Popular rice preparations of Kashmir are:
Shree Pulao
Mutton Pulao
Tursh
Zarda
Kulcha is a popular bread made of wheat eaten in Kashmir.
Kashmiri desserts include gulab jamun, sevaiyaan, phirni and barfi among others.
Beverages are an integral part of Kashmiri culture and hospitality. Kashmiris welcome their guests with hot sheer tea and kahwah. They are made in special kettles known as samovars.
Lifestyle
Jammu and Kashmir is one of those states that has become famous for its many sided culture. The three regions namely Jammu, Kashmir and Ladakh have different people with their diverse culture and traditions. Jammu is dominated by Hindu population, Kashmir has major Muslim population and in Ladakh, most people follow Buddhism. But one thing that is common to people all regions is the love, affection, and tolerance they have for each other. Even tourists are considered as a part of the family. If you ask a locale about a place to stay, you will probably end up enjoying your vacation in his home, and if you like something worn by a locale and ask him where he bought it from, he will probably offer the same thing to you. That is how simple people of Jammu and Kashmir are, far away from artificial feelings, and deception of life. The lifestyle of people is totally different from that of adjoining states. The food they eat, the dresses they wear, the language they speak is all different and unique. Though Ladakh region shows a strong resemblance to Tibet in all things.
Dress of Men and Women in Jammu and Kashmir
The female section in Jammu and Kashmir attire themselves with beautiful jeweler like earrings, necklaces, nose rings, bangles, earrings and colorful dresses where the men section feel comfortable in the ethnic wear which is skullcaps, churidar, pyjamas, shalwars, and gurgabi. Phiran is a woolen attire decorated with the colorful patches of floral motifs and lot of embroidery work done on it. The dress code of the people of Jammu and Kashmir reflects the true picture of their lifestyle and culture. It also proves that India is stll carrying the legacy of its culture and cultural values. [4] Dress of Men and Women   
Culture