Balti culture is the culture of Tibetan people of Gilgit-Baltistan, Pakistan.Population is lower in this region.The residents of Balti 'speak Tibetan and Ladakhi language.People belonging to Balti culture live in other cities of Pakistan Ladakh 'Jammu and Kashmir' Lahore 'Karachi and Rawalpindi' in Islamabad.History of Bulti culture covers centuries.In the past, Tibetan 'Persian' Indians and Arabs have left deep impression on the culture of the region,As a result, modern traditions of balti culture have come into existence.Regardless of the region's education, Islamic teachings are promoted. In recent times, the effects of Tibetans and other cultures are deep.The area looks like gambling patterns, which are white in the ceiling.The old Mosque of style of Muslim culture is prominent in Persian and Tibetan style, while the Persian influence is significant in the new mosques.
| Title | Description |
| --- | --- |
| Details | |
| Languages: | Tibetic |
| Province: | Khyber Pukhtunkhwa |
| Musical Instruments: | Surnai , Karnai , Dhol , Chang |
| Culture: | Balti culture is a mixture of Iranian culture and Tibetan culture |
| Architecture: | Tibetan , Mughul and Iranian influences and monastic |
| Capital: | Skardu |
| population: | About 322,000 |
| Mountaineering: | K-2, Gasherbrum I, Broad Peak, Muztagh Tower, Gasherbrum II, Hidden Peak, Khunyang Chhish, Masherbrum, Saltoro Kangri, Chogolisa |
| Glaciers: | Baltoro Glacier, Biafo Glacier, Siachen Glacier, Trango Glacier and Godwin-Austen Glacier |
| Tourism: | Skardu, Deosai plain, Satpara Lake and Basho |
| Valley: | Khaplu, Skardu, Shigar, Kharmang, Roundu, Gultari |
| Excellent Sports Teams: | Polo and Ski |
| International Sports: | Shandur Polo |
| Sports: | Football, Volleyball, Cricket, and Basketball |
| Dance: | Sword Dance |
| Music: | Trio Band |
| Festivals: | Religious festivals are Eid-e-Ghadir, Edi-ul Fitr and Eid Miladunnabi and cultural Navroz, Jashn-e-Baharan, Cultural , Shandoor Polo, Babusar Polo, Harvest time |
| Famous Poet: | Raja Saba Shigri |
| Singers: | Raja Babar Ali, Muhammad Ali |
| Dishes: | Xlhapkoor, Mar (Marzan) |
| In Urdu: | بلتی ثقافت |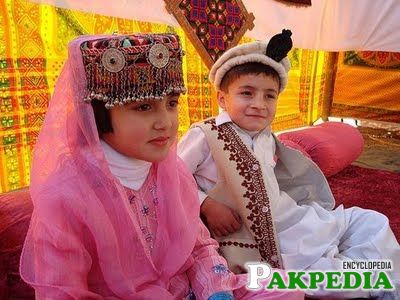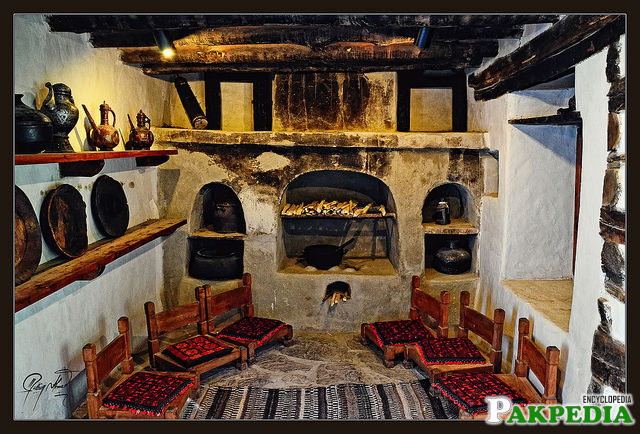 Baltistan Culture

Balti culture has a history of inhabitants of the mountainous areas of Gilgit-Baltistan which covers centuries.Here, Chinese 'Tibetan' has a Great impact on Persian and Arab tribes' customs, while Islamic teachings have also played an important role in the region.The weather here is intense. The local people here are guests of hospitality and live in a mountainous area. People work on religious and moral traditions.Gilgit-Baltistan is a landmark region with many historical cultures 'shrine trilateral values' and ancient and modern languages. [1] Culture of Baldistan
Local People

The local people here are different cultures and speak different languages. Urdu and English languages are commonly spoken. Since people of different cultures are settled in Gilgit-Baltistan, there are different colors available in the style of construction, clothing and food.
Languages
The originals settlers in this regions speak Shina as their basic language spoken, but the new comers speak different languages due to various backgrounds of languages and cultures. Urdu and English are the official languages spoken. In this region because of various cultures, the pattern of living, housing, food style and life style has become a mixture having various colors. Other key languages spoken in Gilgit are:
Brushaski
Wakhi
Khowar
Balti
Pushto
Punjabi
Festivals

Mainly there are two types of festivals in Baltistan i.e. religious and cultural. Religious festivals include Eid-e-Ghadir, Eid-ul Fitr and Eid Miladunnabi (the birth anniversary of Prophet Muhammad-Peace be upon Him). There are some other important events specific to different communities of interpretation, which are celebrated with complete peace and fraternity.
Cultural events include:
Navroz,
Jashn-e-Baharan
Cultural festivals.
Shandoor Polo Festival
Babusar Polo Festival
Harvest time festival
Music and Dances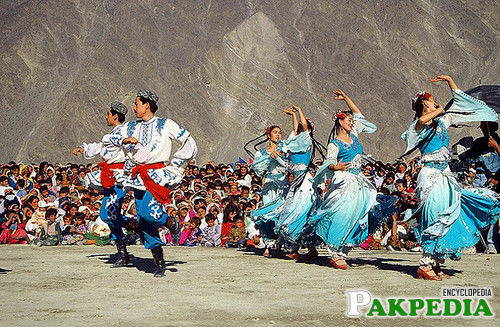 The famous trio band music is played in this region. On the rhythm of this loud music, men love to dance in their typical way. There are some variations in lyrics from region to region. The people of Gilgit-Baltistan as have some unique and very beautiful dances in different parts. One of the very famous dances is sword dance. In this distinctive dance, the participants show taking a sword in right and shield in left and dance with it. [2]  Music and Dances of Balti Culture 
Sports in Gilgit Baltistan

Sports culture is part & parcel of each soldier. In the afternoon sports games like football, volleyball, cricket, and basketball are routine activity. Inter-wing sport competitions are also organized each year. Gilgit Baltistan Scouts has excellent Polo and Ski teams. This small force has number of Ski players who had represented Pakistan in Ski Championships. Shandur Polo Festival is a national event and this Force takes part in the event regularly.
Sports Competition
Sports competition are organized every year in Gilgit in order to instill spirit of Competition.
Ski
Polo
Football
Cricket
Volleyball
Harvest Time festival is performed in the same way as the seeding festival. The villagers thank Allah(God Almightly) for the bounty that they are going to harvest. For this, it means lively music (drum beats), dancing and eating and on top of sharing the happiness with one another.Traditional sport game of Gilgit Baltistan is polo. Polo was originally started from Gilgit centuries ago and Britisher learned to play Polo from Gilgitis during their stay in sub continent. It is still played in its original version at Gilgit.
Polo

Polo is the favourite game of the people of Gilgit, Chilas, Astore, Hunza, Nagar and the surrounding areas. Every year, many tourists visit to enjoy polo in Gilgit-Baltistan. Other games such as cricket, Tuksori of Nagar, gulli danda, kabbadi, and volleyball are also played.
Simply stand up and cheer for the local teams, when they clash in a unique style of polo-the game of Kings! Mesmerize Yourself this Summer-Visit Gilgit-Baltistan. [3] Sports in Gilgit Baldistan
Culture