Mr. Abdul Razak Dawood serves as Chief Executive Officer of Descon Engineering Limited and served as its Chairman of the Board. Mr. Dawood serves as the Chairman of the Board at Descon Oxychem Ltd. and Altern Energy Ltd. He serves as the Chairman of Rousch (Pakistan) Power Limited. He served as the Chairman of Nimir Resins Limited. Mr. Dawood has been a Director of Pakistan Business Council since March 5, 2013. He serves as Director of Descon Chemicals Limited. He serves as a Non-Executive Director of Altern Energy Ltd. He served as a Director of State Bank of Pakistan. On 18th August 2018 Imran Khan appointed him as a Minister of Commerce, Textile, Industry $ Production and Investment.     
| Title | Description |
| --- | --- |
| Personal | |
| Name: | Abdul Razaq Dawood |
| In Urdu: | عبدالرزاق داؤد |
| Famous As: | Businessman |
| Nationality: | Pakistani |
| Education: | He graduated in Mining Engineering from Newcastle University UK and in 1968 obtained his Master degree in Business Administration from Columbia University, NYC, USA. |
| Religion: | Islam |
| Profession: | Business, Politics |
| Family | |
| Relatives: | Nephew of late Ahmad Dawood |
| Career | |
| Company Name: | Descon group |
| Distinction: | Descon Engineering is perhaps the first Pakistani multinational company which is operating in six countries, and having four overseas manufacturing units |
| Employees number: | 30,000 |
| Employees nationalities: | Descon's employees include over 30 nationalities working in Pakistan and The Middle East |
| Net Worth: | 52.6 billion |
| Years Active: | 1977 |
| Title : | Descon Engineering |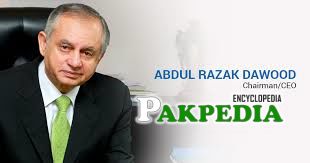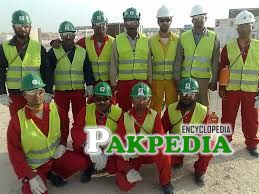 Biography

People are the greatest source of inspirations, at times ordinary and at times extra-ordinary. They are always around us but only, if we can pick up or learn from them. Observing people has always remained a great way of learning that most enjoy. One such person is the Founder and Chairman of Descon Engineering Group, Abdul Razak Dawood. [1] Bio and early life  
Early life and education

He graduated from Columbia University and landed back in Pakistan in October 1968 after 18 years. Got married within 3 weeks. 
Career

After his marriage, issue came within the family; where should they park this young lad who just came back from America. Lawrencepur, district Attock was decided for him and he gathered his dreams, passion and commitment and went to Lawrencepur as Managing Director of Lawrencepur Woolen Mills. where he simply fell in love with the place. He loved the community life, loved the people,  loved the opportunities. For him it was magnificent. Not because it was easy, but it was challenging 
First day
 He was welcomed by a strike letter on his first day on the desk MD. He struggled hard to set things straight over the months.
Layla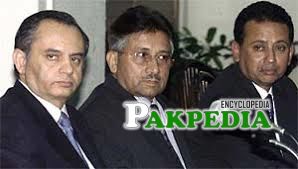 He introduced a new brand for ladies called "Layla". While it was rejected by big brands like HKB, Bombay Cloth House etc. Hee ran a TV commercial and bang; it was a hit. Next, he advertised Layla for PKR 80,000/- budget over 4 months despite the strong resistance from his father. The results changed the world and the next time around it was his father who urged to raise the budget for advertisement .
Experience at Lawrencepur
According to Mr Razaq Dawood "Marketing was not understood properly and there was no market segmentation or product differentiation done ever at Lawrencepur. In order to sell, one needs to understand the pulse of the market first. I used to walk down Anarkali with my father for hours and used to listen to the shopkeepers, the customers, their demands, likes and dislikes in order to set our strategy. And an entrepreneur's job is exactly the same. "I loved the job and Lawrencepure and gelled in the environment quickly.
Joining at Dawood Hercules

 There is a well known saying "Man Plans, God commands". In 1972 Time for change came out of the blue. Mr Dawood'samily had a massive problem putting up Dawood Hercules as a merger where Dawoods and Hercules were fighting and couldn't solve the problem. Senior members of Dawood family forced me to attend the board meeting and there and then made me the resident director of Dawood Hercules. From rural he moved to the urban. From the large canvas that he was working on and loving every minute of it, he moved to the narrow canvas inside Dawood Hercules. [2] Lawrencepur and DH  
Experience at DH
Mr Dawood Razaq shares his experience at DH "Here it was different; learning about corporate struggle, board structure, articles of association and lot of agreements. Dawood Hercules had no problems of marketing, no problems of production and no problems of cash flow. It was a problem of different mindsets. Dawood and Hercules could not match cultures of local company with an American multinational. This ugly problem took 1.5 years to be solved by winning the hearts of Americans (Hercules) and maintaining confidence of family members (Dawoods).
CEO
Later, he became the CEO. There were no problems in Dawood Hercules unlike Lawrencepur, so I got opportunity to learn engineering. Being 29 years old among the old and experienced engineers working in the plant, he started learning the machinery as well as plant operations. He had no idea what was in store for him but he kept learning. 
Important day

 An important day came when a Siemens machine busted and the company called an engineer from Germany. He said the machine cannot be fixed and we need to get a new one which may take upto six months to be delivered. That was hard, shutting the plant for 6 months. We called the local champions, who understood the machine, committed to make a fix without shutting the plant and they did it. For the next six months the plant ran beautifully." 
Take away from Dawood Hercules
 "That was the day when I said, I have faith in my Pakistani engineers. It's about the judgment call that few can take and few cant. Pakistani engineers did it clearly indicating their competency." Mr Razzaq shared.
 "Winds of change in the family started and the family could not stay as it was. I could see it coming and about to break. On 21st April 1981 I was finally asked to go, so I packed up my bags and moved out of Dawood Hercules.
Descon Engineering pvt Ltd.

In 1981 he moved to Descon Engineering (Pvt.) Limited, as its founder and till date has been associated with Descon in the capacity of Managing Director and now as the Chairman. Descon Engineering is perhaps the first Pakistani multinational company which is operating in six countries, and having four overseas manufacturing units and more than 30,000 employees. Descon's employees include over 30 nationalities working in Pakistan and The Middle East. Razak Dawood oversaw the expansion of Descon from Engineering and Construction to Chemicals and Power businesses and now Descon is a recognized brand.  
Services to Descon
The Descon Group is the largest construction and engineering company in Pakistan positioning itself rapidly in the global markets. In less than 3 decades, Abdul Razak Dawood transformed DESCON from a 1977 start up with 4 engineers to more than 1600 engineers and professionals (employee strength reaching 40,000) globally competitive engineering company based out of Pakistan.
Journey of Descon group

The journey began thirty nine years ago, in a five hundred square feet office space at Lahore's historical WAPDA house. We had a vision to embark on a journey to create Pakistan's leading engineering enterprise. Over the years, the spirit of our founders inspired our people to not just achieve the ordinary but the extraordinary. This belief became the foundation of Pakistan's leading engineering conglomerate; Descon. [3] journey  
Global presence
Descon's global presence spreads across United Arab Emirates, Saudi Arabia, Oman and Qatar from where new ventures are executed in Kuwait, Iraq and Egypt. The development and manufacturing of industrial process equipment and piping spool takes effect from our state-of-the-art plant. The strength of our experienced project team carrying operations have the essential ISO, OHSAS and ASME certifications in addition to our own QA & QC and HSE standards.
Subsidiaries

Today, Descon owns and operates chemical and power plants, with allied interests in inspection and testing. Descon Chemicals Business comprises of Descon Oxychem Limited. Our Power Business takes shape in the form of Descon Power Solutions (DPS), providing power plant operations and maintenance (O&M) services for thermal and renewable power plants in Pakistan. Descon also owns two Independent Power Plants (IPPs), Altern Energy Limited, 32 MW gas based power plant and Rousch (Pakistan) Power Limited, a 450 MW combined cycle power plant. 
Social welfare
As part of our Corporate Social Responsibility, Descon takes immense pride in educating underprivileged youth, keen to acquire technical skills and improving their livelihood through the Descon Technical Institute. DTI also provides vocational trainings to young aspiring students.
Set vision
Driven by a set vision and commitment, Descon strives to add value to our clients' businesses by providing world-class solutions at cost-effective levels. 
Other services
Abdul Razak Dawood has also served as [4] services  
The Federal Minister for Commerce, Industries and Production for four years. 
He is the Chairman Pakistan Business Council and Managing Director of Descon Engineering Limited and six other private companies.
His former corporate positions included, CEO Dawood Hercules Chemicals and Managing Director Lawrencepur Woolen & Textile. 
He has been on the board of various corporate giants such as ICI Pakistan, KSB Pumps, United Refrigeration Ltd, PIA, & State Bank of Pakistan. 
He taught at Department of Business Administration, University of Punjab and is the Member Syndicate, the University of Punjab as well as member Senate, University of Punjab.
Abdul Razak Dawood has been an active philanthropist and at present he is the Rector, Lahore University of Management Sciences to which his family has donated generously, Vice Chairman, board of Governors National Management Foundation.
 He is Member Board of Directors, Shaukat Khanum Cancer Hospital and Research Centre, Trustee CARE Foundation and Member Board of Directors NUML College.
Position on which Mr Razaq has served
Name
Title
Since
Descon Oxychem Limited
(Commodity Chemicals)
Chairman
–
Descon Engineering Ltd.
Chief Executive Officer
1977
Altern Energy Limited
(Independent Power Producers)
Chairman
–
Bard Foundation
Chairman
–
Pakistan Business Council
Director
–
Shaukat Khanum Memorial Cancer Hospital & Research Centre
Trustee
–
Namal College
Director
–
Abdul Razak Dawood wins the bid for the Construction of Mohmand Dam
A Pakistani politician and Industrialist Abdul Razaq Dawood who is considered as one of the most pioneering industrialists of Pakistan has won the bid for the construction of the Rs309 billion Mohmand Dam. This news has been confirmed by the chairman of the Water and Power Development Authority. However, Mian Javed Latif, the leader of PMLN was also present there and has also expressed his views by saying that "On what basis was this contract awarded? Is this not corruption?" While the PTI's leader Nadeem Afzal Chan uttered that  "Even if the contract awarding process was transparent, Abdul Razak Dawood should issue a clarification."