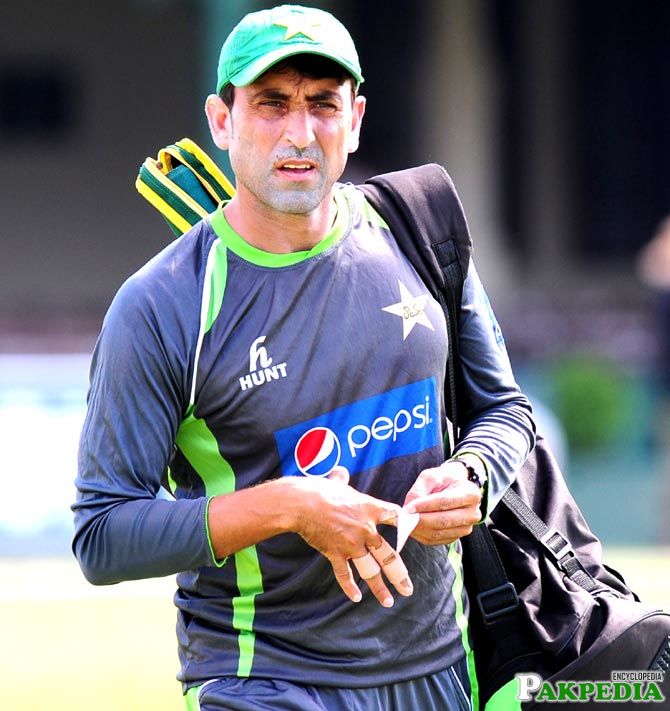 Younus Khan in Training Session
Younus Khan after Batting
Younus Khan in Hat
Younus Khan
Younus Khan Played Well
Career
International career
He made his international debut in an ODI against Sri Lanka at
Karachi
 in February 2000, and has since played over 150 ODIs for Pakistan. He has also played in over 100 Test matches. Younis was one of the few batsmen who retained his place in the team after Pakistan's disastrous World Cup campaign in 2003, but lost it soon after due to a string of poor scores in the home series against Bangladesh and South Africa. He came back for the one-day series against India, but failed to cement a place in the Test side.Younis was the top run-getter in the disastrous 3-0 whitewash in Australia immediately after and on the tour of India, for which he was elevated to vice-captain. After a horror start to the series, he came back strongly, capping things off with 267 in the final Test. It was his highest Test score that came off 504 balls in the first innings, to set up a series levelling victory in Bangalore.Apart from being an accomplished batsman, Younis is also a skilled slip fielder and a very occasional leg-spin bowler. Once, Craig McMillan hit Younis for 26 runs, 4 4 4 4 6 4 in an over, a then world record, during 3rd Test at Westpac Trust Park, Hamilton.He has performed particularly well on foreign grounds, including on tours of Australia, India, England and Sri Lanka. In the six Tests he has played against India, Younis averages an exceptional 106, the highest average against India by a Pakistani cricketer. Apart from his 267 at Bangalore, Younis also made 147 at Kolkata in 2005 and a pair of centuries during India's trip to Pakistan in 2006. More importantly, the tour to India also showcased his potential as a future captain of Pakistan and his energetic and astute leadership has impressed many people. Also in 2006, Younis made a century in the third Test against England at Headingley. On 22 January 2007, he scored a matchwinning 67 not out in the 4th innings to guide Pakistan to victory over South Africa in Port Elizabeth. The five wicket win levelled the series at 1-1.In 2005, he was one of the 15 nominees for the ICC Test Player of the Year. He is the second fastest Pakistani in terms of innings to reach 4000 Test runs, behind
Javed Miandad
. Younis reached the milestone in 87 innings, just one more than Sachin Tendulkar took.
[1]
Fastest Career Runs- espncricinfo
Captaincy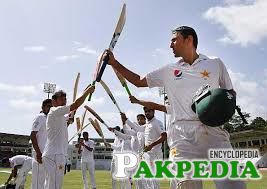 Younus Khan led Pakistan against the West Indies in 2005. In September 2006, he was offered the position of captain for the 2006 ICC Champions Trophy, following the suspension of
Inzamam ul Haq
. He turned down the offer, stating he did not want to be a "dummy captain". However, on the morning of 7 October 2006, the Pakistan Cricket Board announced that Khan would lead his team in the tournament.
[2]
back as Pakistan captain- BBC News
Following the resignation of Inzamam after the Pakistan's exit from the 2007 Cricket World Cup, Khan was offered the captaincy on a permanent basis, but he turned it down. He blamed the angry reaction by the Pakistani public to the team's early exit from the tournament.
Resignation from captaincy
He resigned as captain on 13 October 2009 due to a parliamentary investigation into match fixing that was alleged to have taken place during his reign. Despite being cleared in the investigation, Khan said "Yes I have submitted my resignation because I am disgusted by these match-fixing allegations made against me and the team.He  also dropped a catch of Grant Elliott in the 2009 ICC Champions Trophy semi-final. He had a hair-line fracture in his finger prior to the match. Later
PCB
Chairman requested Khan to take back his resignation and Khan did it under his conditions. However, after captaining the team for a three-match series against New Zealand Younis took a break for Test matches in New Zealand and the series in Australia the captaincy was given to Mohammad Yousuf and since then Younis has not captained the national team.
Series
Twenty20 Series
Younis Khan announced his retirement from Twenty20 cricket after leading his team to the ICC World Twenty20 by beating Sri Lanka at Lord's. Sri Lanka suffered an 8 wicket thrashing.This is my last Twenty20 game , so I am retiring from T20 internationals," Younis said, "I am now 31, I am old for this kind of cricket." No immediate announcement was made as to the identity of his successor as 20-over captain. On 29 July 2009, it was confirmed that
Shahid Afridi
would succeed him as the Twenty20 Captain.After Younis returned to the national setup, he announced that he was willing to play Twenty20 cricket for Pakistan as a senior batsman. Younis then confirmed that he was available to play in all three-formats of the game. He also announced that he was no longer in the race for the captaincy
[3]
"Younis notches up fourth- innings record"
After announcing his comeback to Twenty20 cricket Younis was selected for the three match Twenty20 series against New Zealand in December 2010. Younis played in all three-matches but struggled for form.
New Zealand Test series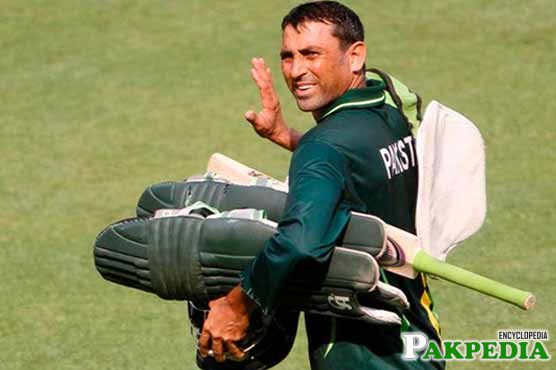 He played in the two-match Test series against New Zealand and Younis scored 23 in the first innings and was not required to bat in the second innings as
Pakistan
sealed a 10-wicket victory. During the first innings of the second Test match Younis was given caught incorrectly at short-leg when on 73. In the post-match interview Younis took the view the umpires are humans they make mistakes but they should reduce the errors they make, also he called for the UDRS (Umpire Decision Review System) to be used in all Test matches so that if an error is made it can be referred.
Sri Lanka Series
Younis Khan made 177 runs in the first innings of the first Test as Pakistan went on to score 451 runs.
[4]
Pakistan tour of Sri Lanka- cricinfo
He was involved in two hundred-run partnerships as he went on to make a new record for most hundred run partnerships (51), beating the previous record of Javed Miandad (50). His performance was praised as he came in to bat at a very difficult time with the score being just 19/2 and played a major role in helping Pakistan post a commanding total.
Awards
Test Cricket
Man of the Match Awards
|  S No |  Series |  Season |
| --- | --- | --- |
|  1 |  1st Test – Pakistan vs West Indies in UAE |  2001/02 |
|  2 |  3rd Test – Pakistan in India |  2004/05 |
|  3 |  3rd Test – Pakistan in England |  2006 |
|  4 |  1st Test – Sri Lanka in Pakistan |  2008/09 |
|  5 |  1st Test – South Africa vs Pakistan in UAE |  2010/11 |
|  6 |  1st Test – Pakistan in Bangladesh |  2011/12 |
|  7 |  1st Test – Pakistan in Zimbabwe |  2013 |
|  8 |  1st Test – Pakistan vs Australia in UAE |  2014/15 |
|  9 |  3rd Test – Pakistan in Sri Lanka |  2015 |
|  10 |  4th Test – Pakistan in England |  2016 |
One-Day International Cricket
Man of the Match Awards
| S No  | Opponent  |  Date |
| --- | --- | --- |
|  1 |  Australia |  15 June 2002 |
|  2 |  Sri Lanka |  14 August 2002 |
|  3 |  Kenya |  1 September 2002 |
|  4 |  Zimbabwe |  1 December 2002 |
|  5 |  Zimbabwe |  3 October 2004 |
|  6 | India |  18 April 2006 |
|  7 |  England |  5 September 2006 |
|  8 | South Africa | |
|  9 |  India |  8 November 2007 |
|  10 | Zimbabwe |  2 February 2008 |
|  11 | India |  14 June 2008 |
|  12 |  India |  2 July 2008 |
|  13 | West Indies |  16 November 2008 |
|  14 |  South Africa |  5 November 2010 |
|  15 | Zimbabwe |  18 September 2011 |
Twenty20 International Cricket
Man of the Match Awards
| S No  | Series  | Season  |
| --- | --- | --- |
|  1 |  2007 Twenty20 Quadrangular Series (PAK vs KEN) in Kenya |  2007/08 |
|  2 |  2007 ICC World Twenty20 16th match (PAK vs SL) in South Africa |  2007 |