The attack began in the morning hours, with about half a dozen gunmen entering the school – and shooting at random, said police officer Javed Khan. Army commandos quickly arrived at the scene and started exchanging fire with the gunmen, he said. Students wearing their green school uniforms could be seen on Pakistani television, fleeing the area.[1] Attack Began 
| Title | Description |
| --- | --- |
| Details | |
| Type: | Suicide bombing,spree killing, hostage-taking, school shooting |
| Date: | 16 December 2014 |
| Time: | 10:30 PST – 19:56 PST |
| Location: | The Army Public School, Warsak Road, Peshawar, Khyber Pakhtunkhwa, Pakistan |
| Target : | Students and school staff |
| Motive: | Retaliation Against Operation Zarb-e-Azb |
| Defenders : | Special Services Group |
| Perpetrators : | Tehrik-i-Taliban Pakistan |
| Non-Fatal Injuries: | 114 |
| Deaths: | 148 (including 7 attackers) |
| School Children Martyrs: | 132 |
| Attentively Listening: | Lecture |
| Entered: | Half a Dozen Gunmen |
| Attack Began: | In The Morning |
| Khaula as a : | Flower |
| Youngest Student Name: | Khaula Bibi |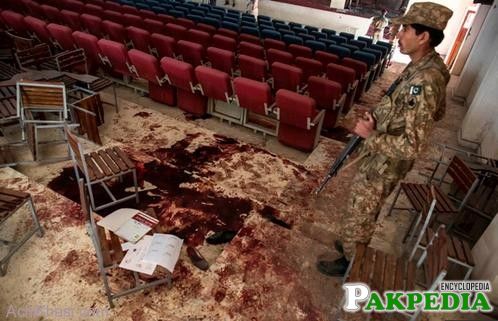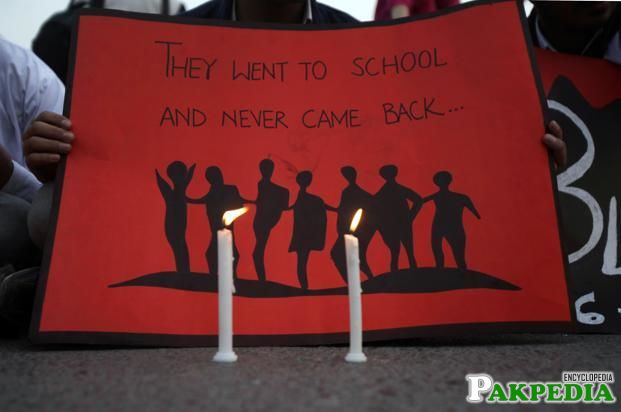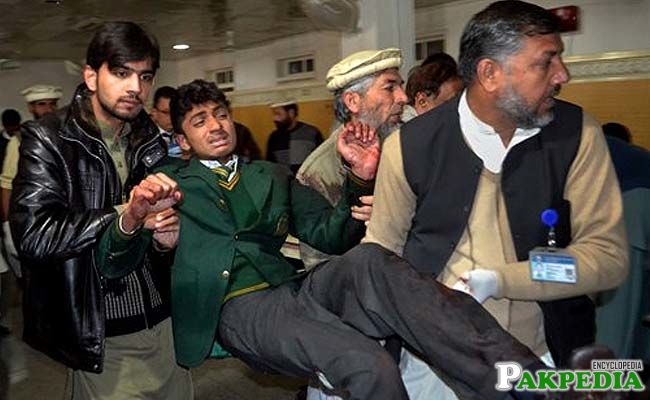 16 December 2014

When the nightmare unfolded, teachers and students of the Army Public School Peshawar had just returned to their classes after recess. Some students, including 18-year-old Yasir Iqbal, gathered in the large auditorium and were attentively listening to a lecture.[2] 16 December 2014 
Khaulas First Day of School
Others sat at their desks, eyes on the clock instead of the blackboard, silently urging for the hands to move faster for the day to end so they could go home. In grade one, it was six-year-old Khaula's first day of school. She was overjoyed that she had finally joined her siblings instead of staying home. It would be her only day at school.
Khaula's would become one of the 144 names—most of them children's—on a long list created by a group of murderers that day at the school. The incomprehensibly high body count combined with the vulnerability of the victims make it the most horrific attack in Pakistan's history.
Eighth-Grader Uzair Ali
And while this number, 144, is a story unto itself, the 144 stories within it have to be told.Eighth-grader Uzair Ali saw the attackers and leapt to shield his friends by lying on top of them. He was killed; shot 13 times, but he managed to save his companions. Fourteen-year-old Fahad Hussain opened a door so his friends could run out. He stayed by the door making sure everyone was evacuated. He was gunned down while doing so.Below are 144 accounts, of courage and sadness of children, women and men whose absence will be forever painful, always remembered.[3]  Uzair Ali 
Under 13 Years Old
Khaula Bibi
Daughter of Altaf Hussain and Safoora Bibi
Siblings: 
Samar (12),
 Shobaid (11) 
 Areeba (4)
Khaula was the youngest, and only female student killed in the horrific attack. According to her father, a teacher at APS, December 16 was Khaula's first day at school. She had gained admission to class 1 a day earlier, and was excited to study at the same school as her siblings.
Khaula as a Flower
Her family describes little Khaula as a flower. Even at that tender age, she was passionate about education and was outspoken about the right of girls to go to school. She helped weak classmates with their English and Urdu. She persuaded a professor in her neighbourhood to send his daughter to school, and despite his vehement opposition, he melted. He was swayed by Khaula and her sweet words.Her family is shattered. Her mother says she will never recover from the loss of her precious daughter.[4] Khaula as a Flower 
Shahzad Ijaz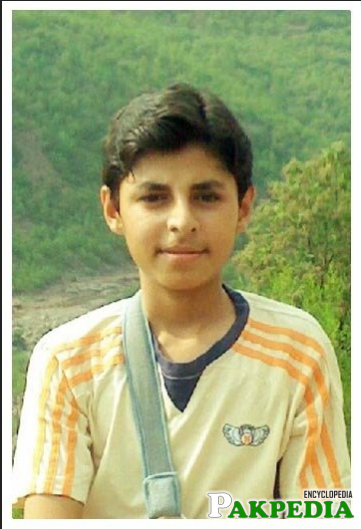 Age: 12
Class: 8
Son of Mian Ijaz Ahmed and Tahira Ijaz
Siblings: Hina Ijaz (16), Zakriya Ijaz (12) and Bisma Ijaz (9)
Polite and studious, Shahzad had dreamed of becoming an airforce pilot. Rashid Minhas was his role model. Shahzad would collect pictures of the airforce, and loved reading books about fighter jets and air combat.Shahzad enjoyed playing sports, especially cricket. Ahmed Shahzad was his favourite player. His younger brother Zakriya, who is a student at the APS, recalls how once in grade 7 Shahzad injured his arm during a football match but didn't quit playing despite the fracture.
On the Day of Attack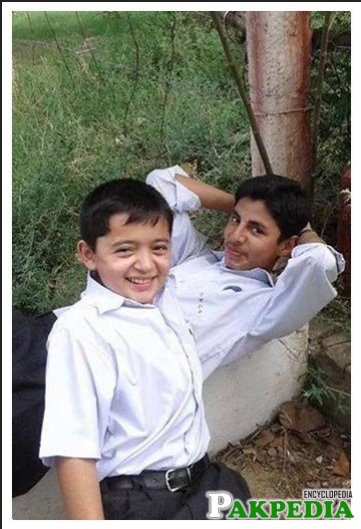 On the day of attack, Shahzad had woken up early, eager to put on his new clothes. The clothes were for his upcoming interview for PAF College. Shahzad had passed the college test with 90 per cent marks. The result arrived seven days after his passing.[5]  On the Day of Attack 
Shahzeb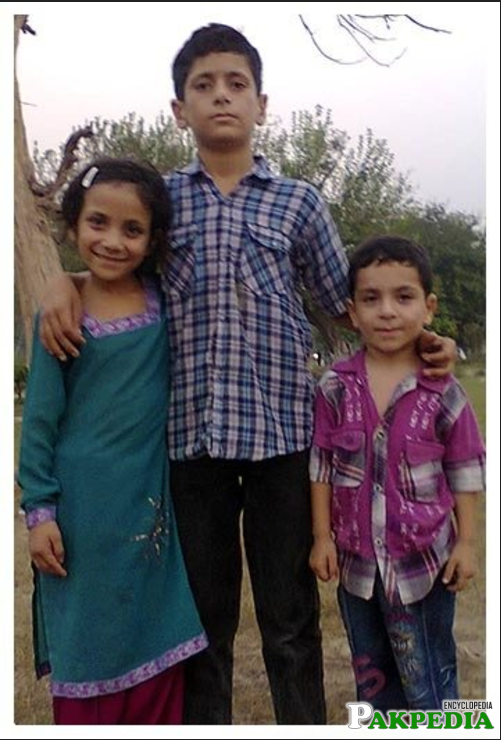 Age: 12
Class: 8
Son of Nazir Ahmed and Shahnaz
*Siblings: Laaraib (9), Shawaiz (6) and Shaheer (1)
Shahzeb always rushed home from school to dive into his computer games. He would save all his pocket money to buy CDs of the latest titles. When he switched off from the gaming world, he would listen to music and also read books.Young Shahzeb also performed well when it came to his studies and secured high marks in his last exam. He won several medals in academics and extra-curricular activities.
Brave Boy
Remembered by his father as a brave boy, Shahzeb chose the lives of his friends over his own. His classmate Samiullah says Shahzeb saved him and their other friends during the massacre.
[6]  Shahzeb 
Ziaullah Islam
Age: 12
Class: 8
Son of Naik Abdul Qadir and Nishaat Qadir
*Siblings: Shehnaz Shabnam (17), Moin ul Islam (15), Nayab Sadaf (13), Aiman (9) and Muhammad Talha (6)
Ziaullah wanted to become an electrical engineer when he grew up. He never missed the opportunity to try and repair electrical appliances at home.Ziaullah's teacher recalls that the boy loved maths, and always talked about wanting to invent interesting machines such as an electric car.Naturally, Ziaullah was an avid fan of the racing game Need for Speed.He was very close to his mother and called her his best friend. One of his favourite activities was visiting the bazaar inside Peshawar Cantonment to sip on hot corn soup with his brother.