He was born on 17 February 1951. He was commissioned as a pilot in the Pakistan Air Force in 1971. Pilot Officer Rashid Minhas was taxiing for take off on a routine training flight when an Instructor Pilot forced his way into the rear cockpit, seized control of the aircraft and took off. When Rashid Minhas realised that the absconding pilot was heading towards India, he tried to regain control of the plane but was unable to do so. Knowing that it meant certain death, he damaged the controls and forced the aircraft to crash thirty-two miles short of the border on 20 August 1971[1] Officer Rashid Minhas –  Pakistan
| Title | Description |
| --- | --- |
| Personal | |
| Name: | Rashid Minhas |
| In Urdu: | رشید منہاج شہید |
| Nationality: | Pakistan |
| Residence: | Karachi, Sindh, Pakistan |
| Education: | St Patrick's High School, Karachi, University of Karachi |
| Religion: | Islam |
| Profession: | Soldier |
| Awards : | Nishan-e-Haider |
| Born | |
| Date: | 17 February 1951 |
| Place: | Karachi, Sindh, Pakistan |
| Family | |
| Parents: | Majeed Minhas, Rasheeda Minhas |
| Siblings : | Anjum Minhas, Rukhsana Minhas, Farzana Minhas, Rahat Minhas, Farida Minhas |
| Died | |
| Date: | 20 August 1971 |
| Rest Place: | Thatta, Sindh, Pakistan |
| Details | |
| Allegiance: | Pakistan |
| Service/branch: | Pakistan Air Force |
| Years of service: | 1971 |
| Rank: | Pilot Officer |
| Unit: | No. 2 Squadron |
| Battles/wars: | Bangladesh Liberation War |
| Awards: | Nishan-e-Haider |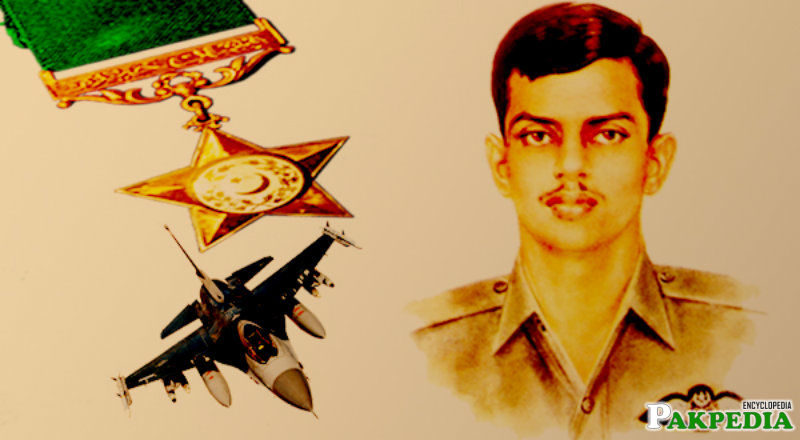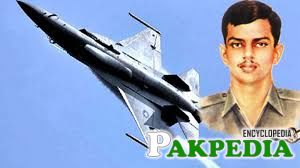 About
History
The youngest recipient of Nishan-e-Haider, Pilot Officer Rashid Minhas was born on February 17, 1951 in Karachi. While still under training, Minhas was taxiing for take-off on a routine flight on August 20, 1971 when an Instructor Pilot forced his way into the rear cockpit, seized control of the aircraft and took off.[2] Pilot Officer –  rashid_minhas
As soon as Minhas realised that the intruding pilot was heading towards India [3] Realising the futility –  Pakistan , he tried to regain control of the aircraft but could not manage it against the superior skill and experience of the seasoned instructor. With only forty miles to go to cross over into Indian territory, he made yet another effort to steer the aircraft back to the base. Realising the futility of the struggle, Minhas resorted to the only honourable course open to him: he so interfered with the controls as to render the Instructor Pilot helpless and force the aircraft to crash 32 miles short of the border, knowing that it meant certain death.
For the supreme sacrifice that he made for the honour of his country, Pilot Officer Minhas was awarded Nishan-e-Haider.[4] honour of his country, –  rashid_minhas
Masters of the sky
On August 20, 1971, as a pilot still under training, Rashid was taxing out a T-33 Jet trainer for take-off, when a Bengali pilot instructor, Flight Lieutenant Mataur Rahman, forced his way into the rear cockpit. In mid-air Rahman knocked Minhas out, seized control of the aircraft and headed towards India. [5] 20, 1971, as a pilot –  Rashid
With just 40 miles of Pakistan territory remaining, Rashid regained consciousness and tried to regain control of his aircraft. Failing to do so, he did the only thing within his control to prevent the aircraft from being taken to India — he forced that plane to crash just 32 miles from the Indian border, deliberately sacrificing his life for the honour of Pakistan.
Military
Rashid was laid to rest on August 21, 1971 with full military honours. The young trainee pilot's entire family attended the funeral, along with senior PAF and other Armed Forces personnel.[6] military honours –  Pakistan
Last Words of Rashid Minhas
Last words of Rashid Minshas Shaheed Nishan-e-Haider, [7]Last words  –  Rashid Minhas in his last conversation with control room just before collision of his jet trainer (while struggling to regain the controls) with land in Thatta, Sindh, Pakistan.
He was kidnapped by his defecting instructor Matiur Rahman, during his flight on 20th August 1971, to hostage in India just a few months before Indian invasion in East Pakistan (now Bangladesh) resulting Indo-Pakistani War of 1971 (3–16 December 1971) and separating East Pakistan (West Bengal) from Islamic Republic of Pakistan.[8] now Bangladesh –  Rashid Minhas
National Hero Rashid Minhas
Islamabad,  A national hero of Pakistan  Rashid Minhas Shaheed Nishan-e-Haider was remembered on his death anniversary on Tuesday. He was a Pilot Officer in the Pakistan Air Force (PAF) during the 1971 Pakistan-India War.[9] Rashid Minhas Shaheed  –  Pakistan
He sacrificed his life on August 20  1971 to save the honour of his beloved motherland and fail the evil designs of the enemy country. Rashid Minhas belonged to a famous Minhas clan of Rajput. He was born in Karachi. From an early age  Minhas was fascinated with aviation history and technology.[10] Rashid Minhas belonged –  Rajput.   He used to collect different models of aircraft and jets. He studied from Saint Mary's Academy  Lalazar and completed his O and A levels at the age of 18. He then attended Karachi University where he studied Military history and Aviation history.
Having joined the air force  he was commissioned on 13 March 1971 in the 51st GD(P) Course; on August 20 of that year  he was getting ready to take off in a T-33 trainer in Karachi when Instructor pilot  Flight Lieutenant Matiur Rahman  gained his way into the back of the plane. He had been reported to have been watching Minhas closely for many weeks for his being new  young and inexperienced. In mid-air  Rahman knocked Minhas out with the intention of defecting to India to join his compatriots in Bangladesh along with the plane.[11] joined the air force –  Rashid Minhas
45th martyrdom anniversary of Rashid Minhas
LAHORE (Web Desk) – The 45th martyrdom anniversary of brave and courageous Rashid Minhas is being observed today (Saturday).
Rashid Minhas was born on February 17, 1951 in Karachi and had his early education from St Mary's Cambridge School Rawalpindi. He was commissioned as Pilot Officer in Pakistan Air Force in 1971.
Minhas was taxiing toward the runway on a routine training flight when an instructor pilot, Flight Lieutenant Matiur Rahman, forced him to stop and seized the control of the jet. The aircraft was then took off and turned toward India.[12] toward India – Rashid Minhas 
Pilot Officer received message from PAF Base Masroor that he was being hijacked after which he tried to regain control of the plane but failed to do so.