Multan International Airport is located in west side of the Multan in the province of Punjab, Pakistan. It was built to provide airport services to the people of Multan, the airport increased much popularity because of the traffic from surrounding areas of Multan. Local rickshaws and taxi cabs join the airport to the city. There is a wide car parking area which can accommodate more than 400 vehicles. The airport provides both International & Domestic flight operations. The airport is very well organized and efficiently working nonstop round the clock, 7 days a week.
Multan International Airport is a civil and military airport which is serving V-VIPs, VIPs, foreign delegates, and business communities on everyday basis of being capital airport as well as civil organized operations for many airlines. Common people, foreign diplomats, government officials, as well as military officials are greeted at this airport.[1] Multan Airport
| Title | Description |
| --- | --- |
| Information | |
| Location: | Multan |
| Name: | Multan International Airport |
| In Urdu: | مُلتان بین الاقوامی ہوائی اڈہ |
| Serves: | Multan |
| Province: | Punjab, Pakistan |
| Address: | Airport Road، Multan 60000 |
| Code: | MUX |
| Type: | Public/Military |
| Owner: | Government of Pakistan |
| Operator: | Pakistan Civil Aviation Authority |
| Surface: | Concrete |
| Local Language Name: | English, Urdu, Saraiki |
| Coordinates : | 30°12?12?N 071°25?09?E |
| Latitude: | N 30° 12′ 11.60 |
| Longitude: | E 71° 25′ 08.80 |
| Elevation: | 403′ |
| Longest Runway: | 10500′ |
| Magnetic Variance: | E 1.0° |
| Fuel Type: | JET A-1 fuel is available |
| Oxygen: | Oxygen facilities are unavailable. |
| Repair Facility: | Repair facilities are unavailable |
| Landing Fee: | There is a landing fee. |
| Jet Start Unit: | A starting unit is not available at the airport. |
| Precision Approach: | Availability is Unknown. |
| Beacon Light: | A beacon light is not available. |
| Customs Facilities: | Customs are available without restriction |
| Usage Type: | Airport/Heliport is open to the public. |
| Time Zone Conversion: | -5:00=UTC |
| Daylight Savings: | Airport observes daylight savings time |
| Change Notices Available: | 1 |
| Ground Handling Agents: | Pakistan International Airlines, Shaheen Airport Services (SAPS), Airblue Ltd, Royal Airport Services (RAS), Gerry's dnata. |
| Website: | http://www.multaninternationalairport.com.pk |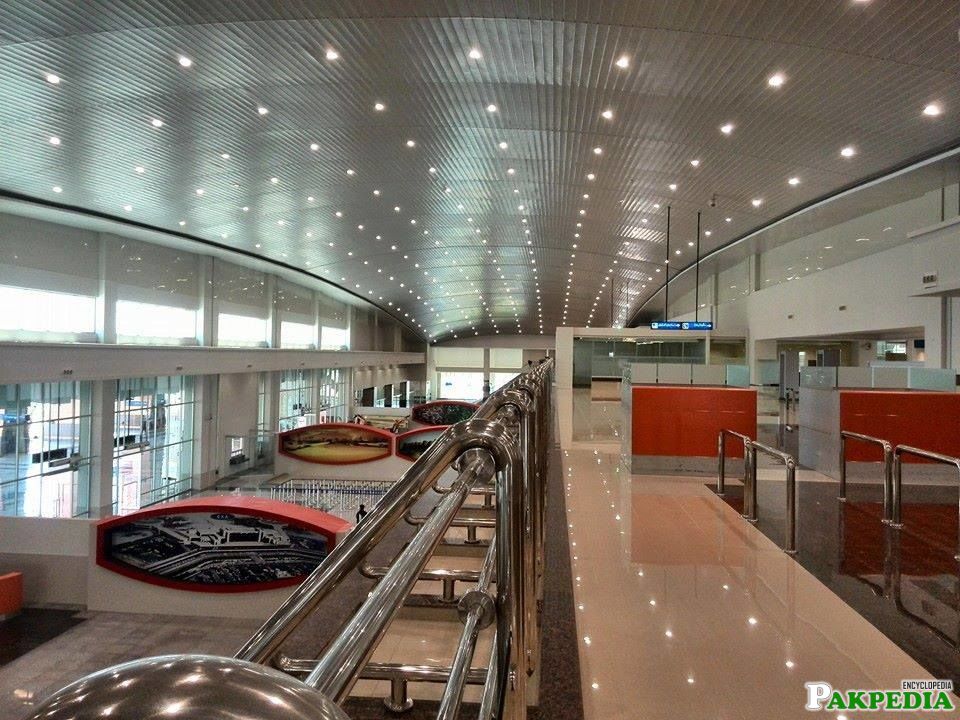 State Lounge
The airport also have the advanced CIP Lounge, State Lounge can be used by all first and business class passengers. The airport also introduced some dedicated ultramodern lounges. It has one business class lounge for premium passengers, one domestic economy class lounge, and one international economy class lounge.
There are a number of banks and ATMs that passengers can use at the airport. 
The Airport offers many services to its Passengers and visitors, it has many restaurants, beverage and snack counters, Duty-free shops, Mosque, mobile recharging and Wi-Fi / internet points for the ease of passengers & visitors. 
On ground handling Pakistan International Airline, Shaheen Airport Services (SAPS), Airblue Ltd, Royal Airport Services (RAS) and Gerry's dnata are its handling agents
Cargo Services are provided by Pakistan International Airline, International Cargo Service is provided by Emirates 
Multan Flying Club MFC is efficiently working as a flying institution in Multan 
(IATA: MUX, ICAO: OPMT)  [2] Multan Airport  Brief Summary
History
After the independence of Pakistan from the British raj, Pak Air, started operations from Multan Airport. In 1957, PIA started its operations from Airport. In 1963, due to growing numbers of flights and higher aircraft necessities, the runway, taxi-ways and aprons where constructed then new control tower was constructed to meet the technological changes. In 1971, as PIA had acquired Boeing aircraft, so the runway was extended to 2,743 by 30 m to handle more aircraft and more passengers at a time. The terminal building was also extended in 1977.
In 1980–1988, the airport runway was braced for the arrival of the Airbus A300. Pakistan Civil Aviation Authority upgraded the airport in 2005. The runway was upgraded.
In 2010, PM Yousuf Raza Gilani carried out the ground breaking ceremony for the terminal building and inaugurated the first PIA flight.
In June, 2010 achievement of new rigid runway of 10500 feet length prepared with Cat-I AFL system and ILS / localizer system. In January, 2011 new Fire station was started including 8 x garages to meet the ICAO Fire Category-9. In July, 2011 new apron was started which was capable of handling 2 wide body and 2 narrow bodied aircrafts. In April, 2012 AFL operation was Shifted of to new vault room.
In May, 2012 ASF staff colony was completed and in June, 2013new ATC tower was fixed.
In September, 2013 new car parking facilities and its operations for straight reporting of Hujjaz at the airport with discontinuation of Haji Camp. In October, 2013there was an Inauguration of new CAA Mosque by DGCAA.
Airline History
Since this Airport has been constructed so many airlines all over the world are being part of it after Pakistan's liberation. Here are the names of some big Airlines:
From Asian Airlines including Middle East: Air India, Sri Lankan Airlines, Kazakhstan Airlines, Uzbekistan airlines, Syrian Airline, Jordanian airline,  Kyrgyzstan Airlines, Kuwait Airways, Saudi Arabian Airlines, Qatar Airways, Kuwait Airways, Gulf Airways, Garuda Indonesia, Japan Airlines, Singapore Airlines, Thai Airways, Malaysian Airline, Philippine Airlines etc…
From Europe: Lufthansa, Swiss Air, Scandinavian Airlines, KLM Dutch Airlines, Air France, 
From Australia: It was only Qantas Airlines which was operating from Australia.
CIP Lounges
One business class lounge for premium passengers.
One domestic economy class lounge.
One international economy class lounge.
One CIP lounge for VVIP and foreign diplomats.
Subway, Pizza Hut, Dunkin Donuts, refreshment and gift shops available within lounge.
Duty Free shops available at international arrivals & international departure lounge.
Free internet WiFi Facilities powered by Wateen Telecom.
Mobile charging stations within departure lounge provided by Voice Mobile / United Mobile Pakistan
Prayer rooms available in the Departure Lounge separately for Ladies & Gents. [5] CIP Lounge  [6]CIP Lounge of Multan Airport
Accidents History

On 10 July 2006 a Fokker F-27 Friendship, Flight PK688  suffered engine problems suddenly after take-off, because of this problem the pilot loosed control to the aircraft and the aircraft crashed in a nearby ground that was grassy, because of the grassy ground it caused it to catch fire. All 54 passengers and crew members were dead. Poor maintenance work and poor handling of the emergency situation by cockpit crew are blamed for the accident in report on CAA website.All 45 people aboard the aircraft including 4 crew members died in this accident. A person on the ground also died. [7] Accident History  [8] History of Accidents
Airline Check-In
All International departing passengers are required to check the validity of passport and ticket information prior to the departure. Also passengers are required to check the information on security, immigration and customs from the airport website prior to the departure.
To ensure a smooth departure from MIAP Airport, passengers are advised to check information on guidelines for liquids, aerosols and gels in carry-on baggage on airport website when packing baggage.
Departing passengers are advised to arrive at the airport 01 to 02 hours (for Domestic Flights) and 04 hours (for International Flights) prior to the scheduled time of departure of the flight.
Passengers can find the location of check-in counters for their respective airline on the display monitors located in briefing area on top of the briefing counters.
Services Facilities
Air Conditioning
Beverages (non-alcoholic)
Disabled Access
Flight Information Monitor
Internet/WiFi
Newspapers/Magazines
Telephone
Television [10] Services and Facilities