Markhor Goat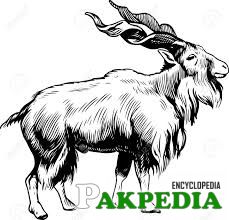 Markhor male Capra falconeri
Markhor Goat by *HouseofChabrier on deviantART
Markhor Goat is an animal that is as much an icon of Kashmir as the beautiful Dal Lake and its shikaras.
Markhor goats of Pakistan
MarkhorHabitat
The markhor prefers arid cliffside habitats in sparsely wooded mountainous regions as well as the Middle Asian Mountains Temperate Forests. Markhors try to avoid deep snow.
Markhor Diet
Markhors are grazing animals in the summer and browsing animals in the winter. The markhors diet consists of tussocks of grass, leaves and other vegetation. Like the Ibex, they stand on their hind legs to eat leaves and shoots from trees. The markhor forages 8 – 12 hours daily and it is usually active all day except for several hours in the middle of the day, when it rests and chews its cud.
[2]
Markhor diet animalcorner.co.uk
Markhors Behaviour
Markhors are crepuscular (active at dawn and dusk), active early in the morning and late afternoon. Male markhors are generally solitary while females gather into herds of up to 9 individuals. Population densities in
Pakistan
range from 1 – 9 animals per square kilometre. The markhors alarm call resembles the call of the common domestic goat. Markhors are agile and nimble creatures that can climb and jump over rocky terrain with ease. In the winter months the markhor descends to lower altitudes to avoid extreme cold. Main predators of the markhor include the wolf, snow leopard, leopard, lynx and humans.
Relationship with the domestic goat
Certain authors have postulated that the markhor is the ancestor of some breeds of domestic goat. The Angora goat has been regarded by some as a direct descendant of the Central Asian markhor.Charles Darwin postulated that modern goats arose from crossbreeding markhor with wild goats. Evidence for markhors crossbreeding with domestic goats has been found. One study suggested that 35.7% of captive markhors in the analysis (ranging from three different zoos) had mitochondrial DNA from domestic goats. Other authors have put forth the possibility of markhor being the ancestor of some Egyptian goat breeds, due to their similar horns, though the lack of an anterior keel on the horns of the markhor belies any close relationship.The Changthangi domestic goat of Ladakh and Tibet may derive from the markhor. The Girgentana goat of Sicily is thought to have been bred from markhor, as is the Bilberry goat of Ireland. The
Kashmiri
feral herd of about 200 individuals on the Great Orme limestone headland of Wales are derived from a herd maintained at Windsor Great Park belonging to Queen Victoria.
[3]
The great orme kashmiri goat llandundo.com
Fecal samples taken from markhor and domestic goats indicate that there is a serious level of competition for food between the two species. The competition for food between herbivores is believed to have significantly reduced the standing crop of forage in the Himalaya-Karkoram-Hindukush ranges. Domestic livestock have an advantage over wild herbivores since the density of their herds often pushes their competitors out of the best grazing areas. Decreased forage availability has a negative effect on female fertility.
[4]
Markhor bookgoogle.com
Markhor Reproduction
Mating season begins when the male markhors enter into 'rut' and fight for the attention of the females. Fights involve horn locking and then twisting and pushing until one male falls over. Markhors reach maturity at around 18 – 30 months. Mating season occurs during winter. The females gestation period lasts 135 – 170 days after which 1 to 2 young (kids) are born. Markhor kids are weaned at about 5 – 6 months. The life span of a markhor is at least 12 – 13 years.
More Imformation About Markhor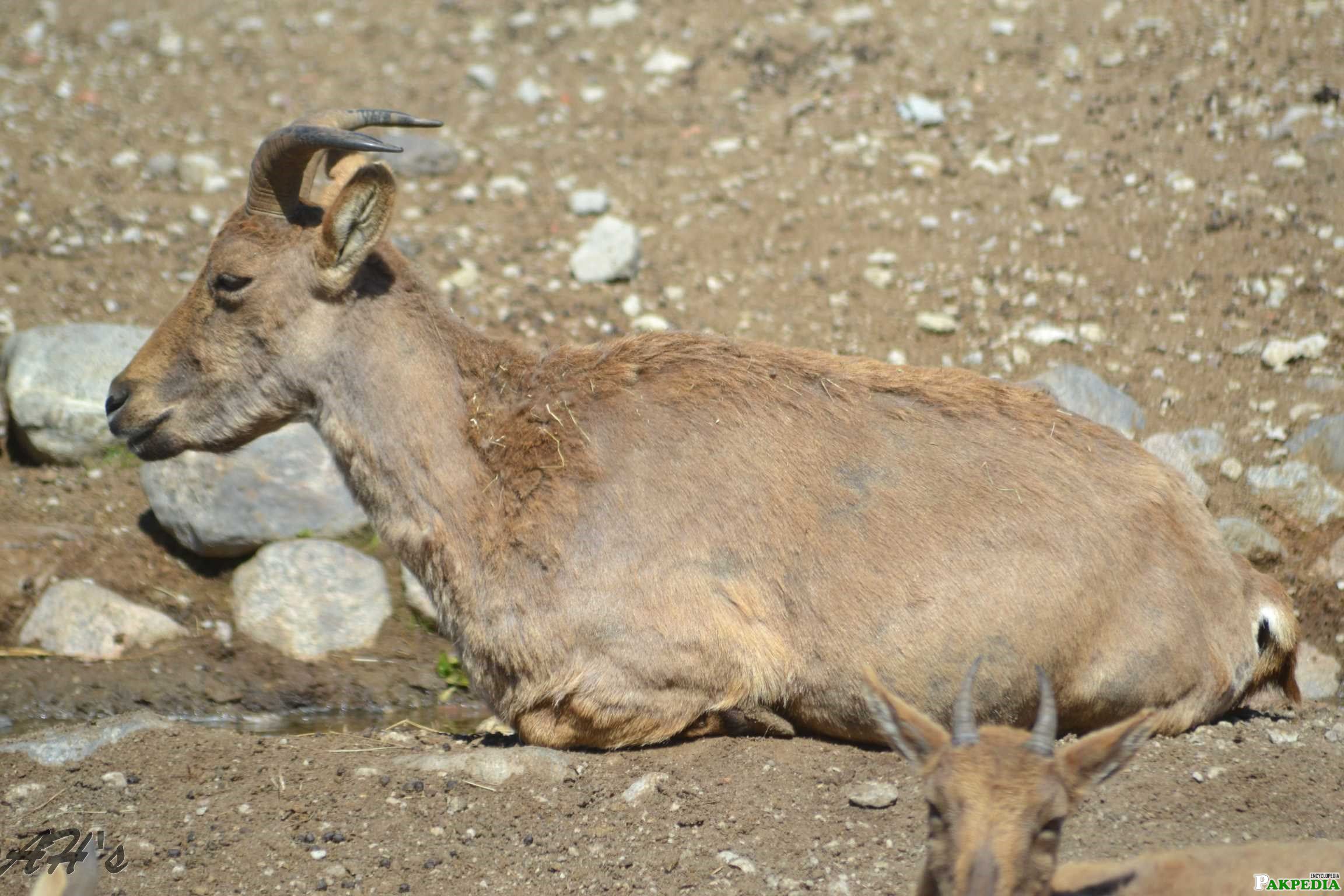 WWF-Pakistan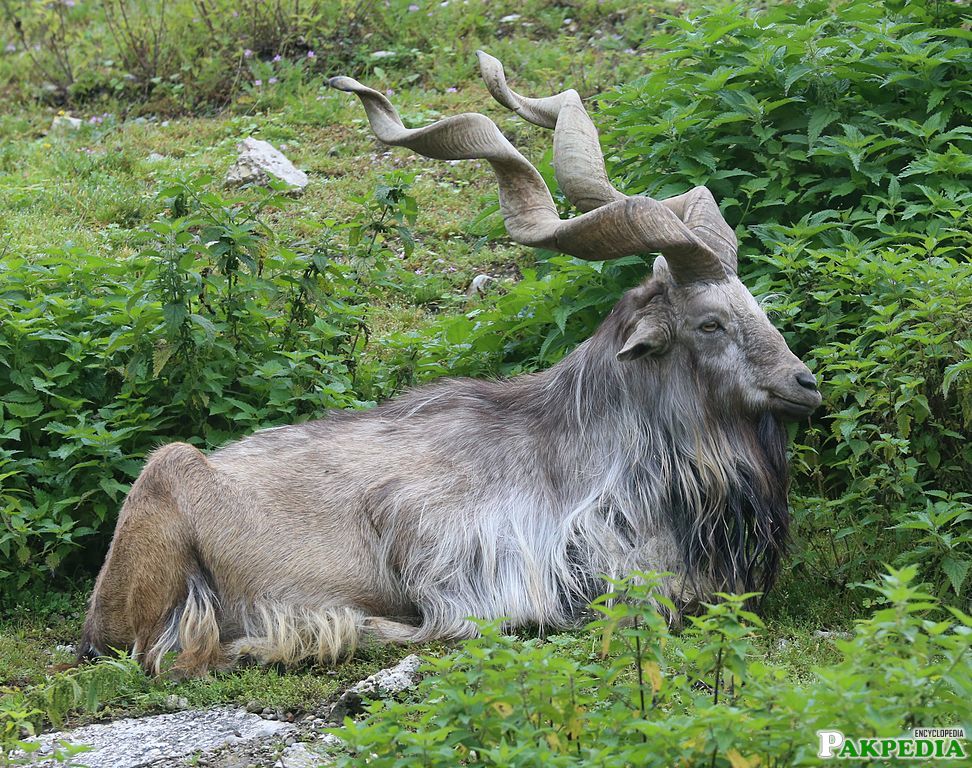 The conservation efforts of markhor has suffered mostly from the lack of basic knowledge regarding its ecological requirements, distribution, status and the lack of a comprehensive management strategy.Limited knowledge is available about the various ecological aspects of the species which once occupied mountainous terrain throughout its range in the northern up to an elevation of 3,000 masl (Roberts, 1997; Hess et al., 1997).  The conservation and effective management requires information on population growth and structure, feeding habits and the habitat, selection of summer and winter zones, occurrence of disease from domestic livestock, inbreeding risks and competition with domestic livestock.
[5]
Markhor About - WWF
Threats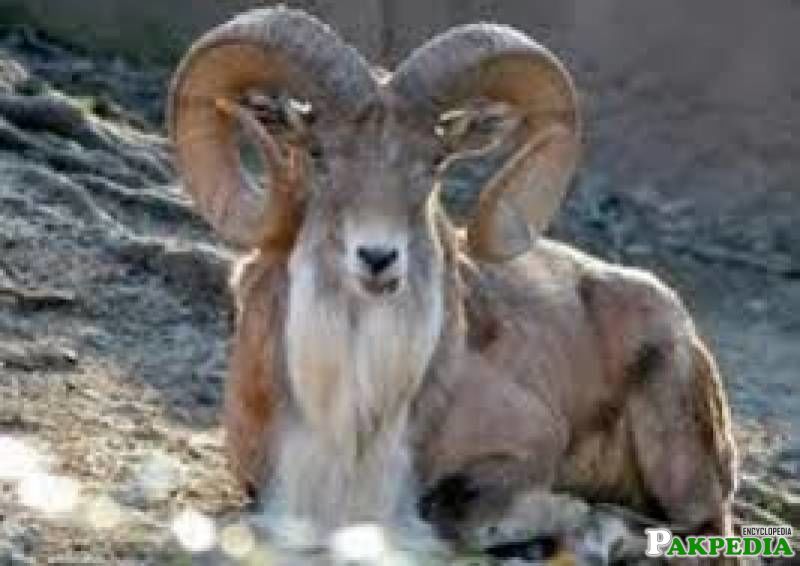 Markhor are potential prey for
snow leopards
, brown bears, lynx, jackals, and golden eagles. While not directly causing their endangerment, the already small population of markhor is further threatened by their predation. Hunting for meat as a means of subsistence or trade in wildlife parts adds to the growing problem for wildlife managers in many countries. Poaching, with its indirect impacts as disturbance, increasing fleeing distances and resulting reduction of effective habitat size, is by far the most important factor threatening the survival of the markhor population. The most important types of poachers seem to be local inhabitants, state border guards, the latter usually relying on local hunting guides, and Afghans, illegally crossing the border. Poaching causes fragmentation of the population. into small islands were the remaining subpopulations are prone to extinction. The markhor is a valued trophy hunting prize for its incredibly rare spiral horns which became a threat to their species. The continuing declines of markhor populations finally caught the international community and became a concern.
[6]
Markhor dailytime.com
Markhor Conservation Status
The markhor is classed as an endangered species by the IUCN, meaning it is in danger of facing extinction in the near future if conservation efforts are not maintained. Numbers between 2,000 and 4,000 exist in the wild. There are 5 sub species of markhor:
Kashmir Markhor (Capra falconeri cashmiriensis)
Astor Markhor (Capra falconeri falconeri)
Bukharan Markhor (Capra falconeri heptneri)
Sulaiman Markhor (Capra falconeri jerdoni)
Kabul Markhor (Capra falconeri megaceros)
Each subspecies has its own status: both Capra falconeri falconeri and Capra falconeri megaceros are endangered, while Capra falconeri heptneri is critically endangered. The reasons for the markhors decline include intensive hunting (for trophies, meat and the Asian medicine market), disturbance and loss of habitat due to expanded human settlement and competition from domestic livestock.
[7]
Markhor animalcorner.co.uk
Key Facts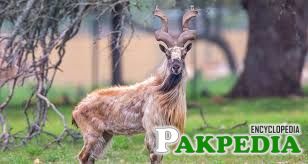 Schaller (1977) recorded shoulder height of 102 cm, 104 kg average weight, 143 cm average maximum horn length with a record horn length of 165 cm of Kashmir type while 97 cm shoulder height, 82 cm average maximum horn length with a record horn length of 123 cm for straight-horned markhor.Markhor has been listed as endangered in the International Union for the Conservation of Nature (IUCN) Red List.
[8]
Key Facts - Animal
What you can do to help
Following biodiversity conservation projects were launched with a focus on Markhor Conservation. These include:
Protected Areas Management Project (Chitral Gol National Park)
Markhor "Trophy hunting programme" in Kaigah valley -Kohistan
Snow leopard conservation programme with focus on Markhor conservation as prey base
Supporting the awareness raising initiatives of WWF- Pakistan