Lahore Zoo was recognized in 1872. It's located on the Mall road Lahore it's very popular in public, who often bring their children to enjoy the view of various animals. Its most famous resident is the elephant "Suzi". Lahore zoo is biggest zoo of country it's the main center of attention for thousands of kids living in Lahore and in different cites Pakistan[1] Lahore Zoo Title
| Title | Description |
| --- | --- |
| Information | |
| Location: | Mall Road, Lahore, Punjab, Pakistan |
| Name: | Lahore Zoo |
| In Urdu: | چڑیا گھر |
| Nick Name: | Zoo |
| No. of species: | ~140 |
| Annual visitors: | 3 million |
| Memberships: | South Asian Zoo Association for Regional Cooperation |
| Major exhibits: | Elephant House, Giraffe House, Tiger House |
| Established: | 1872 |
| Land area: | 25 acres (10 ha) (0.1 km²) |
| No. of animals: | ~1400 |
| Nickname: | Chirya ghar |
| Lahore Zoo Currently Managed: | Wildlife and Parks department of the Government of Pakistan. |
| Today the zoo houses a collection: | About 1380 animals of 136 species |
| Lahore Zoo was the host: | Fifth annual conference of SAZARC in 2004. |
| Elephant house is modeled : | Pattern of elephant house at London zoo featuring elephants, rhinoceroses and hippopotamuses |
| Most Attractive: | Monkey house comprising of two blocks with three and four cages and also the Leopard house in the conventional design, as seen in many zoos. |
| Birds: | Peasantry which houses birds like cockatoo budgerigars and other parrots. |
| Lahore Zoo timings : | From 9 AM in the morning till 7 PM in evening |
| Type: | Zoo |
| Local Language Name: | Urdu, Punjabi |
| Coordinates : | 31.556006°N 74.325959°E |
| Website: | www.lahorezoo.com.pk |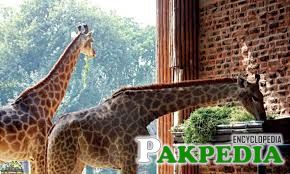 History
Lahore Zoo was somewhere started in 1860s in the form of menagerie and properly established as a zoo with addition of aviary donated by Lala Mela Ram in 1872, hence one of the oldest zoos in the world. It remained under the management of Lahore Municipal Committee from 1872 to 1921. Thereafter, its control was transferred to Deputy Commissioner and Commissioner, Lahore and was managed through a Zoo Advisory Committee until 1962.  Then its management was placed with West Pakistan Agriculture Department and afterwards with the Livestock and Dairy Development Department. Finally the management of Lahore Zoo was entrusted to the Wildlife & Parks Department in 1982 and is presently governed by Zoo Management Committee (ZMC) of Lahore Zoo constituted under Punjab Zoos & Safari Parks Rules 2012.
Since its transfer to Wildlife Department in 1982, a number of major changes in housing the exhibits, layout of buildings, landscape pattern, administration etc were took place. With these initiative/development it become a self-financed organization meeting all its expenditures from its own resources.  It is located in the heart of the city and is easily accessible to the people belonging to all walks of life and annual turnover of visitors is about 4.5 million.
Presently, Lahore Zoo houses about 1200 animals of 120 species, including a number of primates, big cats, deer, antelope, ratites, reptiles and birds. Lahore Zoo can boast of a collage of old and young trees; 900 trees of 60 species make the environment worth living and visiting; a complete ecosystem with at least 30 wild birds species at one time and about 100 species during the year besides the small mammals, reptiles, amphibians and the invertebrates; unique in Lahore.[2] Lahore Zoo History
About Lahore Zoo
Lahore Zoo was established in 1872, and is presently one of the largest zoos in South Asia. It is currently managed by the Wildlife and Parks department of the Government of Pakistan. Today the zoo houses a collection of about 1380 animals of 136 species. Lahore Zoo was the host of the fifth annual conference of SAZARC in 2004. Lahore Zoo is also thought to be the third, and sometimes fourth, oldest zoo in the world. Vienna Zoo of Austria, established in 1752 as a menagerie, was opened to public as a zoo in 1779. London Zoo of England, established in 1828, was opened to public in 1847. The Alipore Zoo of India, established sometime in the early 19th century, was opened to public as a zoo in 1876. [3] Lahore Zoo About
Animals at Lahore Zoo
In the Lahore Zoo animals, there is a collection of about 1380 animals of 136 species. The lion house is the probably the oldest structure retained in the zoo and is the most attractive building of olden type comprising seven dens at the back. Besides, the elephant house is modeled on the pattern of elephant house at London zoo featuring elephants, rhinoceroses and hippopotamuses. Then we have the most attractive Monkey house comprising of two blocks with three and four cages and also the Leopard house in the conventional design, as seen in many zoos. For the birds there is a peasantry which houses birds like cockatoo budgerigars and other parrots.[4] Lahore Zoo Animals
Zoo Management
Some Important Functions / Powers of ZMC
To provide support in preparation of budget, propose and oversee execution of schemes for improvements.
May prepare development project up to the value of Rs. 10.000 millions.
Keep regular check on treatment given by the staff to the wild animals & improve their management practices through meaningful interventions.
Promote research and educational  studies, surveys and scientific experimentation
Framing rules and by-laws for maintaining of accounts, provident fund, gratuity and any other relevant matter.
Abolition or retrenchment of any existing post and creation or revival of any new or old post.[5] Lahore Zoo Managements
Facilities
Aviary
Camel Ride
Horse Riding
Jumping Castle
jungle Cafe
Mechanical Elephant Ride
Museum[6] Lahore Zoo Facilities
Adoption program
The administration of Lahore Zoo has introduced an adoption program, whereby, interested parties, be they members of the public, corporations or other organizations get to adopt the animal(s) of their choice. Prospective foster parents are expected to bear the cost of feeding expenses of the animal for that particular time period.
Take a share in the costs of Lahore Zoo's massive animal food bill over Rs.23.000 Million and play a direct part in the Zoo's welfare
Alongwith a great feeling that doing something practical to aid in conservation at one of the best and oldest zoo of South Asia, you get:
Recognition certificate
Zoo Education Material
Free visit of Lahore Zoo during adoption period
Adopters name plates/message will be displayed at cage/enclosure.
Through this you can reach 4.5 Million annual visitors of Lahore Zoo.[7] Lahore Zoo Adoption Program
Safari Park
Lahore Zoo Safari was started in January 2009 and it's also called Woodland Wildlife Park. Safari is located at 30 miles from Lahore Zoo and species include emu, lion, mute swan, nilgai, ostrich, silver pheasant, Bengal tigers, common pheasant and Indian peafowl. The park had been through managerial chances and shifts because of poor staff performance. New staff has been doing excellent job and constantly working thgather to improve the park. Ticketing system has been introduced recently in the park to make it a self-financed organization.[8] Lahore Zoo Safari Park
Public Service
Maps and instruction boards are placed in zoo for guiding and educating the visitors. In early 2008, umbrella benches, drinking water coolers, new dust bins, pavements and the cafeteria were added and old ones were renovated as part of basic structural updates.[9] Lahore Zoo Public Service
Education
Kiran Saleem is the education officer of Lahore Zoo. The zoo organizes guided tours for schools and colleges as well as placing info boards to educated visitors about animals and plants housed in the zoo. Now children can touch animal parts like skin, horns, eggs and feathers since touch tables have been set up by the zoo administration. The zoo has also prepared posters to aware people about endangered species in Pakistan such as Indus River Dolphins.
In 2009, zoo distributed regarding importance of vultures in the ecosystems and reasons of rapid declination of Indian white-rumped vultures.
In recent years, zoo has been celebrating world animal day and world environmental day. For the first time in the history of Lahore Zoo, it started publication, a newsletter, as a part awareness and education programme.[10]Lahore Zoo Education
Strange Events
Daily Times of January 2, 2009 – Killer Zebra  A zebra attacked a female giraffe in the city zoo on Thursday afternoon and killed it in presence of zoo staff and dozens of visitors. According to sources, three giraffe, a male and two females, were imported from Australia in 2007 at a cost of Rs 7.4 million and were kept in one compound without keeping in view the risk factors. An inquiry committee has been set up to investigate the incident. It will present its report to the Wildlife Department director general in a couple of days.
Tribune of May 8, 2011 – Reema vs Lahore Zoo : Zoo director Zahid Bhatti said a couple of months ago, Reema had adopted the deer and was nominated as the ambassador of the zoo. As per the rules, anyone who adopts an animal from the zoo has to pay for at least one year's upkeep. However, Reema is yet to pay Rs40,000 that she owes the Zoo. In a latest statement from Reema, the actor has threatened to sue Zoo authorities for demanding the money. 
ITTaleem of March 27, 2013 – Lion vs Lioness : It is reported today from Lahore zoo that the lion and lioness living in the same cage got into fight tonight. And while fighting the lion attacked the lioness and got her neck. Both of them attacked each other very much but at last the lioness was killed because of injuries in neck and because of choking. The fight was done at night and according to the zoo management they didn't have a chance to do anything. The body of lioness has been sent for the post mortem and the lion is under treatment because of the wounds he got. According to the zoo management they both had good relations and were friendly towards one another and got in to fighting due to unknown causes. And the decision of either to keep this lion with some other animal in the same cage or not is not yet decided. 
TribuneIndia of Nov 22, 1999 – Zoo Bear Devours Child : A black Himalayan bear today killed an 18-month-old boy in a zoo in Lahore, the police said. The child, who was with his parents, tried to shake hands with the caged bear. But the animal pulled the boy into the cage and tore him apart, the police said. Witnesses said the boy identified as Abdullah died in front of his screaming parents. An angry crowd tried to kill the bear but the police intervened to bring the situation under control. A zoo official blamed the parents for allowing the boy to touch the animal. 
Dawn of April 9, 2007 – Stray Dogs Kill 28 Peacocks: Two stray dogs have killed 28 caged peacocks in the `well-guarded' Lahore Zoo. The zoo administration has quietly removed the dead birds and repaired the broken cage. According to Zoo director Yousaf Pa, the watchman of the cages had gone to offer Fajr prayers when the dogs sneaked in. "When he came back half an hour later, he found the dogs were killing the peacocks. By the time he managed to get the dogs out of the cage, they had killed 28 peacocks."The director said the watchman had been suspended and asked to deposit Rs66,500.Mr Pal said that all birds were four to five years old. Eighteen of them were of common variety, while nine were of black shoulder and one white.
Dawn of March 28, 2009 – Lahore Zoo & Smugglers : March 27 At least four white tigers (color variation of the Royal Bengal Tigers (Panthera tigris) and are a very rare and endangered species) have been brought into the country from Indonesia without necessary import documents, and two of them sold to the Lahore Zoo at 70 times their normal price, it has been learnt. According to sources, the importer imported these tigers at around Rs50,000 per head and sold two of them to the zoo for around Rs3.8 million each, fuelling suspicion that either the supplier or the purchaser, or both, had earned huge profits at the cost of the public exchequer.[11] Lahore Zoo Strange Events
Contact information
Address:The Mall Road, Lahore
Email:[email protected]
Website: www.lahorezoo.com.pk
Phone: (0423) 6314684[12]Lahore Zoo contact Detail