Islamabad (Urdu: اسلام آباد)Combining a rich history, the confluence of many a civilization and temperate climate, Islamabad – the capital city of Pakistan, is one of the most beautiful cities in the South Asian region. Wide, tree-lined streets adorn the various sectors and zones of the city, making it accessible and spectacular. Administratively, the city is located within the Islamabad Capital Territory, which is federally controlled, even though historically Islamabad has been a part of the Punjab province; more specifically the Potohar Plateau. A meticulously planned city by renowned town planners Doxiadis Associates, Islamabad is the fastest growing city in terms of population, economy and urban development. As this trend continues, the city is shedding its reputation as a city without character, and is fast becoming truly metropolitan. [1]About City of Islamabad 
| Title | Description |
| --- | --- |
| Information | |
| Location: | Pakistan |
| In Urdu: | اسلام آباد |
| City Council: | Islamabad Metropolitan Corporation and Capital Development Authority (CDA) |
| Type: | Capital of Pakistan |
| Local Language Name: | Urdu,English,Arabic |
| Province: | None |
| Coordinates : | 33°43'N 73°04'E |
| First settled: | 1960 |
| Website: | www.islamabad.gov.pk |
| Union councils: | 50 |
| Highest elevation: | 620 m (2,000 ft) |
| Lowest elevation: | 490 m (1,610 ft) |
| Language | |
| Official Language: | Urdu, English |
| Native Language: | Urdu |
| Other Languages: | Urdu, Pothohari, Pashtu, Punjabi, English |
| Government | |
| Government Type: | Federal Government of Pakistan. |
| Capital City Police Chief: | Inspector General of Police – Tariq Masood Yasin |
| Mayor: | Sheikh Ansar Aziz Political party PML-N |
| Area | |
| City: | 906.00 km2 (349.81 sq mi) |
| Land: | 906.00 km2 (349.81 sq mi) |
| Population | |
| Rank: | 10 |
| City: | 1.9 million |
| Metro: | 2.2 million |
| Urban: | 1,829,180 |
| Time zone | |
| Time zone: | PKT (UTC+5) |
| Codes | |
| Postal code: | 44000 |
| Dialing code: | 051 |
| Vehicle registration: | IS |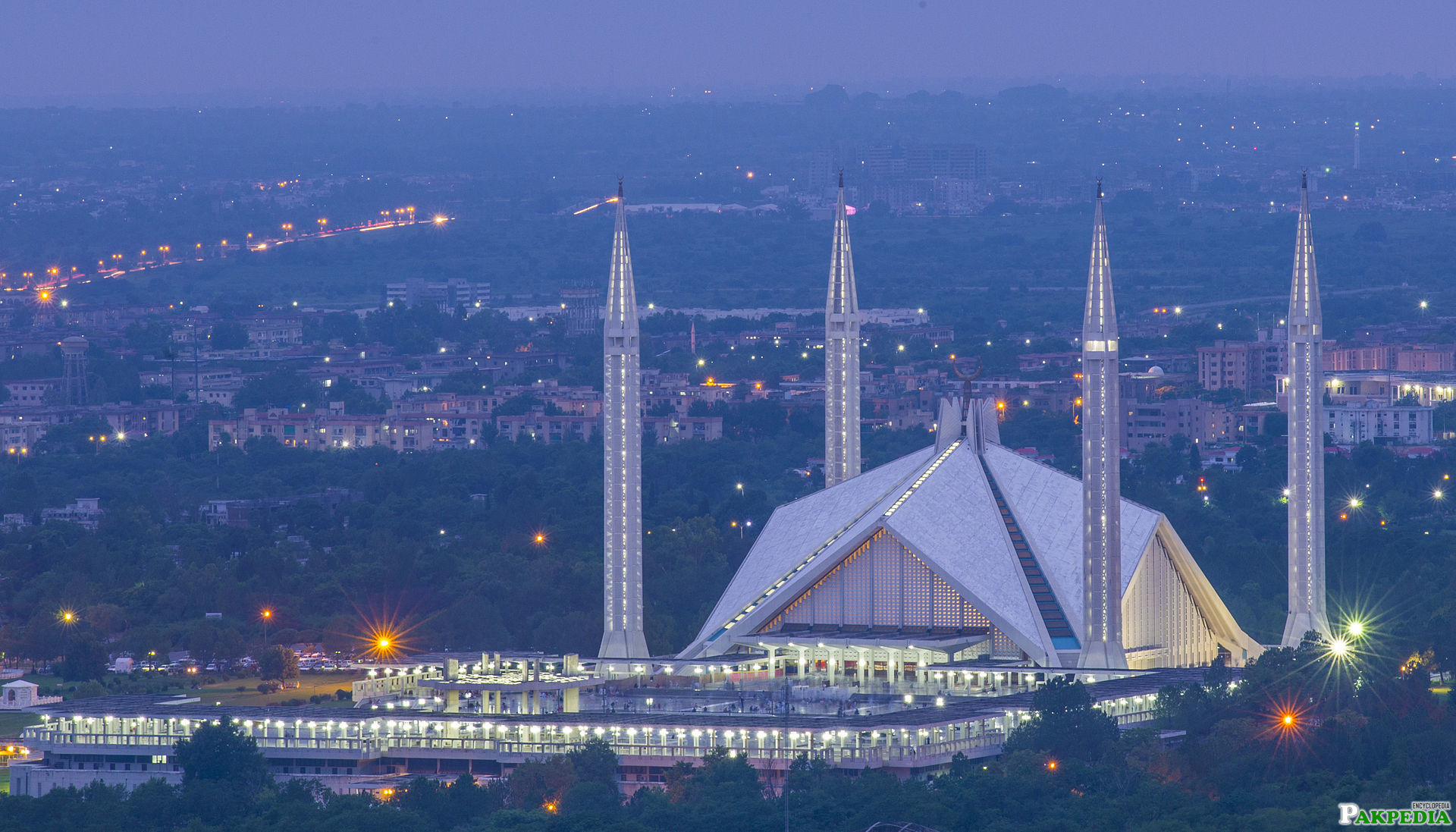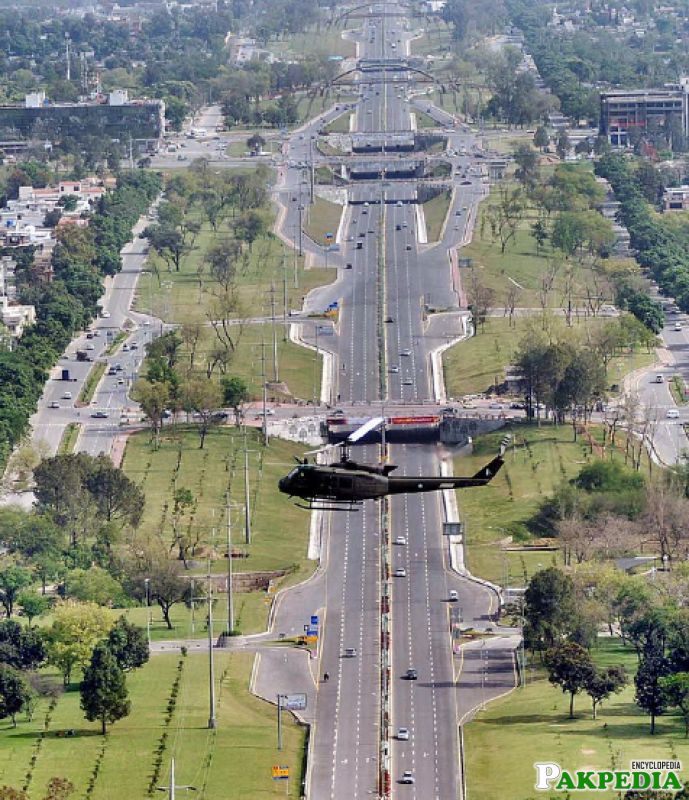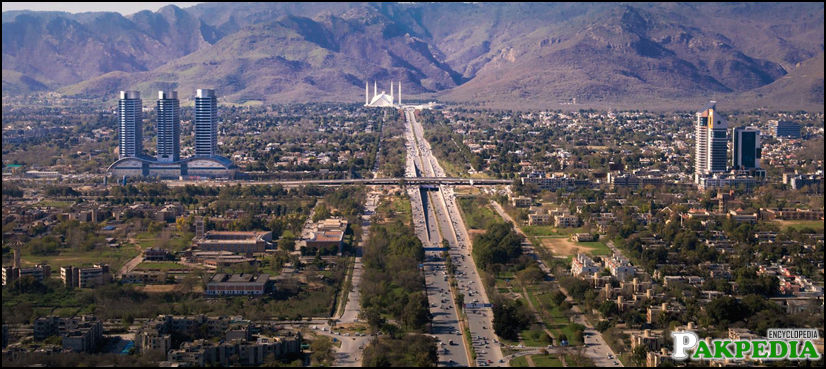 Islamabad History
The capital city of Pakistan, Islamabad is located in the northwest of the country on Potohar Plateau. This area has been significant in history for being a part of the crossroads of the Rawalpindi and the North West Frontier Province. The city was built in 1960 to replace Karachi as the Pakistani capital, which it has been since 1963. Due to Islamabad's proximity to Rawalpindi, they are considered sister cities.
Compared to other cities of the country, Islamabad is a clean, spacious and quiet city with lots of greeneries. The site of the city has a history going back to the earliest human habitations in Asia. This area has seen the first settlement of Aryans from Central Asia, ancient caravans passing from Central Asia, and the massive armies of Tamerlane and Alexander.
To the north of the city you will find the Margalla Hills. Hot summers, monsoon rains and cold winters with sparse snowfall in the hills almost summarize the climate of this area. Islamabad also has a rich wildlife ranging from wild boars to leopards.
After the formation of Pakistan in 1947, it was felt that a new and permanent Capital City had to be built to reflect the diversity of the Pakistani nation. It was considered pertinent to locate the new capital where it could be isolated from the business and commercial activity of the Karachi, and yet is easily accessible from the remotest corner of the country.
A commission was accordingly set in motion in 1958, entrusted with the task of selecting a suitable site for the new capital with a particular emphasis on location, climate, logistics and defense requirements, aesthetics, and scenic and natural beauty. [2] Islamabad History CDA Site 
Government
Islamabad is situated between the provinces of Khyber Pakhtunkhwa and Punjab but Islamabad is not a part of any province. The federal Government of Pakistan controls it and is one of the two federal Territories of Pakistan (the other being FATA) which is directly governed by the Federal Government of Pakistan.
Education
Islamabad boasts the highest literacy rate in Pakistan at 88%, and has some of the most advanced educational institutes in the country.[3] Literacy Rate Pakistan PDF  A large number of public and private sector educational institutes are present here. The higher education institutes in the capital are either federally chartered or administered by private organisations and almost all of them are recognized by the Higher Education Commission of Pakistan. High schools and colleges are either affiliated with the Federal Board of Intermediate and Secondary Education or with the UK universities education boards, O/A Levels, or IGCSE. According to Academy of Educational Planning and Management's report, in 2009 there were a total of 913 recognized institutions in Islamabad (31 pre-primary, 2 religious, 367 primary, 162 middle, 250 high, 75 higher secondary and intermediate colleges, and 26 degree colleges). There are seven teacher training institutes in Islamabad with a total enrollment of 604,633 students and 499 faculty.[4] Pakistan Education Statistics PDFÂ 
The Gender Parity Index in Islamabad is 0.93 compared to the 0.95 national average. There are 178 boys only institutes, 175 girls only, and 551 mixed institutes in Islamabad. Total enrollment of students in all categories is 267,992; 138,272 for boys and 129,720 for girls. There are 16 recognized universities in Islamabad with a total enrollment of 372,974 students and 30,144 teachers. Most of the top ranked universities; National University of Sciences and Technology, COMSATS Institute of Information Technology and Pakistan Institute of Engineering & Applied Sciences, also have their headquarters in the capital.The world's second largest general university by enrollment, Allama Iqbal Open University is located in Islamabad for distance education. Other universities include Air University, Bahria University, Center for Advanced Studies in Engineering, Federal Urdu University of Arts, Science and Technology, Hamdard University, National University of Computer and Emerging Sciences, Capital University of Science & Technology, National Defense University, Shifa Tameer-e-Millat University, National University of Modern Languages, Iqra University, International Islamic University, Virtual University of Pakistan, Muhammad Ali Jinnah University and The Millennium University College
Transportation
Airport
Islamabad is connected to major destinations around the world through Benazir Bhutto International Airport, previously known as Islamabad International Airport.[5] Islamabad – Benazir Bhutto International Airport The airport is the third largest in Pakistan and is located outside Islamabad, in Chaklala, Rawalpindi.In fiscal year 2004-2005, over 2.88 million passengers used Benazir Bhutto International Airport and 23,436 aircraft movements were registered.Islamabad Gandhara International Airport is under construction at Fateh Jang to cope with the increasing number of passengers. When completed, the airport will be the largest in Pakistan. The airport will be built at a cost of $400 million and is expected to be complete and operational by 2017. This will be the first green field airport in Pakistan with an area of 3,600-acre (15 km2).
Metro
This is called Pakistan Metrobus or Islamabad Metro/Pindi Metro) is a 22.5 km (14.0 mi) BRT system that serves the Islamabad Rawalpindi metropolitan area in Pakistan. It uses dedicated bus lanes for all of its route covering 24 bus stations. It was inaugurated on 4 June 2015 by Prime Minister Nawaz Sharif [6] Islamabad Metro Bus  Pakistan Times
Railway Station
Former Margalla Railway station is located in sector I-9 Islamabad. Which was basically established in 1979 and a rail shuttle was started between Islamabad and Rawalpindi, which was suspended within a year. the station was renovated and renamed as Islamabad Railway Station in 2009. It was expected that the station would meet the needs of students, employees and the general public, who are otherwise forced to catch trains from Rawalpindi. Addressing the inaugural ceremony on 13 May 2009, Minister for Railways Haji Ghulam Ahmed Bilour has said, This station is meant to provide social service instead of generating revenue. He had said that the publics response had been very encouraging, in total contradiction to what the ministry has to say today. He had also pledged that the station would be linked to other cities of the country.[7] Islamabad Railway Station Tribune
Motorway
M-2 Motorway is 367 km (228 mi) long and connect Islamabad and Lahore.M-1 Motorway connects Islamabad with Peshawar and is 155 km (96 mi) long.Islamabad is linked to Rawalpindi through the Faizabad Interchange, which has a daily traffic volume of about 48,000 vehicles. [8]National Highways  Authority 
Climate
Climate data for Islamabad (1961–1990)
Month
Jan
Feb
Mar
Apr
May
Jun
Jul
Aug
Sep
Oct
Nov
Dec
Year
Record high °C (°F)
30.1
(86.2)
30.0
(86)
34.4
(93.9)
40.6
(105.1)
45.6
(114.1)
46.6
(115.9)
45.0
(113)
42.0
(107.6)
38.1
(100.6)
37.8
(100)
32.2
(90)
28.3
(82.9)
46.6
(115.9)
Average high °C (°F)
17.7
(63.9)
19.1
(66.4)
23.9
(75)
30.1
(86.2)
35.3
(95.5)
38.7
(101.7)
35.0
(95)
33.4
(92.1)
33.5
(92.3)
30.9
(87.6)
25.4
(77.7)
19.7
(67.5)
28.6
(83.5)
Daily mean °C (°F)
10.1
(50.2)
12.1
(53.8)
16.9
(62.4)
22.6
(72.7)
27.5
(81.5)
31.2
(88.2)
29.7
(85.5)
28.5
(83.3)
27.0
(80.6)
22.4
(72.3)
16.5
(61.7)
11.6
(52.9)
21.3
(70.3)
Average low °C (°F)
2.6
(36.7)
5.1
(41.2)
9.9
(49.8)
15.0
(59)
19.7
(67.5)
23.7
(74.7)
24.3
(75.7)
23.5
(74.3)
20.6
(69.1)
13.9
(57)
7.5
(45.5)
3.4
(38.1)
14.1
(57.4)
Record low °C (°F)
−3.9
(25)
−2.0
(28.4)
−0.3
(31.5)
5.1
(41.2)
10.5
(50.9)
15.0
(59)
17.8
(64)
17.0
(62.6)
13.3
(55.9)
5.7
(42.3)
−0.6
(30.9)
−2.8
(27)
−3.9
(25)
Average  precipitation mm (inches)
56.1
(2.209)
73.5
(2.894)
89.8
(3.535)
61.8
(2.433)
39.2
(1.543)
62.2
(2.449)
267.0
(10.512)
309.9
(12.201)
98.2
(3.866)
29.3
(1.154)
17.8
(0.701)
37.3
(1.469)
1,142.1
(44.966)
Mean monthly  sunshine hours
195.7
187.1
202.3
252.4
311.9
300.1
264.4
250.7
262.2
275.5
247.9
195.6
2,945.8
Islamabad United Team

Islamabad United is a Pakistani professional Twenty20 franchise cricket team that competes in Pakistan Super League. Team is based in Islamabad the capital city of Pakistan.Team was formed in 2015, as a result of the formation of the Pakistan Super League by Pakistan Cricket Board (PCB). Team owners are Venture Capital Leonine Global Sports a group of investors from UAE. Team is currently captained by Pakistan's test captain Misbah-ul-Haq and coached by former Australian player Dean Jones while the former Pakistani fast bowler Wasim Akram is the director of the team while Assistant Coach is Pakistani off spinner Tauseef Ahmed. [9] Islamabad United Team 
Islamabad Zoo
The Islamabad Zoo will have a pair of tigers and lions soon as the civic agency has allocated funds in the current budget to get the missing animals. Visitors to the zoo were let down during Eid holidays when they did not find the big cats. The Islamabad Zoo has been without a lion after its pair of lions died almost four years ago after they had come of age. The only tiger of the zoo also died a few months back after developing a leg fracture.A senior CDA official claimed that the zoo administration has completed all preparations to get the missing animals including an elephant to pull more and more crowd. When contacted, CDA Member Environment Mustafeen Kazmi said that talks were under way with Singapore and Sri Lankan governments to purchase the elephant.The Islamabad Zoo's lonely elephant Kaavan has become the subject of a high-profile rights campaign backed by music icon Cher, but efforts to improve the pachyderm's lot appear limited. The 32-year-old Asian elephant is suffering from "mental illness", and without a better habitat his future is bleak even if a long-promised new mate finally arrives, experts told AFP. Outrage over Kaavan's treatment went global ─ with a petition garnering over 200,000 signatures ─ after it emerged he was being chained at the Islamabad Zoo in Pakistan's leafy capital. Zoo officials have said this is no longer the case, and that Kaavan just needs a new mate after his previous partner died in 2012. [10] Islamabad Zoo 
Ramada Hotel Islamabad
Ramada Hotel Islamabad is a luxury hotel located off Club Road in Islamabad, Pakistan. The hotel is in close proximity to Rawal Lake and boasts a roof top restaurant. Free WiFi service is available for guests. Ramada Islamabad's soundproofed rooms are fitted with electronic key locks, flat screen TVs with cable service, armchairs, air conditioning units, refrigerators, mini bars, and en-suite bathrooms with bathtubs. Guests can enjoy panoramic views of their surroundings from the balcony. Ramada hotel Islamabad also offers complimentary breakfast. Local and continental dishes may be ordered at the on-site restaurant. Guests may choose to dine at the lavishly furnished indoor restaurant or at the rooftop restaurant which offers extensive views of the city below. Ramada has a gym, a steam room, a spa, sauna, and an indoor swimming pool. Ramada Hotel offers laundry, car hire, airport shuttle, city shuttle, concierge, and money exchange services on-site. There is a well-equipped business center, an events hall, and a salon on-site. The premises are fitted with CCTV cameras, guarded by security personnel, and free parking is available in basic and valet options. [11] Ramada Hotel Islamabad 
The Monal Restaurant
The road to The Monal undulates along the thick verdure of the Margallas as if etched in emeralds. It opens up both to the local and tourist a panorama of Allah's glory. The Faisal Mosque and the white rise of the Constitutional Avenue melt away picturesquely into the bucolic horizons of the Punjab and the Frontier. Merely driving up to The Monal is an experience that the heart cherishes long after. Whether you choose to begin your journey whilst the sun shines down on the hills, or whether you prefer the romance of a moonlit drive, your experience shall remain unforgettable.
Benazir Bhutto International Airport
Benazir Bhutto International Airport (BBIAP) named after the then Prime Minister of Islamic Republic of Pakistan on 21st June 2008 is the third-largest and busiest airport of Pakistan, serving both, the domestic and international passengers.
BBIAP, commenced operation during 1948 and over a period of time various structural / design changes have been implemented within the available space and as on today the airport is capable to handle all types of aircraft upto category E.
The airport is hosting the V-VIPs, VIPs, foreign delegates, and business communities on more frequent basis of being capital airport. In the year 2013–2014, over 4.279 million passengers used BBIAP through more than 34,000 scheduled flights of 18 different airlines. The airport has also processed in excess of 80,000 tons of Cargo mostly on international sector, despite sever space constraints.
The new Islamabad Airport, scheduled to be equipped with state of the art facilities, is being completed on fast track basis and therefore, available resources / infrastructure are being used optimally to help / assist the air travelers with least possible inconvenience [12] Benazir Bhutto International Airport 
Faisal Masjid
Faisal Mosque (Urdu: فیصل مسجد‎) is the mosque in  Islamabad ,  Pakistan . Located on the foothills of  Margalla Hills  in  Islamabad , the mosque features a contemporary design consisting of eight sides of concrete shell and is inspired by a Bedouin tent.The mosque is a major tourist attraction, and is referred as a contemporary and influential feature of Islamic architecture
The Faisal Mosque is the work of Turkish architect Vedat Dalokay, who won the Aga Khan Award for Architecture for the project. The mosque's architecture is modern and unique, lacking both the traditional domes and arches of most other mosques around the world.The mosque's unusual design is a departure from the long history of South Asian Islamic architecture, fusing contemporary lines with the more traditional look of an Arab Bedouin's tent, with its large triangular prayer hall and four minarets. However, unlike traditional masjid design, it lacks a dome. The minarets borrow their design from Turkish tradition and are thin and pencil like.The shape of the Faisal Mosque is an eight-sided concrete shell inspired by a desert Beduoin's tent and the cubic Kaaba in Mecca, flanked by four unusual minarets inspired by Turkish architecture. The architect later explained his thinking to design school students I tried to capture the spirit, proportion and geometry of Kaaba in a purely abstract manner. Imagine the apex of each of the four minaret as a scaled explosion of four highest corners of Kaaba – thus an unseen Kaaba form is bounded by the minarets at the four corners in a proportion of height to base. Shah Faisal Mosque akin to Kaaba.Now, if you join the apex of each minaret to the base of the minaret diagonally opposite to it correspondingly, a four-sided pyramid shall be bound by these lines at the base side within that invisible cube. That lower level pyramid is treated as a solid body while four minarets with their apex complete the imaginary cube of Kaaba.Entrance is from the east, where the prayer hall is fronted by a courtyard with porticoes. The International Islamic University was housed under the main courtyard, but recently relocated to a new campus. The mosque still houses a library, lecture hall, museum and cafe. The interior of the main tent-shaped hall is covered in white marble and decorated with mosaics and calligraphy by the famous Pakistani artist Sadequain, and a spectacular Turkish-style chandelier. The mosaic pattern adorns the west wall, and has the kalimah written in early Kufic script, repeated in mirror image pattern. [13] Faisal Masjid