History of the tall buildings in Pakistan is not very old and goes back to the construction of first high-rise building, Habib Bank Plaza 311 ft. high in 1963 on I. I. Chundrigar Road, Karachi. It enjoyed the title of the "tallest building of South Asia" for a decade and the "tallest building of Pakistan" for more than 40 years. [1] One of the tallest buildings in Pakistan: Habib Bank Plaza
| Title | Description |
| --- | --- |
| Information | |
| Location: | II Chundrigar Road, Karachi, Sindh, Pakistan. |
| Nickname: | Habib Bank Plaza |
| In Urdu: | حبیب بینک پلازہ |
| Type: | Building |
| Local Language Name: | Habib Bank Plaza |
| Coordinates : | 24.8499°N 67.0055°E |
| Details | |
| Type: | Public Limited Company |
| Traded As: | Habib Bank Limited |
| Industry: | Banking |
| Founded: | 1963 |
| City: | Karachi |
| State: | Sindh |
| Completed: | 1972 |
| Headquarter: | Habib Bank Plaza, Karachi, Pakistan |
| Attractions: | Landmarks |
| Postal Code: | 74000 |
| Antenna: | 101 m |
| Roof: | 95.5 m |
| Height: | 311 ft |
| Floor Count: | 22 |
| Title: | 2nd highest building in Pakistan |
| Designed by: | Leo A. Daly |
| Developers: | Habib Bank Limited Pakistan |
| Contractors: | S. Mehboob & Company Consulting Engineers |
| Key People: | Chairman: Sultan Ali Allana, President & CEO: Nauman Dar |
| Product: | Loans, credit cards, Savings, Consumer Banking etc. |
| Revenue: | ₨113.01 billion (US$1.1 billion) – 2016 |
| Net Income: | ₨34.20 billion (US$330 million) – 2016 |
| Total assets: | ₨2.50 trillion (US$24 billion) – 2016 |
| Number of employees: | 15,000+ |
| Monday: | 9AM-6PM |
| Tuesday: | 9AM-6PM |
| Wednesday: | 9AM-6PM |
| Thursday: | 9AM-6PM |
| Friday: | 9AM-6PM |
| Saturday: | 9AM-6PM |
| Sunday: | 9AM-6PM |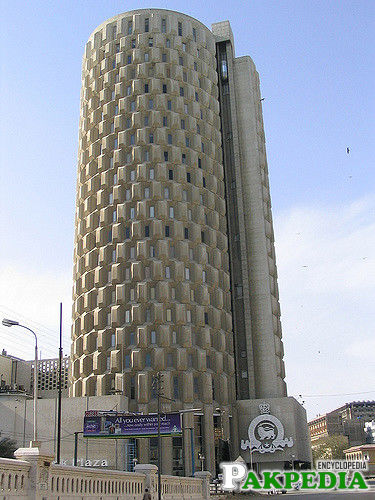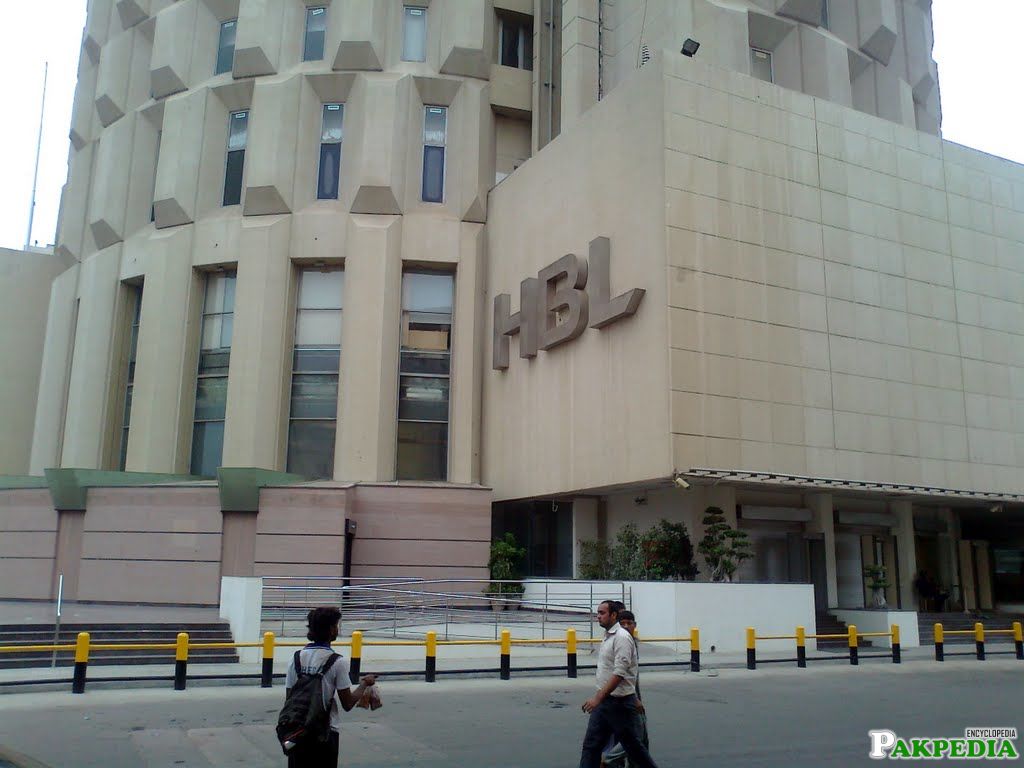 History
Mohammed Ali Jinnah, Pakistan's founding father, realized the importance of financial intermediation while he was campaigning for the creation of a separate homeland for the Muslims of India. He persuaded the Habib family to establish a commercial bank that could serve the Indian Muslim community. His initiative resulted in the creation of Habib Bank in 1941, with HO in Bombay (now Mumbai), and fixed capital of 25,000 rupees. The bank played an important role in mobilizing funds from the Muslim community to finance the All-India Muslim League's campaign for the establishment of Pakistan. Habib Bank also played an important role in channeling relief funds to Muslims hurt in the communal riots and violence that preceded the departure of the British from India.
After the formation of Pakistan in 1947, Habib Bank moved its headquarters to Karachi, Pakistan's first capital, at the urging of Governor-General Jinnah. This gave Karachi its first commercial bank of the newly formed Pakistan. The Habib family would own and manage the bank until the Pakistan government nationalized it on 1 January 1974.
In the 1950s, the HBL started its international expansion. In 1951 it opened the first of what would become three branches in Sri Lanka. The next year HBL established Habib Bank (Overseas). Then in 1956 HBL opened the first of five branches in Kenya.
1972 HBL opened the first of 11 branches in Oman. HBL constructed Habib Bank Plaza in Karachi to commemorate the bank's 25th Anniversary. [2] History of HBL
Architecture
Constructed in the mid seventies this 22 storey corporate headquarters is one of the tallest buildings in Karachi. SMC were called in to retrofit the HVAC system and add to the capacity. A 425 TR direct fired chiller was added to the existing 1325tr plant and the air and water distribution system upgraded to incorporate hydraulic decoupling and increased cooling demand on the typical floors.
A further retrofit currently underway will see the addition of a complete new Chiller Plant and major improvements to the air distribution system. [3] Architecture of HBL Plaza 
2ndHighest Building in Pakistan
It was Pakistan's tallest building from 1963 until 2003. After 2005, MCB Landmark plaza became the tallest building of Pakistan with 29 floors and a helepad on top. However, even after the MCB Tower, the Habib Bank Plaza is the second highest building in Karachi today. [4] After MCB Tower, Highest building in Pakistan
Era of Tallest Building
The Habib Bank Plaza remained Pakistan's tallest building for 42 years until MCB Tower was completed in 2005. After 2005, MCB's landmark tower became the tallest building of Pakistan with 29 floors and a helipad on top.
Moon Sighting
The Ruet-e-Hilal Committee has regularly used the building over the years to call the meeting for moon sighting. [5] Moon sighting at HBL Plaza