The Deosai National Park is located in between Skardu,Kharmang and Astore district of Gilgit Bsltistan, the majority of which falls in Skardu district. Deosai means "The Land of Giants" in Urdu Language. In local Balti language Deosai is called Ghbiarsa means "Summer's place". Because it is only accessible in summer.
| Title | Description |
| --- | --- |
| Information | |
| Location: | Skardu, Gilgit Baltistan, Pakistan. |
| Nickname: | Deosai National Park |
| In Urdu: | دیوسائی نیشنل پارک |
| Type: | Park |
| Local Language Name in Local Balti: | Ghbiarsa (Summer's Place) |
| Local Language Name in Urdu: | Deosai (The Land Of Giants) |
| Coordinates : | 34°58′N 75°24′E |
| Gorgeous Picnic Spot: | Sheosar Lake |
| Birds: | Vulture, Falcon, Snow Cock, Griffon Vulture, Golden Eagle, Sparrowhawk, Migratory Birds |
| Wildlife: | Brown Bear, Golden Marmot, Red Fox, Ladakh Urial, Musk Deer, Himalyan Ibex, Markhore, Himalayan Wolf, Snow Leopards |
| Shortest Travel Route: | 30 km from Skardu city |
| Famous As: | The second highest plateau after Chang Thang Plateau Tibet |
| Known For: | Its rich flora and fauna of the Karakoram-West Tibetan Plateau alpine steppe eco region |
| Sea Level: | 4,114 meters (13,497 ft) |
| Governing body : | Directorate of Deosai National Park, Sadpara Road, Skardu |
| Established Since: | 1993 |
| Area: | 3,000 km2 (1,200 sq mi) |
| Nearest City: | Skardu |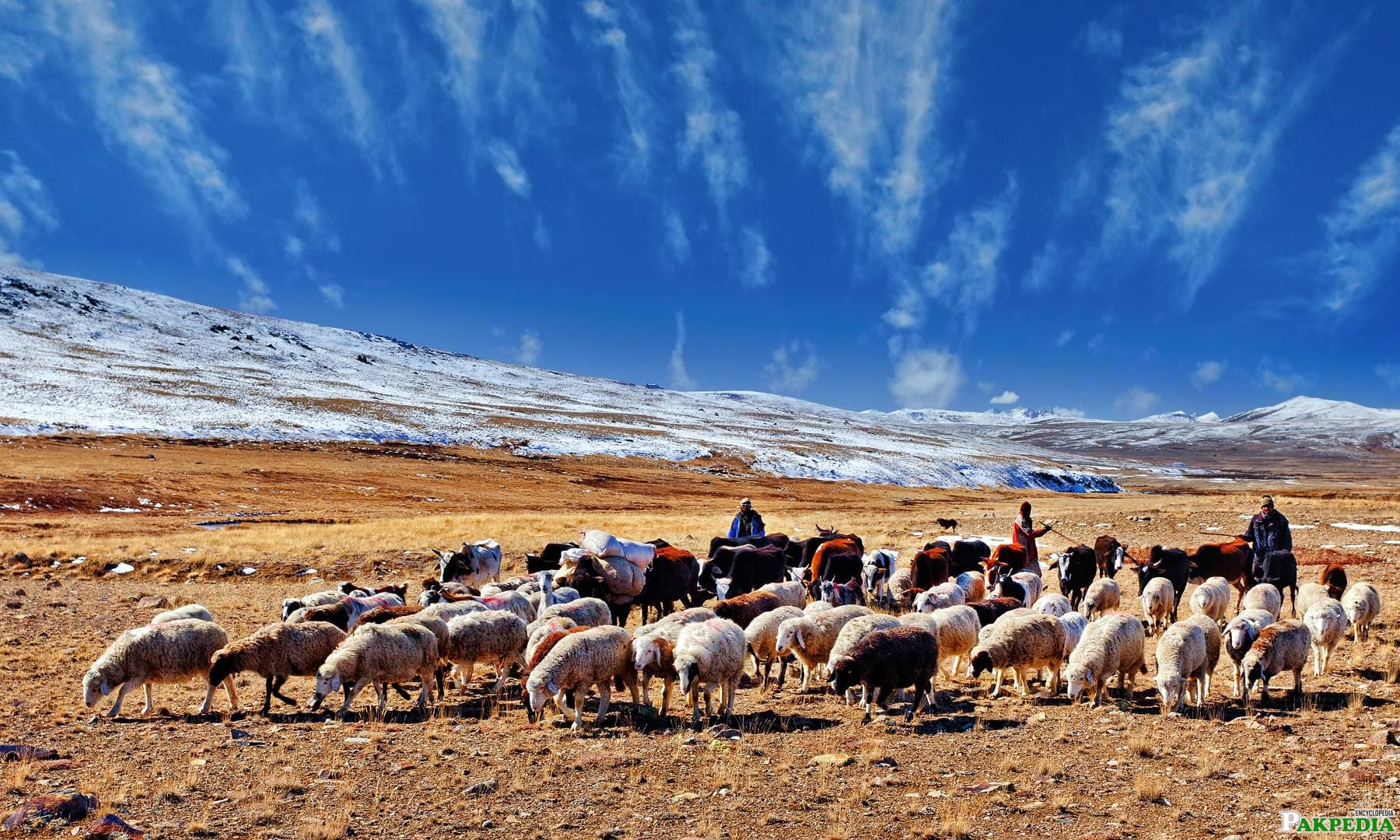 Geography
Deosai is located at the border of Himalayas and Karakoram. It offers western Himalayas ecosystem. Deosai covers an area of 3000 sq. Km (1,200 sq mi). It has an average elevation of 4,114 metres (13,497 ft) above sea level, making the Deosai Plains one of the highest plateaus in the world.
Wildlife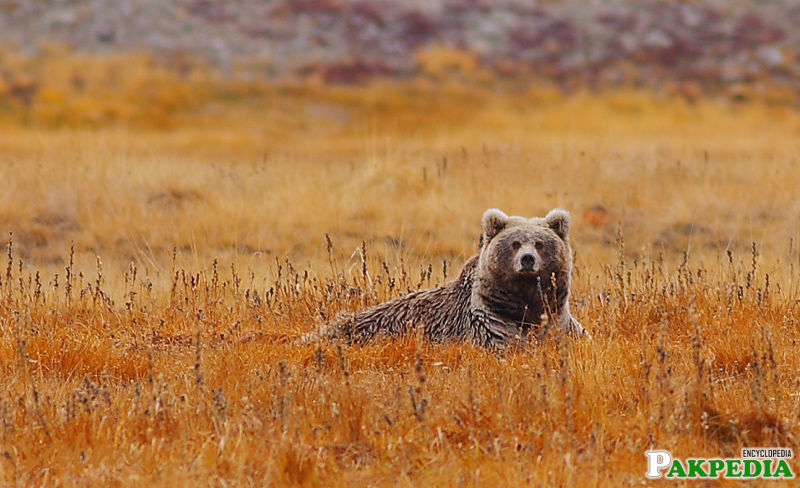 The Deosai National Park was established in 1993 to protect the survival of the Himalayan brown bear and its habitat. Having long been a prize kill for poachers and hunters, the bear now has a hope for survival in Deosai where its number has increased from only 19 in 1993 to 40 in 2005. During the last decade, a few but effective measures have been taken by the Government of Pakistan for the survival of brown bear in the region. In 1993, Himalayan Wildlife Project was founded with a substantial financial support from international environmental concerns. With the help of WWF and other organizations the number of brown bears are increasing day by day. The Deosai Plains are also home to the Himalayan ibex, red fox, golden marmot locally called Phia, gray wolf, the Ladakh urial, the snow leopard, and over 124 resident and migratory birds. Birds in the park include the golden eagle, lammergeier, griffon vulture, laggar falcon, peregrine falcon, kestrel, sparrowhawk and snowcock.
Flora and Fauna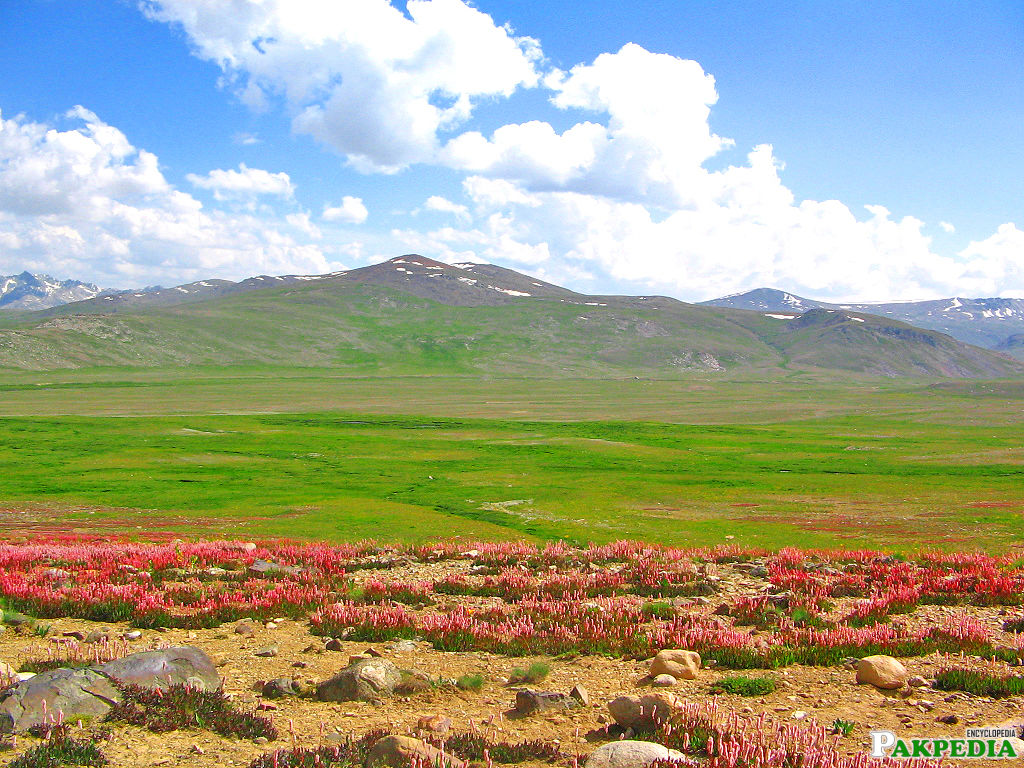 It is well known for its rich flora and fauna of the Karakoram-West Tibetan Plateau alpine steppe eco region. In spring, it is covered by sweeps of wildflowers and a wide variety of butterflies.  The following species are found in Deosai Artemisia maritima, Polygonum affine, Thalictrum alpinum, Bromus oxyodon, Saxifraga flagellaris, Androsace mucronifolia, Aster flaccidus, Barbarea vulgaris, Artemisia maritima, Agropyron longearistatum, Nepeta connate, Carex cruenta, Ranaculyus laetus, Arenaria neelgerrensis, Astrogalus leucophylla, Polygonum amplexinade, Echinop nivetus, Seria chrysanthenoides, Artemisia maritima, Dracocephalum nutsus, Anapalas contorta, Chrysopogon echinulatus, and Dianthus crinitus. There were also observed some medicinal plants which are locally famous i.e. Thymu linearis (Reetumburuk), Saussures lappa (kuth), Ephedra intimedia (Say), Viola canescens (Skora-mindoq), Dracocephalum muristanicum (Shamdun) and Artemisia maritima (Bursay) etc. are used as traditional drug therapies.
Travel Routes
Deosai can only be accessed in summer while in winterDeosai is inaccessible due to heavy snowfall. Deosai is located approximately 30 km from Skardu city and it is the shortest route to visit Deosai. It takes 1 hour to reach Deosai top via Sadpara Skardu. Another route is from Astore valley via Chilim. It is also accessible from Shila valley. There is another route called Burgi la via Tsoq Kachura valley Skardu.