Cricketer Babar Azam
Babar Azam is one of the biggest brands in Pakistan that has ever been produced. His uncommon batting skills and leadership make him a quality player. This consistent player is a right-arm batsman who performs consistently in all formats, which is rare.
He is currently in the ICC ranking of the top five batsmen in all three formats. Babars best stroke is the cover drive, for which he is recognized internationally. He was named the ICC Player of the Year in 2022. Babar Azam has been ranked number 1 in the ODI format for 2 years. His jersey number is 56.
| Title | Description |
| --- | --- |
| Personal | |
| Name: | Babar Azam |
| Nationality: | Pakistani |
| Residence: | Lahore |
| Religion: | Islam |
| Profession: | Cricketer |
| Born | |
| Date: | 15th October 1994 |
| Place: | Lahore |
| Family | |
| Relatives: | Adnan Akmal (cousin), Kamran Akmal (cousin), Umar Akmal (cousin) |
| Career | |
| National Side: | Pakistan |
| Team Role: | Batsman |
| Bowling Style: | Right-arm off-break |
| Height: | 1.8m |
| Test Debut: | 13 October 2016 v West Indies |
| ODI Debut: | 31 May 2015 v Zimbabwe |
| ODI Shirt Number: | 56 |
| T20 Debut : | 7 September 2016 v England |
| Domestic team: | Zarai Taraqiati Bank, Islamabad Leopards, Islamabad United, Karachi Kings |

Babar Azam Biography
Babar is a regular part of the playing eleven in the national team and has done remarkably well in a brief time internationally. His consistency in batting has taken him among the list of the world's top batsmen. He is gradually breaking all the cricket records set by the game's legends.
From roaming on the streets of Lahore to becoming the biggest brand in Pakistan, he has come a long way. He has smashed 30 centuries and over 100 fifties in all three formats. He is the fastest player to complete 5000 ODI runs breaking the legendary Hashim Amla's record.
Babar Azam stats show his consistency and defines how excellent he is in his game. His total runs in all three formats are 12,270 as of June 2023. Babar Azam sixes are always the talk of the town, as a few people mock him for being unable to hit sixes. His highest score in test is 196.
Babar Azam Age
Babar Azam birthday is on 15th October, and he was born in 1994 in Lahore, Punjab.
Babar Azam Education
He did his schooling in Lahore.
Babar Azam Family
He is the son of Azam Siddique, who lives in Lahore. He belongs to a cricketing family. Babar Azam's cousin Akmal brothers have played international cricket for Pakistan. His younger brother Safeer Azam is also trying to adjust himself on the cricket field.
Babar Azam Wife
Babar is unmarried and hasn't given any update about his marriage plans.
Babar Azam Career
Initial Career
Babar started playing tape ball cricket in his childhood. He decided to join this profession because of his cricket background. His uncle helped him throughout his journey while his parents became his biggest support system. He started his professional cricket in the domestic season in 2010.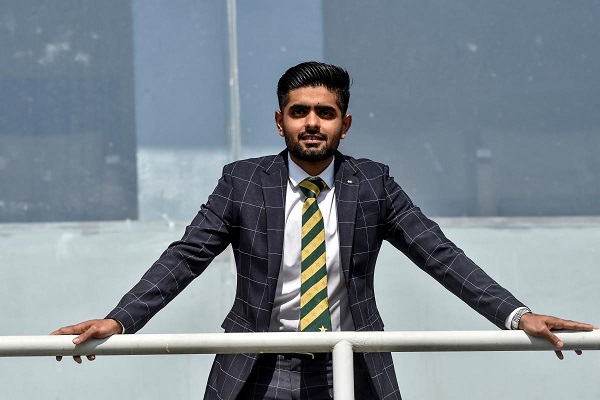 Domestic Career
Babar is an equally brilliant player in domestic as in an international game. He has played in cricket leagues throughout the world.
Besides playing for Pakistan's national team, he has played for various other teams, including Pakistan A, Pakistan Under-23s, Pakistan Under-19s, Pakistan Under-15s, PCB XI, Punjab XI, Baluchistan XI, and SSGC.
Moreover, he played for the State Bank of Pakistan, Lahore, Rawalpindi, Karachi Kings, Faisalabad, Zarai Taraqiati Bank, and others.
Babar Azam Batting
He has featured in 61 first-class games so far and has made a total of 3805 runs with 42.75 average, including 8 centuries and 25 half centuries. He has been a part of 138 List-A games and has made 6275 runs at an outstanding average of 53.17.
He has registered 21 hundred and 33 fifties in List-A cricket. At the same time, Babar has played in 142 T20s and has smashed 4861 runs at a magnificent batting average of 41.01. It includes three hundred and 38 fifties, which is a remarkable achievement.
In 2023, he completed 12000 international runs and became the second fastest player after Virat Kohli. The same year he broke the record of Hashim Amla by concluding the 5000 fastest ODI runs.
Pakistan Super League
He has represented Islamabad United and Karachi Kings since the first edition of PSL. He remained part of the Karachi Kings team. In his 45 PSL matches, he scored 1378 runs with the bat so far. His highest PSL score is 115.
Babar joined Peshawar Zalmi for PSL8 after his worst time as a Karachi Kings captain. He scored more than 500 runs and took his team to the playoffs. However, the team didn't enter the finals and lost to Lahore Qalandars. His dream of scoring a century in PSL was fulfilled in 2023.
Babar Azam and Mohammad Amir were considered strong competitors in PSL8. In the first match, Babar completely overshadowed Amir while in the second match, Amir remained ahead.
International Leagues
Babar has featured in other leagues worldwide, including English County, Bangladesh Premier League, Big Bash League, and Caribbean Premier League. Moreover, he has been a part of the Somerset team in English county and has done well with the bat.
In the 2019 T20 Blast, he scored 578 runs at an incredible average of 52.52, with a century and an overall strike rate of 149.35 in the tournament. In 2023, he is signed for Lanka Premium League.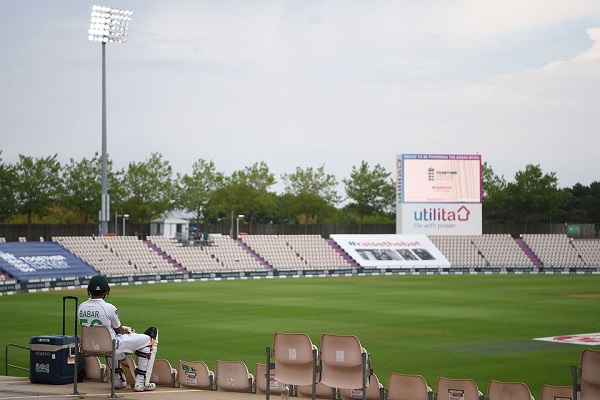 International Achivements
Babar Azam ODI Career
Babar started his ODI career against Zimbabwe on 31st May 2015 while scoring his first half century. After that, he had a good run in the ODI series played against England in UAE, where he made a couple of fifties and continued to improve as a consistent batsman.
In January 2016, he made two consecutive half-centuries against New Zealand on their home soil, then made runs in every game he played. On 30th September 2016, he played the first ODI of the three-match series against the West Indies at Sharjah Cricket Stadium, where he went after the Caribbean bowler and dispatched many bowls for boundaries.
No one from the bowling side could stop him, and he got his first hundred, scored 120 runs, and won the game for his team with a Player of the Match award.
He made his second century in the second ODI of the series and scored 123 runs. He did not stop there and hit his third and consecutive hundred to whitewash the West Indies in the series.
He made a total of 360 runs at an outstanding average of 120. This series turned the fortune of the young cricketer from an ordinary middle-order batsman into a star performer.
Other ODI Performances
Babar became a different player after his batting against West Indies. He hit another century versus Zimbabwe in an ODI match on 22nd July 2018 and took his team to victory. Before this inning, he also played vital innings of unbeaten 69 runs against Sri Lanka. Babar Azam ODI centuries are 18 so far.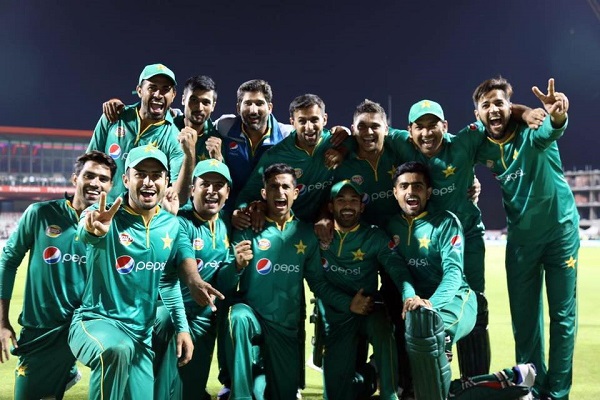 ICC World Cup 2019
The ICC WC-2019 was a very successful tournament for him as a batsman. He scored 474 runs in eight games with a remarkable batting average of over 67. His best innings of the tournament came against New Zealand when Pakistan needed 243 runs to win, and he came to rescue the team.
Babar Axam made an unbeaten 101 run and won the game for Pakistan.
Babar Azam Ranking
Due to his consistent performances, he has been at the number 1 spot in the ICC ODI ranking since April 2021. Meanwhile, he is at number 3 in the T20 ranking. His ranking dropped because of his poor performance in the 2022 Worldcup.
In the Test, he lies at number 5. Babar is the only player to be included in the top 5 across all the formats.
T20 World Cup Career
Babar made his first appearance in T20s for the national team on 7th September 2016 vs. England, where he made unbeaten 15 runs in the match as Pakistan won the game by nine wickets. After that, he hit his first half-century in his second game against the West Indies, his most favorite opposition.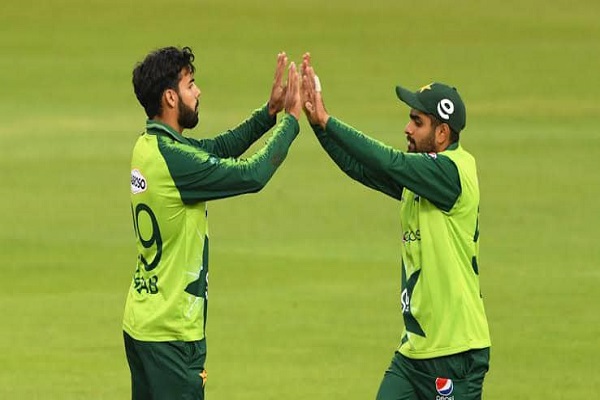 T20 World Cup 2021
The T20 World cup that was supposed to be held in 2020 got delayed due to COVID Pandemic. He gave an unforgettable defeat to India in the first match. Babar Azam and Mohammad Rizwan gave powerful performances throughout the match and effortlessly chased 152 made by the Indian team. He was the leading run-scorer in that Worldcup.
T20 World Cup 2022
Unfortunately, his T20 2022 World Cup was a big no, as he couldn't execute throughout. He received backlash and trolling for not securing up to the expectations. However, he helped the team to qualify for the finals by hitting a half-century.
He has 3 international T20 centuries.
Babar Azam Test Career
He is named one of the best test players of this generation for always performing consistently. His first test century came in 2018 against New Zealand. Since then, he has scored 9 test centuries in only 47 matches.
Babar Azam World Records List
Babar is the second-fastest Pakistani to reach 100 ODI runs (In 21 Innings).
He is the fastest Pakistani to get 2000 One Day International runs alongside Zaheer Abbas.
He is the fastest Asian batsman with 3000 ODI runs in 68 innings.
The passionate cricketer holds the record for most ODI runs in the first 25 innings (1306).
He is the fastest batsman with seven ODI hundreds (33 innings)
Babar is the only batsman with five consecutive hundreds in the country (UAE).
He is the fastest to have 1000 T20 runs (26 innings).
Babar has the most runs in a single world cup for Pakistan (2019-WC=474).
He was the highest run-scorer in ODIs in 2016, 2017, and in 2019.
Azam has also made the highest test runs for Pakistan in 2018 and 2019.
He is the fastest to complete 5000 ODI runs.
Babar is the second fastest to conclude 12000 international runs.
Babar Azam Vs Virat Kohli
It is always great to watch Babar Azam opposite Virat Kohli, as both are considered the best players of India and Pakistan. Babar has broken many records set by Virat Kohli, so he is often compared with him. Fans keep comparing Babar Azam vs Virat Kohli stats.
Babar Azam tweet in support of Kohli (during his rough phase) left a remarkable impression in both nations.
Babar Azam Awards and Achivements
In 2017 he was included in the ODI Team of the Year declared by ICC for his brilliant performance. Moreover, he was awarded the best ODI player by PCB.
In 2018, he was declared and awarded the best T20 player by PCB.
Moreover, in 2019, his name was again included in the ICC ODI team.
In 2020, he helped his team win the PSL trophy and became the player of the tournament.
2021 remained lucky for him as he grabbed many opportunities and achievements. He was named the ODI Player of the Year and was awarded by ICC. He was also named the captain of the ODI team internationally. The same year, PCB gave him the Cricketer of the Year award. He also became the first captain to beat India in a Worldcup match by 10 wickets.
In 2022, Babar was again named the ODI Player of the Year. Moreover, he was awarded the Player of the Year award by ICC.
In 2023, he became the youngest cricketer to be given Sitara I Imtiaz. Moreover, he became the first cricketer to be invited by Harvard Business school along with Muhammad Rizwan.
Lanka Premium League
He made his debut in Lanka Premium League in 2023. According to sources, his price in lpl is approximately $120k – $150k. He is a part of Columbo Strikers and has been appointed team captain. A few other Pakistani players in this team include Iftikhar Ahmad, Muhammad Nawaz, Naseem Shah, etc.
Babar Azam Net Worth / Endorsements
According to reports, Babar has Rs 32 crore plus net worth. He lives in a luxurious home in Lahore and owns a farmhouse in the same city. His PSL salary is Rs 3 crore plus, and he participates in different international leagues.
He has also endorsed various brands, including HBL, Head & Shoulder, Huawei, Oppo, Pepsi, etc. His social media followers speak about his popularity. He also owns expensive cars, including Audi. His total earnings are hard to be predicted, but we can get an estimation.
Babar Azam Controversy
News circulated on social media regarding Babar's sexting viral video. He was charged with texting his colleague's girlfriend. The international media also didn't ignore this news and posted it on their social media account. However, the video was found to be fake.
Frequently Asked Questions
We have compiled a few questions people normally ask about him. Here we go.
How many T20 matches he has played?
Babar recently completed 100 t20 matches in 2023, scoring 3000+ runs. He has 9 t20, including 3 t20 international centuries.
Who is best, Babar or Kohli?
Both started their international journey in different decades, so comparing them is inappropriate. However, both are equally good in their games, and scoring runs rapidly.
What is the fastest fifty of Babar in T20?
He scored the fastest fifty in 24 balls in PSL8 in 2023.
How many total centuries has Babar made?
He has 30 centuries so far, including 18 in ODI, 3 in T20, and 9 in Test.
Who is the first wicket of Babar?
Mehidy Hassan is the first player whom Babar bowled in 2021 in test cricket. Later he took the wickets of many notable players.
Which bat does Babar use?
He has Gray-Nicolls Hypernova bat.
Social Media Handles
Babar Azam Instagram and other social media accounts where he keeps posting his pics are:
https://www.facebook.com/iBabarAzamPakistan/
https://www.instagram.com/babarazam/
https://twitter.com/babarazam258