Misbah ul Haq is the former Pakistani middle-order batsman and captain. He is remembered as the most successful test captain of the Pakistan team. His contributions as a captain are more celebrated than as a batsman though he also performed superbly in many matches.
From the scoop shot in the final 2007 T20 World Cup to the lifting up of Test Champions, he is credited for all. He retired from all formats of the game in the year 2017. Currently, he is the Chief-Selector and Head Coach of the Pakistani team. He also has a welfare foundation where recently he has established a hospital for children.
This article has all the information about him, including Misbah ul Haq Biography.
| Title | Description |
| --- | --- |
| Personal | |
| Name: | Misbah ul Haq |
| Nationality: | Pakistani |
| Residence: | Mianwali |
| Education: | MBA (University of Management and Technology in Lahore, Punjab) |
| Religion: | Islam |
| Profession: | Cricketer |
| Height: | 1.85 m (6 ft 1 in) |
| Born | |
| Date: | 28th May 1974 |
| Place: | Mianwali |
| Family | |
| Spouse: | Uzma Khan |
| Parents: | Balqees Khan Niazi |
| Career | |
| National Side: | Pakistan |
| Team Role: | Batsman, Test captain |
| Bowling Style: | Right arm leg break |
| Batting Style: | Right-hand batsman |
| Matches: | 65 in Tests,162 in ODIs, 39 in T20s |
| Wickets : | – in Tests, 0 in ODIs, – in T20s |
| Bowling Average: | -in Tests, -in ODIs, – in T20s |
| Batting Average: | 48.27 in Tests, 43.40 in ODIs, 37.52 in T20s |
| Best Bowling: | -in Tests,- in ODIs, – in T20s |
| Catches/Stumpings: | 46/-in Tests, 66/- in ODIs, 14/- in T20s |
| Balls Bowled: | – in Tests, 24 in ODIs, – in T20s |
| Runs Scored: | 4634 in Tests, 5,122 in ODIs, 788 in T20s |
| Test Debut: | 8 March 2001 v New Zealand |
| Test Last: | 13-17 October 2016 v West Indies |
| ODI Debut: | 27 April 2002 v New Zealand |
| ODI Last: | 20 March 2015 v Australia |
| ODI Shirt Number: | 22 |
| T20 Debut : | 2 September 2007 v Bangladesh |
| T20 Last: | 27 February 2012 v England |
| 100s / 50s: | 10/34 in Tests, 0/42 in ODIs, 0/3 in T20s |
| Top Score: | 161* in Tests, 96* in ODIs, 87* in T20s |
| Domestic team: | Baluchistan , Punjab , Faisalabad ,Sui Northern Gas Pipelines , Khan Research Laboratories , Sargodha and others |

Misbah ul Haq Biography
Misbah started his international cricket by playing his first test match against New-Zealand on 08th March 2001 in Auckland. Then in the next year, he played his first One Day International on 27th April 2002 against the same opposition at Lahore.
His career was not so highlighted and regular before he made his T20 debut on 02nd September 2007 against Bangladesh at Nairobi. Since then, he played plenty of matches and also led the national team till 2017 when he retired from all three formats of the game.
Misbah featured in 75 Test matches for Pakistan and scored 5222 runs at an outstanding average of 46.62 with the bat. He registered ten centuries as well as 39 fifties in his 132 test innings. His best score in test cricket is 161 not out.
He also played a total of 162 ODIs and made 5122 runs with an impressive batting average of 43.40. He also hit 42 fifties without registering any hundred, which itself is a record for a player with that much runs and fifties without having a single hundred. His highest One Day International score is unbeaten 96.
Misbah also appeared in 39 T20s for Pakistan and scored 788 runs at an average and strike-rate of 37.52 and 110.20, respectively. His highest T20 score is unbeaten 87 runs.
Misbah date of Birth
He was born on 28th May 1974 at Mianwali, Punjab.
Education of Misbah
He studied Master in Business Administration (MBA) from Lahore University of Management Sciences.
Misbah ul Haq Family
He got married to Uzma Khan in the year 2004. He has a son named Faham ul Haq and a Daughter named Noriza Khan.
Cricket Career
Initial Career
Misbah started his professional cricket career 1998-99 domestic season. His batting performance made his way to the international cricket for Pakistan in the year 2002.
Domestic Career
Besides playing for Pakistan, he played for various other teams including Islamabad United, Peshawar Zalmi, Faisalabad Wolves, Sargodha XI, Khan Research Laboratories, St. Lucia, Royal Challenger Bangalore and the rest.
He played a total of 242 first-class matches and scored a total of 17139 runs with a batting average of 48.69. He also hit 43 hundreds and 101 fifties in this form of cricket. While in his 292 List-A games and scored a sum of 9941 runs an impressive average of 46.89 with the bat. His List-A stats also include 11 centuries as well as 70 half-centuries.
Misbah also featured in 162 T20s and made 3491 runs with a batting average of 33.89. He struck T20 hundred and 13 fifties in his career.
Pakistan Super League and other T20 Leagues
Misbah led the Islamabad United franchise in the first three editions of PSL. He helped his team win two PSL trophies, one in 2016 and then in the third edition of the tournament. In the fourth season, he represented Peshawar Zalmi while in the current PSL season 2020, he is the head coach of Islamabad United Franchise.
Besides playing in PSL, he also played in IPL 2008 Season in the Royal Challengers Bangalore franchise, then in Caribbean Premier League for St. Lucia Zouks. He also played in English county.
International Career and Achievements
Misbah made his international debut in 2001, but his fate in cricket changed from an ordinary irregular player into the leader and regular member of the team after his performance in ICC T20 World Cup 2007. He almost won the final tournament, but his inventive stroke of scooping the ball behind the keeper failed to succeed, and Pakistan lost the final.
He entered the national team after his excellent performances in the domestic seasons of 2001-02. When he came to Pakistan's team, he started well when he made few excellent performances in Nairobi's 2002 tri-nations series. But he could not take his form ahead and lost the moment after that he got dropped from the team.
Cricket Career and Captaincy
After the 50 Overs, World Cup, when Inzamam and other senior players left, the national side selectors gave Misbah another chance due to his domestic and county cricket batting performances. He took this opportunity very seriously and grabbed it with both hands.
He got selected in the 2007 T20 World-Cup and came as the player of the tournament. Misbah held his T20 form in the bilateral series against India and scored 464 runs, including two centuries in the three-match test series.
His relaxed and calm nature made him successful on the field as he never heard his critics on and off the field. This became his weapon as a batsman, and he followed the footsteps of the former captain Inzamam ul Haq when he got the Captaincy.
Drop Out
In 2008 he got the responsibility of Vice-Captain, but his form went miserably down and, in the end, took Misbah again out of the national team from all three formats. He did not play in the disgraceful tour of England in 2010, but after that, he got called back in the side and this time with a challenging and all vital responsibility of Captaincy.
Misbah led the Pakistan team when no one was ready to lead the team, and the morale of the team was so down after a humiliating tour of England where some players fixed matches and drowned their name and of the gentleman's game, unfortunately.
He led the national team as Test Captain to 0-0 drawn series against South Africa in late 2010 and followed it up with 1-0 victory when Pakistan toured New-Zealand in early 2011.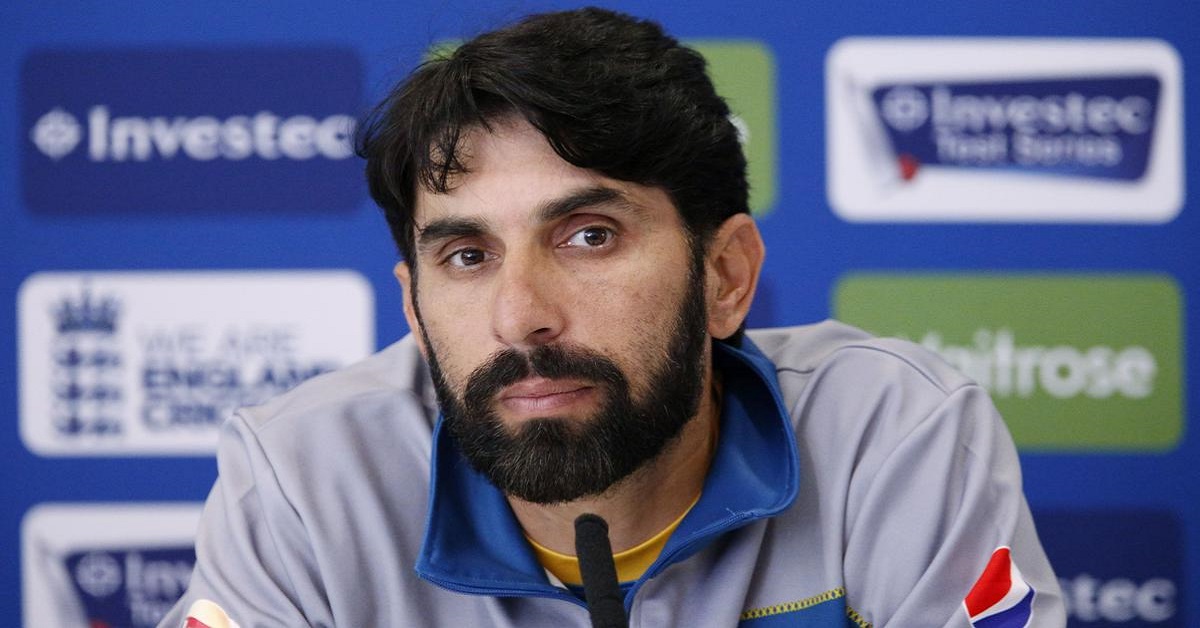 2011 World-Cup
In the 2011 World-Cup, he again came in highlights after Pakistan was lost in the Semi-Final against India under the leadership of Shahid Afridi due to his slow-paced batting innings all-important match for Pakistan.
As a Captain 
Misbah got another opportunity as ODI captain after Shahid Afridi resigned from the post. He showed his leadership skill in the 2012 Test series against then number one test side England. He whitewashed the English team and won the series by 3-0.
In 2012-13, he led the Pakistan team on the tour of India. He made history and defeated the archrivals by 2-1 in the ODI series and came home as glorious. He did not have a good ODI series in UAE against the South-African team, which Pakistan lost.
But he did not take long and took his revenge by winning the ODI series against South-Africa by 2-1 at their home soil. He made history as Pakistan became the first Asian cricket team to beat the proteas in their home ground in the bilateral ODI series.
Misbah ul Haq Records
He made the records of joint-fastest test century off just 56 balls against Australia alongside Legend of the game, sir Vivian Richards of West-Indies. The 2013 year went very well for Misbah as he made over 1000 runs with the bat in that year. His captaincy successes continued against Sri-Lanka as Pakistan won the ODI series and leveled the test series under his leadership.
Downfall
He was a more successful test captain than ODI, as it can be seen from his batting style and captaincy records. His leadership came under questions when Pakistan lost in the 2014 Asia Cup and then back to back losses in ODIs against Australia.
Seeing his loss of form, he took rest from the third ODI against Australia. He came back well as Pakistan won the Test series by 2-0 against Aussies then followed it up with leveling the test series 1-1  against New-Zealand. The team lost the ODI series against New-Zealand, even then, the PCB gave him full confidence, and he remained the captain in the 2015 World-Cup.
Misbah ul Haq Retirement
In the WC-2015, Pakistan lost the heartbreaking Quarter-Final against Australia, and after that, Misbah retired from the limited-overs cricket. He continued as the test skipper and moved Pakistan to number one in Tests after defeating England at the Oval in 2016. This was his greatest achievement.
His form deteriorated in 2017, so he announced his retirement from all three formats after the tour against Wet-Indies. The test series against West-Indies proved to be very successful as Pakistan won the series against the very first time in history at their home soil.
He left international cricket with grace and honor. He continued as a T20 domestic player even after the retirement from international. Haq holds the record of the oldest player to score a test century. He is the most successful test captain with 26 Test wins.
As a Coach
Currently, he is not playing cricket and has opted for a new and vital job of coaching. These days he is working as the Chief-Selector and Head-Coach of the Pakistan cricket team.
As a Social Worker
He is also leading a welfare-foundation and recently has established a hospital in Pakistan for Children.
Social Media Handles
His social media accounts include
https://twitter.com/captainmisbahpk
https://www.facebook.com/Capt22/