Umar Akmal is a Pakistani cricketer serving the national team as a batsman and a wicket-keeper who is a right-handed and middle-order batsman. He is a talented batsman with high skills in hitting the ball and has represented the national team in all three formats of the game. He belongs to the cricket family, where his brothers and cousins are notable Pakistani cricketers. This article has all the information about Umar, including Umar Akmal Biography.
| Title | Description |
| --- | --- |
| Personal | |
| Name: | Umar Akmal |
| In Urdu: | عمر اکمل |
| Famous As: | Cricketer |
| Nationality: | Pakistan |
| Residence: | Lahore |
| Education: | Not Known |
| Religion: | Islam |
| Profession: | Cricketer |
| Height: | 1.57 m |
| Born | |
| Date: | 26th May 1990 |
| Place: | Lahore |
| Family | |
| Spouse: | Noor Amna |
| Children: | Harleen Umar |
| Parents: | Mohammad Akmal |
| Siblings : | Adnan Akmal (Brother) Kamran Akmal (Brother) |
| Relatives: | Babar Azam (Cousin) |
| Career | |
| National Side: | Pakistan |
| Team Role: | Wicket-keeper Batsman |
| Bowling Style: | Right-arm off spin |
| Batting Style: | Right-hand bat |
| Matches: | 16 in Tests, 111 in ODIs, 63 in T20s |
| Batting Average: | 35.82 in Tests, 34.67 in ODIs, 26.86 in T20s |
| Runs Scored: | 1,003 in Tests, 2,913 in ODIs, 1,343 in T20s |
| Test Debut: | 24 November, 2009 v New Zealand |
| Test Last: | 1 September, 2011 v Zimbabwe |
| ODI Debut: | 1 August, 2009 v Sri Lanka |
| ODI Last: | 30 August, 2014 v Sri Lanka |
| ODI Shirt Number: | 3 |
| T20 Debut : | 12 August, 2009 v Sri Lanka |
| T20 Last: | 30 July 2015 v Sri Lanka |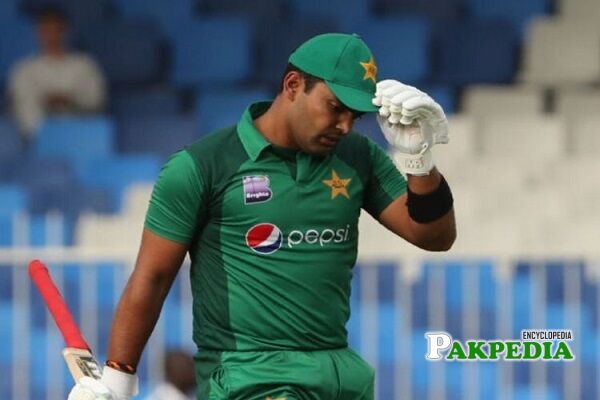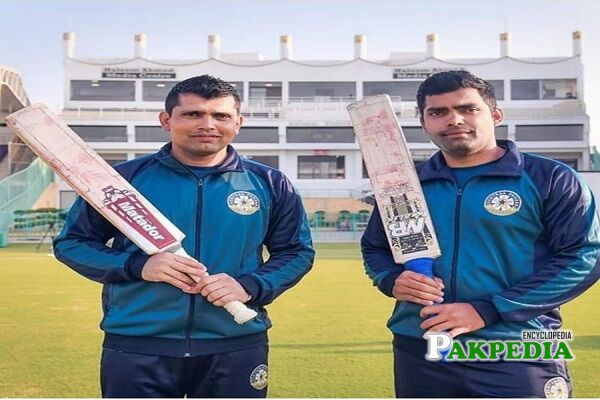 Umar Akmal Biography
Umar is a Pakistani Cricketer who played in all formats for the national team. He has participated in 16 test matches in which he scored 1003-runs with an average of 35.82 in batting and has a strike rate of 68.98. He has hit a ton and six fifties in test career with the highest score of 129 in an innings. So far, he has hit 16 sixes and took 12 catches behind the wicket. Umar batted aggressively in ODI matches for the national side, and 121 games made 3194-runs. He has an average of 34.34 in ODI career, with 102-runs his best score in a game.
Umar has listed two centuries and 20 fifties in his account of ODI cricket. He is famous in T20 cricket for hitting boundaries. Umar has played 84 matches and made 1690-runs with an average of 26.00. He has six fifties with the highest score of 94-runs in an innings of T20 career.
Umar date of Birth
He was born on 26th May 1990 in Lahore, Punjab.
Umar Akmal Family
Umar came to light in cricket through his family's connection to cricket. He is the youngest brother of two international players Kamran and Adnan. He married a daughter of Pakistani cricketer Abdul Qadir who played for Pakistan as a spinner. His wife's name is Noor Amna, and they have a daughter named Harleen Umar. He lives with his family in his hometown.
Cricket Career
Initial Careers
Umar started his career from under-19 cricket and represented the Pakistani team in the under-19 world cup 2008 in Malaysia. He continued his cricket career in first-class by serving the Sui Northern Gas team in 2007-08 Quaid-e-Azam Trophy. After his batting performances, he got considered in the national team of Pakistan in all formats.
Domestic Career
He debuted in first-class cricket on 26th October 2007 by representing Sui Northern Gas at Peshawar. Umar has a brilliant batting average of 45.00 in first-class cricket; where he scored 7470-runs in 103 matches with 17 centuries and 41 fifties. His best score is 248-runs in an innings. Umar has also taken 85 catches and has hit 85 sixes in his first-class career. In his debut match of the first-class, he stroked 248-runs in just 225 balls in his sixth match and again came in his 8th match of first-class with 186-runs in 170 balls.
Umar has also participated in List-A cricket from 22nd March 2008 at Sheikhupura, and played 207 matches with an average of 35.62 in batting. He made 5985-runs with the best innings of 136-runs and smashed six centuries and 37 fifties with 144 sixes. He debuted in domestic T20 on 4th October 2008 by representing the Lahore Loins at Lahore. He is a regular player of domestic T20 and has played 230 matches with an average of 28.95. He made 5530-runs with a single century and 33 fifties in T20 career and has also hit 215 sixes and took 158 catches.
Umar Akmal has played for many teams in domestic, including Pakistan, Trinbago Knight Riders, Pakistan Under-19s, Barbados Tridents, Sui Northern Gas Pipelines Limited, Edmonton Royals, Quetta Gladiators, Lahore Lions, Lahore Qalandars and Winnipeg Hawks. He played in three seasons in the Caribbean Premier League and two seasons of Bangladesh Premier League. In the 2016-17 season, he represented the Rajshahi Kings franchise.
Pakistan Super League PSL
Akmal has also been part of the Pakistan Super League from the first edition where he represented the Lahore Qalandars franchise in the inaugural edition in 2016. He performed brilliantly for his team and became leading batsman for the team in the season with 335-runs in the tournament. He smashed four fifties, but his team could not reach in play-offs. He represented the same team in his second PSL season and ended with 164-runs in 8 matches, including a fifty. He continued his contract with Lahore Qalandars ended in the third season of the league. In the fourth season of PSL, Umar drafted in Quetta Gladiators, and made 277 in 12 matches. In 2020 PSL season he got replaced by Anwar Ali after the decision of his suspension made by PCB under Article 4.7.1 of its anti-corruption code.
International Career and Achievements
Test career
On 23rd November 2009, he made his first appearance in test cricket against New Zealand at Dunedin. He is the second player from Pakistan who made the world record of making a hundred in his debut match after Fawad Alam; he is also the first Pakistani who achieved his maiden hundred in a foreign tour. Umar stroked 129 in 160 balls. In series, he also performed in the other matches in the series, he also got a half-century and scored 52 in 33 balls and ended the series with 400-runs with an average of 57.14. He became the leading scorer in the series who had a very bright start but has not been able to carry it on.
Limited Overs International Cricket
Umar initiated his ODI career on 1st August 2009 against Sri Lanka, where he emerged with a brilliant performance against Sri Lanka in his second match, and registered his maiden century. He became the man of the game and made his place in Champion Trophy. He got awarded career's second man of the match against West Indies by hitting 41-runs. He made 55-runs in the second match of Champion Trophy against New Zealand, which ended up losing side after he got out by the wrong decision of the Empire.
Umar got a chance in the T20 world cup 2012, where his team reached the semifinal and lost from Sri Lanka. He got removed from the team. In 2015 he returned in T20 cricket, where he made 46-runs in 24 balls against Sri-Lanka. He also played the 2016 T20 world cup against Australia in the ODI series at UAE and played with an average of 30 in 5 innings of total 150-runs. He also dropped the 2019 world cup team. After that, Umar again got a recall in T20, but he performed poorly. He has most dismissals at duck (Zero) in history of cricket only behind Dwayne Smith.
Ban from International
Umar has a collection of controversies, his latest suspension from cricket made by PCB. On 20th March, he was charged through anti-corruption code under Article 2.4.4, failing to disclose to the PCB vigilance and security department and article 4.1.8. It starts from the PSL season 5, the bookies approached Umar and offered millions for spot-fixing, but he failed to inform PCB on time. The PCB made his investigation and asked him for meetings with bookies. Umar also accepted and was removed from PSL. He has three years ban from playing any sort of cricket.
Social Media Handles
His social media accounts include
https://twitter.com/umar96akmal
https://www.facebook.com/UmarAkmal.Official/