Karachi Kings is a Pakistani franchise T20 cricket squad that performs in PSL (Pakistan Super League). It is a Karachi-based team. In 2015 when PCB (Pakistan Cricket Board) announced PSL formation, Karachi Kings was formed.
National Stadium is the group's home ground, and Imad Waseem is serving as team captain, and Dean Jones served as coach until his death on 24th September 2020. On 17th November 2020, it defeated Lahore Qalandars and won 1st PSL tile in the 5th season of PSL.
Babar Azam is the leading run-scorer, and Muhammad Amir is a notable wicket-taker. This article carries every detail about the team, including Karachi Kings History.
| Title | Description |
| --- | --- |
| Details | |
| Type: | T20 |
| Location: | Pakistan |
| Information | |
| Captain: | Imad Wasim |
| Coach: | Mickey Arthur |
| Owner: | Salman Iqbal |
| History Information | |
| Wins: | 0 |
| Website: | http://karachikings.com.pk/ |
| Team Information | |
| Team: | Karachi Kings |
| Founded: | 2015 |
| Hat-Trick: | Mohammad Amir |
| Karachi Franchise was Sold: | ARY Media Group for $26 Million |
| Leading Run-Scorer: | Ravi Bopara |
| Leading Wicket-Taker: | Sohail Khan |
| Nickname(s): | Dillon Ke Badshah (lit. Kings of hearts) |
| City : | Karachi, Sindh, Pakistan |
| Home Ground: | National Stadium |
| Capacity : | 34,228 |

Karachi Kings History
On 3rd December 2015, Pakistan Cricket Board announced holders of the five city-based franchises. ARY Media Group purchased the Karachi franchise for 26 million US dollars for ten years. KK is the tournament's most costly franchise. In 2017 Multan Sultans, the new franchise, replaced Kings in terms of cost as it was sold at 41.6 million US dollars for eight years.
Karachi Kings Seasons 
Season 2016
The Karachi Kings started their PSL journey with a comfortable success against Lahore at Dubai International Stadium with Muhammad Amir's hattrick. The team won only one more game during the tournament ending with 2-wins and 6-losses.
They ranked 4th in the league table above Qalandars, so qualified for the play-off stage. In a qualifier game against United, Ravinder Singh replaced Shoaib Malik as captain. United defeated the Kings by 9-wickets in the fifteenth over and so got eliminated from this tournament.
Season 2017
In PSL's 2nd season, Babar Azam and Kuman Sangakkara joined Karachi Kings while Azhar Mehmood joined as a coach. Chris Gayle replaced Sohail Tanveer. During the 2017 players' draft, KK retained Shahzaib Hassan, Saif-Ullah Bangash, Sohail Khan, Muhammad Amir, Ravi Bopara, Imad Waseem, Shoaib Malik.
Nine more players were added to the team, including Ryan McLaren, Mahela Jayawardena, and Kieron Pollard. 
Got Defeated by Zalmi
In their 1st game, KK got defeated by Zalmi by seven wickets. KK failed to chase one-hundred and sixty made by Gladiators in the next match and lost by seven wickets. 
Tournament in Sharjah
As the tournament moved to Sharjah, Karachi continued facing defeats. This time, Qalandars got defeated; it was a thrilling match where the partnership between Malik and Sangakkara almost made victory possible for their team, but unfortunately, in the end, Kings lost the game by seven runs failing to achieve a target of one-hundred and eighty. 
Victory Against United
Kings managed to defeat United; the victory came through DLS (Duckworth Lewis Stern Method) as Karachi was ahead by eight runs when shower forced to stop already thirteen over match. 
Defeated Zalmi
In the final game in Sharjah, Karachi maintained their winning sequence to defeat Zalmi in an exciting and worth-watching match. Kings set a target of one-hundred and seventy-five runs and reduced Zalmis to 69/6 before Sammy and Afridi partnered and made seventy runs that seemingly won Peshawar's game. However, bowling by Karachi prevailed and gave their team a nine-run victory.
Tournament in Dubai
When the tournament shifted to Dubai, Karachi could not maintain their winning sequence and get defeated by Quetta by six wickets. Karachi batted 1st and made a target of one-hundred and fifty-five runs. This defeat moved Karachi to the table's bottom once again. In the next game, victory was a must for both teams; Karachi defeated Lahore Qalandars in a last-ball thrilling finish. 
Karachi had no other option than to protect its run-rate in the next game against Islamabad for qualifying for the eliminator. In the rain-spoiled match limited to fifteen overs a side, United made a target of one-hundred and twenty-four. Gayle made forty-four runs on only seventeen balls; Pollard superbly finished the match on 2nd last ball of the game via the boundary. Pollard's finishing and Gayle's knock led Karachi to a victory against United.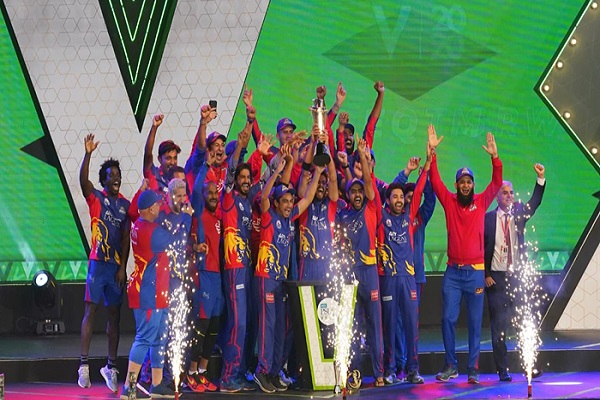 Qualified for 2nd Play-Off
Consequently, Karachi again met United in the eliminator, and it proved to be an exciting match. Karachi batted 1st and made one-hundred and twenty-six runs with all out. United was expected to win and reach 2nd play-off, but it didn't happen.
Karachi bowlers, including Usama Mir, Imad, and Amir, dominated the match by taking three wickets. United players made only eighty-two runs getting all out. This victory assisted Kings to qualify for 2nd play-off.
Season 2018
Shahid Afridi joined Kings on 7th April 2017 as player and president and parted his ways with Zalmi. Tymal Mills replaced Mitchell Johson. In the 2018 season's opening match, Karachi ended its defeat against Quetta by defeating them by nineteen runs.
Later, in the next match, Karachi maintained their winning position by defeating Zalmi in a thrilling game. In a chase of one-hundred and thirty-two runs, Karachi won with two balls and five spare wickets. 
Defeated Qalandars
The team played the next match against Qalandars; Karachi batted 1st and made one-hundred and fifty-nine runs for nine on board. This score was made possible by Bopara's fifty runs; Qalandars, in reply, took a great start but a quick loss of three wickets by Afridi ensured a 3rd consecutive victory for Kings as Lahore fell short by twenty-seven runs. 
Elimination
The Karachi got eliminated 2nd the eliminator game played on 21st March 2018 at Lahore against Zalmi.
Tournament in Sharjah
As the league moved to Sharjah, Karachi's match against Sultans was abandoned due to continuous rain. In the next match against Islamabad unbeaten run of the team in this season was finished. Karachi batted first and reached 154 runs that year before failing to defend it and lost the game by eight wickets.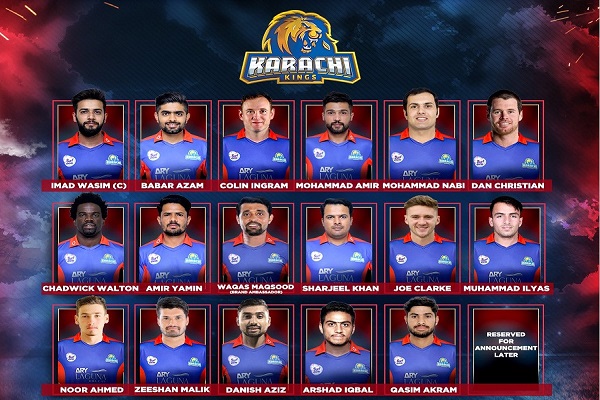 Season 2019
Before season 2019, Waseem Akram joined the Karachi franchise as its president.
Season 2020
In season five of PSL, Kings moved to finals for 1st time in the history of PSL after beating Multan in a qualifier game that reached Super Over. Kings defeated Qalandars under Imad Waseem's leadership by 5-wickets in the final and secured their 1st PSL title.
Karachi Kings Logo
On 21st December 2015 logo and name of the team were revealed. The logo portrays a lion, and 'Karachi Kings' is written in gold and white colors below the lion. Salman Iqbal, the team owner, stated that the theme and logo represented resilience and Karachi's true spirit.
Kit of KK 
The team's jersey color is gold and blue; on the shirt's bottom-left, a roaring lion logo is incorporated. AJ Sports manufactures kit for the team.
Sponsors
The largest Pakistani real-estate investors and developers and Asia's most prominent housing society were title sponsors of the team for 1st 3-seasons. In addition to Bahria Town, other sponsors were Shield Corporation Limited, Brighto Paints, Pepsi, Oye Hoye, The Arkadians, and Summit Bank. Their principal partner for season 2017 was Naya Nazimabad. The platinum sponsor was bridge power. In Dec 2016, Cotton and Cotton signed a deal to be Karachi King's apparel partner. Pakistan Observer was print-Media partner, and Vital Tea was tea partner. 
Karachi Kings Anthem
For season 2017, Shehzad Roy sang team anthem titled 'Dhan Dhan Dhan Ho Ga Rey.' For season 2018 official anthem of the team was 'De Dhana Dhan.'
Ambassadors
Film artists Hamayun Saeed, Shehzad Roy, and Fahad Mustafa were star ambassadors of the team for season 2018. In 2019 TUC replaced Bahria Town as title sponsor.
Karachi Kings Captains
Ravi Bopara

Shoaib Malik

Kumar Sangakkara

Imad Waseem

Eoin Morgan

Muhammad Amir

Babar Azam
Social Media Handles
https://twitter.com/KarachiKingsARY
https://www.facebook.com/KarachiKingsARY