Naseem Shah Cricketer
Naseem Shah is a Pakistan-based cricketer. He was added to the Pakistani cricket team in Oct 2019, at age of sixteen for the Test series played against Australia. On Nov 2019, he played his 1st match against Australia and became the 9th youngest player to appear in Test cricket.
In Dec 2019, he became 2nd youngest and fastest bowler to earn 5-wickets in a Test match played against Sri Lanka. He made history in February 2020 by taking a hat-trick in the 1st Test played against Bangladesh, making him the youngest bowler to do so. Naseem Shah height in feet is 1.8m.
| Title | Description |
| --- | --- |
| Personal | |
| Name: | Naseem Shah |
| In Urdu: | نسیم شاہ |
| Famous As: | Cricketer |
| Nationality: | Pakistani |
| Residence: | Mayar, Khyber Pakhtunkhwa |
| Education: | Allama Iqbal Public High School Mayar Dir Lower |
| Religion: | Islam |
| Profession: | Cricketer |
| Bowling: | Right-Arm Medium Fast |
| Batting: | Right-Hand |
| Role: | Bowling |
| Website: | https://twitter.com/inaseemshah |
| Born | |
| Date: | 15th Feb 2003 |
| Place: | Mayar, Khyber Pakhtunkhwa |
| Family | |
| Ethnicity: | Asian |
| Spouse: | Unmarried |
| Parents: | Not known |

Naseem Shah Biography
Shah is a shining star of Pakistani cricket and cricket fans in Pakistan have a lot of expectations from him. His senior fellows see him as the brightest star of Pakistani cricket. He always surprises his team and cricket lovers with his exceptional bowling. However, in Asia cup 2022 he became successful in introducing himself at a global level and to earn appreciation.
This appreciation came from the 2 sixes that he hit in the last over of the match played against Afghanistan and let Pakistan win the match and enter the finals. This performance highlighted him on all news channels and social media platforms as this excellent performance helped Pakistan in qualifying for the final of Asia Cup 2022.
Naseem Shah Age
He was born on 15th February 2003 in the town Mayar Jandool located in Pakistan's Lower district
Naseem Shah Family
He has four brothers and two sisters, one of whom is Hunain Shah, a fast bowler who competes at the U19 level. His mother died when he made his international debut in South Africa. He couldn't go to the funeral.
Naseem Shah Education
He completed his primary education in his hometown. But later he started focusing on cricket more than his education.
Naseem Shah Wife
He is unmarried.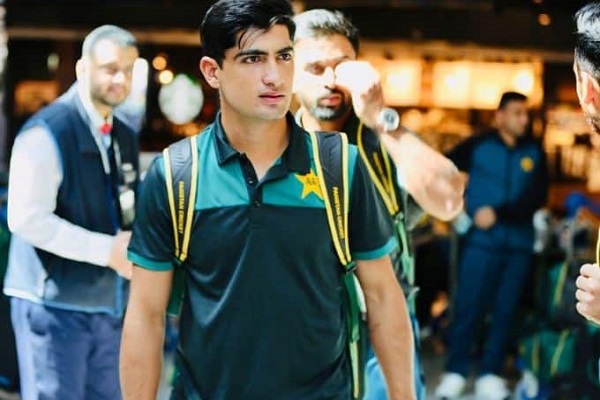 Cricket Career
A career at Domestic Level
On 1st Sep 2018, he played his 1st match for Zarai Taraqiati Bank Ltd. in the Quaid-e-Azam Trophy for the 2018–19 season. On 16th Oct 2018, he played his 1st List A match for Zarai Taraqiati Bank Ltd. during the Quaid-e-Azam One-Day Cup for the 2018–19 season.
He was included in Central Punjab's team for the Quaid-e-Azam championship in Sep 2019. On 13th Oct 2019, he played his first Twenty20 match for Central Punjab in the National Twenty20 Cup 2019-20.
Services for Gloucestershire County Cricket Club
He signed a contract with Gloucestershire County Cricket Club in Jan 2022 to participate in English domestic competitions during the 1st half of the season 2022. He was hired by the Welsh Fire in April 2022 for the 2nd season of The Hundred. Shah had a shoulder injury in his debut game for Gloucestershire, forcing him to miss the tournaments for a month.
International Level
He was included in Pakistan's Test team for their matches against Australia in Oct 2019. He participated in Pakistan's 3-day warm-up match against Australia A in November 2019. On 21st Nov 2019, he played his first Test match against Australia.
The next month he was selected in the Pakistani Test squad for the 2-match series played against Sri Lanka. He recorded his 1st 5-wicket haul in a Test match during the 2nd match. He took a 5-wicket haul at the age of sixteen in a Test match, making him the youngest pace bowler and the 2nd bowler overall. Naseem Shah bowling speed is 147.5 kph.
Selection in U19
He was first selected for Pakistan's team for the U19 Cricket World Cup in 2020, however, following his standout Test cricket debut, he was dropped from the U19 squad. The PCB (Pakistan Cricket Board) released a statement in Jan 2020 regarding Naseem's departure from their Under-19 team.
They clarified that the decision was made for cricket-related reasons and not because of age-related concerns, saying they had checked and confirmed the ages of all players who could join their U19 squad.
Performance Against Different Countries
He made history on Feb 9, 2020, when, at the age of 16 years, he took a Test hat-trick against Bangladesh in the 1st Test match. Before the 2020–21 season, the PCB granted him a central contract in May 2020. He was added to Pakistan's 29-person group for visit to England in 2020, which was arranged during the pandemic COVID-19.
Naseem was named in Pakistan's twenty-man squad for the Test series against England in July. He got selected in the T20I squad of Pakistan on 21st Aug for the matches against England. He was included in the Pakistani 35-person squad for Nov 2020 trip to New Zealand. Moreover, he got selected for the Pakistani Shaheens team in October 2021 for their Sri Lanka tour.
Selection in ODI Team
Shah was added to the Pakistani ODI squad for their Netherlands tour in Aug 2022. On 16th Aug 2022, he performed in his 1st ODI against a team of Netherlands. Later that same month Shah was included in Pakistan's Twenty20 international team for the Asia Cup 2022. On 28th Aug 2022, he performed in his 1st T20I match played against India.
Naseem Shah Sixes
Pakistan played against Afghanistan on 7th Sep 2022. And in the last over Shah made history by hitting two sixes, one after the other, and Pakistan qualified for the Asia Cup'22 finals.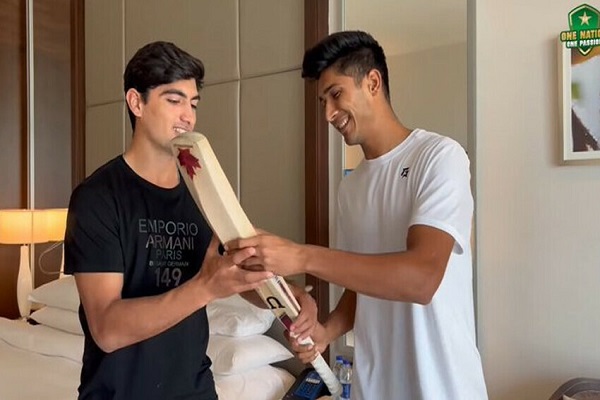 Naseem Shah Bat Auction
After hitting sixes in the match against Afghanistan he decided to auction the bat in order to help the victims of flood relief. The auction will soon take place.
Also, Check
Social Media Handle
His social media accounts include
https://twitter.com/iNaseemShah
https://www.instagram.com/inaseemshah/