Peshawar Zalmi is a Pakistan-based T-20 cricket squad performing in PSL (Pakistan Super League). The team represents KPK capital Peshawar. Javaid Afridi, a renowned and successful businessman, owns the franchise. After the Pakistan Cricket Board (PCB) announcement to start PSL, the Zalmi was founded in 2015.
Currently, Wahab Riaz is the team captain, and Daren Sammy is the head-coach. Sammy was appointed head coach during mid-2020 replacing Muhammad Akram, who maintained his post as director of the team. Wahab is a notable wicket-taker, while Akmal is an eminent run-scorer. This article has every detail including Peshawar Zalmi History.
| Title | Description |
| --- | --- |
| Details | |
| Type: | T20 |
| Location: | Pakistan |
| Information | |
| Captain: | Shahid Afridi |
| Coach: | Mohammad Akram |
| Owner: | Javed Afridi |
| History Information | |
| Wins: | 1 (2017) |
| Website: | https://peshawarzalmi.com/ |
| Team Information | |
| Team: | Peshawar Zalmi |
| CEO: | Haier Javed Afridi |
| Founded: | 2015 |
| Representing: | Peshawar |
| Most Wickets: | Wahab Riaz (15) |
| Most Runs: | Tamim Iqbal (267) |
| "Zalmi" Means: | "Youth" |
| 5 Categories: | Diamond, Platinum, Gold, Silver, Emerging, and Supplementary |
| Basic Colors of Peshawar Zalmi Team: | Yellow and Blue |
| Head Coach: | Mohammad Akram |

Peshawar Zalmi History
On 3rd Dec 2015, the PCB (Pakistan Cricket Board) revealed city-based five franchise owners for PSL's 1st season. Javaid Afridi purchased the Peshawar franchise for sixteen million US dollars for ten years.
Season 2016
Zalmi started their season in 2016 by winning their 1st two games. The team won their six games out of eight matches finishing 1st in the points table and qualified for play-offs.
Match Against Quetta
The 1st play-off was against Gladiators in qualifier one. Zalmi scored one-hundred and thirty-two runs, and Gladiators, in response, made one-hundred and thirty-three runs. Their 1st position in group table Zalmi played against United in the 2nd qualifier match, and after losing this match got eliminated.
Season 2017
During the off-season, Zalmi traded Amir yamen for Sohaib Maqsood of Qalandars. During PSL 2017 players draft Zalmi retained ten players and added eight, including foreign players Alex Hales, Chris Jordan, Eoin Morgan, and Shakeeb-ul-Hassan.
Tameem and Shakeeb weren't available during the tournament's initial stage due to their national assignments as they played test matches in India. Later, Marlon Samuels and Tillakaratne Dilshan replaced Shakeeb and Alex, and Andre Fletcher replaced Muhammad Shehzad while Samit replaced Tameem Iqbal.
Match Against United
In their 1st game of season 2017, Peshawar got defeated by Islamabad United by seven wickets.
Match Against KK
Zalmi faced Karachi Kings and defeated them by not allowing them to chase a target of one-hundred and twenty runs. Morgan made unbeaten innings of eighty runs on fifty-seven balls.
Faced a Grand Defeat by Qalandars
In the next match, Zalmi faced a defeat by Lahore Qalandars as they failed to chase an easy target of just sixty runs.
Tournament in Sharjah
When the tournament progressed to Sharjah, Peshawar's 1st game against Gladiators was dropped due to repeated rains, and these two squads shared points from the bout. Zalmi faced United in the next match and faced a defeat by United. Zalmi scored only one-hundred and thirty-seven runs.
In their final match of Sharjah leg, Peshawar faced another defeat by Kings in an exciting match. Kings gave a target of one hundred and seventy-five and reduced Peshawar to 69/6 before Darren. Shahid Afridi made seventy runs in a partnership that smoothed the way to victory Zalmis, but unfortunately, Zalmis lost by nine runs.
Tournament in Dubai
When the tournament moved back to Dubai, Peshawar had a consecutive win streak against Gladiators and Qalandars. Zalmi set a target of one-hundred and sixty-seven runs and then successfully defended it as they induced a batting collapse of five wickets for six runs from opponents.
Though in a match with Quetta, Zalmis faced a batting collapse; in pursuit of one-hundred and twenty-nine runs, Zalmis were at 52/6 at a point before Afridi showcased his talent and made forty-five runs off twenty-three balls, leading his team to victory.
Tournament in Sharjah
In 1st play-offs, they met with Quetta at Sharjah; Quetta made a grand target of two-hundred. Ahmad Shehzad made seventy-one on thirty-eight balls. Zalmi, in the start, had a poor beginning and lost two wickets before making even ten runs, then Hafeez entered into the ground and began hitting Quetta and made a hundred runs in a partnership.
Gladiators qualified for the final, and Peshawar progressed to qualifier two, where they beat Kings by twenty-four runs. Zalmi batted 1st and made one-hundred and eighty-one runs for three by the brilliant performance of Kamran Akmal making one-hundred and four runs from sixty-five balls.
Final Match Between Gladiators & Zalmi
Zalmi beat Gladiators, the runners up of PSL's inaugural edition, by fifty-eight runs. Left-arm spinner of Zalmi Muhammad Asghar secured three wickets for sixteen runs. In 1st innings, Quetta's Rayad took two wickets in the seventeenth over, while Darren made thirty-three runs in the last 2-overs taking Peshawar to one-hundred and forty-eight.
Season 2018
In season 2018's opening match, Zalmi got defeated by the newly formed team Multan Sultans by seven wickets. Later, in the next match, Peshawar had a victory over United by thirty-four runs. In chasing a target of one-hundred and seventy-six runs, Zalmi's fast bowler Umaid Asif performed brilliantly and reduced the opponents to 25/4.
Zalmi's defeat continued as the Kings defeated Zalmi. They batted 1st and lost their wickets at regular intervals. Dwayne Smith's seventy-one runs helped his team to have a respectable score of one-hundred and thirty-one.
Tournament in Sharjah
When the tournament progressed to Sharjah, Zalmis had a thrilling victory against Gladiators. Gladiators batted 1st and made a target of one-hundred and forty-three runs. Zalmi, in response, made one-hundred and seven runs before they lost 3-wickets to finish requiring twenty-two runs from the last 2-overs.
Sammy, despite being injured, single-handedly managed the match by making sixteen runs from four balls. In the next match, Peshawar limited Lahore in chasing the lowest target of one-hundred and one run. The winning margin was ten wickets, 1st such case in PSL's history.
Final Match
United defeated Zalmi in the final match by three wickets. They won the toss, batted first. Zalmi's batsman Akmal got out after making one run on eight balls, with Patel securing wicket in 3rd over.
Season 2019
Peshawar ended group-stage with 1st position by having victory in seven games and losing three. In the qualifier, Peshawar lost to Quetta by ten runs. In the final match played in Karachi, Gladiators defeated Zalmi by eight wickets.
Season 2020
Zalmi signed Hashim Amla before season 2010 as the team's batting mentor, replacing Younas Khan.
Identity of Team
On 13th Dec 2015, Javaid Afridi, the team owner, revealed its official logo and name in APS (Army Public School Peshawar). Word Zalmi is a Pashto word meaning 'Youth.' team's logo is a fusion of Peshawari Patke with the cricket stumps. There are three shades in the logo white, yellow, and blue signifying skies, region's pride, and people's energy.
Peshawar Zalmi Kit
The team kit colors are blue and yellow, but now it changed to black and yellow as they made some changes in PSL-4.
Zalmi Partners
The list of Peshawar's multi-national and national partners includes Storm Fiber, Ruba Digital, JW Forland, McDonald's, Sprite, TCL, and Haier. Its media partners include Daily Pakistan, FM-91, AVT Khyber News, Dawn News, Hum Network, and Urdu News.
Peshawar Zalmi Ambassadors
TV artists Humaima Malik and Hamza Ali were star ambassadors of the team for seasons 2016 & 2017. In season 2018, Mahira Khan replaced Humaima Malik as a team ambassador. For season 2019, Sana Javaid was declared as a goodwill ambassador of the team. Gul Panra is the team's Regional Brand Ambassador from Pakistan Super League 4, and she also sang the team Anthem.
Representation at International Level
Global Zalmi
Global Zalmi consists of Zalmi's Intl Sports Branches spread across twenty-five countries. Every year squads from these countries play the 'Global Zalmi league.'
Peshawar Zalmi
It is Pakistan's largest sports entity, valued at over forty million. PSL's number one brand has appeared as the giant conglomerate in Pakistan for the past three years.
Zalmi Foundation
ZF (Zalmi Foundation) is a charitable organization working on the mission to 'Bringing Back Smiles' by facilitating and supporting implementing a sustainable development strategy all over Pakistan. The foundation tries for partnerships with UN Communities, Embassies, and agencies to make a society based on tolerance, freedom of choice, and self-esteem.
Benoni Zalmi
Zalmi spread his presence at the international level by having a squad in the new Global T-20 league with the 'Benoni Zalmi.'
Zalmi Force
It is a platform to provoke Pakistani youth, and Zalmi would diligently work for youth's capacity building. Zalmi wants to offer opportunities for Pakistani youth on all platforms.
Zalmi TV
It is Zalmi's OTT Platform that would have all content of Zalmi for a year. It would serve as a 1-stop shop for fans of Zalmi to watch their favorite and desired content.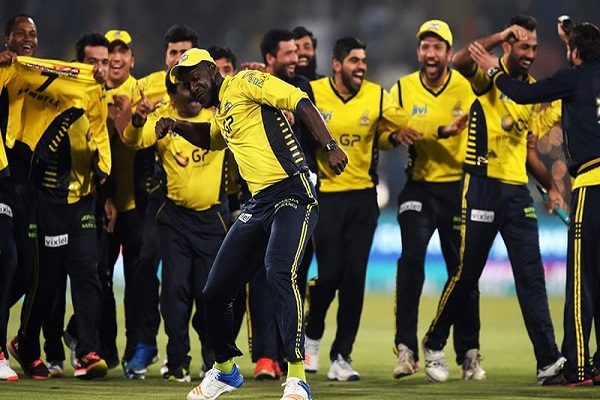 Philanthropic Activities
Zalmi joined IRC (International Rescue Committee) in 2017 to create awareness about education in the country. The franchise is also providing sports education to Pakistani children via training and sports camps worldwide. The team also contributes mainly to charity activities, and for 2017 Shaukat Khanum is the team's official charity.
In 2016 Zalmi invited APS attack survivors to watch PSL. Almost one-hundred and fifty students and staff from APS were invited to attend PSL's 1st edition. They allowed children who were living with cancer to visit Dubai and make memories. Those children 1st time moved out of the country.
Social Media Handles
https://twitter.com/PeshawarZalmi
https://www.facebook.com/PeshawarZalmi/