Faysal Bank is one of the commercial and Islamic banks in Pakistan, named after Saudi Arabian King Mohammad Bin Faisal Al-Saud. It was established in 1987 as a subsidiary of Ithmaar Bank, Bahrain. The headquarters of the bank is situated in Shahrah-e-Faisal, Karachi. State Bank of Pakistan has approved it as a commercial bank.
The bank provides many commercial services including life insurance, loan, investment, business banking, personal banking, and E-banking services to customers throughout the country under the Laws of Shariah. In addition to that, it also provides the services of corporate, retailer, Islamic Banking, consumer, and remittance to the nationals of Pakistan around the world.
There are a total of 550 branches of the Bank within 2 hundred cities which include 414 branches of Islamic Banking and 265 branches in the country with a total worth of 602 billion Pakistani Rupees. This article comprises all the information including Faysal Bank History.
| | |
| --- | --- |
|              Title |                 Description |
| Bank: | Faysal Bank |
| Type: | Commercial and Islamic Bank |
| Established: | 1987 |
| Headquarter: | Karachi |
| Branches: | More than 550 branches |
| Owner: | Ithmaar Bank of Bahrain |
| Products: | ATM Card, Master Card, SMS Banking, etc |
| Total Worth: | 602 billion Pakistani Rupees |
| Website: | https://www.faysalbank.com/ |

Faysal Bank History
The bank was established in Karachi and started functioning in 1987 under the name of Faysal Islamic Bank. A branch of Bahraini bank owned by Saudi King Faysal which is later transformed to Faysal Bank Limited in 2002. It started its operations of providing many services to the people of the region and started opening many branches in the country including Azad Kashmir, Islamabad, Peshawar, Lahore, and Faisalabad after its inception.
Furthermore, the bank is licensed by the State Bank of Pakistan for separate Islamic operations under the 1962 ordinance of Banking. It is now considered to be one of the most prominent Islamic banks in the country.
Ownership
Shareholders of the bank contain NIT, General Public, and other Pakistani institutions. However, Ithmaar Bank of Bahrain is the owner of the majority of shares of the bank and likewise the owner of Faysal Bank.
Faysal Bank Services
The Bank provides many services include investments (Short term and Long term), loans, insurance, agricultural finance, farm finance, foreign remittance, and corporate finance. Some of the other services contain the following.
1- Islamic Banking Services
The bank has launched Barkat Islamic Banking and offers different types of accounts including current and saving accounts. Furthermore, it provides services of loan and currency exchange under Islamic Laws of Qard, Musharakah as well as Mudarabah. All of the products of the bank are issued by the Board of Shariah which contains well–known scholars of Islamic Shariah.
2- Accounts
The bank offers different types of accounts and product services which comprise the following.
Current Account
Basic Banking Account
Saving Account
Faysal Premium
Rozana Munafa Plus Account
Mahfooz Sarmaya
Faiyal Moavin
Faysal Izafa
3- Products
Internet Banking
Visa Debit Card
ATM Card
Master Card
SMS Banking
Travelers Cheques
4- Finance
Finance services include:
SME Finance
Treasury
Agricultural Finance
Corporate Finance
Trade Finance
Faysal Finance
5- Investments
The bank offers both Short and Long – term investments from 3 months- 1 year to all of its national and international customers. Along with investments it also provides guaranteed and best security for public investments.
6- Agro – Finance
Under Agricultural finance, the bank offers many loans and investments for increasing the rate of agricultural production. The services of Agro – Finance include providing wells, helping farmers with trustworthy infrastructure, and providing solar energy systems.
7- Corporate Finance
Corporate finance offers the following.
Discounting and Bills
Small Finance,
Running Finance
Cash Finance
8- Mobit
The bank offers internet banking through Mobit which can be used for bill payments, educational payments, transfers, recharge, shopping, and other transaction services. Mobit is available in both versions of IOS and Android.
Faysal Bank Branches
There are more than 200 branches in about all the major cities of Pakistan which include the following.
Islamabad
Faisalabad
Karachi
Rawalpindi
Peshawar
Lahore
Khanewal
Nowshera
G Khan
I Khan
Chaman
Mardan
Sawabi
Board of Directors
Farooq Rahmatullah Khan – Chairman
Ahmad Abdul Rahim – Director
Yousaf Hussain – CEO and President
Mian Mohammad Younis – Director
Imtiaz Ahmad Pervez – Director
Juma Hasan Ali Abul – Director
Ali Munir – Director
Abdullah Ibrahime Mohammad Al-Qasimi – Director
Miss Fatima Asad Khan – Director
Abdullah Abdulaziz Taleb – Director
Mohsin Tariq – Director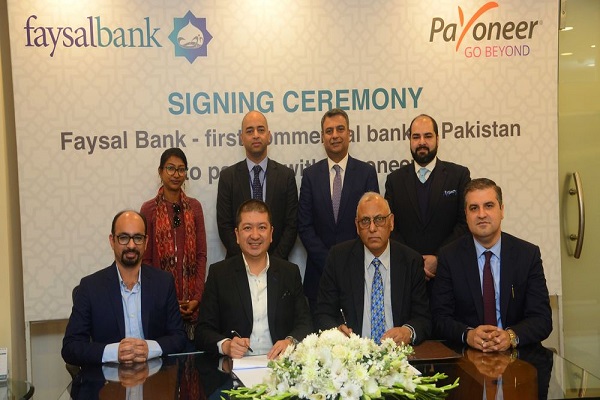 Management
Yousuf Husain – President and CEO
Salman Ahmad Usmani – Head of Treasury and ECM
Raheel Ijaz – Chief Operating Officer
Nasir Islam – Head of Internal Audit
Syed Majid Ali – Chief Financial Officer
Tahir Yaqub Bhatti – Head of Public Sector Business
Syed Iftikhar -ul- Haq – Head of Payment Services and Consumer Finance
Jaudat Husain – Head of Retail Banking
Ibad Ullah – Head of Compliance
Mian Salman Ali – Chief Risk Officer
Ali Waqar – Head of Corporate
Syed Hassan Jafri – Chief of Information and Technology
Bashir Ahmad Shiekh – Head of Special Assets Management
Aneeq Malik – Head of Operations
Auragzeb Amin – Secretary of the company
Mohammad Faisal Sheikh – Head of Islamic Banking
Monis Mirza – Head of Human Resources
Faysal Bank Contributors
Being a branch of Bahraini bank, about 66 percent of shares are owned by Ithmaar Bank while the rest of the shareholders includes the public and other institutions of Pakistan.
Total Worth
There are hundreds of branches of Faysal Bank throughout the country which has a total worth of 602 billion Pakistani Rupees with a production of 0.9 percent per year.
Upcoming Projects
Ithmaar Bank of Bahrain announced a total of 5 hundred branches of their bank including hundred branches in Pakistan under the provision of Faysal Bank. The penetration rate of banking in Pakistan is as low as 20 percent due to which one hundred branches of Faisal Bank will be opened in the coming year.
Frequently Asked Questions
Q: Who owns Faysal Bank Pakistan?
A: Ithmaar Bank is the owner of this bank.
Q: How many branches does this bank have?
A: The bank is spread in approximately 200 cities with more than 500 branches.
Q: How do I activate my Faysal Bank app?
A: Go to the app and follow T&C. Fill in all the required information. An activation code will be sent to your mail. Apply the code and you will be done with the activation.  By following the same steps, you can also register for Faysal Bank internet banking.
Q: Who is the CEO of Faysal Bank?
A: Mr. Yousaf Hussain is the CEO and president of this bank.
Q: What is the Faysal Bank helpline number?
A: 111060606 is the helpline number where you can register your complaints.
Contact Information
Helpline # +92–21–111–060–060
Email # [email protected]
Social Media Handle
https://www.facebook.com/faysalbank/