Peshawar is a district and capital of Khyber Pakhtunkhwa, Pakistan. It is located in the east of Islamabad (Capital of Pakistan) with 160 kilometres. The city is the headquarters of the district. The area of the district is about 485 square miles (1257 square kilometres).
The city is the 6th largest city of Pakistan comprising a population of 1970042 inhabitants. The region is ruled by about all of the rulers. Being the centre of Gandhara Civilization, it became the capital of Kanishka's Kaushan Empire, followed by Hephthalites, Shahis, Mughals, and Durrani, Sikh and British. The article contains all the information about the city, including Peshawar History.
| Title | Description |
| --- | --- |
| Information | |
| Location: | Pakistan |
| City Council: | Metropolitan city |
| Type: | Capital of the Pakistani province of Khyber Pakhtunkhwa |
| Local Language Name: | پشاور |
| Province: | Khyber Pakhtunkhwa |
| Coordinates : | 34°01 |
| District: | Peshawar District |
| Region: | Khyber Pakhtunkhwa |
| Elevation: | 359 m (1,178 ft) |
| Union councils: | 92 |
| Highest elevation: | 450 m (1,480 ft) |
| Language | |
| Official Language: | Urdu |
| Native Language: | Pushto |
| Other Languages: | Urdu, Pushto, English |
| Government | |
| Government Type: | Metropolitan city |
| District Coordination Officer: | Riaz Khan Mahsud |
| Mayor: | Arbab Asim |
| Deputy Mayor: | Syed Qasim Ali Shah |
| Assistant Commissioner: | Altaf Ahmad Sheikh |
| Area | |
| Total Area: | 1,257 km2 (485 sq mi) |
| Population | |
| Density: | 1,400/km2 (3,600/sq mi) |
| Total Population: | 1,755,000 (2014) |
| Time zone | |
| Time zone: | PKT (UTC+5) |
| Codes | |
| Postal code: | 25000 |
| Dialling code: | 091 |
| Vehicle registration: | Three letters beginning with P and random four numbers |

Peshawar History
Alexander the Great
Peshawar was founded in Peshawar Valley, on the plane lands of Gandhara in 5 BCE. It was founded near Charsadda (Pushkalavati). The region came under the rule of Alexander the Great in 327 BCE followed by the Seleucid Empire.
Mauryan Empire then occupied the region and used the roads of Purushapura (Peshawar) to connect the empire with the city of Patna, India. Around 190 BCE, the Greco Bactrian Kingdom occupied the region after the decline of the Maurya Empire.
Iranic Kingdom
The Iranic Parthian Kingdom then occupied Peshawar followed by the Indo Parthian Kingdom, Kujula, Kushan empires. Shapur I (Sasanid emperor) invaded the region and destroyed the monasteries and Buddhist monuments of Stupa in 260 century. The stupa of Kanishka was rebuilt in 460 century by White Huns and made of a super wooden structure.
Ghaznavid Emperor
In 1001, the Ghaznavid Emperor Sultan Mehmood Ghaznavi defeated Raja Jayapala's army in Peshawar's Battle. Sultan Shahab ud din Ghori occupied the region in 1179 and ruled till 1180. Mongols then came and destroyed the region.
The Pashtun tribes of Ghoryakhel such as Daudzai and Mohmands began to settle in Peshawar around 15th and 16th century. The many Mughal emperors rule the district during the 15th century. Emperor Babur occupied the region in 1526 followed by Humayun and Sher Shah Suri who took a start on Grand Trunk Road (G.T Road).
Mughal Empire
During the Mughal Empire, the region considered to be an important trading centre. The region remained under Mughal rule till Sikh invasion followed by Marathas who occupied the region in 1758, in Peshawar's Battle. In 1886, the district was captured by the British Raj who established the region by connecting India with Pakistan through a railway track.
They built the Victoria Hall (Peshawar Museum in 1906. They build Edwards College in 1901 and Islamia College in 1913 century. British rulers ruled Peshawar till 1947, Independence of Pakistan.
Administration
The district is administratively divided into four tehsils which are given below.
Peshawar City Tehsil

Matani Tehsil

Saddar Tehsil

Shah Alam Tehsil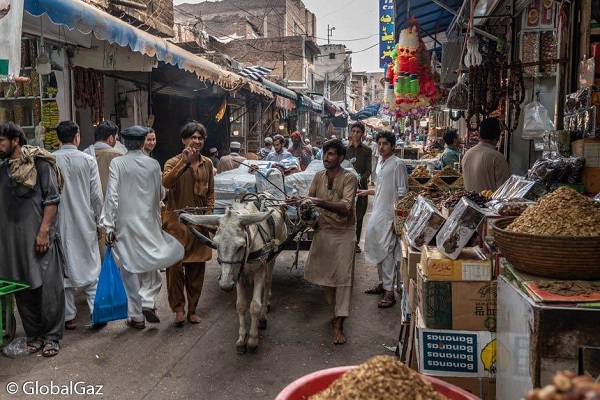 Population
According to 2007 census of Pakistan, the district had a population of 1.97 million inhabitants.
Language
The district's primary language is Pashtu spoken by 91 per cent of the population while Urdu, Hindko and English are spoken by 9 per cent of the people.
Peshawar Postal Code and Area Code
Postal Code: 25000
Area Code: 091
Transportation
Peshawar is connected with all major cities of Pakistan through National Highways and Railways while linked with the other countries through AirPort.
Roads
The region is linked with Islamabad, Rawalpindi, Karachi, Quetta and Khanewal through National Highway Motorway) while connected with the district's regions through Grand Trunk Road, Peshawar Bus Rapid Transit (BRT) also links the other regions of this city.
Railway
The city is connected with Karachi, Rawalpindi, Baluchistan and Punjab through railway lines.
AirPort
Bacha Khan International Air Port links Peshawar's people with other countries such as Saudi Arabia, Kuwait, Bahrain, Europe countries, and America.
Peshawar Climate
The district's climate is hot and dry in summer season while there is a severe cold in winter. The summer season temperature varies from 25 to 37 degrees centigrade while the highest recorded temperature is 40 degrees Centigrade.
The lowest recorded temperature of winter is 4 degrees centigrade while the maximum temperature is 18 degrees centigrade.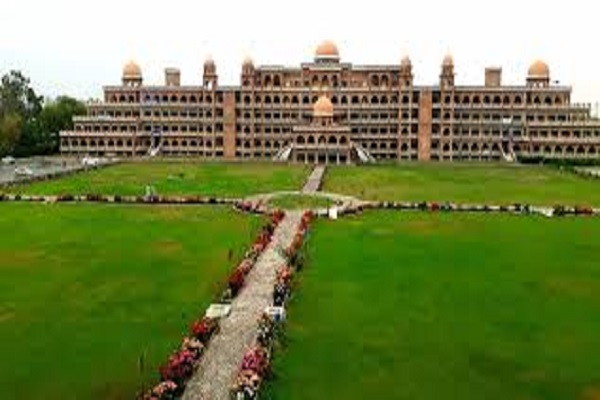 Education
Peshawar is home for many public and private educational institutions among which some are given below.
University of Peshawar
Abasyn University
CECOS University of IT and Emerging Sciences
Agricultural University
City University of Science and Information Technology
Gandhara University
Frontier Women University
IMSciences (Institute of Management Sciences)
Islamia College University
Khyber Medical University
University of Engineering and Technology
Iqra National University, Peshawar (formerly Peshawar Campus of Iqra University Karachi)
National University of Computer and Emerging Sciences, Peshawar Campus (NU-FAST)
Qurtuba University of Science & Information Technology
Preston University
Sarhad University of Science and Information Technology
Agriculture
The district has agricultural land, and the major crops of the region are potato, tomato, rice, wheat, corn and chilli. The significant fruits of the region contain Mango, Banana, Grapes and Guava. The district also contains 29 per cent of forests.
Sports
Different games are played by people, including cricket, football, snooker, volleyball, table tennis, and the Olympics. Peshawar Panthers (Peshawar Zalmi) is the native cricket team of Peshawar who participates in every Pakistan Super League tournament. Some of the sports clubs and stadiums are given below.
Arbab Niaz Cricket Stadium

Qayum Cricket Stadium

Peshawar Club Ground

Peshawar Gymkhana

Hayatabad Sports Complex
Festivals
Many Festivals are celebrated in the district including, Eid -ul- Fitr, Eid -ul- Adha, Basant, 14th August and many other marriage festivals.
Places of Attraction
There are many historical and exciting places, including Peshawar Zoo and Peshawar Museum. Some of them are given below.
Qissa Khwani Bazar
Kotla Mohsin Khan
Bala Hisar Fort
Mohabbat Khan Mosque
Sikh Gurudwara
Chowk Yadgar
Kapoor Haveli
Aasamai temple
Shahji ki Dheri
Qasim Ali Khan Mosque
Pashto Academy
Parks of the region include Jinnah Park, Army Stadium, Ali Mardan Khan Gardens, Tatara Park, Shahi Bagh and Wazir Bagh.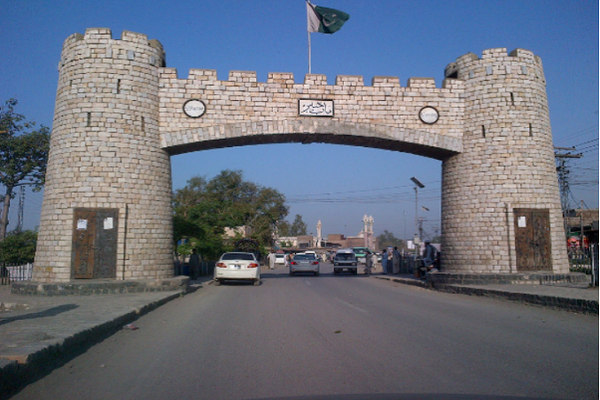 Notable People
Yahya Khan, President and Commander in Chief and Pakistan Army
Abdur Rab Nishtar, politician
Malik Saad, late CCPO of Peshawar
Ghulam Muhammad Qasir, Urdu poet
Ismail Shahid, Pashto comedian and actor
Samar Haroon Bilour
Shahid Afridi
Kabir Khan, cricketer
Vinod Khanna, Indian actor
Qamar Zaman, squash player
Jansher Khan, former squash world champion
 Haroon Bilour
Abdur Rehman Peshawri, Turkish Ambassador to Afghanistan
Farhatullah Babar, President of Pakistan People Party
Patras Bokhari, Urdu poet
Bashir Ahmad Bilour, politician
Umar Gul, cricketer
Prithviraj Kapoor, Indian film actor
Dilip Kumar, Indian actor
Ismail Gulgee, artist
Rahimullah Yusufzai, journalist
Shah Rukh Khan, Indian Actor
Raj Kapoor, Indian actor
Yasir Hameed, cricketer
Aamir Atlas Khan, Pakistan squash player
Jahangir Khan, former squash player
Hashim Khan, former British Open squash champion
Marina Khan, actress
Mohammed Yahya, educationist, Former Minister of Education
Sania Nishtar, a cardiologist and health policy expert
Sahibzada Abdul Qayyum, Legislative Council member
Muhammad Rehman, founder of Rehman Medical College