Faisalabad (Lyallpur until 1979), is the third-most-populous city in Pakistan, and the second-largest in the eastern province of Punjab. Historically one of the first planned cities within British India, it has long since developed into a cosmopolitan metropolis. Faisalabad was restructured into city district status; a devolution promulgated by the 2001 local government ordinance (LGO). The total area of Faisalabad District is 58.56 km2 (22.61 sq mi) while the area controlled by the Faisalabad Development Authority (FDA) is 1,280 km2 (490 sq mi). Faisalabad has grown to become a major industrial and distribution centre because of its central location in the region and connecting roads, rails, and air transportation. It has been referred to as the "Manchester of Pakistan" because it contributes over 20% toward Pakistan's annual GDP. Faisalabad's average annual GDP is $20.55 billion (USD), of which 21% comes from agriculture.[1] Regional Profile- Faisalabad The surrounding countryside, irrigated by the lower Chenab River, produces cotton, wheat, sugarcane, vegetables and fruits. The city is an [industrial centre with major railway repair yards, engineering works, and mills that process sugar, flour, and oil seed. Faisalabad is a major producer of superphosphates, cotton and silk textiles, hosiery, dyes, industrial chemicals, beverages, clothing, pulp and paper, printing, agricultural equipment, and ghee (clarified butter). The Faisalabad Chamber of Commerce and Industry monitors industrial activity in the city and reports their findings to the Federation of Pakistan Chamber of Commerce and Industry and provincial government. The city has a major dry port and international airport.
| Title | Description |
| --- | --- |
| Information | |
| Location: | Pakistan |
| City Council: | Municipal Corporation |
| Type: | Municipal Corporation |
| Former name: | Lyallpur |
| Local Language Name: | 98.2% Punjabi; 1.8% Others |
| Coordinates : | 31°25'45 |
| District: | Faisalabad District |
| Region: | Punjab |
| First settled: | 1892 |
| Founded by: | Sir Charles James Lyall |
| Website: | www.faisalabad.gov.pk |
| Language | |
| Official Language: | Urdu |
| Native Language: | Punjabi |
| Other Languages: | Urdu,Punjabi,English |
| Government | |
| Government Type: | Municipal Corporation |
| Mayor: | TBD |
| Deputy Mayor: | TBD |
| Area | |
| Land: | 840 km2 (325 sq mi) |
| Water: | 430 km2 (165 sq mi) |
| Metro: | 5,860 km2 (2,261 sq mi) |
| Population | |
| Rank: | 3rd, Pakistan |
| Density: | 3,200/km2 (8,300/sq mi) |
| Time zone | |
| Time zone: | Pakistan (PST) (UTC+5) |
| Summer (DST): | PST (UTC+4) |
| Codes | |
| Postal code: | 3800 |
| Dialing code: | 041 |
| Vehicle registration: | Three letters beginning with F and random four numbers (e.g. FDA 1234) |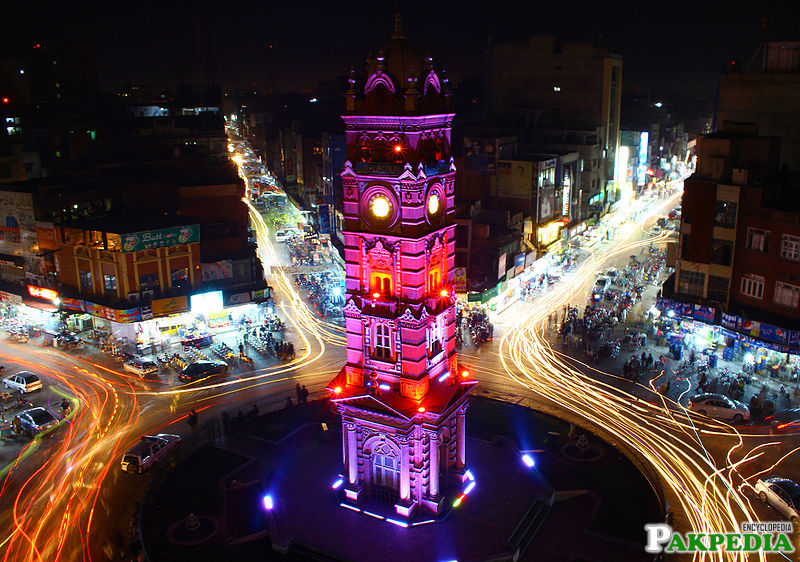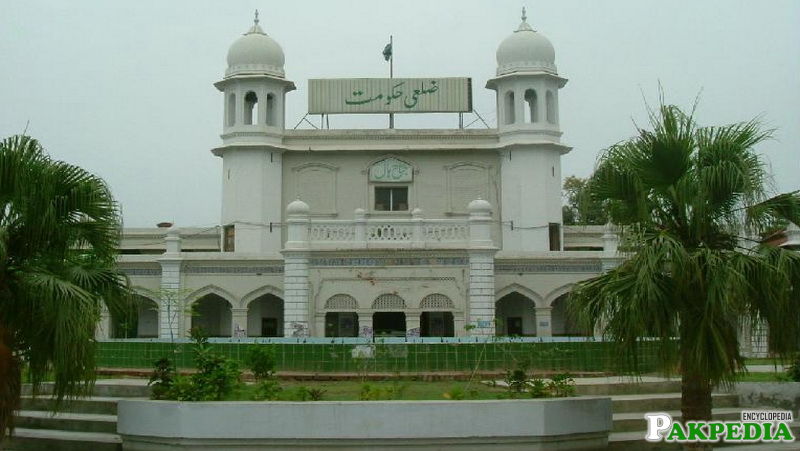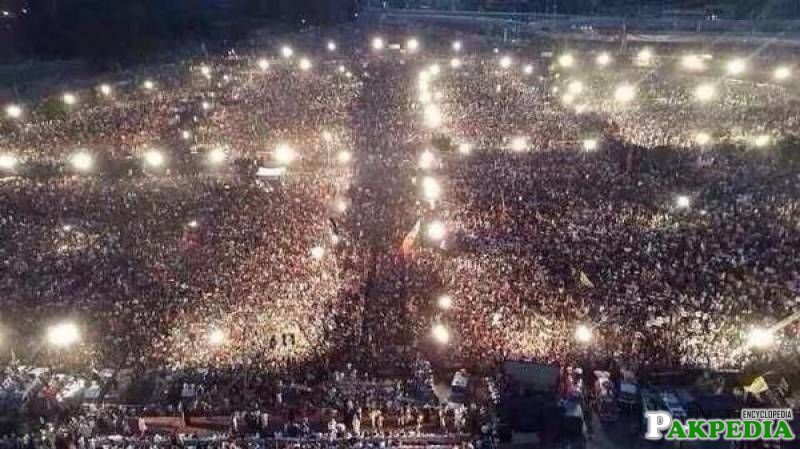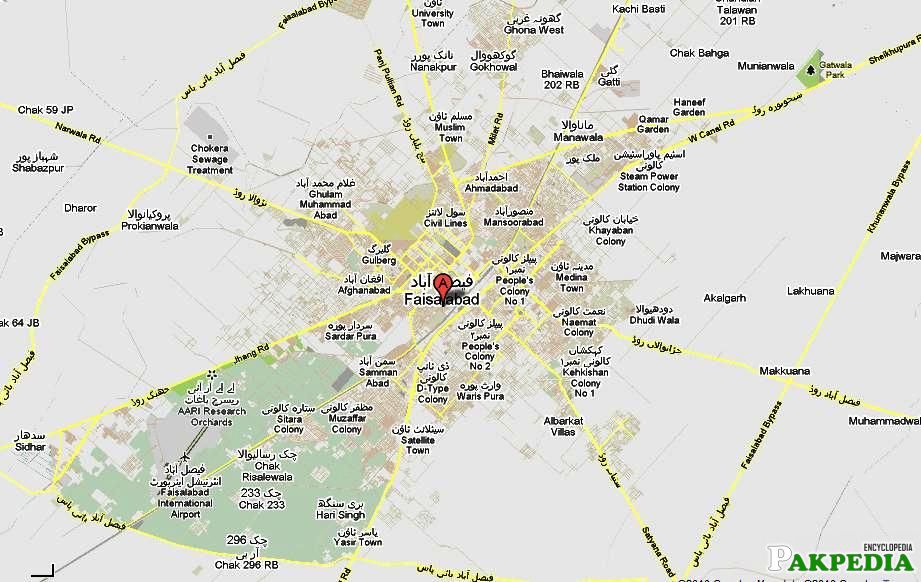 History
Early Settlements
According to the University of Faisalabad, the city of Faisalabad traces its origins to the 18th century when the land was inhabited by a number of forest-dwelling tribes. It is believed these early settlements belonged to the ancient districts of Jhang and Sandalbar, which included the area between Shahdara to Shorekot and Sangla Hill to Toba Tek Singh[2] City of- Faisalabad By the mid-18th century, the economic and administrative collapse of provinces within the Mughal Empire, from Punjab to Bengal, led to its dissolution.Internal unrest resulted in multiple battles for independence and further deterioration of the region, which then led to formal colonialisation as established by the Government of India Act 1858, with direct control under the British Raj from 1858 to 1947. In 1880, Poham Young CIE, a British colonial officer, proposed construction of a new strategic town within the area. His proposal was supported by Sir James Broadwood Lyall and the city of Lyall was developed.Historically, Faisalabad, (Lyallpur until 1979), became one of the first planned cities within British India.Young designed the city centre to replicate the design in the Union Jack with eight roads extending from a large clock tower at its epicentre; a design geometrically symbolic of the Cross of Saint Andrew counterchanged with the Cross of Saint Patrick, and Saint George's Cross over all.
Independence
In August 1947, following three decades of nationalist struggles, India and Pakistan achieved independence. The British agreed to partition colonial India into two sovereign states Pakistan with a Muslim majority, and India with a Hindu majority; however, more Muslims remained in India than what governing authorities believed would assimilate into Pakistan.[3] The Hidden Story- Partition India's Bengal province was divided into East Pakistan and West Bengal (India), and the Punjab Province was divided into Punjab (West Pakistan) and Punjab, India. There were also respective divisions of the British Indian Army, the Indian Civil Service, various administrative services, the central treasury, and the railways.Riots and local fighting followed the expeditious withdrawal of the British, resulting in an estimated one million civilians deaths, particularly in the western region of Punjab. Lyallpur, which was located in the region of the Punjab Province that became West Pakistan, was populated by a number of Hindus and Sikhs who migrated to India, while Muslim refugees from India settled in the district.
Government and Public Services
Faisalabad Development Authority
The Faisalabad Development Authority (FDA) was validly established in October 1976 under The Punjab Development of Cities Act (1976) to regulate, supervise and implement development activities in its jurisdiction area.The FDA acts as a policy-making body for the development of the city and is in charge of arranging and supervising major developments within the city. It is responsible for the administration of building regulations, management of parks and gardens and subsoil water management. The FDA works with the Water and Sanitation Agency (WASA) to control and maintain the water supply, sewerage and drainage.The FDA works to improve conditions in the slums.
Law Enforcement
Law enforcement in Faisalabad is carried out by the city police, under the command of the city police officer (CPO), an appointment by the provincial government.The office of the CPO is located in the District Courts, Faisalabad[4] Faisalabad- police.gov Various police formations include district police, elite police, traffic police, Punjab highway patrolling, investigation branch, and special branch.
Healthcare
Healthcare services are provided to the citizens by both public and private sector hospitals. The government run hospitals are Allied Hospital, District HQ Hospital, Institute of Child Care,PINUM Cancer Hospital, Faisalabad Institute of Cardiology (FIC) and General Hospitals in Ghulam Muhammadabad and Samanabad.There are a number of private hospitals, clinics and laboratories in the city, notably Al-Rahmat labs, Mujahid Hospital lab, National Hospital lab & Agha Khan lab.
Civic Administration
Faisalabad was restructured into city district status; a devolution promulgated by the 2001 local government ordinance (LGO). It is governed by the city district's seven departments: Agriculture, Community Development, Education, Finance and Planning, Health, Municipal Services, and Works and Services. The district coordination officer of Faisalabad (DCO) is head of the city district government and responsible for co-ordinating and supervising the administrative units. Each of the seven departments has its own Executive District Officer who is charged with co-ordinating and overseeing the activities of their respective departments.The aim of the city district government is to empower politics by improving governance which basically involved decentralising administrative authority with the establishment of different departments and respective department heads, all working under one platform. The stated vision and mission of the city district government of Faisalabad is to "establish an efficient, effective and accountable city district government, which is committed to respecting and upholding women, men and children's basic human rights, responsive towards people's needs, committed to poverty reduction and capable of meeting the challenges of the 21st century. Our actions will be driven by the concerns of local people.
Transportation
Railway
The Faisalabad railway station is the central railway station in the city. The railway line forms part of the Khanewal Wazirabad railway line. Rail services are operated by Pakistan Railways, owned and operated by the Ministry of Railways.Cargo Express services are operated by Pakistan Railways which runs from Karachi to Faisalabad via Multan. Twenty-seven bogies comprise the goods train, and are handled respectively by private contractors at the station.[5] "Railways – freight trains" The station has a special cargo facility operated by the Ministry of Railways (Pakistan) for handling various goods from the city to other regions of the country. An express parcel service runs from Karachi to Lahore via Faisalabad.
Airport
Faisalabad International Airport is approximately 15 kilometres (9.3 mi) from the city centre and is a major airport for domestic and international travel. The airport includes a cargo facility. As of January 2016, passenger flights are run by the national flag carrier, Pakistan International Airlines, and a number of middle eastern carriers. There are seasonal Hajj operations to Jeddah and Medina operated by Shaheen Air.Fly Dubai became the first international carrier to launch operations from the city followed by Qatar Airways, Air Arabia and Gulf Air.In 2015, significant upgrades and renovations to the airport were initiated by the Pakistan Civil Aviation Authority, including updates to aviation technology, construction of additional areas and services for travellers, and the expansion of air traffic capabilities to accommodate wide-body aircraft such as the Boeing 777.
Roads
National highways and motorways passing through Faisalabad.
Faisalabad is connected to various parts of the country by several National Highways and Motorways:
The district government has worked with the National Highway Authority to connect Multan and Faisalabad.The construction of the M4 is scheduled for completion by 2019. The new motorway will help reduce congestion, boost trade, and reduce travel times and transportation costs from Faisalabad, a major textile hub to the major trade centre of Multan.[6] "Major projects- Sector One section of the M4 was inaugurated on 16 March 2015 which links Faisalabad to Gojra.
Education
Public libraries and Museums
There are two libraries that are open to the public: Allama Iqbal Library and Municipal Corporation Public Library. They are funded and regulated by the Government of Punjab, Pakistan under the service sector.
Allama Iqbal Library is located on University Road, opposite the District Courts. The library is housed in the 1911-built colonial building originally named "Coronation Library" during the rule of the British Empire. In 2012, the building came under control of the Lyallpur Heritage Foundationand the Punjab Archives and Libraries Department.
Lyallpur Museum is located adjacent to the Allama Iqbal Library on University Road. It is a heritage museum and art gallery open to the public. The museum is primarily focused on regional history with a collection of artwork, artefacts and photographs.There are a number of schools for the assistance of children with special needs.
The Forest Library at the Punjab Forestry Research Institute (PFRI) is one of two specialist libraries, the other being in Lahore.Opened in 1986, the research library is based at the Wildlife Research Center in Gatwala.
Education System
The education system is monitored by the District Education Officer of the City District Government of Faisalabad.The city government reports its findings to the Ministry of Federal Education and Professional Training and the Minister for Education. Funding is provided by the Government of Punjab, Pakistan, City District Government and the fees collected from schools. There are four levels of the education system in the city: Primary, Elementary, High and Higher Secondary Level. Primary level education is only compulsory.[7]Faislaabad: Special Education 
Culture
Festivals
The Punjabi people celebrate a variety of cultural and religious festivals throughout the Punjab region, such as arts and craft, music, local events, and religious celebrations.The city of Faisalabad customarily celebrates its independence day on 14 August every year by raising the Pakistan flag at the clock tower in the Commissioner Office compound. Bazaars are colourfully decorated for the celebration, government and private buildings are brightly lit, and there are similar flag raising ceremonies that are typically held in the district and its tehsils.The arrival of spring brings the annual "Rang-e-Bahar" festival where the Parks & Horticulture Authority of the city district government organise a flower show and exhibition at Jinnah Gardens.The University of Agriculture organises a similar event at their main campus which is known as the "Kissan Mela".
Muharram. The festivals of Chaand Raat, Eid al-Fitr and Eid al-Adha are celebrated and are national holidays.The celebration of the Prophet Muhammad birthday is observed in the city which is often referred to as "Eid Milad-un-Nabi".There are a number of darbar and shrines which attract a number of devotees during the annual Urs.There are a number of Christian churches in the city where Easter and Christmas services take place each year.
Cuisine
Faisalabadi cuisine is very much Punjabi cuisine, with influences from the realms of the Mughal and Colonial empires. Key ingredients include rice or roti (flatbread) served with a vegetable or non-vegetable curry, a salad consisting of spiced tomatoes and onions, and yogurt. This is usually accompanied by a variety of South Asian sweets such as jaggery, gajar ka halwa, gulab jamun, and jalebi.Tandoori barbecue specialties consist of a variety of naan bread served with tandoori chicken, chicken tikka or lamb shishkebab served with a mint chutney.A typical breakfast in Faislabadi is halwa poori comprising a deep fried flatbread served with a spicy chickpea curry and sweet orange coloured halwa. It is customarily accompanied by a sweet or salty yoghurt based drink called lassi.During winter, a common breakfast is roghni naan bread served with paya curry.Specialty drinks vary depending on climate. During winter, a variety of hot drinks are available, such as rabri doodh, a creamy dessert drink commonly made with full-fat milk, almonds, pistachios and basil seeds, dhood patti (milky tea), and Kashmiri chai, a pink coloured milky tea containing almonds and pistachios.During summer, drinks such as sugar cane rusk, limo pani (iced lemon water), skanjvi (iced orange and black pepper) and lassi are common.