Bahawalpur is situated in southern Punjab and on the edge of the Cholistan desert in Pakistan. It used to be the home of the Nawab dynasty in the region. The area is strategically vital because Chloistan borders Indian Rajhistan. There are several majestic Palaces of Nawabs and Kings in Bahawalpur.
The city is also famous for mausoleums as being the final resting place of several prominent figures. The Channen Peer, Haugha Sahib, and Yazman tombs are well-known.
This city is the birthplace of many notable politicians, artists, and sportsmen, such as great Olympians Samiullah Khan and his brother Kaleemullah Khan, former hockey players. This article comprises every detail about the city, including Bahawalpur History.
| Title | Description |
| --- | --- |
| Information | |
| Location: | Pakistan |
| City Council: | Government of Punjab |
| Type: | Capital of the Bahawalpur princely state, |
| Local Language Name: | Saraiki, Punjabi and Urdu |
| Province: | Punjab |
| Coordinates : | 29°23'44 |
| District: | Bahawalpur District |
| Region: | Punjab |
| Elevation: | 461 m (1,512 ft) |
| Website: | www.bahawalpur.gov.pk/ |
| Union councils: | 36 |
| Language | |
| Official Language: | Urdu |
| Native Language: | Punjabi |
| Other Languages: | Urdu,Punabi,English |
| Government | |
| Type: | Government of Punjab |
| Area | |
| Total Area: | 237.2 km2 (91.6 sq mi) |
| Population | |
| Density: | 4,400/km2 (11,000/sq mi) |
| Total Population: | 1,052,000 (2014) |
| Time zone | |
| Time zone: | PKT (UTC+5) |
| Codes | |
| Postal code: | 63100 |
| Dialing code: | 062 |
| Vehicle registration: | Three letters beginning with B and random four numbers |

Bahawalpur History
Nawab Bahawal Khan
The history of Bhawalpur dates back to ages. Archeological findings connect it with Indus and Buddist civilizations. This region is also mentioned in the epic Hindu scripture, Mahabharata. During the 12th  and 15th centuries, Suffis brought Islam to this part of the area. The city was founded by was Nawab Bahawal Khan-I in 1748.
In the early nineteenth century, Nawab Muhammad Bahawal Khan-II rebuilt this region. Soon after, it was designated as a province. Before the partition of the subcontinent, it was also known as Rajputana. The city was invaded and destroyed in 1785 by Durranis. Bahawal Khan took refuge in the Rajput state and later attacked and regained control.
In 1833, Nawab Mohammad Bahawal Khan III signed a treaty with the British empire to strengthen its control over the region as a princely state from the invading Sikh empire. During Pakistan's independence, the British princely states were given either joining Pakistan or India. Because of its dominant Muslim population, the people decided to join Pakistan.
Geography
The general area of the city is 170 km from the east-west and 175 km from the south-north. Its geographical coordinates on the political map are 29.35° N (latitude), 71.69° E (longitude), and 214m above sea level. Its total area is 24,830 km2  in length.
Bahawalpur Climate
The city observes all four seasons—the average temperature during the summer season range from 34°C to 40°C. Winter is usually cold, with the hotness that varies from 18°C to 21°C. The average rainfall in the city during the whole is approximately 143mm.
Population
The city is relatively populated, and according to the 2017 census, the town is a residence of 762111 people. The metropolis's population density is 3,100/km2, and it the 11th largest city by population in Pakistan.
Bahawalpur Culture
The city is the focus of attention for its rich heritage. Cultural diversity can be witnessed in the art. Beautiful artwork is done on embroidery, carpets, and pottery. Flassi, Khalti, and Gindi are among the favorite tourist sovereigns to purchase. Shahi and Machli are bazaars that are most famous among people. The main sweet delight of this city is Sohan Halwa.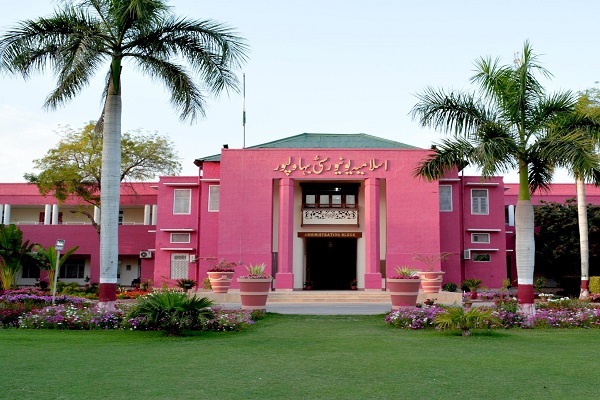 Education
Bhawalpur is well-known for its historical palaces and forts. Similarly, some of the historical educational institutions are also located here. Such as Govt. Sadiq Egerton College was built in 1890. Various academic institutions are imparting education in the city, such as:
Allied Schools
The Cholistan University of Veterinary and Animal Sciences
Danish School Hasilpur
Dominican Convent Higher Secondary School
College of Technology
High School
Primary School
Sadiq College Women University
Sadiq Egerton College
Technical High School
ILM Group of Colleges
Islamia University
Sadiq Public School
Quaid-e-Azam Medical College
Sadiq Dane High School
Moon system of education
Quaid-e-Azam Medical College
The Educators
Zahra medical college
Sports
Bahawal Stadium (cricket ground) and Motiullah Hockey Stadium are renowned venues for national and international sports activities. People are fond of watching and playing:
Cricket
Cattle Race
Football
Hokey
Kabaddi
Swimming
Tennis
Industry
Bahawalpur's industrial zone is progressively flourishing to compete with the rest of its neighboring towns. Many kinds of cotton, flour, ghee, iron, cooking oil, steel, sugar, and textile mills provide employment opportunities in the region. Handicrafts, loom, poultry feed shoe-making, and general engineering units are also working in the industrial zone. There are several well-known industries, including:
Dera Bakha Cotton Factory
Khan Brothers Cotton Factory
Masha Allah Cotton Factory
Model Ginning and Oil Mills
Agriculture
Punjab, being the land of five rivers, is highly fertile for cultivation. The city is well-known for its lush green fields, such as carrots, cauliflower, citrus, cotton, dates, guavas, mangoes, onions, and potatoes, rice, sugarcane, tomatoes, and wheat. Agricultural products are not only consumed here but also exported abroad.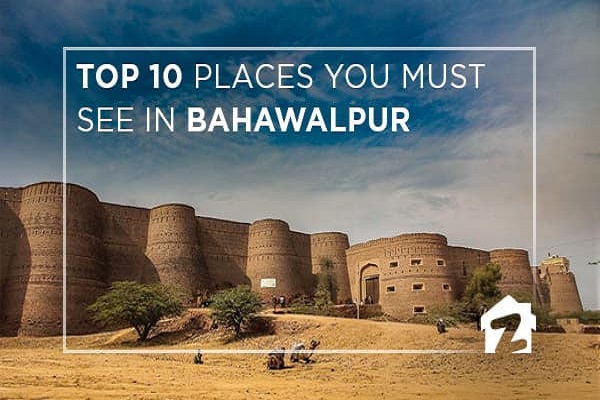 Tourism
In addition to historical artifacts and natural beauty, prominent tourist attractions include:
Abbasi Masjid (Mosque) was built-in 1859 under the reign of Abbasi Nawab Khan of Cholistan.
Bhawalpur Museum was constructed in 1976. Hundreds of artifacts and relics of history can be seen here.
Bhawalpur Zoo was established in 1942, and it the 4th largest zoo in Pakistan.
Central Library was erected in 1924 by Sir Sadiq Khan Abbasi V to celebrate his crown.
Darbar Mahal was constructed in 1904 for one of the Nawab's wives.
Derawar Fort was built in the 9th-century during the rule of Rai Jajja Bhati. The fort is situated in the Cholistan desert 130 km south of Bhawalpur. It's majestic 30 m high walls mesmerizes the visitors.
Gulzaar Mahal is a palace constructed between 1906 and 1909.
Jamia Masjid Al Sadiq is a 200 years old Mosque that was constructed during the reign of Nawab of Bhawalpur, Sadiq Khan.
Lal Suhanra National Park was established in 1972. It is one of the biggest parks in South Asia.
Noor Mahal was built-in 1872 during the reign of Nawab Sadiq Muhammad Khan IV for his wife.
Sadiq Garh Palace was constructed in 1882 by Nawab Sadiq Muhammad Khan.
Languages
Saraiki is predominantly spoken. Bagri, Haryanvi, Majhi, and Riyasti are among the other dialects. Punjabi, Urdu, and English are also spoken and understood.
Travel
National Highway (N-5) and Motorway (M-5) link the city with the rest of the country. Several transport services from all over Pakistan are running in this region.
A network of railroad tracks also connects the city to the outside world. The railway station is located in the central city that was built in the late 18th century. The infrastructure was renovated in 1901 under the administration of the Nawab of Bahawalpur.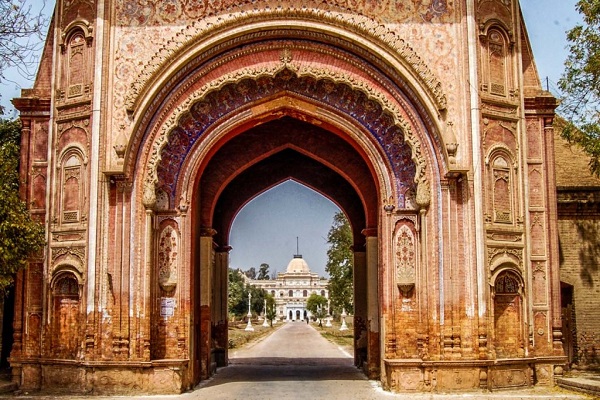 Air routes can also reach them. Bhawalpur Airport (BHV) is located roughly 3.7 km southeast of the central city.  Nearby airports include:
Multan International Airport (MUX), 93.0 km
Dera Ghazi Khan International Airport (DEA), 131.0 km
Shaikh Zayed International Airport (RYK), 176.7 km
Bahawalpur Postal Code
Postal Code: 63100
Area Code:  062