The National Stadium Karachi is Pakistan's eleventh and Karachi's fifth 1st-class ground, and PCB (Pakistan Cricket Board) owns it. This stadium serves as a home ground for KK (Karachi Kings) and several other domestic cricket squads of Karachi.
The inaugural 1st-class match was held at this stadium between India and Pakistan from 21st April to 24th April 1995, and it got the status of Pakistani cricket's fortress. After terrorist activities, mainly suicide bombings, non-Asian countries refused to visit Karachi, and in those 5 years, only Sri Lanka and Bangladesh have come to Karachi.
The 1st ODI was played at NSK on 21st Nov 1980 against West Indies. It also hosted a quarter-final in 1996 to 1997 World Cup. This article has all the information about the stadium, including National Stadium Karachi History.
| Title | Description |
| --- | --- |
| Information | |
| Location: | Karachi, Sindh, Pakistan |
| Nickname: | National Stadium |
| In Urdu: | قومی اسٹیڈیم |
| Type: | cricket ground |
| Local Language Name: | نیشنل اسٹڈیم |
| Coordinates : | 24°53′46″N 67°4′53″E |
| Website: | National Stadium, Cricinfo |
| Floodlights: | Yes |
| Home teams: | Pakistan, Karachi |
| Current local time: | 13:32, Mon Jun 05, 2017 (UTC +0500) |
| Details | |
| famous as : | modern and powerful floodlights |
| Establishment: | 21 April 1955 |
| Capacity: | 34,228 |
| Owner: | Pakistan Cricket Board |
| Operator: | Karachi City Cricket Association |
| Tenants: | Karachi, Karachi Dolphins, Karachi Zebras, Karachi Kings, Pakistan International Airlines, Pakistan |
| End names: | Pavilion End University End |
| First Test: | 26 Feb – 1 Mar 1955: Pakistan v India |
| Last Test: | 21 Feb – 25 Feb 2009: Pakistan v Sri Lanka |
| First ODI: | 21 Nov 1980: Pakistan v West Indies |
| Last ODI: | 21 Jan 2009: Pakistan v Sri Lanka |

National Stadium Karachi History
This stadium was founded in 1955; Karachi was Pakistan's capital at that time. But the only ground for playing cricket was at KG (Karachi Gymkhana), having limited capacity for the crowd. Seeing this, it was planned to establish a new cricket stadium, and 174.5 acres of land was obtained by Pakistan PWD (Public Works Department) through Karachi's Commissioner.
After acquiring land, the civil engineer Mr. Kafil-ud-Din, from East Pakistan was recruited to complete this project. After its completion, the stadium became Pakistan's eleventh 1st-class and Karachi's 5th-class ground.
Matches Played
The inaugural 1st-class match was held between India and Pakistan at NSK from 20th to 24th April 1955, making it a fortress of cricket. In thirty-four test matches between the 1st match and Dec 2000, Pak won seventeen. They only lost a match against England from 2000 to 2001.
The 1st ODI match played at the stadium was played against West Indies on 21st Nov 1980. The stadium also witnessed the quarter-final match of the World Cup from 1996 to 1997. Legendary Indian cricketers Waqar Younis and Sachin Tendulkar played their 1st test in this stadium. In Sep 2019, PCB announced this stadium would host all the matches in Quaid-e-Azam Trophy 2019 to 2020.
Capacity
It is Pakistan's largest stadium with a capacity of Forty-thousand audience.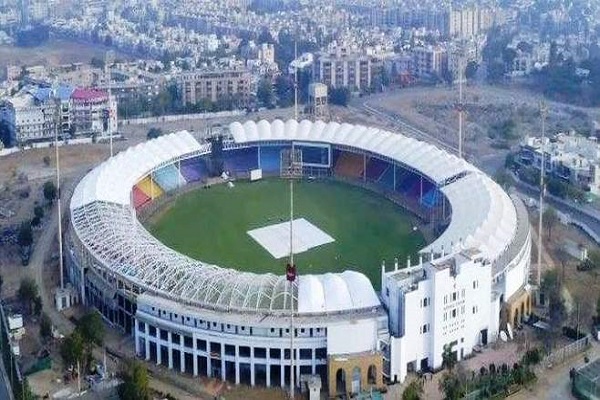 Memorable Performances
The cricket squad of Pakistan has a notable record of Test cricket at the stadium, getting defeated only twice in forty test matches. The cricket lovers at the stadium have witnessed many remarkable and memorable events, such as one-hundred and eighty-one of Viv Richards against the Sri Lankan cricket team at Cricket World Cup 1987.
It records the 9th century of Muhammad Yousaf that broke the record of Viv Richard of making the most runs in a year, and the famous century of Kamran Akmal against the Indian cricket team in 2006 played on a difficult pitch.
Hosting of PSL at NSK
In 2017 Former chairperson of PCB Najam Sethi announced that NSK would host the final match of PSL 2018 in March 2018, and the stadium's condition was improved. The match was played between Peshawar Zalmi and Islamabad United, and after nine years, the crowd enjoyed the performance of international cricketers in Pakistan.
United won this match. The crowd warmly welcomed this event as it was 1st major match since 2009. To avoid any terrorist activity and to maintain discipline, several security forces were present inside and outside the stadium. All these efforts made this event successful.
Refusal of West Indies Team
PCB chairperson announced in 2017 that the West Indies team would visit Pakistan for the 3rd match Twenty20 International series. According to the schedule, the matches were to be held in Nov 2017, but West Indies players refused to visit Pakistan due to security issues.
Najam Sethi told that changes had been made in the original schedule owing to the logistic issues, security challenges, and unforeseen weather. PCB confirmed in March 2018 that matches would be played in April at NSK after the conclusion of Pakistan Super League 2018.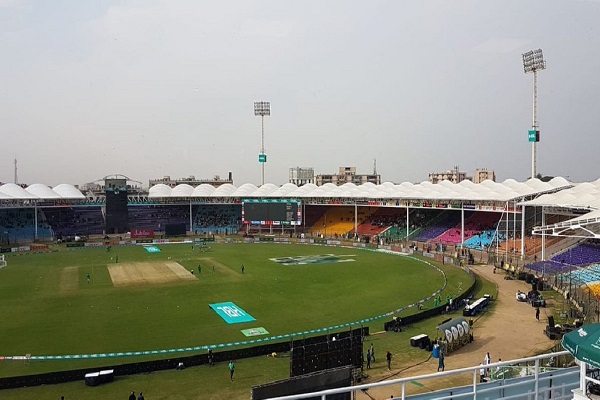 Attack on Sri Lankan Team
In Feb 2009, Sri Lankan players toured Pakistan, and it was the last international match played at this venue. But due to an attack on International players, the tournament was shortened.
Pakistan vs. Sri Lanka
In 2019 at the ACC (Asian Cricket Council) meeting held in Singapore, PCB requested SLC (Sri Lanka Cricket) to visit Pakistan and play test matches. SLC, upon this request, sent their security experts to check security conditions in Pakistan.
The security delegation inspected venues in Karachi and Lahore in Aug 2019, and this delegation approved the security situation and sent positive feedback, with a suggestion that the Sri Lankan team should visit Pakistan. On 22nd Aug 2019, the Sports Minister of Sri Lanka confirmed that Sri Lankan players would play the T20I and 3-match ODI series in Oct in Pakistan.
On 23rd Aug 2019, PCB announced the schedule for T20I and ODI series. Sri Lankan team was scheduled to play the 3-match ODI series starting from 27th Sep, and it was going to be the 1st ODI match at this stadium since 21st Jan 2009, but it wasn't played due to rain. Following this, PCB rescheduled the 2nd ODI to 30th Sep 2019, so the ground staff has more time for preparation.
Records of Matches Held at NSK
Test Matches
Highest Partnership-Thilan Samaraweera and Mahela Jayawardene made 437 in partnership against the Pakistani team in 2009
The Highest Score-Younis Khan made 313 against the Sri Lankan team in 2009
Highest Run-Chase attained-315/9 by Pakistani team against the Australian team in 1994 to 1995
Highest Total by Team-765/6d by Pakistani team against Sri Lankan team in 2009
Lowest Total by Team-80 by Australian cricket team against Pakistani team in 1956
ODI
Highest Partnership- Kumar Sangakkara and Sanath Jayasuriya made 201 in partnership against the Bangladesh team on 30th June 2008
The Highest Score-Viv Richards made 181 against the Sri Lankan team on 13th Oct 1987
Highest Run-Chase attained-288/5 by Pakistani team against India on 13th March 2004
Highest Total by Team-374/4 by Indian team against Hong Kong on 25th June 2008
Lowest Total by Team-115 by Bangladesh cricket team against Pakistani team on 4th July 2008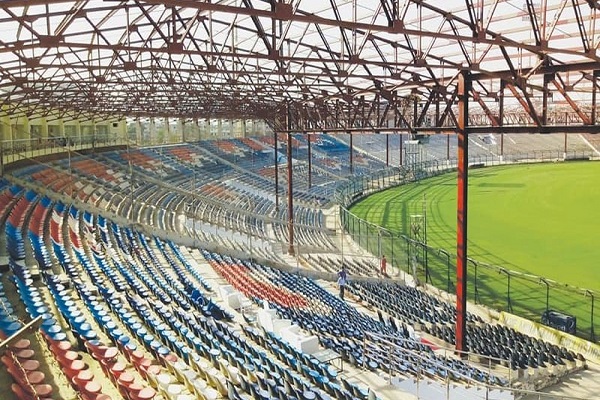 T20I
Highest Partnership-119 by Hussain Talat and Babar Azam against West Indies on 2nd April 2018
The Highest Score-Babar Azam made 97 against West Indies on 2nd April 2018
Highest Total by Team-205/3 by Pakistani cricket team against West Indies team on 2nd April 2018
Lowest Total by Team-60/9 by West Indies team against Pakistan on 1st April 2018.
Social Media Handles
https://www.facebook.com/pages/National-Stadium-Karachi/129839627057624